There are dozens of ways to spend one day in Paris. If you're a first-timer in Paris, your itinerary for the day will probably look quite a bit different from a regular visitor to the city.
There are so many sights to see in Paris. And many travelers spend just one day there because it's such a major international travel hub. You can't expect to see all the city has to offer, but you can carve out a manageable piece that's perfect for your day tour in Paris.
If your International flight goes through Charles de Galle you will likely find yourself with just a day in Paris to see however much you can. This one-day Paris itinerary is for those who haven't been to Paris before and want to make the most of their one day to see the top sights. If you're staying overnight, see where to stay in Paris.
» If you have longer to spend in Paris, check out our 3-day itinerary for first timers. We've also created a guide specifically for foodies so you can find all the great foodie things to do in Paris. Going elsewhere in Europe? Here's our 2-week Europe itinerary.
Need more help with your plans? Check out our Shortcut Travel Guide to Paris, with all the best things to do and see in one spot.
How to Spend One Action-Packed Day in Paris
Transportation
The first question you will face is how to get around. Paris is absolutely huge and it can easily take 30 minutes to get from any one spot to another, even on the metro. If you choose to visit sights that are far away from each other, you could burn quite a bit of your time on public transportation.
We always recommend walking as much as possible. However, you can save time in a few spots by taking the metro, so we'll show you how to incorporate that into your plans below.
From the Airport
If you're flying into Paris on an international flight, you'll be landing at Charles De Galle. The fastest and most convenient way to get into the city so you can immediately start your sightseeing is by taking the RER B metro line to Saint-Michel Notre-Dame. The trip takes about 45 minutes.
Coming into Gare du Nord train station instead? You will also take the RER B to the same stop. The journey is only 15 minutes.
Getting Around Town
Walking is the best way to get between the major sites in Paris, so that's our suggested mode of transportation for a 'Paris in a day' whirlwind tour of the main sights. You can also take the hop on hop off bus, if you don't think you can do all the walking. It does amount to quite a bit of walking, so be properly prepared.
You can also ride local city buses and the metro. You'll need a single-ride T+ ticket. You can ride the trains, buses and trams with this ticket. It's 1,90 € for one, or you can buy a booklet of 10 (a carnet) for 16,90 €
Is One Day in Paris Enough?
One day might not be enough to see everything, but hey, it's a great start to catch some of the city's most famous sights!
That's where our one-day Paris adventure plan comes in handy. It won't make you an expert on the City of Lights, but it will give you a taste of some of the coolest stuff Paris has to offer and it will allow you to gather ideas for your next Paris trip.
Top Sights to See in Paris in One Day
Many of the top tourist sights in Paris are located along the Seine River, in about a 3-mile stretch. You can walk to many of these top tourist attractions easily in just one day. I suggest starting at Notre Dame, then walk across the Pont Neuf Bridge to the Louvre Museum, through the Tuileries Garden, toward the Champs Elysees, to the Arc de Triomphe.
At this point, you'll need to take the metro to the Eiffel Tower. Then take a Seine River Cruise. Here's a map of where you'll get to. Walk fast!
You're going to want to cap your day off with something extra special. We highly recommend going to a wine tasting dinner at O'Chateau (not far from Notre Dame) or going on the Bustronome Gourmet Bus.
Total walking: approximately 4 miles (6 km)
Stop One: Notre Dame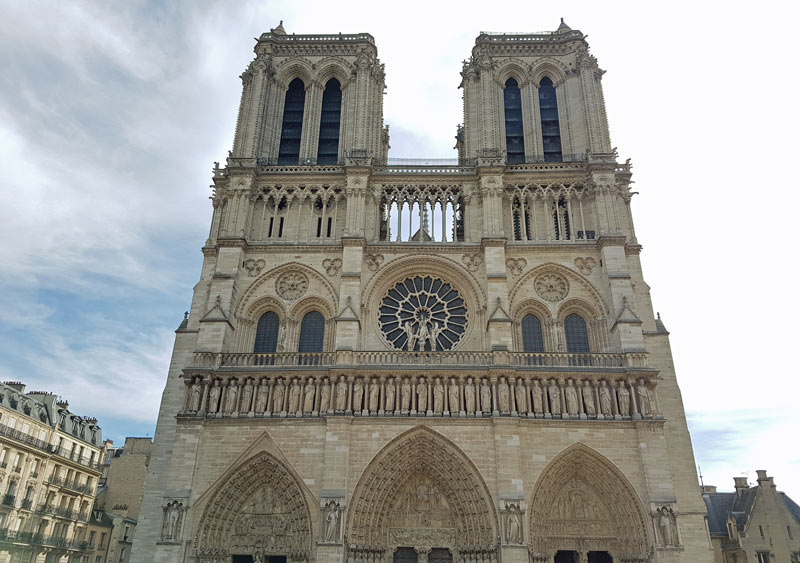 Notre Dame is a great first stop on your itinerary because it's so majestic and it instantly makes you feel like you've arrived in Paris.
Unfortunately, you can't currently go into Notre Dame due to the fire that destroyed a section of it. But you can still see it from afar. When you leave, walk along the south side of the river to see all the booksellers along the sidewalk.
Stop Two: Pont Neuf Bridge
The Pont Neuf is the oldest standing bridge across the river Seine. There are numerous bridges that you can use to cross the river, but I particularly like this one.
Stop Three: Louvre Art Museum
There are many reasons the Louvre is one of the most visited museums in the world. It's also the largest art museum. If you want to see the Mona Lisa, plus many other unmissable and iconic pieces such like the Venus de Milo and masterpieces of the Renaissance, you'll have to save time for a stroll through the Louvre.
>> Book Louvre tickets in advance here.
Stop Four: Tuilleries Garden
Located between the Louvre and the Place de la Concorde, just beyond the Louvre, is the Tuileries Garden, which is packed full of sculptures, trees, pathways, and plenty of grass to relax on once you've spent time walking through the Louvre.
The gardens are open until 7:30pm in the winter, and 11pm in the summer.
Stop Five: Champs-Élysées
If you're a shopper, this is the part you like the most. The Champs-Élysées is a shopping mecca, with just about every high-end store you've ever heard of. You can spend as much or as little time here as you like.
Not sure what to look for? Here are 15 Paris souvenirs you'll love.
If you'd rather avoid the shopping, you can get to from the Tuileries Garden to the Arc de Triomphe by taking the M1 metro line from the Tuileries stop to the Charles de Gaulle – Étoile stop. The journey takes 7 minutes.
Stop Six: Arc de Triomphe
One of the most recognizable monuments in Paris and France, the Arch d'Triomphe stands proudly at the center of the Place de l'Étoile, at the western end of the Champs-Élysées. You can walk around the monument and see the intricate detail that was carved into it's exterior, and you can actually climb up inside the Arch too.
There are 40 stairs leading to the top that you can climb to get the view.
Book in Advance: Skip-the-Line Arc de Triomphe.
To get from the Arc de Triomphe to the Eiffel Tower, you can take the M6 metro line from Charles de Gaulle – Étoile to the Trocadero stop. This puts you at the Tracadero, which has a beautiful view of the Eiffel Tower. Then just walk across the street to the tower. The whole trip takes about 30 minutes, plus any time you spend at the Trocadero.
Stop Seven: Tracadero & Eiffel Tower
One of the main reasons people fall in love with Paris before ever even visiting is the Eiffel Tower. If you want to take the elevator up, that section will have the longest lines. You can also take the stairs up and that line is often much shorter, or even none existent. It's only 1,710 stairs up to the first platform, after all!
I say just buy your tickets in advance. You can buy them on the official site for the summit and 2nd floor and you'll get a timed entrance. If you want to do a guided tour, this is a good deal for a 2nd floor and optional summit guided tour.
Stop Eight: Seine River Cruise
Going on a river cruise will be a fantastic way to see the sights and be introduced to the interesting architecture along the banks of the river. The cruise takes about 1 hour and passes by top sights like The Louvre, the Eiffel Tower, Notre Dame, and many more.
The cruise is a round trip, returning to the departure point. You can buy your tickets in advance here.
>>You might like 26 Food and Drinks You Must Try in France.
Tours to Book:
Important Things to Know About Paris
Paris is a huge city with many different neighborhoods (called arrondissements). If you're staying the night, make it easy on yourself and stay near the center of the action in either 1, 2, 5 or 6. We highly recommend the Grand Hotel du Palais Royal.
You can expedite your schedule by taking the hop-on-hop-off bus to get to the major attractions. If you mark the sights you want to see on the map, you can get around the city fairly efficiently on the bus.
We recommend purchasing skip-the-line tickets when available. Standing in long lines can really wreck your schedule. If you buy skip-the-line tickets, you can walk past the crowd and get right in.
It's always best to make reservations for any restaurants you are set on going to. Paris is busy all the time and you don't want to be disappointed by being turned away.
Money
Most places in Paris accept credit cards, but there are the odd few places that don't. These are mostly small shops or street food vendors. If you don't want to get Euros for your one day in Paris, you can easily get away with having no cash, as long as you avoid smaller shops.
Directions
It's pretty easy to navigate around the main tourist sights in Paris because they all lie along the Seine River, mostly on the north side. If you don't have data on your phone, be sure to download the offline maps for Paris so you can still navigate around.
Weather
The weather is often very nice in Paris. You can expect clear skies and mild temperatures in the spring and fall. In the summer, it can get up to 90+ degrees F and it's rather steamy. In the winter, it is rarely below 30 degrees. The best times to visit are April-June and the end of September to November. It's always crowded in Paris, but it is especially so during the high seasons.
Where to Stay in Paris & the Best Areas
Paris is a huge city with many different neighborhoods, called arrondissements. If you want to make it easy on yourself, stay near the center of the action in either 1, 2, 5, or 6.
Le Marais is a popular area to stay near and is located in the 3rd and 4th arrondissements of Paris. It is situated on the right bank of the River Seine and has notable landmarks such as the Place des Vosges, Hôtel de Ville (City Hall), and the Picasso Museum.
We recommend the following Paris hotels.
Hotel La Tamise – Esprit de France
4-star hotel with a bar and free wifi, located in the 1st arrondissement.
Lyric Hotel Paris
Comfortable 4-star hotel with and indoor pool and free wifi, located in the 2nd arrondissement.
Saint James Paris – Relais et Chateaux
5-star luxury hotel with a spa and free wifi, located in the 16th arrondissement.
What Is the Pairs Pass and Is It Worth It?
The Paris Pass is a sightseeing pass that offers tourists a convenient and cost-effective way to explore the attractions of Paris. It provides free entry to over 60 museums, monuments, and other popular sites in and around Paris. Some key features of the Paris Pass include:
Free Entry to Attractions: The pass grants free entry to many of Paris's top attractions, including the Louvre Museum, Musée d'Orsay, and the Palace of Versailles.
Fast Track Entry: In some cases, the Paris Pass allows you to skip the regular lines at certain attractions, saving you time, especially during peak tourist seasons.
Paris Visite Travelcard: The pass often includes a Paris Visite travel card, providing unlimited travel on public transportation within central Paris (zones 1-3), including buses, trams, and the Paris Métro.
Special Offers: Some versions of the Paris Pass offer additional discounts and special offers at select restaurants, shops, and entertainment venues in Paris.
It's important to note that the Paris Pass is available for different durations (e.g., 2, 3, 4, or 6 days), and the cost varies accordingly. While the pass can be a great value for those planning to visit multiple attractions within a short period, it's essential to carefully consider your itinerary and whether the included attractions align with your interests.
Day Trip in Paris FAQ
Are there any recommended places to eat for a quick lunch?
Yes, Paris is known for its cafes and bistros. Try a classic baguette sandwich or quiche from a local bakery. If you have more time, explore a cozy cafe for a traditional French meal.
Can I explore Montmartre in a few hours?
Yes, you can explore the main attractions of Montmartre, such as the Sacré-Cœur Basilica and Place du Tertre, in a few hours. Enjoy the artistic atmosphere and stunning views of the city.
Is it necessary to speak French for a day trip to Paris?
While many Parisians speak English, it's polite to learn a few basic French phrases. Most tourist areas will have English-speaking staff, but a little effort to speak the local language is always appreciated.
Are there any special events or festivals happening in Paris during certain times of the year?
Check the Paris and France tourism websites for information on events and festivals. Paris hosts various cultural events, parades, and celebrations throughout the year in different months that may coincide with your visit. The Moulin Rouge has special weekly events throughout the year.
How much time should I plan for a visit to the Louvre?
The Louvre is massive, and the time needed depends on your interests. A general visit can take around 3-4 hours, but art enthusiasts might spend an entire day exploring. Plan accordingly to make the most of your visit. The Louvre also offers guided tours, and they can greatly enhance your experience. Knowledgeable guides provide insights into the artworks and history of the museum.
Quick. Check these necessities off your prep list!
Like this post? Why not share it on your Pinterest board?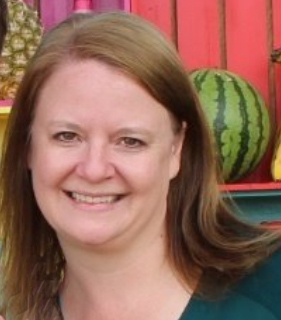 Laura Lynch, creator and writer of Savored Journeys, is an avid world traveler, certified wine expert, and international food specialist. She has written about travel and food for over 20 years and has visited over 75 countries. Her work has been published in numerous guidebooks, websites, and magazines.