When one thinks of Australia, lush green vineyards might not spring immediately to mind. But Hunter Valley defies expectations. With a viticulture history dating all the way back to the 1800s and a number of world-renowned brands calling this space home, Hunter Valley takes its place amongst the greats.
When visiting the Hunter Valley wineries, you can expect excellent tastings, delicious pairings, and gorgeous views, just like the other Australia wine regions you may have visited.
There are a number of wonderful wineries to visit. But of course, we want only the best, with the top wines and experiences. So keep reading to find out which wineries should be on the top of your list, and line them up for your weekend getaway from Sydney.
» Looking for more Australia wine region information? We've been everywhere! Check out our guides to McLaren Vale, Adelaide Hills, Barossa, and Margaret River.
About Hunter Valley Wine Estates & Cellar Doors
Most of the wineries in the Hunter Valley area have been run for generations. With a number of family-run wineries and estates that date back over a hundred years, these are well-established wineries with a strong legacy of excellence.
Hunter Valley is located in New South Wales and extends for over 190km (118 miles). Due to its relative proximity to Sydney, which is 120km (75 miles) from the closest wine farm, it is popular with locals and travelers alike.
The teams and guides at the cellar doors we have chosen for this list are professional, friendly, and knowledgeable. So you can sip on excellent reds, whites, fortified wines and bubbly, while also learning more about this area and the wine it produces.
The area is also absolutely beautiful, so you can take in the sprawling vineyards and Brokenback Mountain range while you get a little buzzy.
Best Hunter Valley Wineries
Without further adieu, here are the best wineries, cellar doors, and tastings in Hunter Valley.
Tip: If you're looking for info on Australia's other wine regions, take a look at our posts on Barossa Valley, Margaret River, and Yarra Valley.
Audrey Wilkinson Vineyard
Audrey Wilkinson Vineyard is a very picturesque winery set on the foothills of the Brokenback Mountain Ranges. With panoramic views over the valley and the majestic mountains at its back, this is the ideal winery to visit if you're looking for a beautiful experience.
The historic colonial-style cellar door offers a variety of tasting experiences so that you can find one to suit you perfectly. Whether you want a quick tasting or would prefer a premium sit-down experience, you'll find it here. You can also try their Fromage and fortified wine pairing, or book a twilight tasting. The latter lets you watch the sun go down over the valley while you sip their excellent offerings.
Bookings are essential for this Hunter Valley winery, and they are open every day from 10 am to 5 pm. Some of the more special tastings are only available on certain days and times, so be sure to check before you visit to avoid disappointment.
Peterson House
Known as the Gateway to Hunter Valley, this is one of the oldest and most prestigious wineries in the area. Their focus is on sparkling wine, and you will have an opportunity to taste from 40 varieties of bubbles. It is a dreamy spot for brunch with girlfriends, with gorgeous views adding to the sparkling atmosphere.
At Peterson House, you probably won't be satisfied with only a wine tasting, as delicious smells from their award-winning restaurant are sure to whet your appetite. They are known for their bubbly breakfast, but every mealtime is wonderfully catered for.
If your party is under eight people large, you can book a normal tasting for you and your friends. Eight and above will require a group booking. Bookings are always essential and are available between 10 am and 4 pm.
Tulloch Wines
If you're looking for a family-friendly wine tasting experience, Tulloch Winery is ideal. With excellent tastings and winery tours available for adults, there is also a kids tasting available. Your little ones will delight in the pairings of sweets with children's drinks, allowing them to be in on the fun. Tulloch Winery is also pet-friendly, so your furry friend can join too.
Their standard tasting is a great option for any, but they also offer wine and local chocolate pairings, as well as artisan charcuterie boards to nibble at between sips.
Tastings are available between 10 am and 5 pm, and you can book for between two and ten people. At Tulloch Cellar Door, all participants must be vaccinated.
McGuigan Wines Cellar Door
Four generations of the McGuigan family have made this one of the best wineries in the region. Their legacy of innovation and consistency continues to this day, ensuring that each and every wine you taste will be sure to meet their high standards.
There are a few tasting options available, including a cheese, chocolate, and wine pairing, for those that want it all. However, if you want a simple bar tasting of their white, red, sparkling, and dessert wines, you don't have to pay a cent, as they are free.
This is one of the few top wineries where walk-ins are accepted. However, do keep in mind that you must be vaccinated, and booking may help you avoid disappointment if availability runs out.
Hanging Tree Winery
Another family and pet-friendly cellar door, Hanging Tree Winery is an ideal spot for a family getaway. Besides the vineyards, there is a duck pond, rose garden, giant chessboard, and an olive grove to explore.
Taste their sparkling, red, white, sweet, and fortified wines before enjoying a picnic or barbecue on the gorgeous grounds. They offer locally made cheese platters, which you can pair with a bottle of your new favorite wine after the tasting.
Bookings are not essential but are recommended. They are open for tastings between 10 am and 5 pm, every day of the week. And if you want a languid experience, without rushing off after a happy day, there is a homestead where up to eight people can sleep comfortably.
Ivanhoe Wines Cellar Door
At Ivanhoe Wines Cellar Door, the focus is on finding you the perfect wine. No normal tasting, their knowledgeable staff are on a mission to make you a wine connoisseur. Their tastings even include a 'how to' to educate participants on the best wine-tasting techniques. They also offer a masterclass tasting, which includes a cheese platter with other pairing options.
Since the focus of these tastings is specific, they are intimate and only allow for a maximum of four participants. So if you're looking for a really authentic learning experience along with delicious wines, it doesn't get better than Ivanhoe. Bookings are essential.
Krinklewood Vineyards
If you have an interest in organic farming methods, this winery will be just up your alley. These organic wines are being created through a biodynamic, organic, sustainable, and holistic way of farming. So you can rest assured that you are being served quality wines that have not negatively affected this beautiful environment.
Set amongst an abundance of birdlife and provencal-style gardens, the tastings here are picturesque and pleasant. You'll feel like you're in the Tuscan countryside or a provincial French village, making the experience magical for all who visit. And if you add one of their top-quality cheese platters into the mix, this is sure to be one for the books.
Booking is essential, and the maximum amount of participants is ten. They are open from 10 am to 5 pm on Friday and Saturday, 10 am to 4 pm on Sunday, Monday, and Thursday, and closed on Tuesday and Wednesday.
Leogate Estate
One of the newer wineries in the area, the vines of Leogate were first planted in the 1970s, making it one of the Hunter Valley babies. The estate is sustainably run, absolutely beautiful, and has an excellent array of top-quality wines.
In the winter months, enjoy sipping various wines by the fireside. And in summer, alfresco tastings can be enjoyed with views of the mountains. You can also enjoy your wines paired with fresh oysters or a selection of cheeses.
Booking is essential for Leogate Estate, and their maximum capacity is a group of eight participants.
Final Thoughts on The Wineries in Hunter Valley
Hunter Valley has some of the finest wineries and cellar doors in Australia. If you're a local and can pay each and every one of the wineries on this list a visit, you're encouraged to do so! If you're only visiting or road tripping through Australia, one or two will do the job wonderfully.
Since most of these wine farms have been operating for over one hundred years, you can trust that Hunter Valley wines are excellent. You may just have to taste them all to find your favorite (for scientific reasons of course).
So get tasting, and enjoy the wonderful scenery and experiences that this area has to offer. Whether you're visiting with a gaggle of girlfriends, your romantic partner, your family, or even your colleagues, you're going to have a memorable experience at any of these marvelous places.
Like this post? Why not save it to Pinterest?
FOLLOW US on Pinterest, Instagram, Facebook for more great travel inspiration and tips.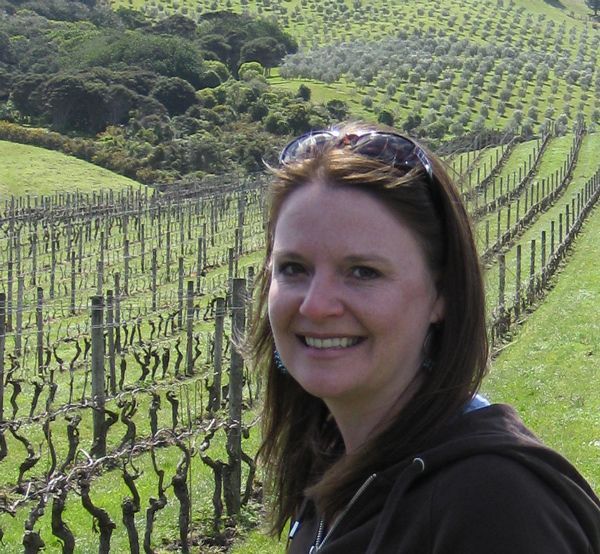 Laura Lynch, creator and writer of Savored Journeys, is an avid world traveler, certified wine expert, and international food specialist. She has written about travel and food for over 20 years and has visited 70+ countries.