Ireland is a country filled with vast expanses of nature, alongside busy cities and festivals filled with friendly people, a rich and complex history, and some of the world's best stout and whiskey. It's an easy international travel destination that a lot of would be travelers are interested in based on their heritage or fascination with castles and rolling hills of green.
If you're considering a trip to Ireland, we are sure you're going to love it. Below we are going to share our favorite 7-day Ireland itinerary, packed with all the places and things we like to do when we spend time in this beautiful country.
No matter what time of year you choose to visit Ireland, you'll be spoiled for choice when it comes to finding things to do. That's why we recommend putting together a clear itinerary before you go.
It's a small country, but the distances to get from one side to another are still quite far, so you will spend a bit of time traveling. For that reason, it's best to plan out all the other bits.
Planning Your Week In Ireland
Most travelers spend about a week in Ireland. If you have more than 7 days to spend, you'll be rewarded with the ability to spend more time in each destination, so the route will feel more relaxed, and you'll have time for more activities. I always recommend sticking with this itinerary of places to visit, but lengthen the number of days you stay in each.
If you're planning to go alone, be sure to check out this guide to solo travel in Ireland to make sure you're fully prepared.
There is no question that Ireland's countryside is best enjoyed from one of the many castles or bed & breakfasts. For each stop below, we've tried to suggest a castle hotel that you can stay at, if available. Take a look at these 10 best castles in Ireland if you'd like to plan your trip around it.
Be sure to rent a car far enough in advance and procure the proper insurance. Ireland has mostly stick shift cars, so if you need an automatic you'll have to book in advance! I recommend booking through DiscoverCars.com to get the best rate.
You might also want to consider hooking up a VPN (virtual private network) or your trip. You might be wondering what is a virtual private network. I use one whenever I travel. Getting a VPN for traveling abroad is essential especially if you're using untrusted free public wi-fi. Even if you're using a malicious hotspot, the hacker behind it won't be able to monitor your activity.
Check out this travel guide before you go.
When to Go
Most of the year, Ireland is chilly and drizzly. That's the type of weather to expect. However, there are some periods of time when you'll maybe see more blue sky and the temperature is slightly higher.
It's generally quite mild. The temperature stays within a range of between 50-70° F. Summer months (July and August) enjoy long days when it doesn't get dark until after 11pm.
April-May or September-October are shoulder seasons with decent weather, so that's when I would go. Just make sure you take layers so you'll be prepared for whatever change in weather occurs, and be prepared for lots of overcast skies. Also keep in mind that some tourist activities might not be open on the shoulder months.
How Much Does It Cost To Travel in Ireland
The cost of traveling in Ireland can vary depending on the time of year, mode of transportation, and level of accommodation. Generally speaking, Ireland is more expensive to visit during the peak tourist season from June to August. Prices for accommodation, food, and attractions tend to be higher during this time, and it is important to book in advance to secure the best deals.
Budget travelers can opt for hostels, B&Bs, and self-catering accommodations, which can be found at more reasonable prices.
Planning ahead, researching options for accommodation and transportation, and being mindful of spending can help keep costs down while still allowing for a memorable and enjoyable trip.
How to Get Around
You're going to need a rental car to do this busy Ireland itinerary. The driving distance is 1000 kilometers (620 miles). There are ways to see some of the things on the itinerary without a car. For instance, there are tour companies going to Moher, Galway, and the Ring of Kerry from Dublin. These are each day trips. See below for our recommendations.
A few things to remember about driving in Ireland are that you drive on the left, most rental cars are stick shift manuals, and you will need extra insurance. Unlike many other countries, you have to purchase Collision Damage Waiver (CDW) insurance. If you're relying on your credit card insurance, it won't cover CDW insurance in Ireland.
The best way to rent a car in Ireland is to reserve the car you want online before arriving through your favorite car rental company. We use Hertz most often. Reserve an automatic if you must (remember that it will cost more!), and check your credit cards to see what insurance they will cover. Get your car at the Dublin airport so you can just head out from there on your first leg of the trip.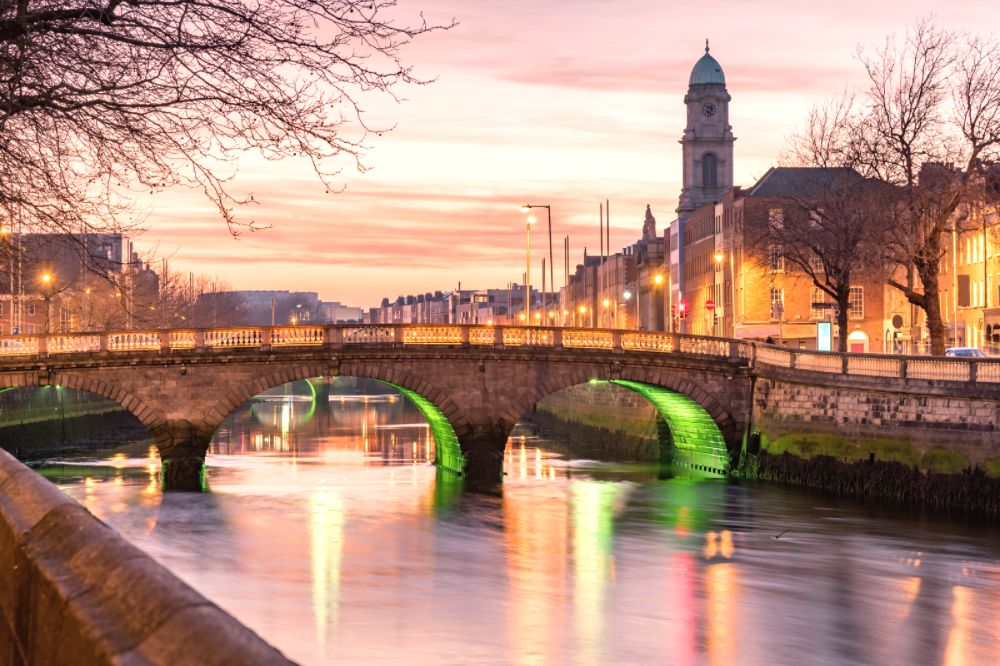 Tips For Traveling in Ireland
Be prepared for the weather: Ireland is known for its rain and unpredictable weather, so make sure to pack accordingly with waterproof clothing and comfortable shoes.
Plan ahead: Ireland is a popular tourist destination, so it's important to book accommodations, tours, and attractions in advance to avoid disappointment.
Explore beyond the major cities: While Dublin and other major cities are popular destinations, there are many charming small towns and scenic locations worth visiting throughout the country.
Embrace the local culture: Ireland is known for its friendly people, traditional music, and pubs. Take the time to interact with locals, attend cultural events, and try traditional foods and drinks.
Be respectful of local customs and etiquette: Irish culture has its own customs and etiquette, such as saying "hello" and "goodbye" when entering or leaving a shop, pub, or restaurant. It's important to be mindful the local customs and show respect.
Take your time: Ireland is a country meant to be savored and enjoyed. Take your time to explore, relax, and soak up the beauty and culture of the country.
7-Day Ireland Itinerary
This 7-day Ireland itinerary has you driving roughly 1,000 kilometers, round trip from Dublin, which is where most travelers fly into. If you have the option of flying into Shannon or Galway, you can start there and cut off the drive from Dublin to Ring of Kerry, but I don't recommend that because then you'll have to do a one-way car rental, which can be quite expensive.
Stops on the way:
Start in Dublin
Ring of Kerry
Dingle Peninsula
Killarney National Park
Moher
Galway
End in Dublin
Since many people get into Ireland via Dublin, it's fairly common to start a few days in Ireland with the capital city. However, we personally feel that Dublin is a location best suited to end your trip with a bang. Instead, we recommend beginning your Irish experience with the Ring of Kerry. However, you can do it either way – whatever suits you.
Map of Ireland Itinerary
Day 1: The Ring Of Kerry
The Ring of Kerry is a scenic route that stretches for 179 kilometers (111 miles) in a loop. If you're driving yourself and are able to choose your own stops, we recommend:
Gap of Dunloe – A narrow mountain pass that was formed by glaciers. The walk takes about 5 hours. It's not advised to drive your own car along the route as it's quite narrow.
Staigue Fort – A ruined stone ringfort three miles west of Sneem, on the Iveragh peninsula. It's still standing despite not being held together in any way.
Skellig Islands – The Skelligs, a group of rocky islands that jut out of the Atlantic just off the coast of Co. Kerry, are a UNESCO World Heritage Site.
Kenmare – A colorful town called the Jewel of the Ring of Kerry that is known for its great pubs, and also the coastal village of Portmagee, which is just as colorful.
Day 2: Killarney National Park/Ballybunion
Killarney National Park is, in a word, stunning. It's free to visit, and it's close enough to the town of Killarney that you can cycle or hike from your accommodation. Take a tour by horseback through the park to enjoy the rugged mountain view.
Torc Waterfall – 66-foot-high, 360-foot-long waterfall in Killarney National Park
Ross Castle – Built by O'Donoghue Mór in the 15th century, the castle is perched on the edge of Lough Leane, in Killarney National Park.
Muckross House and Gardens – This late-19th century mansion is the focal point of Killarney National Park. You can take a walk through the house to see the furnishings and artifacts of the period, and the gardens, no reservation needed.
Cycling, Hiking, and Walking – One of the most popular ways to experience the park is by embarking on one of these activities. You can rent bikes at a few places in Killarney. There are many trails ranging from easy to difficult. One to start with is the Knockreer Circular Walk that takes about 2 hours and leaves from the Killarney House and Gardens.
If you'd like to return to Killarney for the night, Murphy's Bar and Restaurant is a great place to enjoy good food and unwind after a busy day of exploring.
Where to Stay in Killarney
The town center of Killarney is very cute and walkable. We recommend staying just on the outskirts of the center at beautiful The Killarney Park.
Day 3: The Dingle Peninsula
About a 2-hour drive from the Ring of Kerry, in the same county, is the Dingle Peninsula, which makes for an amazing day of sightseeing.
Because of its location, you get an incredible view of the sea and the awesome cliffs, but there are also wild beaches and expansive fields to explore.
Slea Head Drive – We personally recommend doing the Slea Head Drive – a 30-kilometer loop that is a wonderful drive with stunning scenery. Slea Head is a headland on the westernmost part of the Dingle Peninsula and an iconic part of the Wild Atlantic Way.
Dingle Peninsula – The Dingle Peninsula also provides its fair share of Irish history, with the Gallarus Oratory which has been standing for over a thousand years! You'll be able to learn all about this fascinating structure from the short film that now plays there for visitors.
Dingle Town – And of course, you can't visit the Dingle Peninsula without stopping in Dingle Town! From the fishing port to the local whiskey and gin distillery, you'll be captivated by the charm of this small town, with its rugged scenery, great array of trails and sandy beaches.
If you're lucky, you might even spot Fungi the Dingle dolphin, who has been known to interact with humans around the port.
Day 4: Moher
Ireland's second biggest tourist attraction, after the Guinness Storehouse in Dublin, is the Cliffs of Moher. These dramatic and stunning cliffs attract somewhere around 1.5 million visitors a year – and not just because they are featured in The Princess Bride (1987).
Because of the masses of crowds, the parking lot and visitor center are almost always packed. You'll want to plan your trip to avoid the height of it, which is from 11am to 4pm. Also, prepare for any type of weather. While it's amazing to see the cliffs in the sun, it's pretty possible you'll get fog or even rain.
Tickets for adults cost $10 at peak times and $7 at off-peak times. Buy them online before you go for the best price. The ticket includes access to the cliffs, a cafe, restrooms, and a downloadable audio guide (be sure to bring headphones!).
O'Brien's Tower – A 10-min walk from the visitor center is O'Brien's Tower, built in 1835, where you can climb to the top for an even better view of the Aran Islands, the Twelve Bens of Connemara, and Galway Bay.
Cliffs of Moher to Hag's Head – I'd also suggest the coastal walk from the Cliffs of Moher to Hag's Head, which takes about 2 hours round trip, with amazing views.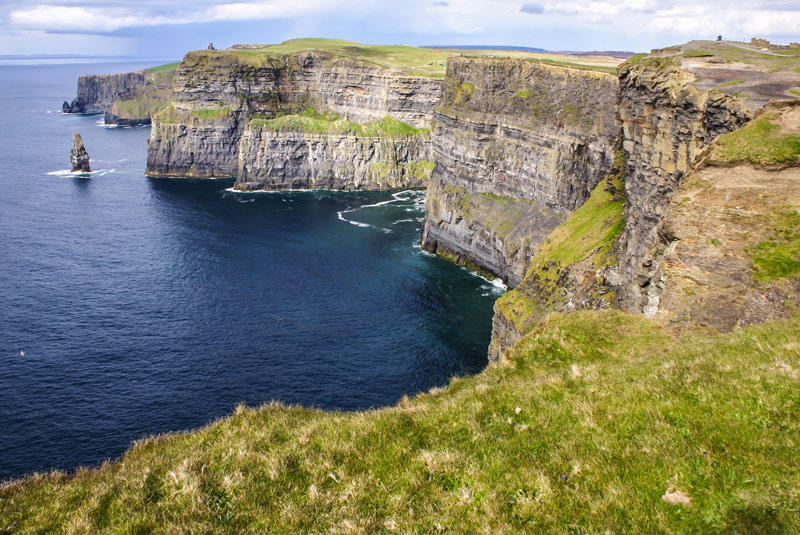 Tours To Book
If you don't want to drive yourself to the cliffs, you can get a tour from Dublin. These tours are great because you can experience other exciting attractions in the area, such as Dunguaire Castle (which has been part of Ireland for more than 500 years) or the Kilfenora Celtic Crosses.
Here are the two tours I recommend:
Another small village near the Cliffs of Moher that you may want to visit if you have time is Doolin. From there, you can also visit the Aran Islands, where you can book a pony-drawn carriage ride for an extra-special sight-seeing experience.
Day 5: Galway
It wouldn't be a week in Ireland without spending time in Galway. Galway is extremely popular with tourists because of how picturesque and culturally vibrant it is. If you love art and music, Galway is likely to be one of your favorite stops on this Ireland itinerary.
You'll want to start out exploring the Latin Quarter and Quay Street, which are some of the busiest parts of Galway, with charming streets, pubs, and shops all mixed in together. Be sure to see the Spanish Arch and Eyre Square as you soak up the festive ambiance and maybe pop into a pub for a pint along the way.
I personally love walking along the promenade overlooking Galway Bay at Salthill. The promenade stretches all the way into Galway city and it takes about 30 minutes to walk.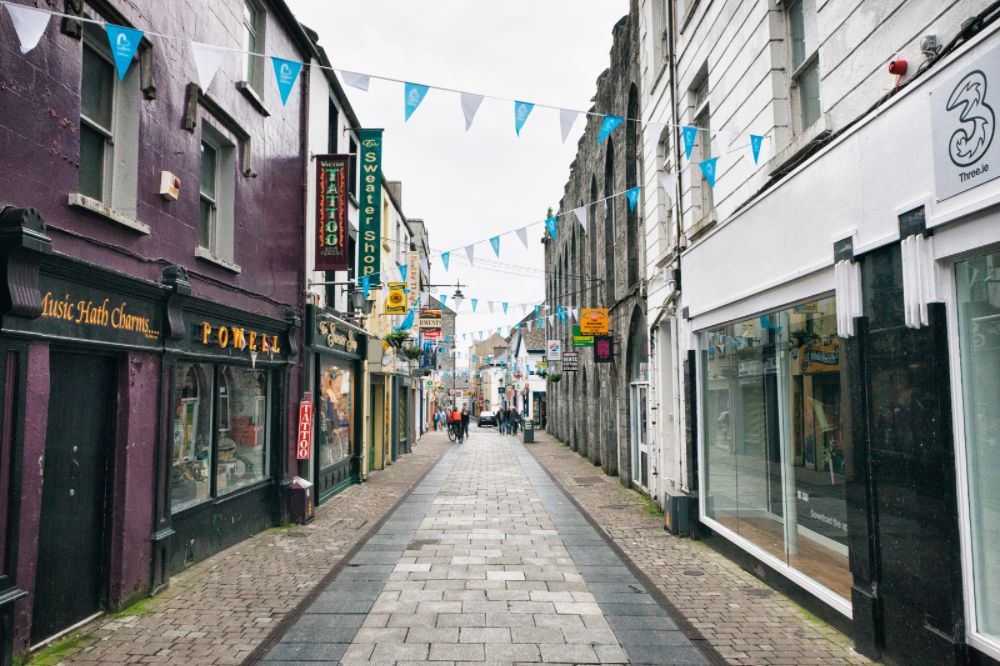 The famous Quay Street Kitchen is one of the most highly reviewed restaurants in Galway. I suggest giving their creamy seafood chowder a try. Maybe grab a couple of pints at the iconic O'Connells Bar on Eyre Square, which is where Ed Sheeran's Galway Girl video was filmed.
If you have more time to spend in Galway, spend it at Connemara National Park. This park is free to enter and you can spend hours exploring the different trails, which provide many different kinds of views within just a few miles, ranging from areas of coastline to mountains and forests.
» Try this tour: Galway Food Tours
Where to Stay in Galway
You might want to stay overnight in Ballynahinch Castle, which is one of Ireland's best castle hotels and provides a secluded, magical experience within 700 acres of countryside, including rivers and woodland areas.
Alternatively, there are plenty of other more budget-friendly accommodations available in Galway. The Clayton Hotel is a lovely, cozy environment
Stay in the center of the city to be easy walking distance from all of the charm it offers. Park House or the The Galmont are in good locations and have secure, covered parking.
Days 6 And 7: Dublin
Now it's time to explore the country's capital city: Dublin. As you might already have anticipated, there's a lot to do in Dublin, so we recommend allocating 2 full days to exploring this city.
On your first day, you may want to get your bearings with a walking tour. This 90-minute walking tour will introduce you to the city, it's history, and sights, including the Grand Post Office, Trinity College, Temple Bar, Christ Church Cathedral and more.
After the tour is a great time to visit the Guinness Storehouse and Jameson Whiskey distillery. Even if you're not a beer/whiskey drinker, these are fun and informative tours. You can get skip the line tickets for both here. It's a good idea to reserve your tour in advance because this is one of Dublin's most popular tourist activities. In addition to touring the storehouse, you'll have the opportunity to pour your own pint of Guinness.
Top Sights in Dublin
There are so many great things to do in Dublin that you'll have to pick and choose what interests you most, since you can't get around to everything. Here are some of the major highlights:
St. Patrick's Cathedral – the largest church in Ireland
Trinity College Library and the Book of Kells – Ireland's oldest university and home to the Book of Kells since 1661
Christ Church Cathedral – Stunning architecture and it has a 12th-century crypt
Dublin Castle – Probably not the grand castle you might be expecting, it was built in the early 13th century and has a lot of stories to tell.
Ha'Penny Bridge – This historic bridge over the River Liffey was built back in 1816.
Kilmainham Gaol- A former prison opened in 1796 that is now a museum.
Walk through Temple Bar – A maze of narrow streets full of pubs and live music. Just avoid eating here as it's very tourist and not great food.
St. Stephen's Green – If you need a moment to relax and reset before heading back out into the fray, St. Stephen's Green park has a pond and plenty of benches.
More Walking Tours
If you're in the mood for another walking tour, here are some really fun ones:
Delicious Dublin Food Tour – On this tour you'll try local cheeses and chocolates, drop by bakeries and food halls, and learn about Dublin's culinary history along the way.
The Dark Dublin Walking Tour provides a different perspective of Ireland, exploring some of the more chilling aspects of Irish folklore, including a history of Samhain and legends relating to some of Dublin's most famous buildings.
Where to Eat in Dublin
You might not think you're going to find amazing food in Dublin, as Ireland is known as a meat and potatoes type place, but there has been a major culinary resurgence in Ireland in the last 10 years, bringing with it some great new trends and flavors.
One thing I would suggest is to avoid tourist hot spots when choosing your meals. There are lots of big restaurants, in Temple Bar for instance, that will pull you in, but you won't get a good meal there and the price will be high. Instead, opt for places that are a little off the main streets.
I'll suggest an unforgettable meal at Restaurant Patrick Guilbaud. This fine dining restaurant has been at the heart of Dublin's food industry for 40 years and specializes in French cuisine. Vegetarian options are available as well as an 8-course tasting menu.
For Irish food – Clanbrassil House
For Pizza – Dublin Pizza Company
For Burgers – Bunsen
For a great dining experience: Allta Wine Bar
Where to Stay in Dublin
Make sure to book your accommodation in advance because hotels in Dublin tend to get booked up ahead of time. We recommend Drury Court Hotel or the Westin Hotel, which are both in prime locations in the Temple Bar area, for walking around to the top sights. Another hotel I've enjoyed is the Radisson Blu Royal Hotel, which is just a little bit further outside of the main area, but still very walkable.
When staying in Dublin, it's best to based the Temple Bar neighborhood. All of the attractions in town can be reached on the Hop-On Hop-Off bus, so you'll want a hotel close to a stop or two, and Temple Bar has the best concentration of restaurants, bars and shopping.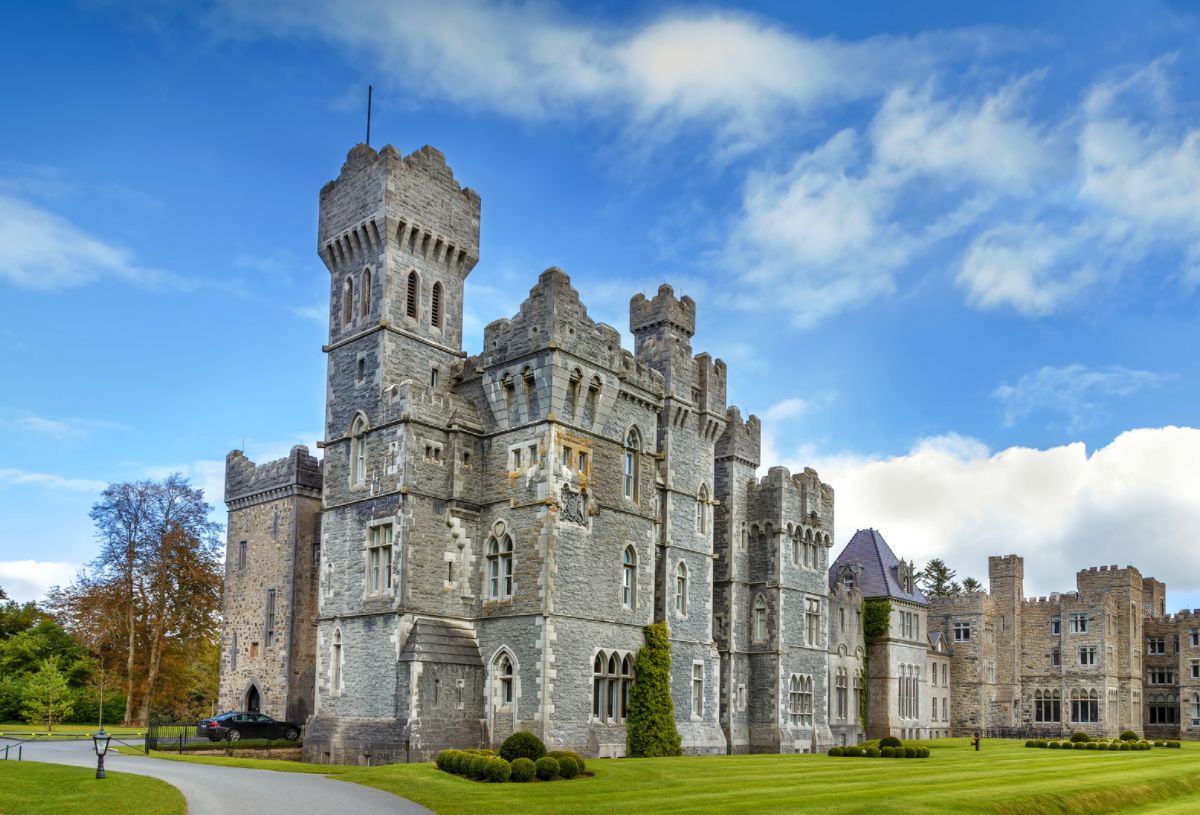 Where To Find The Best Castle Hotels
Everyone wants to stay in a castle! You'll have the chance to do just that in Ireland. In fact, you could stay in a different castle every night or your trip and never run out of possibilities.
The most fairytale like hotel castle in Ireland is Ashford Castle. It's 800 years old and was once owned by the Guinness family. It's now a 5-star luxury hotel. Kilronan Castle is another good, less expensive castle stay.
Kilkea Castle is just an hour away from Dublin and dates back tot he 12th century. There are 11 bedrooms within the castle itself, as well as a number of carriage rooms in the courtyard. The resort estate also has a spa, tennis courts, conference center, clubhouse, bar, and two restaurants.
Want the whole castle to yourself? Lismore Castle is available for exclusive hires only, meaning you and a party of between eight and 27 people can 'move in' to the castle for your stay. The experience is completely tailored to you and your special occasion, making it even more magical.
» See more fairy tale castles in Ireland.
Extra Stops (Optional)
If you find yourself with more time to spare than you anticipated, or if you end up loving Ireland so much that you decide to extend your stay, here are a few additional activities to bulk up your itinerary:
Cork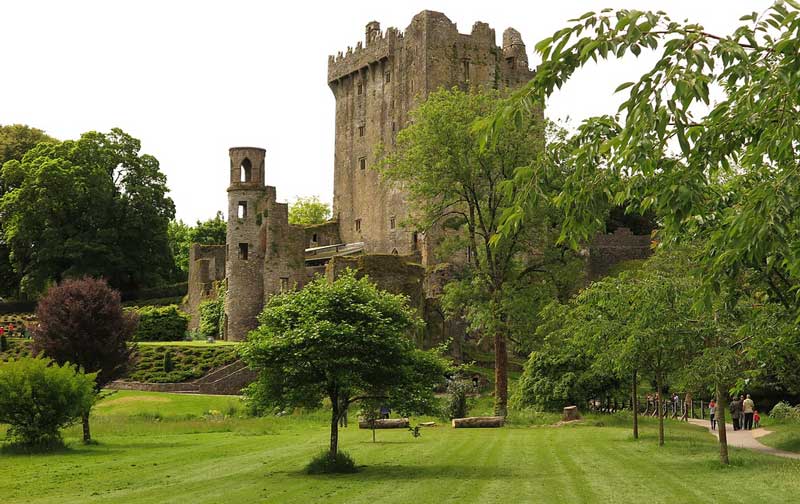 Rock of Cashel – It may not seem like it but parking is right up the narrow road right at the base of the hill. It's an automated parking system where you pay the machine when you're leaving. This parking costs 4.50 EUR. To save money you could look at parking in town and walking up which isn't too far either.
Blarney Castle – Be ready for lines up to kiss the Blarney Stone. If you're not in a rush, I recommend doing the other parts of the garden, waiting for the line to subside and then doing the castle itself.
Where to stay in Cork
Kilkenny
Kilkenny Castle – An absolute must-see in the heart of the city dating back to the 12th century.
Kilkenny Design Shop – Located opposite the Kilkenny Castle. A treasure trove of Irish arts, crafts and Irish clothing.
Smithwicks Experience – Ireland's favourite ale is over 300 years old and very popular. A chance to sample Ireland's second most famous export after Guinness!
St Canice's Cathedral & Round Tower – a place of Christian worship since the 6th century. A 100 foot round tower dating back to the 9th century stands beside the cathedral which can still be climbed to the top commanding stunning views of the surrounding area.
Kytlers Inn – The oldest inn in Kilkenny with an intriguing history. Perfect for great Guinness, great food and some toe-tapping traditional Irish music.
Final Thoughts
Whilst this 7-day itinerary doesn't cover all the incredible experiences you can have in Ireland (you'd need to stay for weeks!), we hope you can use it as a guide to plan a fun and fulfilling stay.
Be sure to book accommodation and activities in Dublin ahead of time to beat the crowds.
Like this post? Why not save it to Pinterest?
FOLLOW US on Pinterest, Instagram, Facebook for more great travel inspiration and tips.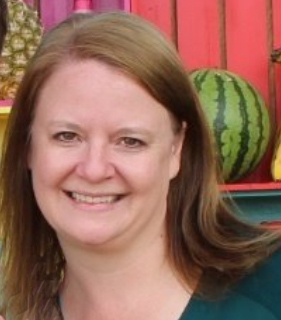 Laura Lynch, creator and writer of Savored Journeys, is an avid world traveler, certified wine expert, and international food specialist. She has written about travel and food for over 20 years and has visited over 75 countries. Her work has been published in numerous guidebooks, websites, and magazines.