If you're considering going to the archeological site of Pompeii during your trip to Italy, you might be wondering if it's worth it or not. I certainly wondered that myself before I went. It's true that some supposedly iconic attractions can be overhyped and somewhat overrated, so it's natural to ask this question.
Pompeii has a fascinating and tragic history, for sure. That's what draws us to it – our own curiosity about this incredible event that occurred. But with so many other appealing landmarks to see in Italy, does Pompeii fall into the category of "must-see" or "meh".
We actually avoided going the first few times we were in the area, because there were other things to do, like eating all of the pizza in Naples, and wine tasting in Puglia. But then we decided to give Pompeii a shot and booked tickets from Naples.
The short answer to the question of whether it's worth it or not, for me at least, is a resounding yes! Let me tell you why.
» Here is our 2-week Italy itinerary, to help you plan your trip around Italy's top cities. We also have a travel guide for Venice, a 3-day Rome itinerary, things to see in Florence, foodie things to do in Bologna, and a guide to the top landmarks in Italy. If you're hitting up Italy as part of a larger trip to Europe, be sure to check out our 2-week Europe Itinerary.
Some History About Pompeii
Before everything disappeared below fire and ash, Pompeii was a thriving city with some 20,000 inhabitants and fertile agricultural land. In the year 79 A.D., Mount Vesuvius erupted in a spectacular fashion, engulfing both cities of Pompeii and Herculaneum in pyroclastic flows.
The sudden eruption left them buried beneath 20 feet of pumice stone and ash, freezing them in time at the moment of their demise. Excavated over the course of several centuries, Pompeii has become one of the most famous Roman ruins due to its incredible preservation thanks to the ash.
But you might not realize is that only two thirds (44 hectares) of ancient Pompeii has been excavated. The rest remains buried under ash from 2,000 years ago. However, that portion that is available to the public is vast and tells a really fascinating story, not only of the final days, but of the way they lived.
Can You Visit Pompeii?
Considering that Pompeii is almost 2,000 years old, it's pretty awesome that you can go to Pompeii and walk its streets. This incredible UNESCO World Heritage Site is not kept behind ropes or fences. You can actually walk about the city and explore its buildings up close and personal.
You'll be treading the paths its ancient citizens once walked and gazing into amazingly preserved buildings. Although there is still a lot of work to be done, and some sights aren't open to the public, there is a vast amount to see.
What Will I See When Visiting Pompeii?
Pompeii was nowhere near as glamorous or aristocratic as Naples. Instead, it was a fairly ordinary city, and as such it provides the perfect glimpse into the lives of average Roman citizens.
As you wander the crumbly ruins, you'll find homes, shops, public spaces, and even some ancient graffiti to explore. There are a few impressive ruins that stand out as the main attractions the site has to offer, though. You'll want to be prepared to find and explore those spots first.
Another thing you'll see at Pompeii is the plaster casts of more than 100 people who were found in the excavation. In 1860, Pompeii's director of excavations, Giuseppe Fiorelli, developed a way to preserve the bodies by filling the void around the bodies with plaster of Paris. By doing so, the final poses, clothing, and faces of the last residents of Pompeii came to life.
Here are some of the main features you can see in Pompeii.
The Antiquarium
Even though you may be eager to meander the ancient streets and buildings, popping into the Antiquarian Museum first is highly recommended. You'll get insight from interactive displays and see fragile artifacts that couldn't be left where they were found.
Delicate amphoras, furnishings, and small items from households are all on display. You'll also see some plaster casts made from the solidified ash molds left behind by the bodies of those unfortunate enough to be caught in the eruption.
It may be a sobering sight, but it makes you aware of the history of the city you're exploring.
The Amphitheater
When you visit Pompeii, Italy, head to the Amphitheater. It seated about 12,000 spectators and is the most complete of any amphitheater built before the mighty Colosseum. It's also the oldest surviving Roman amphitheater. The archways alone are bound to leave you breathless.
The Basilica
The Basilica dates all the way back to 130-120 B.C. and it was the most sumptuous building in the Forum. Both business and justice were carried out here once upon an ancient time. Tuff pillars mark the entrances to the area the judges would sit, where the walls are decorated with large blocks of marble.
The Temples
There are several temples worthy of your time. The Temple of Isis is a real jewel of Greek architecture, although the pictorial decor was removed and is currently housed in the Archeological Museum in Naples.
The Temple of Apollo was an integral part of the Forum area. It has an astounding 48 columns surrounding it, and the central area that formed the altar to the god has yet more columns to depict its prestige. Two statues, one of Apollo and the other of Diana, stand where the originals once were (they, too, are in the Naples Museum).
The Temple of Jupiter was the main center of religious life in the city, depicting tall fluted columns and archways that are almost perfectly intact.
The Alexander Mosaic, Casa del Fauno
The Alexander Mosaic was created in the 2nd century B.C.E. It once covered the entire floor of a room located between two gardens of the grandiose Casa del Fauno (House of the Faun) in Pompeii.
Though large portions of the mosaic have been destroyed over time, there is still a lot to be seen and it's really incredible craftsmanship.
The House of the Vettii
Owned by two middle-class brothers who were well-off, this house has wonderfully preserved frescoes and marble decorations.
The kitchen still has some original utensils in it. The most famous fresco is in the triclinium, where the walls are completely covered in faux panels depicting mythological scenes and an extensive frieze of cupids.
The intense colors make this a particularly gorgeous attraction. The gardens have even been restored to what they might've looked like before the blast.
Unfortunately we weren't able to see the House of the Vettii while we were there because it wasn't open. It's important to note that not everything is open at all times. They regulate opening times to avoid large crowds. You do have to plan your day around when the houses open.
Is It Worth It?
If you ask me, visiting Pompeii is an easy "yes." Pack your comfy shoes and get ready to explore all the iconic ruins mentioned here and more at this cornerstone of tragic Italian history. You'll come away amazed, humbled, awed, and inspired to see even more of the country's wonders.
It's not always guaranteed that the crowds or the heat at Pompeii won't be overwhelming, but as far as it being overly touristy or a tourist trap, it definitely isn't. It's similar to other archeological sites around the world that are treasures being shared with the public. It's something we are privileged to see.
If you want to avoid some of the large crowds, you could visit Herculaneum instead, which is another town nearby that was also devastated by the volcanic eruption. It tends to get less visitors and is slightly better preserved. But I wouldn't skip it all together. It's definitely worth visiting.
How to Get To Pompeii
You can choose to drive, take a train, or ride the bus to Pompeii. However, the easiest form of transport to Pompeii is the trainline that runs directly to the entrance.
From Naples to Pompeii
The easiest way to get there is by the Circumvesuviana train that travels between Naples and Sorrento. The trains depart from track 3 at the underground Circumvesuviana Station beneath Napoli Centrale Station in Piazza Garibaldi. Make sure you catch the Sorrento – Pompeii line.
The Pompeii Scavi Villa dei Misteri station is directly opposite the Porta Marina entrance to Pompeii, so you'll only need to walk a few steps to get there.
The Circumvesuviana is the local train and it costs $4 for the 35-minute train ride. However, this is a local commuter train, so it's slower and has more stops along the way.
Instead of taking the local train, you can take the Campania Express train, which is much faster, but also much more expensive. The Campania Express is a special train that runs along the same line between Naples and Sorrento, but it only stops at tourist sites like Pompeii and Herculaneum.
These trains have guaranteed seating, air conditioning, and luggage storage space. It costs $15 each way and takes about 25 minutes. If you don't want to be cramped into the local train, this is a great option.
From Sorrento to Pompeii
If you're coming from Sorrento, one of the best cities in Italy, you will take the same train in the opposite direction. In Sorrento, the train departs from the station opposite Piazza Angelina Lauro every 30 minutes, and the trip takes about half an hour.
From Rome to Pompeii
It's about 149 miles from Rome to Pompeii, and the trip there will take approximately 2 hours and 15 minutes, if you take the high-speed train from Rome Termini station to Napoli Centrale. You can catch the Circumvesuviana train from there.
If you are renting a car, it'll take just under 3 hours along the E45 to reach Pompeii from Rome. If you're busy exploring Rome in three days, you might already have a rental car at your beck and call, so if you have the time it might be a good side trip!
From the Amalfi Coast to Pompeii
A tour or private transfer is the easiest way to get to Pompeii from the Amalfi Coast. If public transport is what you want, then you'll have to take the Sita bus to Sorrento and then the Circumvesuviana train to Pompeii.
Visiting Pompeii on a Tour or Independently
There are two types of travelers: those that love to go with the flow and explore on their own, and those that prefer someone else to lead the way.
Pompeii has a sizable area to cover, so whether or not you'd like to book a tour will depend on how much you want to plan ahead and how much you trust your map-reading skills.
Independently
The obvious benefits of touring Pompeii without a guide is that you'll see the attractions that you specifically choose, rather than whatever the tour guide decides to show you. It also allows for a more intimate experience, as you can explore in your own time and let your feet (or the map) guide you.
A map comes with your entrance ticket. But you can also get a 150-page booklet that gives you some insight into the top locations if you want to learn a bit of history along the way.
On a Tour
Going on a tour can remove the intimidation of navigating the city's large area and finding the highlights, if that's what you're after. It's also a great way to learn more about the places you're seeing from a guide that really knows their stuff.
If you don't have transport, some tours offer pick-up services from various cities, making it convenient for the laidback traveler. They also usually provide skip-the-line benefits, so you won't need to waste part of your day standing in queues.
You can take this tour with an archeologist, which will provide a massively immersive experience of the ruins. Otherwise, if you need a ride from Sorrento, this skip-the-line tour includes round-trip transport and a hike up Vesuvius itself.
This half-day tour from Naples offers hotel pick-up and a four-hour experience seeing the highlights of the ruins. If you're in Rome, this day-trip offers lunch and a wine tasting along with air-conditioned shuttles and an archeologist to guide you around Pompeii.
Where to Start & Tips
There are two main entrances to the site: Porta Marina to the southwest and Piazza Anfiteatro to the southeast. Porta Marina is the main entrance, as it's closest to the top attractions in Pompeii. But that means it can get busy and the queues may get long.
Depending on when you're visiting, you can choose your entrance point based on crowds.
Here is the best tip I can give you. In the summer, bring a large refillable water bottle and watch out for the fountains throughout the site with drinkable water where you can refill. It gets REALLY hot there in the summer and you're doing a lot of walking. You'll need a lot of water.
You can buy tickets in advance if you want, but it's not always necessary. You can buy tickets at the gate. However some things to note – you might have to stand in a long queue to get tickets. There are a few extras you can add to your ticket, like an audio guide or parking that might not be available the day of.
Give yourself a lot of time to explore. It's a huge site and there's a lot to see. You'll also likely want to sit down for a few minutes here and there to revive your feet. I'd suggest at least 4-5 hours, if not more.
If at all possible, I would avoid going in the height of summer to avoid crowds and extreme heat.
There aren't many places to eat inside of Pompeii. You can bring your own snacks and water, which is a really good idea. When you're done looking around, you'll likely be ready for a meal. I suggest walking down to Terrazza Pompeiana for a caprese salad and Tegamino de Gnocchi alla Sorrentina. The service might be a bit brusque, but it's the best meal we had in the area, and that's saying a lot.
Got more time? There are a couple of things you should know when traveling to Italy, so why not read up about them here.
Like this post? Why not save it to Pinterest?
FOLLOW US on Pinterest, Instagram, Facebook for more great travel inspiration and tips.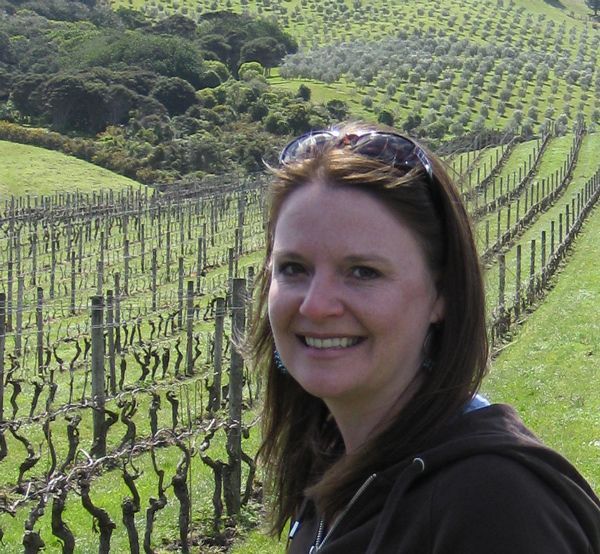 Laura Lynch, creator and writer of Savored Journeys, is an avid world traveler, certified wine expert, and international food specialist. She has written about travel and food for over 20 years and has visited 70+ countries.