We've been on so many great food tours around the world, and while they've all been good, none of them have been as fantastic as the one we went on in Bologna, Italy, with Italian Days.
I knew we were in for something special just by reading the Trip Advisor reviews, which rank the Italian Days Food Experience as the top tour in Bologna, with a full five stars. As you might suspect, it is incredibly difficult to receive that high of a rating.
When the tour started, it only took about 5 minutes for me to understand why it was ranked so high. Read on to learn why.
I've been wanting to see the Parmigiano-Reggiano factories in Modena, Italy, for many years, which is one of the main reasons we chose to visit Bologna (aside from these other fun foodie reasons).
Since it has a major airport, Bologna is the perfect place to fly into if you're interested in any of the DOP: Denominazione di Origine Protetta ("Protected Designation of Origin") products of Italy.
DOP products have a strict standard to follow, including that all of the ingredients used must come from the area of origin and use traditional methods of production. My favorites are Parmigiano-Reggiano, Prosciutto and balsamic vinegar, all of which you can find just outside of Bologna, Italy.
The only areas of Italy that are allowed to produce Parmigiano-Reggiano cheese are Parma, Reggio Emilia, Modena and parts of the provinces of Mantua and Bologna. If it comes from anywhere else, it's not a DOP-authorized product.
You might also be interested in: A Self-Guided Wine Tasting Tour in Chianti, Italy
Italian Days has constructed a food tour that takes you around to the factories where these products are made. They give a very informative tour of each, where they explain the process, allow you to walk around and take photos, and ask as many questions as you might have.
Then they let you try the products. And when I say try, I mean they let you indulge with wild abandon.
From the very first email exchange I had with the Italian Days team, I was sure we were in for a great time. The email explains that if you're looking for a formal, quiet tour that this is not the tour for you. Every exchange we had while setting up and confirming the tour showed that they are passionate about these tours and happy to have you along. They told us exactly what to expect so there were no surprises.
We were picked up from our hotel in Bologna at 7am in a van, then we picked up a few others and drove out to the edge of Modena to the Parmigiano-Reggiano factory. It was there that we met up with a few other vans of people. In total, there were about 15 people on the tour.
That was when we met Alessandro. As I said, it took me about five minutes, maybe even less, to understand why the Italian Days Food Experience gets such high ratings, and that is Alessandro himself.
He is truly one of the most gregarious, cheerful tour guides I've ever met. It was very early and no one knew each other, but Alessandro encouraged smiles and laughs out of each one of us within just a few minutes. He had us talking and making friends with each other right away. If only every tour we took was led by someone with his karisma!
We arrived so early at the cheese factory in order to see them making the cheese for the day, which was incredibly fascinating. It's a long process and there are a lot of copper vats full of ingredients that eventually are churned into big blocks of cheese.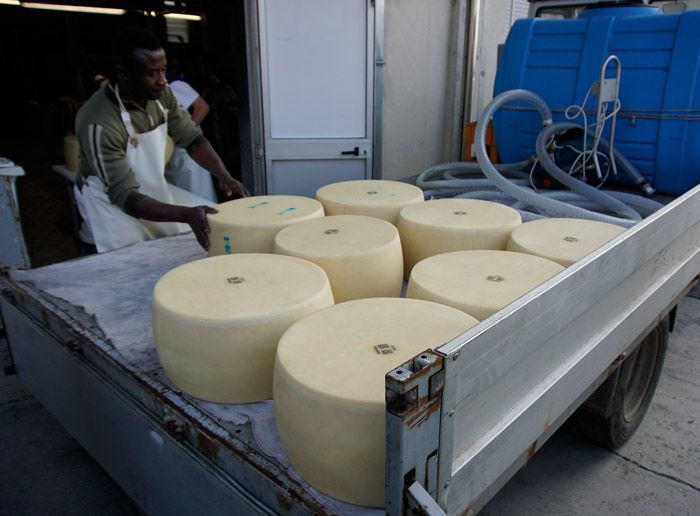 Following the factory tour, we convened outside for what the website and Alessandro bill as the breakfast of champions. If I wasn't already convinced as to why this is the number one tour in Bologna, it was definitely solidified the second breakfast began.
First of all, there were two types of cheese that we tried – one that had been aged for 15 months and one that had been aged for 25 months. The cheese was cut into little hunks and laid out for us to try as much as we wanted. Then came the mortadella sandwiches, the pizza bread, the salami, and the pastries. We ate until no one could imagine putting another morsel in their mouth.
Next, then we drove to an historic acetaia, a family-owned farmhouse where the famous Traditional Balsamic Vinegar of Modena DOP is made.
I have a new-found respect for traditional balsamic vinegar after seeing the process it must go through. True DOP balsamic must be aged for a minimum of 12 years. Over that time, it ages in a series of five barrels called a battaria. This is not your typical balsamic. This is certified DOP, artisanal balsamic that can only be made in Reggio Emilia and Modena, Italy.
Before touring the attic where the battarias are aging, we sampled each grade of balsamic on spoons. Then we had a small cup of fresh ricotta cheese with balsamic jelly, and a cup of ice cream gelato with balsamic dressing. Each of the balsamic vinegars we tried were fantastic, but the 12-year aged balsamic stood out as the true star.
Our last factory tour was at a Prosciutto factory. This is also a DOP product, made with the utmost care and strict standards. The aging process is extensive and the factory is absolutely packed full of meat, from Pancetta, pork cheek, and disossato – which is prosciutto with the bone removed.
Alessandro walked us around the building, showing and explaining the different levels of aging and drying that must take place.
And in case you were wondering, once the tour is over, the eating begins. More than a dozen different types of aged meats from the factory were sliced up by the master slicer and set before us in a huge smorgasbord of cured meat.
If ever you were to stop eating to take a break, or your plate went empty, Alessandro would come along with a few more slices for you to try. We ate and ate until not one of us could possibly consume one more slice. And we washed it all down with copious amounts of red and white wine.
Now, this is the part of the tour when you'd think the vans would head back home and start dropping people off at their hotels, but that is just not the kind of tour this is. After all, the eating and drinking we'd already done were just tastings of the products we'd learned about along the way. The final stop was where we would eat a "light" lunch, as its billed on the tour description, at a countryside trattoria.
And what a lunch it was! Plate upon plate of delicious homemade dishes continued to arrive at the table. By this time, we were all friends, so the family-style lunch was a perfect ending to a great day. Take my word for it that this is not a light lunch. It is definitely worth saving room for, so be sure to factor that into your eating strategy throughout the day.
I was absolutely blown away by the excitement, the food, and the generosity shown throughout this tour. Never have we eaten so much food on a food tour before – and that's saying a lot. You will not only have a fantastic time and eat a ton, you will learn a lot and make some new friends along the way. There just is no other Bologna food tour that can live up to this one.
To sign up for the Italian Days Original Food Tour, head to their website. In case you're thinking that the €150 price tag is a lot, remember that the tour includes 3 factory tours with full tastings, an enormous lunch, wine, transportation, insurance and a food coma. It's packed with value and I assure you it is worth it.
» You can also book the tour here through Viator.
And oh, by the way, you can buy any of the products you tasted during the day. It's incredibly easy to take home a chunk of cheese or a couple bottles of balsamic. I took a huge block of Parmigiano-Reggiano back to the U.S. with me and used it for months!
Italian Days Food Experience also offers truffle hunting tours, wine tours and a bunch of other great options for things to do in the area.
Find other fun activities to do in Bologna on GetYourGuide.com.
Like this post? Why not save it on your Pinterest board to share with others?
(Disclosure: We attended this tour as guests of Italian Days Food Tour. As always, all opinions are my own.)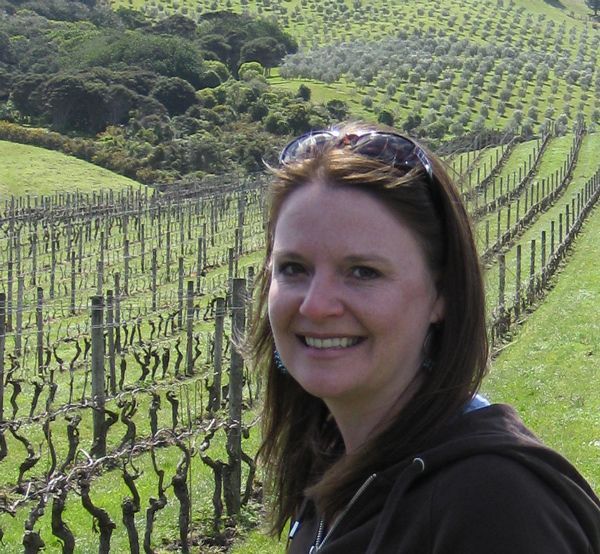 Laura Lynch, creator and writer of Savored Journeys, is an avid world traveler, certified wine expert, and international food specialist. She has written about travel and food for over 20 years and has visited 70+ countries.