Our Global Gourmet recipe series is designed to bring the foods we loved while traveling into our own kitchens and onto our dinner tables.
Italian gnocchi is one of my absolute favorites. We learned a very easy gnocchi recipe during our trip to Tuscany that we're going to share with you today.
Who doesn't love Italian food? The flavors of Italian food are universally loved. In fact, Italian food is probably my favorite cuisine in the world. After every trip we take to Italy, we are eager to get back to our own kitchen to try to replicate the delicious dishes we had while we were there.
It's actually quite easy to make scrumptious, pillowy soft gnocchi at home. We learned to make this recipe during a cooking class in Tuscany by Cook Eat Discover and we've made it dozens of times since, with fantastic results.
About Potato Gnocchi
Making gnocchi isn't a difficult task, but it is a very specific one that requires the proper ingredients and the proper techniques. I have to admit, I'd tried to make gnocchi a couple of times in the past only to have it turn out chewy and unsatisfying.
I always wondered what the secret was that I was missing. After being shown the proper method from Oliver at Cook Eat Discover, I was able to go back home and make the best, softest gnocchi I've ever made. It was truly all about the ingredients and the technique.
Don't let this scare you, though. The techniques are very simple, and the ingredients are not hard to find. After making gnocchi the way I was taught by Oliver, I realized I had just been making a few minor errors that resulted in poor gnocchi.
Now that I know, I won't be making any more chewy gnocchi. It's only pillow-soft dumplings for me!
How to Make Italian Gnocchi
Ready to make some gnocchi of your own? I'll walk you through the steps as Oliver taught us to do in Tuscany. You first need to boil the potatoes. Potatoes are obviously the most important ingredient – the star of the show – in Italian gnocchi. But you can't just use any variety.
Potatoes that are too waxy will lead to gummy gnocchi. Choose a variety that is dry and floury. I've used russets in the past, but I had a lot more success with the Maris Piper variety I can get in the UK, which have a light skin and yellow flesh. Yukon Gold, Kennebec, or Desiree would be suitable as well.
You can also use sweet potatoes to make gnocchi. They give a nice sweetness to the dumpling and they taste great without a lot of sauce. For a simple version, give this vegan sweet potato gnocchi a try.
Step 1: Boil the Potatoes
Drop about 1 kilo of potatoes, with the skins on, into a pot of salted water on a low boil. They'll need about 20 minutes to cook. Don't overdo it, or they'll take on too much water.
Step 2: Rice the Potatoes
While they are still hot, put the potatoes through a potato ricer to form a pile of fluffy potato.
Note: There's really no good substitute for a ricer when it comes to making gnocchi. You can buy one on Amazon for $20 or less. It's the only way to get the potato mixture as fluffy and light as it needs to be.
Step 3: Mix the Dough
Make a well in the center of your potatoes and sprinkle the flour over the top of the pile. Add a large pinch of salt to the pile. It needs quite a bit of salt to flavor the potatoes.
Another very important aspect of fluffy gnocchi is the flour. For one, don't add too much – it needs only enough to hold together without being sticky. The amount may vary each time you make it. Secondly, you need to use the right type of flour.
I've made gnocchi with all purpose flour in the past, but have learned that Type 00 flour is the best because it doesn't contain as much sticky gluten that will ruin the texture of your gnocchi.
Next, crack an egg into the middle of the well. Then, with a fork, stir up the egg with some of the surrounding flour to mix it up, before incorporating it into the rest of the potato.
Step 4: Create a Dough Ball
As soon as you've mixed in a bit of the egg with the other ingredients, you'll be able to form a dough ball with your hands. Be very gentle when you mix it all together.
Kneading it, stirring it, or other vigorously mixing it together will cause it to become stiff and hard, so just gently incorporate it all into a ball.
Step 5: Cut & Roll the Dough
Cut the ball into quarters. You'll roll out each quarter separately. You can use a pasta cutting board or flat-surface counter top to roll out the gnocchi. Sprinkle some flour onto the board, then use the palms of your hands to lengthen the dough into a tootsie roll shape.
Once you've got the roll as even as possible, cut the roll into small, bite-sized pieces. I use a dough scraper for this task, because it's super easy to cut through the gnocchi and then scoop them up to put them on the sheet pan. You could also use a knife or a fork.
Make sure you don't cut the gnocchi into pieces that are too big for eating. About 3/4 inch squares are perfect. You can cut them to your own preference, of course. This recipe makes a lot of gnocchi. Unless you'll be serving it to a crowd, you'll likely want to store some of the gnocchi away in the freezer until you wish to use it again.
The best way to do this is to lightly flour each piece, then place them (without touching) on a plate and put them in the freezer for 20 minutes to firm them up. You can then transfer them to a freezer bag without having them stick together.
Step 6: Cook the Gnocchi
It only takes about 3 minutes to cook them. Just boil a pot of salted water, then lower the heat to a roiling boil and add the desired amount of gnocchi. In about a minute, they'll start to float. Cook them for an additional 2 minutes and they're done.
Don't cook them on a full boil, however – they can fall apart if the boil is too violent. Now that your gnocchi is cooked and ready, you get to decide how you'd like to serve it. There are many different sauces you can dress it with.
I love to add brown butter and sage with a sprinkling of Parmesan. At Cook Eat Discover, Oliver made a lovely pumpkin and Parmesan sauce (here's something similar) to go with our gnocchi. You may also choose a basic marinara sauce with basil.
Here are all of the tools we used to make this dish. They are all very easy to purchase on Amazon and don't cost much. Once you've have them, you can use them over an over again to make beautiful gnocchi.
Perfect Gnocchi Wine Pairing
There are many wines that go well with gnocchi. You may want to vary your choice based on the type of sauce you serve it with, however. I have always been a fan of drinking the wine from the region the dish came from, so for this dish, I highly recommend pairing it with a Chianti.
I highly recommend a Chianti Classico from Castello di Radda, or a Chianti Superiore from Ruffino Winery in Tuscany. Both are lovely wines with a lot of character that showcase the Sangiovese grape and the Chianti terroir.
You can get these wines in some parts of the United States. If you can't find these ones, ask your local wine specialist to recommend a good one for you. Now, go out and make your own light and fluffy gnocchi and enjoy. Bon Appetito!
(This recipe has been adapted from Cook Eat Discover.)
Yield:

6 servings
Italian Gnocchi
Total Time:
1 hour
3 minutes
This potato gnocchi is just like the pillowy soft dumplings you'll eat in Italy.
Ingredients
2 lbs baking potatoes
2 large eggs
300 grams flour, type 00
1 tsp salt
Instructions
Boil the potatoes, skins on, in salted water for around 20-40 mins, depending on size, or until tender but not splitting. Drain.
While still hot, push the potatoes through a potato ricer or fine sieve onto a work surface.
On top of the potato, pour the flour and salt. Go light on the flour initially. You can always add more if the dough is too sticky.
Make a well in the center of the potatoes and crack the eggs into the center. Lightly whisk the eggs with a fork.
With your hands, combine the ingredients together gently to form a ball of dough.
Divide the dough into 4 equal parts. Roll the dough on a floured surface to form a long, even log.
With a knife or dough cutter, cut the log into bite-sized pieces. Store them on a floured surface until ready to cook, or transfer them to the freezer.
To cook, gently boil in salted water for roughly 3 minutes. Do not overcook. Drain. Mix with sauce. Serve.
Recommended Products
As an Amazon Associate and member of other affiliate programs, I earn from qualifying purchases.
Nutrition Information:
Yield:
6
Amount Per Serving:
Calories:

346
Total Fat:

2g
Saturated Fat:

1g
Trans Fat:

0g
Unsaturated Fat:

1g
Cholesterol:

62mg
Sodium:

427mg
Carbohydrates:

70g
Fiber:

5g
Sugar:

2g
Protein:

11g
Like this post? Why not share it on Pinterest.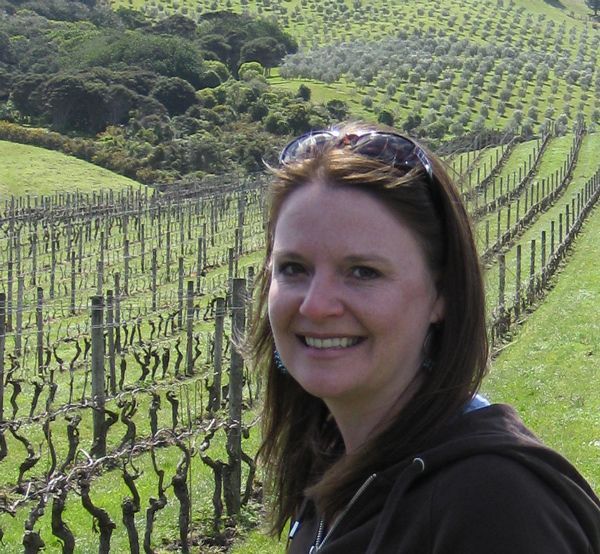 Laura Lynch, creator and writer of Savored Journeys, is an avid world traveler, certified wine expert, and international food specialist. She has written about travel and food for over 20 years and has visited over 75 countries.