Have you ever wanted to go wine tasting in one of the most beautiful wine regions in the world? The Loire Valley in France is home to some of the finest wines in the world, not to mention many dramatic Chateaux. It's a great place to visit if you're a fan of good wine.
In this blog post, we'll tell you everything you need to know about how and where to go wine tasting – which Loire Valley Chateaux to visit and where to stay.
This region is very spread out, so it can be a bit more tricky than others for wine tasting. You can just visit one or two areas, for a day or two, or you can extend into a road trip, so you can see more of the region. You will definitely need a car to get around!
For more great wine regions, see our Discover Wine series, which focuses on regions of the world you can visit for wine tasting.
About the Loire Valley
Loire Valley wine region is the longest wine route in the country, stretching over 1000 kilometers along the Loire River in France. It's not only well known for its incredible wine, but for it's beautiful vineyards and Chateaux.
A trip through the Loire Valley will give you insight into many top wine designations, like Vouvray, Pouilly Fumé, and Sancerre.
The Loire Valley produces a variety of grape varietals, including Chenin Blanc, Sauvignon Blanc and Gamay Noir, making the area an exciting place to go wine tasting.
How to Tour the Loire Valley
It's nearly impossible to see the entire valley in just one trip, especially since you'll be sidetracked all along the way with fantastic activities and wineries to visit. In my opinion, it's best to base yourself in Tours for a 1-3 night stay. Hit up the wineries in Tours and to the east in Vouvray, Sancerre and Pouilly Fume.
Then if you have more time, you can move to the small village of Saumur, which is known for its famous sparkling wines. The wineries we've recommended below are in these areas, so it will be easy to plan.
Book a Tour
There are two ways to do your wine touring. You can book a tour, which can either be private or a group tour. This can be a fun way to meet other people and not have to do the planning yourself, but it's restrictive because you can't plan your own schedule and it can be expensive.
Loire Valley wine tours we recommend:
Self-Guided
We prefer to do self-guided tours of wineries. While there is a little more work involved because you have to set up all the tours yourself, there are tools that will help make this super easy. The one I use is called Rue des Vignerons.
The site has 450+ wineries, both family-owned and famous houses, that includes 1,500 bookable experiences, including tastings, tours, workshops, and meals. You can book online up to 30 minutes before and your appointment is confirmed instantly. This is the website I used to book all of my Bordeaux tasting appointments.
In our descriptions below, I will give you links directly to Rue des Vignerons for each winery where it's available so you can easily book your tours.
---
How to Get to Loire Valley
Getting to the Loire Valley is quite easy, whether you're coming from within France or abroad. Here's a rundown of the different ways you can reach this beautiful wine region:
By Air
The closest international airport to the Loire Valley is Paris Charles de Gaulle (CDG). From there, you can either rent a car or catch a train to the Loire Valley.
Alternatively, you can fly into smaller airports like Tours Val de Loire Airport (TUF) or Nantes Atlantique Airport (NTE) if you can find a suitable flight. Keep in mind that flights to these smaller airports might be less frequent and more expensive.
By Train
The Loire Valley is well connected to the French rail network, making it easy to reach from other parts of the country. From Paris, you can take a high-speed TGV train to cities like Tours, Angers, or Orleans, which are all great starting points for exploring the Loire Valley.
The journey takes around 1 to 1.5 hours, depending on your destination. You can book train tickets through the SNCF website or the Trainline app.
By Car
If you prefer to drive, renting a car gives you the freedom and flexibility to explore the Loire Valley at your own pace. From Paris, it's roughly a 2-3 hour drive to the Loire Valley, depending on your destination. Be prepared for toll roads and make sure you have a good GPS or map to navigate the French countryside.
Where to Stay in Loire Valley
The city of Tours in France is a great place to stay while you're wine tasting in the Loire Valley, as it is located in the heart of the beautiful Loire Valley. The city has plenty of wineries to choose from, offering an array of different wines with unique flavors and aromas.
Tours is also home to plenty of great restaurants and bars where you can enjoy a meal or simply have a glass (or two) of your favorite wine.
In Saumur, we like these hotels:
Wineries to Visit
There are over 1000 wineries in the area that are open to visitors. Some of them are famous Chateaux that you must stop at. Many of them offer accommodations where you can stay among the vines, great wining and dining experiences, even the chance to pick grapes, participate in harvest, or make your own blend.
Just check around, you'll find more things to do than you can possibly fit into your itinerary.
The prominent grapes in the Loire Valley are Cabernet Franc, Gamay, Chenin Blanc, and Melon de Bourgogne. The styles of wine vary as much as the terroir along the river. Villages you'll want to visit include Touraine, Bourgeuil, Nantes, Chinon, Savennières, Saumur and Anjou.
Vouvrey AOP Wineries to Visit
The Vouvray AOP (Appellation d'Origine Protégée) is all about one grape: Chenin Blanc. Trust me, if you're into white wines, this is a place you'll want to explore.
The appellation has been around since 1936, and it's one of the oldest appellations in France. The terroir here is pretty unique, with lots of limestone and clay soils, which makes the vines super happy and gives the wines that je ne sais quoi.
Vouvray's got a bunch of different styles to keep things interesting. You've got your still wines, which can be dry (called "sec" in French) or off-dry ("demi-sec"), and then there are the sparkling ones that'll make your taste buds dance. They even have sweet dessert wines, too, which are great for sipping after a fancy meal.
Since 1953, three generations of winegrowers work within the Cave des Producteurs of Vouvray which has a little more than 400 hectares of vineyards grown in this Loire appellation. This is a cooperative cellar where about thirty wine enthusiasts make wine from their own farms. They also commit a minimum volume of 50% of their harvest to the still and sparkling wines of the Cave itself.
When you visit, you can do a free or guided wine tour and tasting. They also offer a tasting and tour that includes an aperitif basket of local products (goat cheese, rillettes, fish terrine from the Loire, aperitif cookies) that you can enjoy onsite or take away.
This is a small family-owned winery with 3 wine-producer generations working to craft some award winning wines.
During a visit to their wine storehouse, you can do a free tasting or pay just 6 euro to visit the XIIIth century troglodyte cellars.
Just 20 minutes of Tours in the Noizay's hills is this family estate run by Thierry Cosme and his son. Their wine making started in 1945, then in 1988 Thierry took over the estate and expanded the wine production from 4.5 hectares to 20 hectares.
A visit to the winery can include a tasting of their famous Vouvray cuvées, from Brut to half-dry wines. You can also schedule a tour of their cellar dug in the limestone hillside. The tour takes about an hour and a half with a tasting and visit to the storehouse.
---
Pouilly Fumé Wineries to Visit
The Pouilly Fumé region is all about Sauvignon Blanc, and trust me, it's worth checking out. Pouilly Fumé is located on the eastern end of the Loire Valley, near the town of Pouilly-sur-Loire, which is pretty close to Sancerre (another Sauvignon Blanc superstar).
The region is blessed with limestone, flint, and clay soils that make its wines truly stand out.
Let's talk about some wineries you should hit up while you're in the area. Keep in mind that these require appointments, so make sure to plan ahead. You can make your appointments at our suggested wineries by clicking the Make an Appointment button.
Catherine and Michel Langlois's winery is located at Pougny between Sancerre and Pouilly-sur-Loire in the Nièvre area. They own a 17-hectare vineyard close to Cosne-sur-Loire. Catherine et Michel took over the entreprise in 1996 and focused on diversifying the winery's production and get new patches of land to be closer to Pouilly-Fumé, Coteaux du Giennois and Vins de Pays.
Château de Tracy is built on a rocky spur overlooking the Loire. The 36-hectare vineyard extends over the slopes of the Château and Vilmoy, near Pouilly sur Loire. A 1396 manuscript, kept in the property's archives, records the purchase of the Champ de Crix. The latter is still planted with vines and still belongs to the Domaine.
The current family business was redesigned in 1952 by the Count and Countess Alain d'Estutt d'Assay. Their youngest daughter, Mrs Juliette d'Assay, now manages the estate in keeping with the spirit of quality and excellence that has always been the key word of the structure.
---
Sancerre Wineries to Visit
This picturesque region in the Loire Valley is a wine lover's paradise, especially if you're a fan of crisp, refreshing whites. Let me tell you a bit about the region, the wines you'll find there, and some wineries you've gotta check out.
Sancerre is located in the eastern part of the Loire Valley, near the lovely town of Sancerre itself. This region has a unique terroir with limestone, flint, and clay soils that give the wines their distinctive character. The landscape is made up of rolling hills and vineyards, with some stunning views of the surrounding countryside.
Sancerre is all about Sauvignon Blanc, which is the star grape in the region. These wines are famous for their vibrant acidity, citrus and green fruit flavors, and that oh-so-refreshing minerality. They're perfect for sipping on a warm day or pairing with all kinds of seafood, goat cheese, and even veggie dishes.
Although white wines are the main attraction in Sancerre, you can also find some Pinot Noir-based red and rosé wines. They tend to be light and fruity, with a hint of earthiness, and make for a nice change of pace.
In the 70's during Sancerre wines' rise in Paris, this wine-making family decided to focus only on wine-producing. Then in 1981, Daniel and Josette Millet built a cellar on a piece of land called "La Gemière". That's how the estate was born. They started with 8 hectares. Since the 2000's, their sons Sébastien and Nicolas have helped them grow to 19 hectares.
The Crochet family are a people who are born and die as wine-producers! Jean Marc joined his father Bernard in 1980 then Mathieu joined in 2007. Together they care about the works of the vine and the wine. You will feel their passion for their work when you visit and discover their different Sancerre wines.
Fabienne and Benoit are the daughter and the son-in-law of Dominique and Bernard-Noël Reverdy. They took over the family enterprise in 2008. Today, they cultivate a 12ha sustainable vineyard to produce unique and often rewarded Sancerre Blanc, Red and Rosé wines. They offer a free tasting of their wines.
---
Saumur Wineries to Visit
This region is all about diversity, with a little something for everyone, from sparkling wines to reds and whites.
First things first, Saumur is located around the town of Saumur in the central part of the Loire Valley. The region has a variety of soils, like limestone, clay, and sandy terraces, which means you'll find different styles of wine depending on where you are.
They're best known for their sparkling wines (called Saumur Brut), which are made using the traditional method (same as Champagne). These bubbly beauties are mostly crafted from Chenin Blanc, Chardonnay, and Cabernet Franc.
Speaking of Cabernet Franc, Saumur is also home to some fantastic red wines, particularly Saumur-Champigny. These reds are typically light to medium-bodied, with lovely red fruit flavors and a hint of earthiness.
And let's not forget the whites! You'll find some delightful Chenin Blanc-based wines here, which can range from dry to sweet and even some lovely off-dry styles.
This iconic winery is famous for its sparkling wines, with more than 500 medals and awards. Take a tour of their impressive eight kilometer underground cellars dug into the tuffeau calciary stone and discover every step of the winemaking process, immerse yourself in the history of our house built in 1851, discover the Cathédrale Engloutie lying in the heart of the underground cellars, and taste the Bruts de Loire sparkling wines.
Discover a eighth-generation winemaker from father to son. The winery combines tradition and terroir to produce wines both traditional and atypical. They offer quite a few different types of tours and tastings so you can find one that excites you, from a historical tour of the estate, to a sensory tasting, to a bio-dynamic bike tour through the vineyards.
Founded in 1811, Ackerman – the oldest fine bubbles house in the Loire – specialises in the production of Saumur and Crémant de Loire appellations, using the traditional method. Combining tradition and innovation, its blends with an expressive and aromatic style, offer you both great gastronomic vintages and daring vintages for all your tasting moments.
The Château de Parnay, historical vineyard of Antoine Cristal, is a jewel in AOC Saumur-Champigny. The wine estate is located on the edge of the Loire, listed in the UNESCO world heritage on the most famous clay-limestone terroirs of the appellation.
Pin it for later!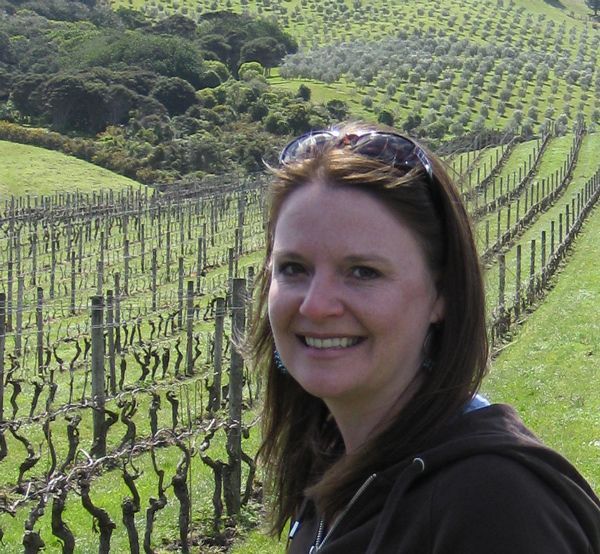 Laura Lynch, creator and writer of Savored Journeys, is an avid world traveler, certified wine expert, and international food specialist. She has written about travel and food for over 20 years and has visited over 75 countries.