One of our favorite wine tasting trips in Portugal was on the island of Madeira, off the coast of mainland Portugal. It's a unique type of wine that's quite sweet. The wine tasting experience in Madeira is also unique, which makes it a fun place to explore and get off the beaten path for a while.
We've been port tasting in Porto, Portugal, and along the Douro Valley wine region. Both of those areas are equally stunning, but Madeira is very much its own thing. I would definitely recommend tasting the Madeira wine if you're visiting the island, and visiting a few Madeira wineries, even if the extent of your tasting is at Blandy's Wine Lodge in Funchal.
» Visiting soon? Check out our 15 Great Things to Do in Madeira Portugal and our guide to the most gorgeous beaches in Madeira, as well as the wineries you should visit.
Where to Stay
If you're going to Madeira for wine tasting, why not stay at the wine hotel in Funchal
The Vine
9.2/10 Wonderful / 5-star luxury hotel
About Madeira
Just off the coast of Africa and surrounded by the deep-blue waters of the Atlantic Ocean is the Portuguese island of Madeira. It's an archipelago full of beauty, where the community moves at a relaxed pace in towns and cities encircled by forests and mountains.
Madeira has incredibly fertile soil caused by volcanic activity thousands of years ago. Soon after, the Portuguese claimed this island as their own, and their settlers began to farm and discover how nutrient-rich the land was.
Since then, farmers have been growing various crops, such as sugarcane, fruit, cereals, and, most famously, wine grapes. In fact, one of its most important exports is Madeira wine, a drink best served with mouthwatering Portuguese desserts.
What Kind of Wine is Madeira?
Madeira is a fortified wine, typically drank as an aperitif or with dessert. It can only be made on the island, much like Champagne is only made in the Champagne region of France. When drinking Madeira, you can expect to get notes of dried or stewed fruit, toasted nuts, and caramel.
Its most similar alternative is port, but the production method of Madeira wine is vastly different from any other alcoholic beverage. We'll cover this next, so keep on reading.
How is Madeira Made?
Madeira is made in a very distinct way, as I mentioned above. Madeira grapes are picked a lot earlier than usual harvest dates, leaving behind a more acidic juice. But, it is truly in the aging process of the wine that is what makes Madeira wine, Madeira.
After the grapes are picked, they are either aged in heated tanks Estufa, aged in barrels outside in the sun, or in heated rooms, as part of the Canteiro Method. The wine is also shaken and cooked to simulate how they were transported from the coast of Madeira to the Caribbean.
This is where the wine heated up due to the tropics' humidity. Upon arrival, sailors noticed how Madeira's flavor had changed to a more distinct and deepened taste. Another fascinating thing about its production is that the wine is exposed to oxygen, which is usually never done in the winemaking process.
For more great wine regions, see our Discover Wine series, which focuses on regions of the world you can visit for wine tasting.
We Love a Good Wine Club
Introducing Picked by Wine.com – The wine club that comes with a personal somm, and provides endless wines picked just for your palate. → Sign up here
What do the Picked subscribers get?
You're in Control. Cancel or change your subscription at any time.
Free Shipping. And Free Expert Advice. Because free is good.
100% Satisfaction Guarantee. If any bottle misses the mark, we'll give you a full credit to apply to a new bottle.
New subscribers get $50 OFF their first box with code PICK50
How to Get to Madeira
Madeira's international airport is Cristiano Ronaldo Madeira International Airport (FNC), which is located near the capital city of Funchal. Several airlines offer direct flights to Madeira from major cities in Europe, including TAP Air Portugal, EasyJet, and Ryanair. Check the flight schedules for each airline to find the best time for your trip.
You'll want to rent a car so you can easily get around to all of these wineries. Many of them are in Funchal and can be walked to from a city center hotel, but some, like Barbeito, is far up in the mountains.
Where to Stay in Madeira
Madeira is a beautiful island with plenty of luxurious accommodations to choose from, particularly in the capital city of Funchal. Here are some top options for luxury hotels in Funchal:
Belmond Reid's Palace: This iconic hotel has been welcoming guests to Madeira since 1891 and is known for its elegant rooms, impeccable service, and stunning ocean views. The hotel features lush gardens, a private beach, and several restaurants and bars.
The Vine: We really enjoyed this hotel. You can walk right out the door into the center of the old town, so the location can't be beat. The rooms are very nice and there's an awesome rooftop pool.
Savoy Palace: This modern hotel features sleek, contemporary design and offers guests several pools, a spa, and several restaurants and bars. The rooms are spacious and feature balconies with views of the city or ocean.
Best Madeira Wine Tasting Spots
There are so many terrific things to do on Madeira island, from hiking up its "levadas" to seeing breathtaking coastline views on the Madeira Skywalk.
However, a truly once-in-a-lifetime experience is learning about Madeira wine history at one of its various marvelous wineries. Luckily for you, we've done all the work in finding the best Madeira wine farms to explore.
Book a Tour
If you don't want to drive yourself around to the wineries and have to sip and spit, the best way to go is a wine tour with a guide and a driver. Here are two that we've been on and recommend:
Henriques & Henriques
Henriques & Henriques (H&H) dates to 1850 when João Gonçalves Henriques founded the company. The family has since played a vital part in viticulture and winemaking in Madeira and is the largest self-sufficient producer of Madeira wine. They also own most of the vineyards, unlike most other exporters.
The fantastic part about visiting the H&H wine lodge, Casa dos Vinhos da Madeira, is they offer you free tastings of their three-year range of wine. These are available in six different styles of Madeira wine: rainwater, dry, medium dry, extra dry, sweet, and semi-sweet.
You'll also get a tour of where the wine is aged and learn all about H&H's history. We just advise you to book ahead if you're in a group of ten or more. Or, if you want to leave it to the professionals, book this private half-day wine-tasting tour, which includes a visit to H&H.
Hours: Monday to Friday, 9 am – 1 pm and 2:30 pm – 5:30 pm
Location: Avenida da Autonomia 10, 9300-138 Câmara de Lobos
Blandy's Wine Lodge
The Blandy family has been making wine in Madeira for over seven generations. This brings authenticity and reliability to their products. In fact, they are the only family in the Madeira wine trade that still owns their original wine company.
Nowadays, they make wines for their brands Cossart Gordon, Miles, and Blandy's, which you can taste at Blandy's Wine Lodge in Funchal.
They offer brilliant wine-tasting options, such as the self-guided tasting, which costs about $7 and includes four glasses of Madeira. Their premium tour costs around $14, which covers their Canteiro aging rooms, Blandy's Museum, and a tasting of two Madeira wines.
Hours: Monday to Friday, 10 am – 6:30 pm, and Saturday, 10 am – 1 pm
Location: Avenida Arriaga 28, 9000-064 Funchal
Vinhos Barbeito
Vinhos Barbeito is a family-run winery founded by Mário Barbeito de Vasconcelos in 1946. His daughter Manuela now runs it on their farm in Câmara de Lobos. They focus on Madeira wine but also offer a variety of whites.
You can learn about their wines and production methods on their various wine tours and tastings. These range from the Silver tour costing roughly $5 for 30 minutes and two tastings. There's also a Platinum tour that costs about $24 for 90 minutes and eight tastings.
Book in advance as the tours are subject to availability.
Hours: Monday to Friday, 9 am – 1 pm and 2 pm – 5:30 pm
Location: Estrada da Ribeira Garcia, Parque Empresarial de Câmara de Lobos – Lote 8, 9300-324 Câmara de Lobos
H.M. Borges
H.M. Borges is another proud Madeiran winemaker and has been operating since 1877. The fourth generation of the Borges family now manages it. They live upon the motto of growing and selling wine of the highest quality and value to its customers.
Located in the heart of Funchal is the H.M. Borges premises. You can learn more about their winemaking process here, whether on a food tour of Madeira or just by exploring the beauty of the capital city. A tour ticket costs $16 and includes three tastings, but you can add more for a small fee.
Hours: Monday to Friday, 9 am – 12:30 pm and 2 pm – 5:30 pm
Location: Rua 31 de Janeiro 83, 9050-401 Funchal
Pereira D'Oliveira
This winery, Pereira D'Oliveira, has been open since 1820, making it one of the oldest on the list. Luis Pereira d'Oliveira, a direct descendant of the founder and part of the fifth generation, currently runs it.
What's incredible about this winery is its stock of old wines. In fact, Luis' elders weren't interested in exporting their wine, so they have over 400,000 gallons. Some of this even dates back to the 19th century, which you can try at their wine lodge.
What's even better is their wine tastings are free and often come accompanied by bolo — a syrupy cake. And if you really love Madeira, feel free to buy as much as you like from their store.
Hours: Monday to Friday, 9 am – 6 pm, and Saturday, 9:30 am – 1 pm
Location: Rua Dos Ferreiros 107, 9000-082 Funchal
Quinta do Barbusano
Just 21 miles out of Funchal, on the outskirts of São Vicente, is Quinta do Barbusano winery. It overlooks the São Vicente valley and offers incredible views of the Madeiran landscape. This winery is much younger than the rest on this list and offers conventional wines, such as reds, whites, and rosés.
They don't offer Madeira wine, but you won't mind this as the wine tasting is very affordable. It costs $16 for a tasting, which includes six samples and some delicious snacks. Or, if you're feeling especially peckish, there's a lunch, and wine-tasting option, which comes with espetadas, salad, bolo do caco, and dessert. This costs $54, which is a bargain for what you're getting.
Hours: Tuesday to Saturday, 9:30 am – 6 pm
Location: Caminho Agrícola do Barbusano 26, 9240 São Vicente
Facebook page
Terrabona Nature & Vineyards
This winery focuses on traditional wines. Interestingly, these two owners are not from the wine-making industry but actually started their careers as bankers.
Inspired by their proximity to the native Laurissilva Forest, they emphasize the need to use winemaking processes that are more environmentally friendly. They have various tasting experiences, from the Winery Tasting moments tour for $32 for 90 minutes to a private cruise with wine tasting tour for $276 for 3 hours.
To make your visit to Madeira even more unique, you can even book a night in their villa as of February 2023.
Hours: Every day at 11:30 am or 3:30 pm, by appointment only
Location: Estrada do Cardo 117, 9240-048 Boaventura
Website
» Visiting soon? Check out our Portugal travel guide and how to spend 10 days in Portugal. You might be interested in visiting the gorgeous town of Porto for amazing food, as well as the Douro wine region.
Final Thoughts on Top Wine Tasting in Madeira
The island of Madeira, Portugal, is one of the most stunning places to be, from the cascading mountains to its charming capital of Funchal. It's also a top region in Europe for wine lovers, from its beloved sweet Madeira wine to its up-and-coming producers of whites, such as Verdelho to Riesling.
Besides this, there are so many gorgeous beaches in Madeira and an abundance of natural beauty. The island is also full of things to do, places to see, and waves to surf (if that's your thing).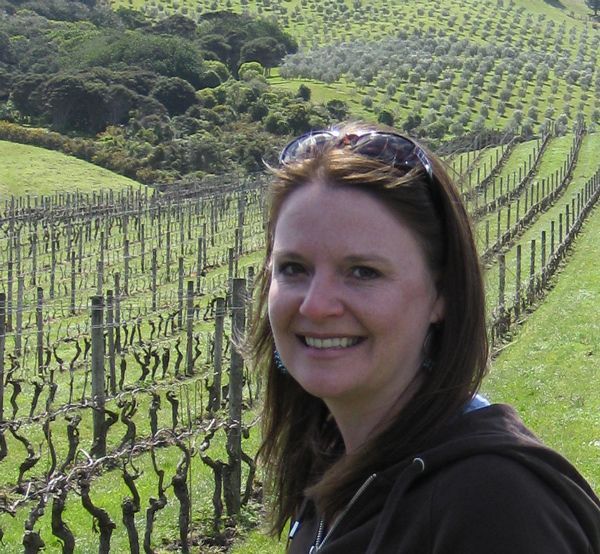 Laura Lynch, creator and writer of Savored Journeys, is an avid world traveler, certified wine expert, and international food specialist. She has written about travel and food for over 20 years and has visited over 75 countries.