This Discover Wine series focuses on regions of the world that you can visit for wine tasting.
The Markgraflerland Wine Region of Germany is a relatively unknown grape-growing area in the southwest of Germany, as far as wine-tasting destinations go, but it definitely isn't a lightweight when it comes to wine.
The area is sometimes referred to as "three-country corner", because it is located at the intersection of Freiburg, Germany; Basel, Switzerland; and Mulhouse, France.
» Visiting Germany soon? Here are 13 Popular German Foods You Must Try.
In the center of this region is a small town called Müllheim, which lies between the Rhine River and the Black Forest. The land surrounding Müllheim is largely devoted to vineyards. It makes a lovely home base for wine tasting in Markgraeflerland.
When visiting this area, you might want to add a few days to your itinerary to see Basel, Switzerland, or add a few new countries to your list by visiting the nearby Lake Constance region.
Markgräflerland Wine Region
Though you may not have heard of Markgraflerland, perhaps you've heard of the Baden Wine Region of Germany. Markgraflerland is but one of many sub-regions in the encompassing Baden Wine Region. There are many things this lesser-known sub-region has to offer. The scenery is incredible.
There are an abundance of sunny days in this area. The low rolling hills are covered in vines (3,000 hectacres, to be exact) that stretch for as far as the eye can see. On a sunny day, you'll think you've found a little slice of heaven. As for the wine, the Markgraflerland grows a unique grape varietal, called Gutedel, that is one of the oldest grape varietals in the world.
It grows in this region, and to the east, near Lake Constance (another sub-region of the Baden Wine Region). There are also a few different clones of the Pinot Noir grape (here called Spätburgunder), which grows very well in the warm climate and chalky soil available in this region. Pinot Blanc and Pinot Gris are two other varietals you see a lot in this area.
Watch our Markgraeflerland Video
How to get to Markgräflerland
Luckily for travelers who want to visit Margraflerland, or the Black Forest, there's a tri-country airport nearby that served all three countries. It is the EuroAirport Basel Mulhouse Freiburg. If you only plan to visit Germany, you can pass through the Germany border and drive up into Markgraflerland in just 20 minutes.
You can also visit France or Switzerland from the same airport. All three areas along the border have vineyards and produce wine. The best location to base yourself in Markgraflerland is the small town of Müllheim. From there, you can travel both north and south very easily, in order to get to the various wineries you want to tour.
You will need to rent a car. Although there are trains available to each of the cities you may want to visit, you won't be able to get around easily within town or get out to the wineries, which are mostly in outlying areas.
Where to Taste Wine in Markgräflerland
There are many wine cooperatives in Markgraflerland. Many small producers work together in these cooperatives to support each other and to share the costs of running a winery. It is for this reason that you may not see many independent wineries.
If you visit a cooperative, however, you'll be able to sample multiple wine labels at once time. When planning your wine tasting in Markgraflerland, be sure to contact the wineries at least 2 weeks in advance to schedule a visit. You can't really just walk into any of the wineries.
Someone will need to be there to show you around. Keep in mind that many of the websites for these wineries are only written in German (though they can be translated using Google's translation tool in the address bar. Even though the websites are in German only, most (if not all) of the wineries have an English speaker who can help you.
Britzingen Wine Growers' Cooperative
One of the wine cooperatives that you can visit is Britzingen. It is located about 10-minutes-drive north of Müllheim in the small town of Müllheim-Britzingen. There are 190 vintners that are part of the cooperative, thus many different types of wine are produced under various labels.
They are an environmentally friendly winery, producing high-quality, well-structured wines. Though we found many favorites at Britzinger (the Gutedel is fantastic), two that particularly stand out for us are the Chardonnay from the Badenweiler Romerberg, and the St. Johannes Grauer Burgunder from the Britzinger Sonnhole.
You can schedule a visit for a tour and a tasting with Britzingen. They also have a large wine shop that carries all of their available bottles, including their premium, exclusive, and barrel-aged lines, and sparkling wines, which are called Klassische Flaschen Garung, made by méthode champenoise.
Address: Markgräflerstr. 25-29 79379, Müllheim – Britzingen
Phone: +49 (0) 7631-17710
Email: info@britzinger-wein.de
Website: https://www.britzinger-wein.de/
Weingut Dr. Schneider mit Gutsschanke
The winery of Dr. Schneider was started in 1995 by Elisabeth and Dr. Gustav Schneider, and has been a family-owned and operated venture ever since. They take great pride in the wines produced there. Located in the small town of Müllheim – Zunzingen, the winery has become a part of the community.
They even hold regular festivals where everyone is invited to partake in a day of good food and wine. They have a wine shop, where locals come to pick up a couple bottles or a case of their favorite wine. There's a lovely outdoor patio where you can take a break in the shade with a glass of wine.
There's a restaurant serving local, traditional cuisine. There's even a wine label museum on the premises that showcases thousands of labels from as far back as 1811. You'll find a huge array of wines at Dr. Schneider, including the famous Gutedel, Pinot Blanc, Chardonnay, and Pinot Noir.
Our favorites were the Spatburgunder Blanc de Noir and the special edition wine, called Antoine, a blend of Merlot and Cabernet Franc. You can make an appointment at Weingut Dr. Schneider for a tour and tasting of their wines. I also highly recommend sticking around for lunch, or just to enjoy a glass of wine on the outdoor patio.
Address: Rosenbergstr. 10, D-79379, Müllheim-ZunZingen
Phone: Tel +49 (0) 7631-2915
Website: https://www.weingut-dr-schneider.de/
Weingut Heinemann
Slightly further north, toward Freiburg, in Batzenberg, you'll find Weingut Heinemann. The winery originated in 1556 and has been family run ever sicne. They boast an historic vaulted cellar beneath a modern wine facility that you can visit with an appointment.
Address: 79238 Ehrenkirchen-Scherzingen
Phone: +49 (0) 7664-600465
Email: weingut-heinemann@t-online.de
Website: https://www.weingut-heinemann.de/
Weingut Lammlin-Schindler
Lammlin-Schindler is located in Mauchener – Frauenberg, in the valley between the Rhine and the foothills of the Black Forest in the south of the Markgräflerland. Over 35% of their production is dedicated to the red Spätburgunder wines.
They have been in the business since the 12th century. You can visit the winery for a tour and tasting with an appointment.
Address: Mullheimer Strasse 4, 79418 Schliengen-Mauchen
Phone: +49 (0) 7635 440
Email: weingut@laemmlin-schindler.de
Website: https://www.laemmlin-schindler.de/
Where to Eat in Markgräflerland
You don't have to go far for great food. Müllheim has no shortage of top notch restaurants, both casual and upscale. You'll find pizza and pasta, and 4-course tasting menus, all nestled together in the center of the city. Here are a few places you shouldn't miss.
Messer & Gradel
Located in a townhouse just off the main street in Müllheim is Messer & Gradel. The food is outstanding, and the atmosphere is the perfect match. You can sit in the cozy restaurant, or out on the romantic garden terrace. The food is a fusion of international flavors with local ingredients.
We were lucky enough to visit during spargel (asparagus) season, and were really impressed with the spargel and salmon salad on their specials list. We chose to have the set menu of 3 courses and each dish was beautifully presented, large portions, and packed with incredibly flavor.
If we'd had more time, we'd have gone back again and again. Also note that they have a cocktail happy hour from 5-8pm every day
Website: https://www.messerundgradel.de/
Gasthaus Ochsen
Yes, it's a guesthouse, but Ochsen also has a large restaurant and outdoor garden, where they serve some of the area's best food. The house itself is straight out of a fairytale. It's surrounded by beautiful gardens and a large patio, that's perfect for al fresco dining.
We could tell from the moment we arrive that this restaurant is popular with the locals. It was packed full for lunch on Sunday afternoon. We were happy to join the party. On the menu are fish and meat options, both traditional and modern. We ordered one each of the two set menus and very much enjoyed our meal, which included an incredible cream of asparagus soup and spaetzel.
Website: https://www.ochsen-feldberg.de/
Hausbäckerei Klaus Kotz
Surely you've heard of Black Forest Cake – the decadent, layered chocolate and cherry cake. But did you know that it actually originated in the Black Forest of Germany? Right here in the middle of Markgraflerland! We found a really great, family-run bakery in Müllheim that crafts one of the most beautiful Black Forest Cakes I've ever seen.
It's the thing of dreams. And believe me, it doesn't disappoint! One bite of that cake was enough to win me over completely.
While you're in town, definitely stop by the Backerei Klaus Kotz, both for a slice of that cake, and to see the old, traditional house that was once the residence of the owner's mother. It's been turned into a very cute and cozy cafe. In the room next door, you can pick up any number of fresh pastries and bread. It all smells and looks like heaven.
Website: https://hausbaeckereikotz.de/
Where to Stay in Markgräflerland
Apartment Hotel in Weingarten
Up on the hill outside of Müllheim is the perfect place to stay while you're in the Markgraflerland wine region for wine tasting. There are only a handful of rooms, some of which come with a large outdoor terrace overlooking the small vineyard in the backyard. It's situated away from town, so it's a very peaceful retreat.
The rooms and suites are larger than expected, some with kitchenettes and a small living space. There's plenty of room for families. The hotel has an additional building to the side that houses a large indoor pool and sauna. Outside, there are many places to sit and relax, on the terrace for breakfast, or in the backyard under a large shade tree.
⇒ Read reviews and check prices on Trip Advisor or Booking.com.
Even spending a few days in Markgraflerland wine region will leave you feeling calmer and more relaxed. Plus you'll learn a lot about the wine of the region. We highly encourage you to start planning your trip today! Have you been to this area of Germany? What are your favorite wineries to visit?
This post was brought to you in partnership with Schwarzwald Tourism and the South West Germany Tourism Board. A big thank you to each of our sponsors. Savored Journeys maintains full editorial control of the content published on this site.
Like this post? Why not save it to Pinterest?
FOLLOW US on Pinterest, Instagram, Facebook for more great travel inspiration and tips.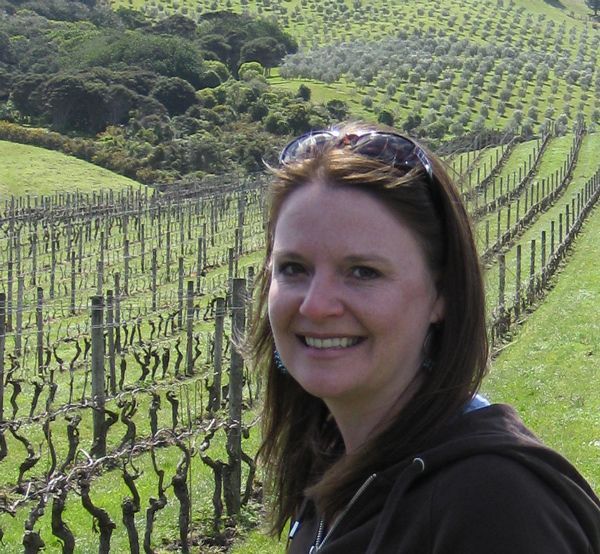 Laura Lynch, creator and writer of Savored Journeys, is an avid world traveler, certified wine expert, and international food specialist. She has written about travel and food for over 20 years and has visited over 75 countries.