The Medoc wine region in Bordeaux, France, is world-renown for its wine as well as its famous châteaux. Getting to visit a few of those Medoc wineries and sipping the wine yourself while standing among the very vines is a unique and wonderful experience.
The prospect of visiting a few of the famous wineries in Medoc can be quite overwhelming, not only because of the tremendous amount of choices, but because it's intimidating. It is, afterall, one of the most prestigious wine areas in the world and one of the top wine regions in France.
» See also our guide to wine tasting in Bordeaux (including the Right Bank).
Are you planning your trip to Bordeaux?
If you're traveling to Bordeaux, ensure you have lodging and wine tours booked ahead of time! Below are some of our top picks to help you plan!
Where to Stay in Bordeaux:
Intercontinental Bordeaux Le Grand Hotel, an IHG Hotel (5-star hotel in Bordeaux Centre)
Best Tours and Experiences in Bordeaux:
Where do you even start planning a trip when you don't know all of the wineries and what they have to offer?
While you can start by just pulling up a map and searching for wineries, this won't get you any closer to choosing the best and most enchanting wineries to visit in the area. That's why we've put together a small guide that will help you make some choices of wineries to visit in Medoc.
Whether you have one day or a few to devote to a wine tasting trip on the Left Bank in Bordeaux, you will find that there is plenty to keep you busy, from simple tastings to elaborate wine process and vineyard tours, to tasting menu lunches.
» Visiting soon? Check out our France travel guide. You might be interested in visiting the gorgeous town of Annecy, France for amazing food, as well as the Savoie wine region and these three jaw-dropping destinations in the French Alps.
About the Medoc Wine Region
There are 8 appellations in the Medoc wine region covering 16,500 hectares, which include Medoc, Haut Medoc, Listrac, Margaux, Moulis, Pauillac, Saint Julien and Saint Estephe.
There are five levels of wine classification given to Medoc wine according to the Bordeaux wine official classification of 1855. These include 5 Premiers Crus, 14 Deuxièmes Crus, 14 Troisièmes Crus, 10 Quatrièmes Crus, and 18 Cinquièmes Crus.
If you don't know much about this classification, the two things to note are that they were meant to distinguish a hierarchy of quality and expertise. Just because a wine isn't from a Premiers Crus doesn't mean it cannot be a superior wine.
The second thing to note is that there has only been one single promotion of a winery since 1855. Take that as you may.
What Wines Are In Medoc?
The Bordeaux Wine Region has a strict set of guidelines it must follow in order to be classified. In general, Bordeaux's regional wine rules dictate what grape varieties may be grown where and how.
In the Medoc, the wine is almost all red and the grapes that are grown are Cabernet Sauvignon, Cabernet France, and Merlot – with Cab Sauv being the most dominant. There are also smaller quantities of Petit Verdot, Malbec, and Carménère.
Visiting a Premiers Cru Chateaux
There are five chateaux classified as Premier cru classé in the Bordeaux area: Château Margaux, Château Lafite Rothschild, Château Latour and Château Mouton Rothschild. The fifth is Château Haut-Brion in Graves.
As you might expect, the best of the best doesn't really open its doors to the public. There's nothing in it for them. So it will be exceptionally difficult to visit any of the 5 Premier cru chateaux in Bordeaux, unless you have a connection.
Never mind that though, it's still possible to visit many of the others, even some Grand cru classe wineries, and these are still amazing expressions of the Medoc wine region. They will all be worth your time.
Self-Guided Wine Touring or Medoc Wine Tour
I personally prefer to do self-guided touring when I visit wine regions because it gives me the greatest flexibility and I actually really like researching and choosing the wineries I want to go to.
While there is a little more work involved because you have to set up all the tours yourself, there are tools that will help make this super easy. The one I use is called Rue des Vignerons.
The site has 450+ wineries, both family-owned and famous houses, that includes 1,500 bookable experiences, including tastings, tours, workshops, and meals. You can book online up to 30 minutes before and your appointment is confirmed instantly. This is the website I used to book all of my Medoc tasting appointments.
In our descriptions below, I will give you links directly to Rue des Vignerons for each winery where it's available so you can easily book your tours. Visit Rue des Vignerons
Wine Tour
If you don't have a designated driver, or don't wish to spit the wine instead of drinking it, you shouldn't choose the self-guided route.
There are many guided tours to choose from – group tours and private tours.
A group tour often includes up to 30 people, but you don't have to do any of the work to set up the tours. These tours typically go to great wineries and there's a lot of information given, but you can't choose or alter the schedule.
We like working with Rue des Vignerons for tours. Here's one of their best:
On the road to the Médoc (afternoon) – 99€ – Departure from the tourist office in Bordeaux. Visit a Grand Cru Classé with wine tasting, followed by a visit of a family winery and wine tasting.
Below are two group tours we recommend:
A private tour is the best of all worlds. You get a driver/guide who does all the work, you can usually have input into the schedule, and it's just for your group. But it's rather expensive.
If you don't want to build your own self-guided wine tour to the wine areas of Bordeaux, I suggest booking a private wine tour through B for Bordeaux, a wine tour company run by Berit Simonsen, who is very knowledgeable and works closely with the wineries to ensure your visit is great.
With this tour, the whole process is up to you. You can decide where to go yourself, or have Berit take care of all the details for you. You can book one day or 5 days – it's entirely up to you.
Here's a recent customer review: "We considered a few options for a day tour of the Medoc but chose Berit on the basis of her great communication, responsiveness, reasonable rate and her flexibility in meeting our requirements. Our expectations were fully met, even exceeded."
Medoc Wineries to Visit
The Route des Châteaux runs through this wonderful region, on the D2 road, from Blanquefort (just north of the city of Bordeaux) to the top of the Medoc Peninsula.
On this route, you will pass by many large chateaux and dozens of rolling vineyards. You'll go through the towns of Margaux, Pauillac, and Saint-Estephe. There are ample options for wine tasting along this route.
It's best to choose only 2 or 3 chateaux per day. Most of them will require advanced reservations and the visit usually takes somewhere around 1.5-2 hours, with a vineyard and winery tour plus tasting. You don't want to rush. And you need to leave ample time for travel in the middle.
Located between Margaux and Saint-Julien, the Château Lamothe Bergeron has a 67 ha vineyard on the Haut-Médoc appellation. Its wine reflects the quality of the terroir marked by the Garonne river and it has Cru Bourgeois status since the 19th century.
When you visit, you can tour their fully-restored building from the 19th century and do a tasting. They have an introduction to wine tasting that includes 3 of their wines, or you can add on a vineyard and cellar tour. They also have a tour and tasting followed by a picnic in the garden.
With 40 hectares of Cabernet Sauvignon, Merlot and Petit Verdot, Château Marquis de Terme produces mesmerizing wines, medium to full bodied wines, with supple tannins, lots of depth and amazing aromas. It's been a family-owned operation since 1935.
They offer a lot of different programs for visitors, from a simple tasting of their wines, to a tour and tasting, a guided bike ride through the Margaux vineyards, followed by a tour of the château, and a tasting, and even a wine and chocolate pairing workshop.
Château du Taillan has been a family property since 1896 but today five sisters hold the reins of the Château, located at the gateway to Bordeaux and the Médoc. Their beautiful property was classified in February 2020 as a "Cru Bourgeois Exceptionnel".
A visit to Chateau du Taillan can include tour of the 16th century vaulted cellars and in the vat house, followed by a tasting of two wines or a gourmet tasting wit charcuterie and farmhouse cheeses. Click below to check out all the options and make an appointment.
For more than 250 years, Château Angludet's vineyards have been located in Cantenac, on the prestigious terroir of Margaux. Today, Château Angludet is the wine estate of the Sichel family, a wine merchant in Bordeaux for six generations.
Tasting appointments take place on their terrace in the gardens of the property. You can enjoy one of the 8 private tasting areas and try some wines by the glass or bottle, platters of cold meats and cheese and even dessert pairings (if reserved in advance).
Château La Haye is one of the oldest wine estates in Saint-Estephe and has remained within the same family for 370 years. According to legend, this château served as King Henri II and Diane de Poitiers' hunting lodge. At the time Henri II was married to Catherine de Medici. Rich! Their monogram, H and D is interlaced and engraved in stone at the entrance to the Château.
Here you can do a free tour and tasting, or even a private romantic tasting with wine and chocolates in a 16th century setting. Click the link below to see the options.
Located on a hill at the highest point in the Saint-Estephe appellation, this is a family-run winery, a 4th Grand Cru Classe, that borders the famous Chateau Lafite Rothschild. The property is gorgeous and the wine tours are fantastic.
Château Lafon-Rochet and its cellars can be visited by appointment only. The owners live on the property and welcome guests year round. During high season, they are open Monday – Saturday 9:30am – 1pm and 2pm – 5:30pm. Contact j.pareau@lafon-rochet.com to request a visit.
---
A highly regarded cellar, this Margaux Grand Cru Classe hosts tours and tastings, as well as lunches and dinners in their grand castle location. The family has been involved in the production and trade of Bordeaux wines for 8 generations. They've managed to keep an authentic, warm and intimate environment.
You can do a tour of Château Kirwan and a tasting. They also have workshops and exclusive wine experiences. If you have time, stay for a fine-dining meal at their restaurant.
Another great experience they offer is the Margaux Gourmet Trail, which is a day in Margaux, including a visit and tasting at Château Prieuré-Lichine, lunch at Château Kirwan, and ending at Château La Tour de Bessan with a tasting of single grapes'wines and a blending training. See more here. Contact mail@chateau-kirwan.com for an appointment.
---
Another Fourth Grand Cru Classe in Saint-Julien Beychevelle, this winery formerly belonged to the family of the Marquis d'AUX, but has been with the Cordier family since 1918. Their vineyard covers 110 hectares with mostly red grapes, and a small portion of white.
You can choose from 3 complimentary visit options: a classic tour, a garden tour, or a prestige tour. All visits are private, limited to 12 people, and only available by appointment. They are only open during the week.
---
This well-known chateau is owned by members of the Rothschild family and is highly regarded in Bordeaux. The average age of the vines used in the Grand Vin is estimated to be 45 years. The oldest plot, called "La Gravière", was planted in 1886.
Monday to Friday by appointment only. Make a request by email to visites@lafite.com
Tours are available at 9:30am and 2pm
Closed holidays, bank holidays and from August until the end of October
Bought in 1853 by Baron Nathaniel de Rothschild, this winery holds great prestige and history. They also make the world's leading Bordeaux AOC brand, Mouton Cadet, created in 1930. In 1962, the Museum of Art & Wine was added to the chateau.
Tours of the estate are by appointment only. They must be booked at least two months in advance and are subject to availability. Fill in the form on their website's contact page.
---
This is a Grand Cru Classé with a really nice, modern visitor center that still retains the beauty and tradition of their interesting past. They do a large production, and you can see the entire process in their equally modern cellar. We like this winery because you can involve yourself in many different activities like tasting and wine knowledge workshops, historical or sensory visits, and discovery trails of the terroir.
The Discovery Tour of Château Prieuré-Lichine guides you through the development of a Grand Cru de Margaux. The tour of the property and the cellars continues with the tasting of 1 to 3 wines. Prices are very reasonable. Contact info@prieure-lichine.fr for an appointment.
---
Where to Stay in Medoc
One of the biggest choices you'll make when booking your trip to Medoc is where to stay. Since there are so many towns along the route, you really could stay in any of them. Or you could stay in the town of Bordeaux so you can reach other activities as well.
In the Medoc, I recommend these hotels:
Château Cordeillan-Bages in Pauillac : Modern chateau with individually decorated rooms and many things included like valet parking, an outdoor pool, and a restaurant. There's also a winery on the premises.
La Maison d'Estournel in Saint-Estephe : Beautiful grounds and lovely charming rooms. Located just steps away from Cos d'Estournel in what used to be the private home of Louis-Gaspard d'Estournel
In Bordeaux city center, this is where we stay:
Conclusion
A wine tasting trip to the Left Bank in Bordeaux, specifically to the Medoc wineries and chateaux, is an experience you'll always remember. It's an absolutely must for all wine lovers, to see the origins of wine making in France and to understand the techniques of the old world wine. We hope you enjoy our guide and find some great wine adventures in Medoc.
Like this post? Why not save it to Pinterest?
FOLLOW US on Pinterest, Instagram, Facebook for more great travel inspiration and tips.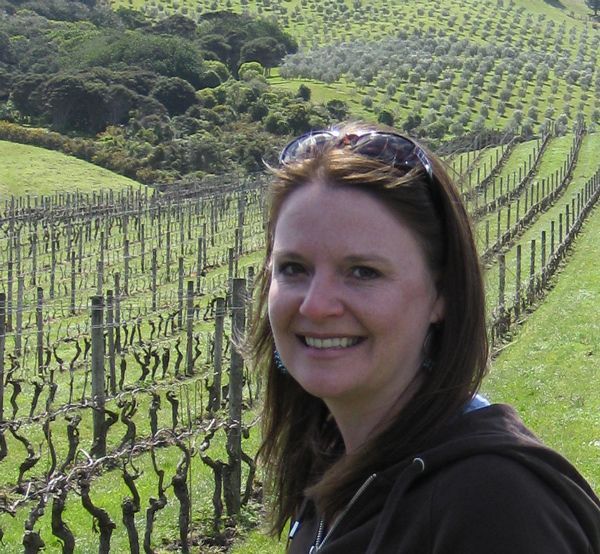 Laura Lynch, creator and writer of Savored Journeys, is an avid world traveler, certified wine expert, and international food specialist. She has written about travel and food for over 20 years and has visited over 75 countries.