The Mendoza wine region is one of my favorite wine areas to visit. It's the largest wine region in Argentina, with vineyards at altitudes as high as 6,000 feet above sea level. And the views are unbeatable.
If you've been looking for the perfect wine tasting tour, you need look no further than the beautiful Mendoza wine region. It is comprised of three major wine producing areas: the Uco Valley, Maipu and Lujan de Cuyo. Each of these growing areas produces slightly different varietals and has a unique feel that sets it apart from the others.
Our Discover Wine series focuses on regions of the world that you can visit for wine tasting.
In order to get a good overview of the region and try some wine from each of the areas, we highly recommend you try to visit all three areas to see for yourself the changes in terroir and climate, and see the affect those things have on the wine.
With a solid plan for touring Mendoza's wineries, you'll be able to do all three areas in just 3-6 days (depending on how many wineries you want to visit in each area and if you have the time to visit at a slower pace, covering each region in 2 days rather than one.)
Tips for Planning a Mendoza Wine Tour
How to Get to the Mendoza Wine Region
Most flights from the U.S. to Mendoza require a stopover in Buenos Aires on the way, where you'll also be required to stop and pay the visa fee of $160 (for U.S. Citizens). The fee can also be paid online in order to avoid the lines.
Many domestic flights go out of a different airport, so you may be required to hustle from one to the other. A better way is to fly into Santiago, Chile, and then on to Mendoza so you don't have to change airports. The airport in Mendoza is only about a 30-40 minute drive from the city and a taxi is the most efficient way to get to your hotel.
Wine Tour Options
I would usually recommend renting a car to do your own wine tour, but that isn't the way I would suggest you see Mendoza. First of all, the roads are not well marked and it can be very difficult to find your way around to the wineries.
The wine route isn't as defined in Mendoza as in other wine regions. Secondly, if you don't speak Spanish well, you may run into issues getting into the wineries, as they are very well secured and you will have to explain your reason for being there. It's best to hire a driver and let them navigate for you.
Here are three options for visiting the wineries:
Where To Do Wine Tasting in Mendoza
While it hasn't reached the ease of Napa wine touring, getting around to the best wineries in the region doesn't have to be difficult. The best way to see the entire region at your own pace is to hire a driver (this may be expensive, but is necessary) for three days and set out to visit up to four Mendoza wineries in each of the three wine regions: Lujan de Cuyo, Uco Valley and Maipu.
Each region has a unique feel, but if you can't make it to all three, a day-trip to one or two will suffice. All of the itineraries have a good mix of modern, large commercial and family-owned wineries. Check out or list of 11 Must-Visit Mendoza wineries for more details.
The most characteristic grape varietal in Mendoza is Malbec. Malbec is the iconic wine of the region, the province and the country. Other red varietals include Cabernet Sauvignon, Merlot, Pinot Noir and Syrah. Chardonnay and Sauvignon Blanc stand out among the whites, but you'll also find Chenin Blanc, Bondarda and some Torrontes.
In Lujan de Cuyo:
Archaval Ferrer
Ruca Malen
Vistalba
Clos de Chacras
Catena Zapata
Casarena
In Uco Valley:
Salentein
Andaluna
Domaine Bousquet
In Maipu:
Trapiche
Tapiz
Familia Zuccardi
Where to Stay in Mendoza
One of the best places to stay is right in the center of Mendoza city, where you don't need a car to get around. You can walk to many great restaurants and bars, including the really awesome Vines of Mendoza, which we highly recommend.
However, one of our favorite hotels is on the outskirts of town, and I wouldn't shy away from staying there either, if you like something more quiet. Our third recommendation is more wine related and a fantastic experience.
Where To Eat & Drink in Mendoza
Here's a list of some of the best food options in Mendoza:
Francis Mallman 1884: Located slightly out of town, this restaurant serves local cuisine with a modern twist. Francis Mallman is one of the South America's premier chefs. He also has a restaurant called Siete Fuegos located at The Vines Resort, which showcases Mallman's open-flame cooking techniques.
Bodega Casarena hosts South-Korean chef Mun KIM in their new visitor center building. Chef Mun combines Asian and Argentina flavors into a unique five-course meal served along with Casarena wines. The dinner is only served once a week at 9pm on Saturday. If you're in town on Saturday, don't miss it! It was an exceptional evening. They also serve lunch Monday – Saturday on their lovely outdoor patio.
Casa de Campo is a great spot for lunch when you're touring the wineries in Maipu. You'll find it packed with locals and very little English being spoken. What you will get is an authentic Argentinean meal at a great price. Go with the tasting menu, which will give you a fairly large portion of a lot of their famous dishes.
For an amazing winery lunch in the Lujan de Cuyo area, try Bodega Ruca Malen — great wines and really creatively plated food served in a sunroom overlooking the vineyards. In Uco Valley, try Andaluna. You can choose which line of their wine you'd like to have with your five-course lunch.
Tours to Book:
Like this post? Why not save it to Pinterest?
FOLLOW US on Pinterest, Instagram, Facebook for more great travel inspiration and tips.
(Disclaimer: This post contains affiliate links.)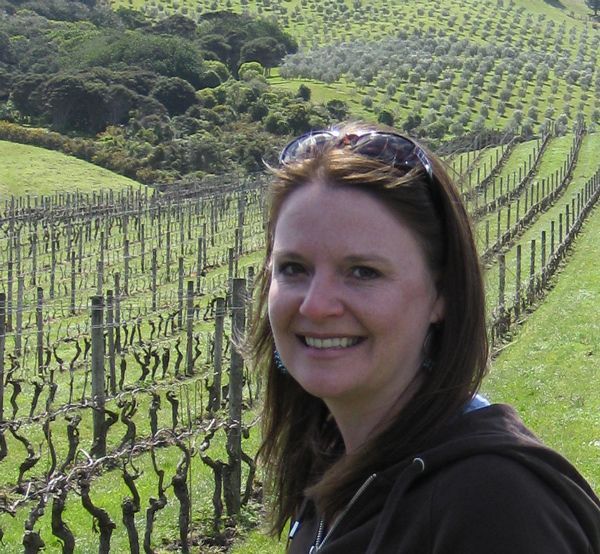 Laura Lynch, creator and writer of Savored Journeys, is an avid world traveler, certified wine expert, and international food specialist. She has written about travel and food for over 20 years and has visited 70+ countries.