Our Global Gourmet recipe series is designed to bring the foods we loved while traveling into our own kitchens and onto our own dinner tables.
The key to recreating International dishes at home is to start with an authentic recipe, adapt it to substitute ingredients you can't find or don't know how to work with, and simplify difficult techniques. Then it becomes more approachable and possible to make and enjoy at home.
This Global Gourmet recipe is a dish we fell in love with while in Mexico. If you're traveling to Mexico City, check out our 3-day itinerary for foodies.
Mexican Chilaquiles (plus our favorite Mezcal cocktail)
If you love nachos (and who doesn't, really?), then you're going to really love chilaquiles. Most often served as a brunch dish in Mexico, Chilaquiles are very similar to nachos in that they incorporate similar ingredients, but the tortillas are first soaked in a red or green chile sauce or salsa.
My favorite type of salsa on chilaquiles is a spicy tomatillo salsa, but you can make this dish using any type of salsa you want. You can also mix up the ingredients however you want. For me, a tomatillo salsa, some shredded chicken, Mexican creme (or sour cream), crumbled queso and roasted onions are the perfect combination.
The dish was designed to use up leftover tortillas the next day, but of course you can make it easy on yourself and just use store-bought tortilla chips. Since Americans don't typically eat these foods for breakfast, we tend to serve this dish as an appetizer when we have parties, or as a main dish for lunch or dinner when we want to keep things casual.
That's why we're pairing this dish with our favorite Mezcal cocktail – the perfect addition to any party!
So next time you're having some friends over and want to try something new and fun, serve up a plate of these Mexican chilaquiles with a Mezcal cocktail. They are great for sharing, and the Mezcal cocktail is easy to make in large batches. They'll be the hit of the party, guaranteed!
Our Favorite Oaxacan Mezcal Cocktail
The word 'mezcal' comes from the ancient Mexican language Nahuatl, derived from the word 'mexcalmetl,' which means agave. Mezcal, similar to Tequila, is made by roasting agave and distilling the juice, although the agave used for Mezcal is cooked underground and covered with leaves and earth, which imparts a smoky, earthy flavor that tequila, whose agave is cooked in stainless steel vats, doesn't have.
It was first made by Spanish settlers in Mexico in the 1500s. These days, most of the mezcal we can find in the U.S. is manufactured in Oaxaca.
For our cocktail, you'll need a bottle of mezcal (it doesn't have to be expensive, since we're blending it with other ingredients. You'll also need plenty of limes, natural agave nectar, basil leaves and salt for the rim of the glass. Super easy as far as ingredients go, but be prepared to have your world rocked by the flavor of this cocktail. It instantly became my favorite cocktail the second I tried it.
The credit for this drink goes to the Hilton Reforma in Mexico City, where they make it tableside. If you really want to impress your friends at your next party, you could set up your own table-side preparation of the cocktail. Just be ready for everyone to ask for more!
Oaxaca Cocktail
1.5 oz lime juice
1.5 oz agave syrup
2 oz+ mezcal
3 small lime wedges
3 basil leaves
Bacon salt
Add lime, lime juice, basil and agave to shaker. Muddle well. Add mezcal to shaker, add ice and shake well.
Wet the rim of a highball glass with a lime wedge and salt the rim with the bacon salt.
Serve and enjoy!
How to Make Mexican Chilaquiles
The best part about this dish is how easy it is to make! It's a two-part recipe – the tomatillo salsa and the chilaquiles themselves. You need only a handful of ingredients – tomatillos, onions, garlic, jalapeno pepper, cilantro and chicken (optional), tortillas or tortilla chips, cheese and sour cream.
The tomatillo sauce can be used for a number of different dishes, so if you make more than you need, keep it in the refrigerator and use it to make enchiladas or to spread on tacos and burritos. It's a tangy and sweet salsa that can be made as spicy or mild as you like.
You can roast the vegetables on a baking sheet in the oven at 450 degrees F for about 20 minutes, or use the quicker method of putting the vegetables under the broiler for about 7 minutes, until they are slightly charred and beginning to soften.
Once removed and slightly cooled, put the roasted vegetables in a blender or food processor and blend well. You can buy tomatillo salsa, if you don't have time, but it's so easy to make and really delicious when you mix it up yourself.
I prefer to use tortilla chips because it's a bit faster and easier, but the traditional recipe will have you cut corn tortillas into triangles and fry them in oil for about 7 minutes until crisp. Once that step is complete, remove them from the frying pan and set aside.
Add the tomatillo salsa to the pan to cook for about two minutes. Add the shredded chicken and toss to coat. Then add the tortillas back to the skillet and flip carefully. You don't want to break the chips into pieces.
It only takes about 5 minutes to heat the tortillas thoroughly and cover with sauce. Remove them immediately to a plate, top with cheese, sour cream and fresh cilantro and serve them hot!
As I mentioned earlier, there are many different possible variations for this dish, such as using red salsa or salsa verde, using pork or beef instead of chicken, and mixing up the type of cheese or toppings you use. Get creative!
More Recipes to Try
Yield:

8 servings
Mexican Chilaquiles
Chilaquiles (corn chips) with shredded chicken and green chile sauce, baked and topped with Mexican cheese
Ingredients
For tomatillo salsa
8 fresh tomatillos, rinsed, husks removed
1 onion, chopped into chunks
1 serrano pepper, peeled and seeded
1 jalapeno pepper, seeded
1/2 cup chopped cilantro
1/8 cup chicken broth
1 clove garlic
2 fresh mint leaves
1 tbsp olive oil
For the Chilaquiles
1 13 oz bag tortilla chips or 10 corn tortillas, cut into large triangles
8 oz chicken breast, cooked and shredded
1/2 cup crumbled queso fresco
2 thin slices onion, separated into rings
1/2 cup Mexican crema, creme fraiche or sour cream
1/4 cup chopped fresh cilantro leaves, for garnish
Salt and fresh ground black pepper
Instructions
To make the salsa
Turn the oven on Broil. Place the tomatillos, chiles, onion and garlic on a baking sheet. Season with olive oil, salt and pepper. Place the baking sheet on the top rack, about 1 or 2 inches from the heat, and cook for about 7 minutes, until slightly charred and soft. Once cooled slightly, add all the vegetables, along with the cilantro, mint and chicken broth, to a blender and puree.
To make the Chilaquiles
If using corn tortillas instead of chips, heat 1/4 cup of vegetable oil in a large frying pan to 325 degrees. Add the tortilla pieces and fry until golden and crisp. Place on a paper towel to remove excess oil. Remove the remaining oil from the frying pan before proceeding.
Add the tomatillo salsa to the frying pan and simmer over medium heat. Add shredded chicken and stir to coat. Add the tortilla chips and onion rings and gently flip to coat with the salsa, being careful not to break the chips. Cook over low heat for 5 minutes, stirring occasionally. Transfer the chips to a plate, top with cilantro, crema and queso fresco. Season to taste with salt and pepper. Serve immediately.
Nutrition Information:
Yield:
8
Serving Size:
1
Amount Per Serving:
Calories:

558
Total Fat:

28g
Saturated Fat:

9g
Trans Fat:

1g
Unsaturated Fat:

17g
Cholesterol:

101mg
Sodium:

714mg
Carbohydrates:

57g
Fiber:

7g
Sugar:

6g
Protein:

22g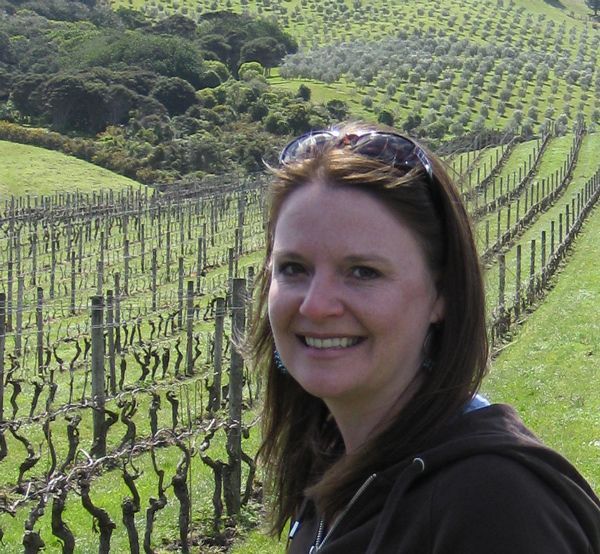 Laura Lynch, creator and writer of Savored Journeys, is an avid world traveler, certified wine expert, and international food specialist. She has written about travel and food for over 20 years and has visited 70+ countries.