This article has links to products and services we recommend, which we may make commission from.
Ranked number 45 on San Pellegrino's prestigious World's 50 Best Restaurants list, Relæ, located in the Nørrebro neighborhood of Copenhagen, is about as casual as it gets for a Michelin star restaurant. If you're visiting Copenhagen and you can't get a coveted reservation at Noma (which is sad, indeed), why not try Relæ instead? No, it's not the same. In fact, it's a completely different experience, but it is unique and fascinating and will end up being a Copenhagen dining experience you won't forget. After all, isn't that what we're all searching for when it comes to food?
The Nørrebro neighborhood where Relæ is located wasn't always the hip, trendy place it is now. If you walk a couple blocks in either direction you'll find remnants of its gritty past. Now, trendy bars, restaurants and designer shops can be found next to dodgy dive bars and cheap kebab places.  Relæ fits nicely into this area, because the concept of the restaurant is unpretentious dining. There are no white tablecloths, you won't need to dress up in your finest clothes, and you'll even find the napkin and silverware tucked casually into a drawer in the table.
But all that casualness doesn't mean Relæ is any less of a stellar dining experience. The 4 or 7-course menu features innovative, creative dishes that were thought up by brilliant chefs who want to find their own way to push the dining envelop. It is also the only fully organic restaurant to earn a Michelin star. Even the wine pairings are organic.
After dining at Relæ, you'll see exactly what Chef Christian Puglisi is trying to achieve with his restaurant and you'll probably be left wondering what the kitchen will turn out next.
We dined at Relæ in June and were relieved by the laid-back atmosphere, since we'd just spent the entire day wandering around Copenhagen and were looking forward to a relaxing meal. We ordered the 7-course menu with wine pairings, as we noticed most of the other tables were also doing. One thing we weren't aware of was how little of a role meat plays in the Relæ menu.
Our first course was an very simple dish and it set the tone for the rest of the meal. We understood immediately what Relae was all about. Elevating a simple ingredient in a simple manner is sometimes the hardest thing for a chef to do. It was two large asparagus spears with pepper and a light cream sauce.
I would be remiss not to speak about the amazing sourdough bread service. If we had only been served slices of this bread, we probably would have still gone away happy. It was crunchy, chewy and flavorful in all the right ways. Luckily, when we finished a piece, they brought out another.
The second course was an unripe strawberry tartare with a pickled-strawberry broth. I was a bit skeptical, because unripe strawberries to me have very little flavor, but they managed to pack an incredibly amount of flavor into this dish. It was served with an Austrian Rose of Cab Franc.
The third course was a ceviche of trout with a cucumber lime juice and pine needles, topped with cucumber slices. A very light and refreshing dish. It was served with a sweet Muscat from Austria.
Next up was a broth of whey with herbed oil. The broth was served warm and the swirled green oil made for a beautiful dish. It was served with Selvadolce Pigato from Italy.
One of the highlights of the meal for me was the pressure cooked sunflower seeds that were prepared in a risotto style with stinging nettle puree and black truffle shavings. Again, it was so simple, but it was also really innovative to use sunflower seeds to make a risotto. It was paired with a wine from France.
The salad course was a bed of romaine lettuce with pistachio dust. The wine served with it was from Italy and had a slight sweetness to offset the bitterness of the greens.
The meat course was a braised chicken with shaved Danish white asparagus and anchovies on the bottom. The wine pairing was a Malvasia – Trebbiano from Italy.
After the meat course, we opted to have a cheese course that was in addition to the 7-course menu. One thinks of blocks or slices of cheese for a cheese course, but this was a bit different. It consisted of fresh herbs dressed lightly in olive oil with frozen blue cheese dusted over top. It was served with a Casa Wallace Sauvignon Blanc from Italy.
The first dessert was a chilled yogurt with an egg yolk and egg yolk shavings dusted over the top. It was served with a Malvasia Dolce Frizzante.
And the final course was a lemon curd with graham crackers.
If you're looking for creative food in an unpretentious environment, Relae is surely where you'll find it. There's something so invigorating about tasting someone's art and that was definitely the feeling I had when we finished our meal at Relae.
Relæ
Jaegersborggade 41, 2200 Copenhagen, DK
TEl: +45 36.96.66.09
www.restaurant-relae.dk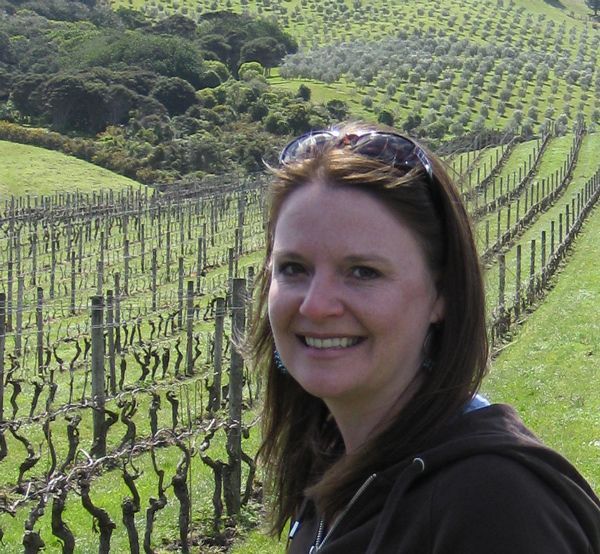 Laura Lynch, creator and writer of Savored Journeys, is an avid world traveler, certified wine expert, and international food specialist. She has written about travel and food for over 20 years and has visited 70+ countries.