When most people start thinking about a trip to Montego Bay, Jamaica, the first things that come to mind are beautiful stretches of white sand beaches, jerk chicken, and reggae music. Unfortunately, many travelers to Jamaica arrive either on a cruise ship or they'll be staying at an all-inclusive resort.
The resorts are nice, but you can't truly experience all that Montego Bay or Jamaica have to offer by staying put on the resort or by not getting off the cruise ship. No matter what brought you to Montego Bay, we encourage you to explore Jamaica beyond the resort by going on a few Montego Bay excursions.
The area surrounding Montego Bay is full of fun things to do and see – some will give you an authentic view and taste of life in Jamaica and some are tourist focused, but no matter what activity you choose, you'll have a chance to see the real Jamaica, which is priceless.
Top Things To Do in Montego Bay
Whether you have an entire week to fill with Montego Bay activities or just one afternoon, you can find something fun to do. We've put together a list of favorite Montego Bay excursions that you can participate in, and we've included how long the activity takes, in case you need to get back to the boat!
Doctor's Cave Beach Club
This beach is one of the most idyllic beaches in Montego Bay. It's a very popular tourist beach due to its soft sand, and calm blue water. It's perfect for swimming and for laying out in the sun. Even though it's located near some large hotels, the beach is private and requires a fee to get in, so it has a calm, relaxed vibe.
Another plus: there are no vendors walking the beaches selling things, and no rowdy football games going on. The facilities are nice and well taken care of, and there are umbrellas and chairs to rent, as well as the abundance of water sports activities you can participate in. There's also a Starbucks, a beach bar, and a restaurant on site.
To get to the beach, you'll need to take a taxi. It's located along the Montego Bay Hip Strip, which is about a 25-minute drive from the main all-inclusive resorts or the cruise port. It can get quite busy during high season. When I was there in April, there were only maybe 20 others on the beach. Check out their website for more information.
⇒ Read about other Jamaica beaches you should visit.
Croydon in the Mountains
The award-winning Croydon Plantation is home to many pineapple and citrus trees, as well as coffee, bananas, apples, etc. Although it feels like you're at the top of the world once you've wound your way up the mountain to this little piece of paradise, you're still on in the foothills of the Catadupa Mountains.
The journey is about 1.5 hours from Montego Bay. There's a 2-hour tour where you'll have the chance to walk among the trees and see the fruit growing, and along the way you'll taste some of the fruits. The highlight for me was trying the different types of pineapple that grow there, tasting the sugar cane, and trying jackfruit for the first time.
You really don't want to drive yourself up to Croydon in the Mountains (the road is somewhat treacherous), so if you want to experience this place, you need to book an excursion. The excursion includes round trip transportation, a tour, tastings along the way, and a lunch to finish. The plantation offers tours from Tuesday to Friday.
Rose Hall Great House
In the late 18th century, Rose Hall Great House was built high on a hill with a commanding view of Montego Bay. It's had a haunted existence every since. You can tour the Rose Hall Great House and learn the story of plantation owner, Annie Hall, who was said to have murdered three husbands during her time at Rose Hall.
She's now called the White Witch of Rose Hall. Each bedroom in this haunted mansion has its own story to tell. You can visit during the day, with the lights on, or you can visit in the dark if you don't mind encountering a few ghosts along the way!
The house has been renovated and is now used for tours and events. The Rose Hall estate is rather large and encompasses quite a few of the resorts nearby, as well as a golf course. You can visit the house on your own or as part of an excursion. The plantation is open from 9am – 5pm. Night tours take place after 6:30pm. Book a tour here.
Luminous Lagoon
Be prepared to see something you've never seen before at Glistening Waters in Jamaica, just outside Montego Bay. The Luminous Lagoon is located in the waters around the marshlands of Trelawny. It is one of only a few places in the world that is home to "microscopic organisms that emit a bio-luminescent light when agitated" (read more here).
What does that mean exactly? Well, as the water is disturbed by anything, for instance the movement of the boat or by running your hand through it, it lights up like a glow stick.
After dark, you'll go out in the boat and watch the water light up. You can also get in and swim around, if you're brave enough. As you move your arms and legs, the water will light up around you. The tour lasts for about 35-40 minutes. Book a tour here.
Martha Brae Rafting Tour
Craftsmen on the Martha Brae River have been making their own bamboo rafts for many years in order to take visitors on a rafting tour down the river. Their two-person rafts are designed to float along with passengers in the back and a skilled captain steering the boat in the front.
Depending on the flow of the river, the trip can take between 30 and 60 minutes, and it's both fast and slow moving, but never too fast (in case you're worried). It's a very peaceful ride, gliding past huge trees and bamboo outcroppings. The captain shows us many flowers and fruits on the trees and shrubs along the way.
You can easily get to the Martha Brae Rafting center from the Falmouth Cruise Port or from Montego Bay. It's easy enough to drive yourself there, or you can book and excursion: Book a rafting tour here. A number of the other attractions mentioned in this post are also nearby.
Falmouth Food Tour
The Historic Falmouth Cruise Port welcomes some of the largest cruise ships in the business. It's located in the small city of Falmouth. As many cruise ships dock here, a large amount of money was poured into making the port as attractive and easy to navigate as possible.
However, if you want to get outside the incredibly touristy port area and you don't have a lot of time to spend on an excursion, there's a foodie activity to do right there in Falmouth. Jamaica Culinary Tours has a Falmouth Food Tour that leaves from the port area and spends a few hours weaving through the streets of the city, stopping at various food vendors.
The tour is part history lesson, part intro to food. There were five food stops that included things like exotic fruits and coconut water, meat patties, jerk chicken, and some sweets to end with.
Tours to Book:
Top Montego Bay Restaurants
We know it's tempting to eat at the resort or on the cruise ship, since it's all-inclusive and you've already paid for it, but we hope you'll have at least one meal in Jamaica. The cuisine is spicy and full of flavor. And they love their chicken!
Scotchies
There are multiple locations of this "fast slow food" restaurant in Jamaica. It's named after the famous Scotch Bonnet pepper that is used to pump up the heat in Jamaican dishes. At Scotchies, they slow cook jerk chicken, pork, sausage and other meats over a charcoal pit.
You can watch the meat being tended to as you arrive at the Montego Bay location. If you're looking for a plate of authentic jerk chicken, Scotchies is the place to go. (Learn how to make Jamaican jerk chicken at home with our easy recipe.)
In Montego Bay, the Scotchies is located within a few minutes of the main all-inclusive resorts, so there's no excuse for not going. It's a short $10 cab ride to get there. We ordered one of everything on the menu to get a good idea what they were serving.
Everything came out wrapped in tin foil and piping hot. Included were jerk chicken, pork, sausage, fish, sauteed greens, rice and peas, festival, and plenty of scotch bonnet hot sauce for dipping.
Houseboat Grill
Don't go expecting Jamaican food, but do go expecting a really unique and fun dining experience. The Houseboat Grill is actually located in 2-level houseboat on the water. You have to get in a little ferry boat to cross the water to the boat.
Once on board, you can sit inside or outside under the stars. We sat outside, upstairs, and it was beautiful. We could see some city lights across the water, and the weather was perfect.
On the menu, you'll find things like shrimp fritters, pan fried snapper, sauteed shrimp and surf & turf. They also have a pretty good wine list. If you're looking for a romantic dinner spot or just somewhere quiet and peaceful to enjoy a nice dinner, definitely try Houseboat Grill. Dinner service is from 6pm to 11pm, but the bar opens at 4:30pm in case you want to get a head start.
Peppas Cool Spot
The place to go in Montego Bay for local cuisine is Peppas. Located in the sprawling backyard, Peppas is both unique and spacious. There are many different sized tables to choose from throughout the yard.
And when it comes to the menu, there are plenty of Jamaican food specialties to try, like curry goat, fried escovitch snapper (you get to choose your own fish!), oxtail, bammy, and so many other dishes.
Where to Stay in Montego Bay
There are many resorts to choose from in Montego Bay. You can stay in one of the well known brand resorts, or get away from the masses at a boutique resort. Below we've listed three resorts that meet different styles.
Riu Palace Jamaica
⇒ Read reviews on Trip Advisor
The Riu Palace resort area is made up of three different resorts. If you stay at one, you can spend time at all three, if you wish. The Riu Palace Jamaica is the top tier of the three and is an adults-only resort.
If you're looking for a resort with multiple restaurants and a nice pool and beach area that won't cost a month's rent, the Riu Palace is a good choice. The rooms are a bit dated, but still very nice and comfortable.
There's even a liquor dispenser in the room. The food at the resort is one of the highlights. There are 4 restaurants to choose from and the buffet. We didn't have a bad meal the entire stay, which is quite impressive for an all-inclusive.
Round Hill Hotel & Villas
⇒ Read reviews on Trip Advisor
For something a bit different, consider the Round Hill Hotel & Villas. The experience at Round Hill is quite different from a big band all-inclusive resort. It's got a refreshingly local feel to it, yet retains a high level of sophistication and charm.
You can stay in one of the beachfront hotel rooms or one of the many villas located around the property. Each villa has its own pool, but you can also spend time at the main pool area and bar, if you wish. Every afternoon, head over to the dining area for a complementary afternoon tea.
They also have a James Beard award-winning chef, Martin Maginley, who will delight your palate at the Round Hill restaurant (which you can dine at even if you're not staying there).
CONCLUSION
With so many things to do in Montego Bay, it would be a huge shame to stay on the resort grounds and not get out to experience some of it. We hope you've been inspired to check out the Montego Bay excursions we've included in our list.
Like this post? Why not share it on your Pinterest board? Hover over the image on the left to pin!
Our trip to Jamaica was hosted by Visit Jamaica in conjunction with Blogilicious. We want to thank the businesses and attractions we visited for their fantastic hospitality. As always, all opinions and views expressed in this guide are our own. This content contains affiliate links. For more information, see our Disclaimer page.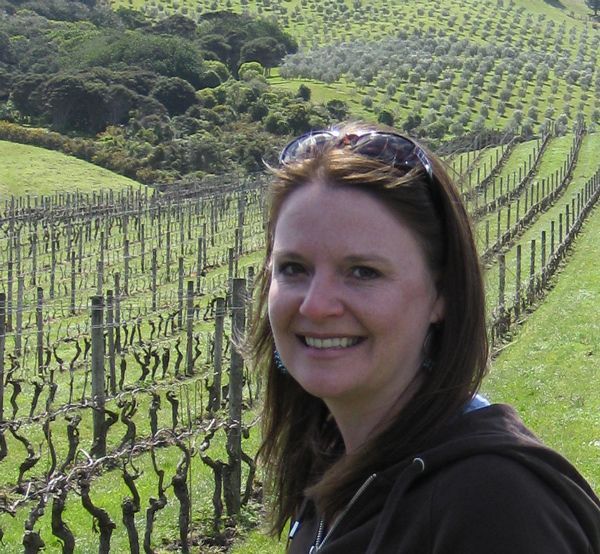 Laura Lynch, creator and writer of Savored Journeys, is an avid world traveler, certified wine expert, and international food specialist. She has written about travel and food for over 20 years and has visited 70+ countries.