If you're planning on exploring the most beautiful cities in France, you're in for a treat. This beautiful country is home to many stunning cities with diverse attractions and world-famous landmarks like the Eiffel Tower and the Palace of Versailles.
You'll come across varied landscapes, breathtaking architecture, magical castles, and scenic wine regions in France. If you're a foodie, you'll have endless dining options to indulge in exquisite French cuisine.
» You might also like the 14 Best Rhône Valley Wineries to Visit in 2023.
There is certainly something for every kind of traveler, all you have to do is pick the right places for you. To help you decide, we've compiled a list of the best cities in France to visit for an unforgettable adventure.
» Visiting soon? Check out our France travel guide. You might be interested in visiting the gorgeous town of Annecy, France for amazing food, as well as the Savoie wine region and these three jaw-dropping destinations in the French Alps. Here are our guides to the most beautiful cities to visit in France, and the top French wine regions.
13 Be​​st Cities to Visit in France
Whether you're looking to tour a magnificent cathedral or relax on pristine beaches, you'll be wonderstruck by this enchanting country. Here are some of the nicest cities in France that you should explore at least once.
1. Paris
Paris is filled with rich culture, history, cute cafes, and impressive landmarks and attractions along its cobblestoned streets. The atmosphere in the City of Love exudes romance, and many consider it to be the most beautiful city in France for couples.
Even if you're only staying three days in Paris, it goes without saying that you should visit the iconic Eiffel Tower. When touring the city, be sure to stop at the Louvre Museum, Notre-Dame Cathedral, and Arc de Triomphe.
If you're traveling with kids or consider yourself young at heart, take a trip to Disneyland Paris for fun, fairy-tale activities. For an exciting adventure outside the city, the UNESCO-listed Palace of Versailles is less than an hour's drive away.
Tip: If you have limited time in the City of Light, check out this guide on spending one day in Paris.
2. Marseille
Marseille is one of the most beautiful places in France to explore. It is the second-largest city in the country and an excellent destination for outdoor enthusiasts and culture-loving travelers.
It is surrounded by the glistening waters of the Mediterranean Sea, so you can partake in thrilling water activities, such as diving and sailing. There are also a number of sightseeing opportunities in the city, including the famous Basilique Notre-Dame de la Garde.
If you're looking to discover the city's rich history, be sure to visit the Chateau d'If Marseille History Museum, Mucem, and Le Panier. You can also stroll through the Vallon des Auffes to see traditional fishing boats and cabins.
For an epic outdoor adventure, take a guided tour to the National Park of Calanques. Here you'll have awe-inspiring views of diverse landscapes and learn more about the area's cultural heritage and impressive biodiversity.
3. Lyon
Lyon is one of the most beautiful French cities set at the confluence of the Rhone and Saone rivers. It is the third-largest city in France and boasts a number of remarkable monuments and attractions.
It is home to remarkable Roman ruins and Renaissance architecture that gives visitors a glimpse of the past. A few popular attractions include the Basilique of Notre Dame de Fourvière, Ancient Theatre of Fourvière, and Parc de la Tête d'Or.
Lyon has a long, intriguing history and played an essential role in silk production. Today, it is a top tourist destination, especially for travelers looking to experience traditional French gastronomy on an exquisite food tour.
There are also many charming cafes for authentic French dishes that will have your taste buds tingling. You'll also come across several boutique stores to browse around and pick up a souvenir or two.
»You might want to check out the Burgundy Wine Regions from here. Learn how and where to go wine tasting.
4. Bordeaux
Nestled in southwestern France, Bordeaux is a world-famous wine region. This elegant city boasts picturesque vineyards, charming castles, and stunning architecture.
The Bordeaux Cathedral is a must-see site with Gothic and Romanesque architecture that will leave you gazing in awe. Other superb sights include the La Ciudad del Vino, Gran Teatro de Burdeos, and the Museum of Fine Arts of Bordeaux.
The city is home to an array of eateries and bars where you can indulge in delectable French food paired with the best wines. If you're a wine enthusiast, this is undoubtedly a French city worth visiting.
Enjoy a tasting tour in the countryside or visit a museum to learn more about wines with exhibitions and events.
5. Strasbourg
If you're looking to visit a beautiful France city in the Grand Est region, Strasbourg is a splendid destination for an unwinding escape. The city boasts stunning sights, from its medieval architecture to the gorgeous views of the Rhine River.
It is a dreamy destination for history buffs, foodies, and photography lovers. Here you can wander around the picturesque streets, try tasty French food and drinks, and marvel at the incredible ancient buildings.
The city has a rich architectural heritage with influences from the Medieval, Romantic, Renaissance, and Art Nouveau eras. For a scenic outing, take a trip to the city's oldest park, the Parc de l'Orangerie. The Place Kleber is also a superb spot with charming cafes and shops.
6. Annecy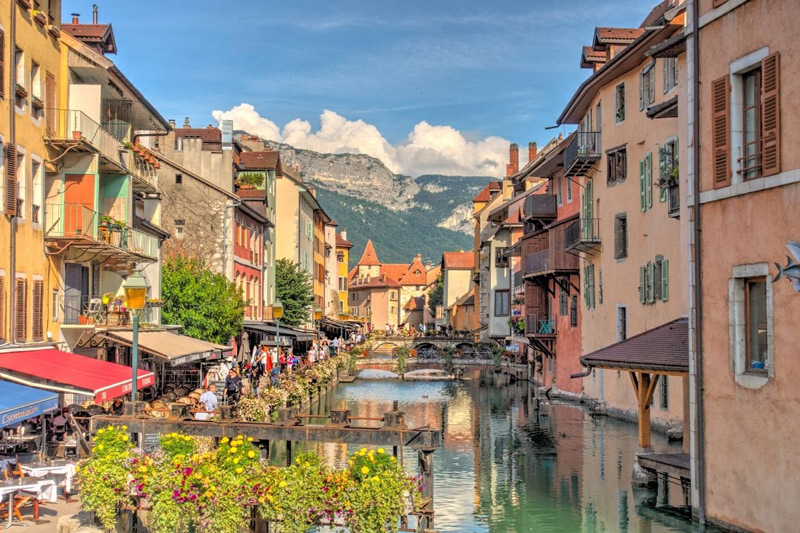 Annecy is a wonderful city situated in the French Alps. While strolling along the cobblestoned streets, you'll find striking, pastel-colored buildings and winding canals that add to the dreamlike environment.
Annecy is also known as "the Venice of the Alps" due to the main canal that runs through it. So you can expect stunning backdrops for those Instagram-worthy pictures plus amazing food.
The city features magnificent mountain landscapes and scenic spots, including the Puente de Los Amores and Jardins de l'Europe. Other top attractions include the Annecy Old Town, Le Palais de L'Ile, and Castillo de Annecy.
Tip: If you're spending time in Switzerland, Annecy is just a 50-minute drive from Geneva to enjoy a fun-filled half-day trip.
7. Metz
Set in the northeastern Grand Est region, Metz is an enchanting destination filled to the brim with gorgeous flower beds and scenic gardens. There are also miles of riverside paths for a leisurely stroll with breathtaking views of the Moselle and Seille rivers.
While there are many reasons to visit Metz, the Gothic Cathedral of Saint Stephen is the star of the show. This remarkable site features awe-inspiring Gothic Revival and French Gothic architecture as well as eye-catching stained-glass and designs.
Other fantastic points of interest include the Portes des Allemands and the Centre Pompidou Metz. From its architectural masterpieces and rich history to the abundance of leafy green spaces, a trip to this stunning city will not disappoint.
8. Reims
Situated in the Grand Est region, Reims is home to a number of hidden gems and idyllic views. Many consider it to be the unofficial capital of the Champagne wine region. So if you're a champagne lover, it's certainly a destination worth visiting.
Here you can wander around the café-lined streets and take in the city's elegant beauty. You'll see several striking structures, including the UNESCO-listed sites Cathedrale Notre-Dame de Reims, Palais du Tau, and the Former Abbey of Saint-Remi.
Discover local history and beautiful arts at the Musee Saint Remi and Museum of Fine Arts. If you're planning a romantic getaway or traveling with friends, explore the picturesque vineyards and boutique wineries with a small-group Champagne tour from Reims.
9. Colmar
Nestled near the France-Germany border, Colmar is an idyllic city with a magical, fairy-tale ambiance. One of the best things to do is tour the well-preserved Colmar Old Town. Here you'll come across historical architecture with French and German influences.
The city is home to picturesque flower-lined canals and floral displays beside the colorful, half-timbered houses. With its Instagram-worthy setting, Colmar is undoubtedly one of the most beautiful French cities to visit.
There are also fascinating museums to learn more about this medieval town. A popular point of interest is the Unterlinden Museum. It boasts an impressive collection of medieval paintings, striking sculptures, and folk art. If you're traveling with kids, make a stop at the Musee du Jouet toy museum.
10. Nice
Nice is another top city in France for those seeking to experience a rich blend of French and Italian culture. You'll find this splendid destination on the shorelines of Baie des Anges in the French Riviera.
It's an excellent spot for a refreshing getaway with picturesque views of the sparkling waters and stunning structures. As you walk through the cobblestoned streets, you'll see gorgeous structures with Belle Epoque and Baroque architectural influences.
Nice is renowned for its lovely climate and is one of the best locations for a beach vacation. There are also many galleries, museums, and year-round festivals to experience the rich arts and culture in the city. These include the Musee Matisse and the Modern and Contemporary Art Museum.
If you're looking for a more scenic experience, visit the Castle of Nice or take a day trip to the Verdon gorges and snap some shots of the picturesque lavender fields.
11. Toulouse
Toulouse is the fourth largest city in France, after Paris, Marseille and Lyon, and its known for its art, culture, and history, along with the Garonne River and 17th-century Canal du Midi that flank it.
Nicknamed "La Ville Rose" (The Pink City), because many of its buildings are made from pink bricks, Toulouse is a city that feels like a village in the town center, which is very walkable for tourists. There are a lot of amazing things to do in Toulouse, making it a fantastic vacation destination.
The Place du Capitole is very regal, with its pink brick facade that defines the city, as you can see above, and this large and lively square that is packed with cafes, restaurants and a flea market where you can buy souvenirs for your trip.
Like many other European cities, Toulouse is packed with world-class museums you can explore. You cannot go to Toulouse or any part of France and not enjoy some amazing French gourmet meals, which the country is known for the world over.
There are several guided food tours in Toulouse, you can pay for one of these to get to taste some of the best French foods.
12. Chamonix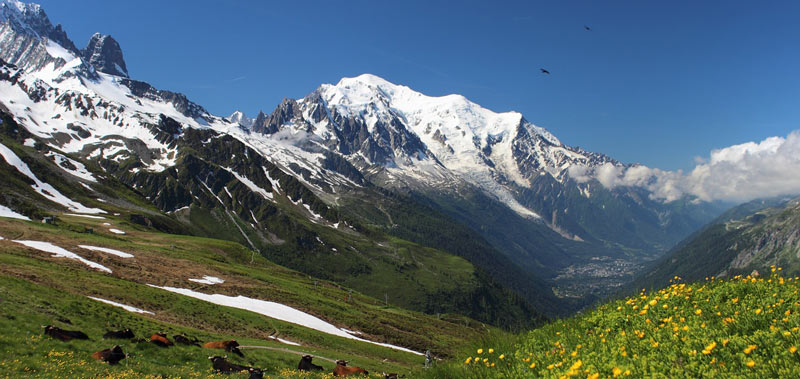 At the base of Mont Blanc is the quintessential alpine village of Chamonix, France. One of three gorgeous alpine cities in the French Alps that you must visit, Chamonix an ultra-popular tourist destination year round.
Due to its proximity to the main attraction, Chamonix is always bustling. From here you can take the cable car up the mountain, Aiguille du Midi, to the summit terrace at 12,600ft elevation. From there, you can see all around the mountain peaks of the French, Swiss and Italian alps.
Take a tour of the town, walk around and enjoy the scenery. There's great shopping in town, especially for activewear and winter ski gear.
Take the cable car up Aiguille du Midi, where you can go on hikes in the summer and ski in the winter. There is also a viewing platform experience called Step Into the Void – a glass box that hangs over the precipice. Walk through The Pipe to circle all the way around the Aiguille du Midi peak.
13. Lille
The beautiful French city of Lille is located in the north of France, near the Belgium border. It's the capital of the Hauts-de-France region and a cultural hub with lots of museums and architecture to gawk at. It's also a bustling university city.
Lille has lots to offer, with Gothic churches, a gorgeous historic old town, called Vieux Lille, with lovely 17th-century brick town houses, cobbled pedestrian streets and a large central square, the Grand Place.
One great reason to visit, especially for art lovers is that Lille has the largest fine-arts museum in France after the Louvre. The food has a strong Flemish influence, so you'll want to tuck into some moules frites and Carbonade Flamande while you're there.
Take a Trip to the Prettiest Cities in France
Now that we've discussed the must-visit beautiful cities in France, it's easy to see why this enchanting country attracts countless travelers each year. Whether you're planning a romantic trip with scenic views or to immerse yourself in rich history and culture, there are plenty of stunning places to explore.
So, which of these destinations will you be making memories at on your next adventure? If you need more planning assistance, check out this France travel guide to further inspire wanderlust.
Like this post? Why not save it to Pinterest?
FOLLOW US on Pinterest, Instagram, Facebook for more great travel inspiration and tips.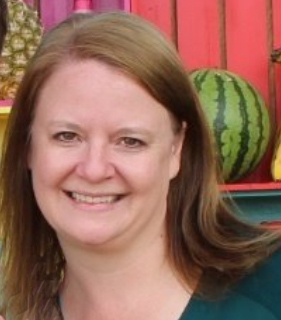 Laura Lynch, creator and writer of Savored Journeys, is an avid world traveler, certified wine expert, and international food specialist. She has written about travel and food for over 20 years and has visited over 75 countries. Her work has been published in numerous guidebooks, websites, and magazines.