This article has links to products and services we recommend, which we may make commission from.
(Updated for 2018)
I wish I could say that I knew from the start what luggage, gear and clothing I needed for traveling. But, sadly, it took me many years worth of trial and error, plus hundreds of wasted dollars, to finally settle on the things I know function as expected while traveling.
I still have a stack of luggage in the closet that I'll never use again. I remember one particularly horrible bag choice that I took on a solo trip to Eastern Europe. It was a rolling duffel bag that I'd had such high hopes for, but that ended up being one of the hardest to drag, roll and carry. I threw it out before I even made it home. Then there are years worth of cameras that have contributed to the load of bad photos I've taken.
Needless to say, the luggage and travel gear that you choose is very important to the journey. It's my duty to help you avoid bad bag trauma by providing you with my recommendations for luggage and other travel gear that will make your trip easier and more organized.
we've also covered a few other travel topics you might be interested in like finding the best travel purse and the top carry on luggage guaranteed to fit in the overhead bin. See all of our travel gear reviews.
Packing & Luggage
Above all else, I prefer traveling light. The amount of time we save getting out of the airport by not having checked luggage is the biggest benefit, so we mostly prefer to travel only with backpacks. If a suitcase is needed, we still want to be able to carry it on, so you won't find any larger-sized luggage on this list. Below is my absolutely MUST HAVE list, pared down to only the essentials. If you want to see more carry on luggage options, check out this post.


Are you envious of those people pushing their luggage through the airport with ease. I definitely am! This TravelPro Spinner suitcase is one of the easiest pieces of luggage to travel with. The 21-inch size will fit in most overhead bins (always check airline size requirements). It has quite a bit of space plus a couple of convenient zipper pockets for tucking things away. And don't forget those spinner wheels that glide in all directions. See all our carry-on luggage top picks.
☆ Read more about the
Travelpro Luggage Maxlite4

I can no longer travel without these packing cubes. They've made our packing so much more organized. They really compress clothes so you can pack twice as much. I used to shove my clothes directly into the backpack, but everything quickly became unfolded and messy. Now, everything stays in a neat stack and there's no chance of things falling out at inopportune times.
We both have our own color for when we share a backpack. Use them once and you'll never go back to any other way of packing. I use the medium size the most because it fits nicely in the backpack. Two mediums or one large can be put into the main compartment together. The large bag works best for suitcases. They also have shoe bags that will keep your shoes from making everything else dirty.
☆ Read more about these
eBags Packing Cubes
We love this collapsible water bottle. We take it everywhere we go, so we can fill up at a water fountain in the airport or at an event rather than buy expensive water. The attached clip makes carrying it very easy and it never pops open or leaks, even if it's tipped upside down or squeezed between items in a carry on. It expands well to fit the full liter of water.
☆ Read more about the
Vapur Eclipse Water Bottle
My Favorite Travel Electronics
We take two cameras when we travel, plus our smartphones. Since we're not trying to be professional photographers, we prefer the ease of point-and-shoot cameras, but we had a hard time finding a good one, so we upgraded to a mirrorless camera that we LOVE. If you want to get really nice photos, I suggest you take the time to learn how to use the camera you choose, so you won't be disappointed. No camera can do it all! If you don't want to get into all the specifics of a camera, a really good mobile phone camera can even be better than many cameras. We love the
Samsung Galaxy S7 and
Samsung Galaxy S8. The camera on this phone is really powerful.


This mirrorless camera receives very high ratings. It combines an impressive list of features with great image quality, ease-of-use and really impressive lenses. It's a good alternative to a bulky and expensive DSLR that takes a lot of time to learn to operate. The Sony A-6000 has a range of lenses to choose from, but we've gotten great results from the 35mm, especially with food photos. If you want to up your photo game, start here! See all our top camera suggestions.
☆ Read more about the Sony A-6000
The Canon EOS Rebel T6 is a good DSLR camera to get started with. It's a proven winner of a camera. It comes with a 18-55mm kit lens, but you can add lenses as you see fit. I love this bundle on Amazon that includes a 55mm telephoto lens, a memory card and loads of other useful things. have. It has great stability and resolution in low light, plus full HD 1080p video recording and bluetooth pairing capabilities.
☆ Read more about the Canon EOS Rebel T6
We could make a good case for having a tripod along on your travels, especialy for avid photographers, but our friends at Pages of Travel have told the story so well. Read why they think it's wise to buy a
quality tripod
.

Long hours on a plane are so much more bearable when you have a tablet on which to watch whatever movies and TV we want. You could even listen to an audiobook while playing games. We get addicted to Word Search and Yahtzee on our trips. The Fire comes in different sizes and capacity. We like the 10″ screen for watching movies, and 32 GB is enough storage space for a couple movies. It's really nice to have the full Amazon movie library to download from, too, especially if you're a Prime member (Try Amazon Prime 30-Day Free Trial
).
☆ Read more about the Fire HD 10 Tablet

If you don't have a Kindle or e-reader these days then I assume you're still hauling around heavy books. For flights where the weight limit for carry on is getting less and less, it's so important to ditch the books and go with an e-reader. I love the Amazon Paperwhite edition because it's got a high-resolution 6″ screen and a built in light so you can read it at any time of the day. It's easy on the eyes and allows you to "carry" a ton of books at one time.
☆ Read more about the Kindle Paperwhite E-Reader
My Favorite Travel Accessories
There are a few more items that I cannot travel without. Of course it's of utmost importance to have good luggage and electronics, but these travel accessories make flying and traveling long distances more bearable, which can mean the difference between comfort and annoyance.


I simply cannot travel without these anymore. Travel is noisy business! I'm not one to travel with bulky items, so the
Bose Overear QuietComfort headphones aren't for me (besides that they are really expensive, but if you'd rather have overear headphones, check them out. They are top of the line as far as noise-cancelling goes. This Audio-Technica pair works fine for me. It shuts out the loud engine noise in airplanes and the rumble of the train. Since these have to be charged, it's super convenient that they come with an airplane plug adapter.
⇒ Read our full review of the best noise cancelling headphones for travel.
☆ Learn more about these
Audio-Technica In-Ear Headphones
I wear these everywhere now, not just while traveling. They are incredibly comfortable and versatile. I can wear them both hiking and to a nice restaurant without feeling out of place in either situation. The material is really smooth and they have sleek pockets in front and back that don't pucker. They're just stretchy enough to not restrict movement, but also not stretchy out with wear. They are available for both men and women. If you're looking for the perfect pair of travel pants and want to see a few more options, check out this post.
☆ Learn more about these
Columbia Outdoor travel pants

All I'm saying is why carry around a travel pillow that doesn't double as a cuddly bear! This pillow actually comes in a ton of different animals, like a panda and a dog, but I love bears. It's super soft and flexible, unlike some neck pillows, so it can be used in a lot of different situations, like when you're trying to sleep up against an airplane window, or with your head down on the tray table. It's easy to flip back and forth and it has a clip so you can attach it to your backpack and it won't get lost in the airport.
⇒ See our travel gift list and find the perfect gift for the travel-lover in your life. Here's another one if you still haven't found the right gift!
☆ Learn more about this
Kikkerland Zip & Flip Travel Pillow
I know, this is technically still luggage, but it fits in this category better. I used to hate having all the random little things I carry, like make-up, brushes, and other toiletry items, plus random medications, earrings, etc, just floating around in the bottom of a bag. This toiletry kit has multiple zippered sections on each side where you can store various things, and the big center section has dividers and organizers for everything.
It also has a hook so you can hang it on the bathroom door. I just leave it packed up at all times and then throw it into my luggage when I'm ready to go. It saves a ton of time not have to pack all those little things each time. Read more about what beauty and hair essentials to pack for travel.
⇒ See all our toiletry bag recommendations.
☆ Learn more about this
e-Bags Pack it Flat Toiletry Kit
What are your favorite things to have along when traveling? Tell us about the travel products you can't live without.
Disclaimer: Savored Journeys is a participant in the Amazon Services LLC Associates Program, an affiliate advertising program designed to provide a means for sites to earn advertising fees by advertising and linking to amazon.com.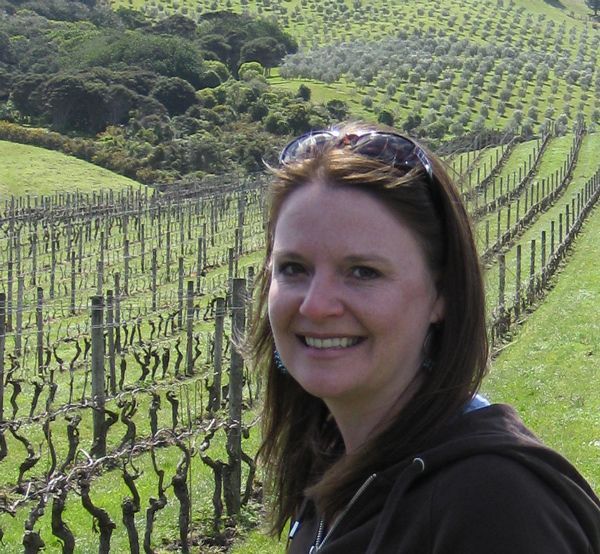 Laura Lynch, creator and writer of Savored Journeys, is an avid world traveler, certified wine expert, and international food specialist. She has written about travel and food for over 20 years and has visited 70+ countries.