Considered as the land of the free, United States of America is home to many iconic sights. You have the Statue of Liberty, the Empire State Building, and Times Square in New York City, the Golden Gate Bridge in San Francisco, plus all of the amazing National Parks, not to mention a plethora of smaller destinations that are equally stunning.
In this post, we will share with you some of the more off the beaten path places to visit in the United States that you may not even know about — all that are worth the visit and the headache of obtaining a visa.
» Looking for more travel inspiration in the United States? See our U.S. Summer Vacation Ideas and 12 U.S. National Parks to Visit. Here are a few more fabulous U.S. Cities to visit.
Lesser Known Destinations in the United States
In addition to the famous landmarks in the U.S., there are some hidden gems which are not as well known to the world. Listed below are some of our favorite off-the-beaten-path spots to visit in the United States.
1. Moab, Utah
You've heard of the Grand Canyon, but have you heard of Moab, Utah? If you're wanting to visit more Utah National Parks, you can visit two of them from Moab: Canyonlands National Park and Arches National park. This vast open space has some of the most stunning landscape you'll ever see, with miles of red rock formations that are stunning.
It's definitely a place of extremes, with thousand-foot canyons and snow-capped peaks. Some of the outdoor activities to enjoy in Moab include hiking, biking, rock climbing, rafting, kayaking, four wheel adventures, and some of the most spectacular sight seeing in the country. Be prepared for an adventure.
2. Outer Banks, North Carolina
North Carolina's Outer Banks is a popular beach destination for travelers in the U.S.. This 100-mile-long group of islands welcomed the first European settlers, witnessed mankind's first winged flight, and is one of the most popular beach areas on the east coast of the United States.
Besides the sand, history, and exposure to the elements, the Outer Banks has many outdoor recreation possibilities, including kite flying, deep sea fishing, swimming, boating, and sailing.
Jockey's Ridge State Park features the highest sand dunes on the east coast; the Cape Hatteras National Seashore stretches over 70 miles with gorgeous sandy beaches; there are wildlife refuges and maritime forests.
3. Austin, Texas
Austin may not have much in common with the rest of its Texan neighbors, but it certainly is right up to speed, if not in high speed, with the rest of the international community. Find yourself some cheap airfare to Austin and discover why most cars and t-shirts of Austinites proudly proclaim, "Keep Austin Weird."
Travel to Austin to experience a vibrant city deeply entrenched in the tenets of self-expression, ever-evolving music of all genres, and the pride of a unique southern history. Anyone who pays much attention to contemporary music would know that Austin is known as "the Live Music Capital of the World."
Also well known for its food, Austin has some great restaurants and bars.
4. Pismo Beach
California has always been associated with beautiful coasts. However, most of the times, it is always Long Beach that gets tagged when talking about the state. For some reason, it has gained more reputation than others.
That is why when we saw Pismo Beach, we begged to question the reason because Pismo Beach itself is a wonderful place to take a stroll around. It differs from other beaches because it has coves and caves which visitors can visit and explore.
Other than that, it also has a pier that locals use for sightseeing, fishing, watching the sun set, and even the most casual of strolls. Moreover, you can enjoy some great wine in the Paso Robles wine region near Pismo Beach.
5. Lake Tahoe, California
Lake Tahoe is a freshwater lake located between Nevada and California that is known for its crystal clear water and amazing views of the mountains that surround this lake. One of the best things to do when you are in Lake Tahoe is to drive around the lake because the views and landscape changes as you go.
You'll go through small towns and resort areas that have shop, restaurants, and beaches to check out. On the southwestern side, don't miss Emerald Bay State Park, and on the northeast side don't miss Sand Harbor Beach and Spooner Lake, a gateway to the popular Tahoe Rim trail.
In South Lake Tahoe, there are a lot of casinos where you can do a bit of gambling. There are also a lot of ski resorts, like Heavenly Mountain Resort, that draw in tourists during all seasons. If you're in to hiking, head out to the Eagle Lake trail, which is about a 2-mile hike.
It leads into Desolation Wilderness and the scenery is simply stunning. If hiking isn't your thing, you can take a paddle boat ride, go skiing on the lake, or just hang out on the beach.
6. Fayetteville in West Virginia
Not a common place you would hear when asking for advice as to where to go when visiting the United States. However, due to the excitement that the New River Gorge has brought, people have been driving in droves to experience it first-hand.
The New River Gorge has become famous for rafting while enjoying the scenic view that the river's surroundings has to offer. Of course, in true US fashion, you have other options other than rafting if it does not fit your fancy. There are tours offering horseback riding and hiking, in true outdoor spirit.
Of course, it also has something for art contemporaries. It should be a given considering the rich cultural history that surrounded the state in the past.
7. Fort Bragg, California
Once home to a military garrison and then a company town, Fort Bragg in California has a long, storied past. However, it has now re-emerged as a vacation getaway at the seaside. It has even been named a California Historic Landmark. What Fort Bragg boasts is an incredible view of the Pacific coast.
It's also known for its Glass Beach, which is aptly named because of the abundance of smooth glass washed ashore at its coast. At one point in time, residents dumped their trash into the ocean.
Of course, that's on longer the case, but over time some of that waste has washed ashore in the form of smoothed and glittery pebbles of glass that is intermingled with the sand. Fort Bragg has become a popular stop on the Route 1 drive through California, along the rugged coastline.
8. Phoenix, Arizona
One of America's top outdoor destinations and the country's fifth largest city, it is not an accident that Phoenix is home to several of the best destination resorts located in the United States. Explore desert parks and lakes, tour archaeology ruins and historic gold mining towns, or visit one of the many the museums and state-of-the-art sporting facilities.
From Surprise to Apache Junction, the twenty distinct communities that make up the greater Phoenix area offer visitors everything from the slow-paced rural southwest to a bustling college atmosphere.
Whether your interest is sports or archaeology, history or hiking, biking, horseback riding, or bird watching Phoenix offers something for everyone not wanting to venture beyond the Valley of the Sun. Enjoy hiking, biking and horseback riding at the many area parks such as South Mountain, McDowell or Papago.
And if quintessential southwest is your goal, explore Hohokam Indian ruins and participate in a simulated excavation at the Deer Valley Rock Art Center or pan for gold and tour a gold mine in Goldfield Ghost Town.
9. Ohiopyle State Park, Pennsylvania
This place must have it all. It has four waterfalls which might have inspired Frank Wright to build a house over one of them. Its gorge, the Youghiogheny River Gorge which is simply called by the locals as the Yough, has a Lower Yough, a Middle Yough, and an Upper Yough, which offers great whitewater rafting opportunities at different strengths.
The Middle Yough gives off a Class I and II rapids that is great for casual rafters. However, if you are looking for an adventure, the Lower Yough is the place to be with rapids that go as strong as Class IV.
Additionally, the Ohiopyle State Park, offers a bike path it as far as 27 miles. It also has 79 miles worth of trekking ground that you can cover.
10. Katy Trail in Missouri
Once a railroad that ran from Missouri to Kansas and all the way to Texas, the Katy Trail is now the longest developed rail-trail in the country, so it attracts trekking enthusiasts from all over the world. The trail is 240 miles long and takes an average of 5 days to complete.
The majority of the trail follows the Missouri River. If you're a history buff, you'll be excited to hear that a section of the trail between Cooper County and St. Charles County has been designated as an official segment of the Lewis and Clark National Historic Trail.
If trekking is not your cup of tea, there is always a day trip which will get you through two early 19th century towns in Rocheport and Boonville. There you can enjoy nature preserves, excellent vineyards, and great river views.
11. The Cache River in Illinois
One of the more under the radar swamps in the United States, the Cache River only receives 200,000 visitors annually. This does not do justice to how beautiful the place is. Best explored on a canoe or kayak, the Cache River is home to many endangered or threatened species, some you may only find here.
The most picturesque landscape in my opinion however is the Heron Pond. During summer, its surface is riddled with floating duckweed, giving the pond a bright-green layer that brightens up the landscape. It can easily highlight the season.
CONCLUSION
The United States has many off the beaten path places that are not yet known across the globe. Most of the times, people go for the large landmarks that occupy the country's skyline. However, the country has many hidden gems waiting to be discovered.
So, if you are bored with the mainstream go-to places, take these into consideration and truly take in the natural beauty of the United States of America.
Pin it for later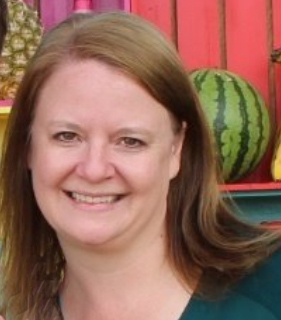 Laura Lynch, creator and writer of Savored Journeys, is an avid world traveler, certified wine expert, and international food specialist. She has written about travel and food for over 20 years and has visited over 75 countries. Her work has been published in numerous guidebooks, websites, and magazines.