Though Ghent is often overshadowed by its popular neighbors, Brussels and Bruges, it shouldn't be overlooked. This picturesque medieval city boasts marvelous castles, stunning Gothic architecture, and charming canals. In my opinion, if you skip Ghent you're missing out.
With that said, it's not a city that requires a lot of time to explore. The main attractions are all found in the old city, the historic center of Ghent. What makes it so great is the well-preserved center that's also surrounded by real life. It's a university city bustling with students, but oozes historic character. It's one of the most charming small towns in Europe.
If you only have one day – likely because you're skipping around Europe on a packed itinerary – that's okay. We recently spent just one day in Ghent and found it was enough time to get a good feel for the character and feel of the city, without running out of things to do.
I've spilled out all of the favorite places and things we did in Ghent in one day below so you can build your itinerary with things that sound fun to you.
Planning for Europe? Here's more…
Getting Around Ghent, Belgium
Ghent is a very walkable city, so getting around on foot is the way to go. Most people arrive via the Gent-Sint-Pieters train station, which is 2.5 km south of the historic center.
You can walk it, but I would recommend taking the tram. Just cross the street to the tram stop and take Tram 1 to the Gent Korenmarkt perron 5 stop. It's then just a 1 minute walk to St. Michael's Bridge where our itinerary (below) starts.
The city has a good public transport system. You can get anywhere in the city using buses or trams. The signs are easy to read.
You can buy a ticket at the train station, or where ever you see a ticket machine (at many bus stops), or from the driver. You can also download the app and buy a mobile ticket. They are about €2.50 for a single ride. Just tap your card on the white reader inside the bus or tram.
If you decide to stay for more than a day, consider getting the CityCard Ghent and get access to public transport and top attractions at ridiculously low prices. A 48-hour pass costs about €38 ($40), and a 72-hour pass goes for about €44 ($47).
Where To Stay in Ghent
If you're visiting Ghent as a day trip, you won't be needing this information, but if you do it like I did and come in from Brussels, you'll need to stay for one night in Ghent before moving on to the next stop, which for me was Bruges. Below are my top top choices. If you can afford it, choose The Post.
1898 The Post
In Ghent, I don't think you can get much better than the 1898 The Post, located in Ghent's old post office building in the city center. It has an old-world charm that will make you so glad you choose to stay there, plus you cannot beat the location.
The views are one of the most spectacular part, with grand window encased with restored wood, and indirect lighting that creates a cozy atmosphere, accented with a modern touch. The Cobbler cocktail bar is a nice hang out in the evening.
Ghent Marriott Hotel
Sitting along the Korenlei; the Marriott Hotel is a great fusion of historic charm and modern elegance. Wake up to scenic views of people walking along the promenade, boats floating on the Leie, and gorgeous backdrops of medieval architecture.
You'll have access to a fitness center, on-site eateries like a coffee and wine bar, and the Midtown Grill serving the tastiest USDA-certified steaks.
Things To Do in Ghent: A Complete One Day Itinerary
24 hours is plenty of time to explore the best things to see in Ghent. Of course you're not going to scratch beneath the surface, so it will be a "touristy" day for sure, but it will still be a fun and satisfying visit.
Walking Tour
A great way to see and learn a lot right when you arrive is via a walking tour around the Medieval center. Many of the things I've listed below will be included on a walking tour, but you can also see them on foot by yourself very easily. Ghent is a very walkable city.
The tour takes place at 10:30 and 1:30 every day and is a free historical tour led by a knowledgeable and enthusiastic guide. It's only $4 to get tickets, but you are also expected to tip at the end.
As you are walking around Ghent watch for these bronze circles in the roadway. They are known as the Coin Route. It is a 1 km route that shows the middle ages' trade route between Bruges and Cologne that passed through Ghent.
St. Michael's Bridge
If you don't go on a walking tour, you can start your own tour here, at St. Michael's Bridge, one of the most picturesque parts of Ghent. It offers excellent 360-degree views of the cityscape, giving you stunning architecture at every turn. This is where you're going to want to take all the pictures.
The bridge is the only place in Ghent where you can snap a photo of the three medieval towers; St. Bavo's Cathedral, Belfry of Ghent, and St. Nicholas Church at the same time.
This makes St. Michael's Bridge a popular tourist attraction, so you may have to wait a bit for the perfect selfie. In the meantime, you can admire the gorgeous scenery with boats full of tourists riding along the canal. You might even catch a dreamy sunset.
Korenlei and Graslei
The Korenlei and Graslei are two of Ghent's iconic quays, popular for their gorgeous riverside architecture and charming cafes.
Walk over the St. Michael's Bridge to Korenlei (Corn Quay) on the left side of the Leie River, where you'll find an incredible ensemble of 18th-century Neoclassical merchant houses. On the right side of the riverbank, Graslei (Grass Quay) boasts unique guild houses with interpretive gables depicting their function.
These two parallel promenades were essential to medieval trade in Ghent, and today they are a popular spot for lunch meetings, coffee dates, and leisurely strolls along the Leie.
Lunch: Manhattan's Burgers
I know it sounds strange to have lunch in Ghent at a burger place. If you'd rather not, there are other places nearby with local food, but Manhattan's Burgers is an iconic burger spot and it's right in the heart of the Graslei, with canal views. You really can't beat it.
Order inside – don't forget to get a Belgian beer with your meal! – and find a spot on the outdoor patio, so you can do some people watching.
St. Bavo's Cathedral
An excellent introduction to Ghent's Romanesque architecture is the 16th-century St. Bavo's Cathedral. It's the oldest parish church in the city, serving as a house of prayer and Christian service for over 1,000 years.
St. Bavo's stone and brick exterior is as magnificent as its interior. If you're a history lover, then you'll enjoy marveling at the incredible Peter Paul Rubens altarpieces and paintings.
You'll also find religious sculptures and the renowned "Adoration of the Mystic Lamb" or Ghent Altarpiece, painted by brothers Jan and Hubert van Eyck.
Belfry of Ghent
A short one-minute walk from St. Bavo's Cathedral; you'll stumble upon the towering Belfry of Ghent. This nearly 300-foot-tall tower is a designated UNESCO World Heritage Site, which served as a watchtower, the city archive, and a bell tower.
Climb up the Belfry's 366 steps to see Ghent's stunning architecture and cityscape from a bird's eye perspective. Atop the tower, you'll find a 14th-century weathervane copper dragon that's been guarding the city for centuries.
Another great thing to see in the Belfry is the adjunct Cloth Hall, a 15th-century storehouse used for all textiles produced in Ghent.
Take a Boat Ride Along the Leie River
The Korenlei and Graslei are great points of departure for canal rides along the Leie River. Give your feet a break and take a 40-minute guided boat trip along Ghent's scenic canals.
This is a great way to learn about the city's history, as your guide provides interesting facts and anecdotes about a range of medieval landmarks.
Taking this boat ride along Ghent's canals also provides some fantastic landscape photography opportunities, so don't forget to bring your camera along"
Ghent's Popular Market Squares
There are quite a few squares in Ghent that have shops, restaurants, bars, etc. These are fun to walk around and maybe stop in for some frites or waffles. You'll find plenty of places to grab either of these from vendors opening up to the street.
Korenmarkt
Boasting imposing backdrops of St. Nicholas Church, the Korenmarkt (Wheat Market) is a fantastic place to take in the city's historic character while enjoying a delicious meal. This large square also hosts annual events like the Gentse Feesten and Christmas Markets.
Groentenmarkt
North of the Korenmarkt, you'll find the Groentenmarkt (Vegetable Market). Here you can buy organic, seasonal local produce. You'll find Ghent's smallest cafe 't Galgenhuisje, that's been operating since 1776.
You can also grab some frites at Frites Atelier, which is extremely popular, usually with a line out the door. They're like gourmet frites that can sometimes even double as a lunch, with toppings like short ribs and tempting sauces.
Vrijdagmarkt
Ghent's Vrijdagmarkt (Friday Market) is a typical local market that's been hosted every Friday since the 12th century. This is where locals conglomerate for casual strolls browsing through stalls selling local delicacies, cheese, clothes, shoes, and handicrafts.
Graffiti Street (Werregarenstraat)
If you're an art lover, strolling through Graffiti Street is a must. This cobblestone alleyway are covered with colorful murals and graffiti by local artists. The walls are periodically turned into black canvases, so the next time you visit Ghent, you may see something new.
A fun way to explore this vibrant street art gallery is on this Walking Tour of Ghent Street Art and Graffiti. It's 5 km of walking, but it takes you to Gent Zuid, just outside the historical heart of the city in the arty part and to 'De Muide'.
Gravensteen Castle
Travel back to medieval Ghent at the fairytale-like Gravensteen Castle. Known as the "Castle of Counts" in Dutch, this storybook fortification dates back to the 12th century.
The castle was used as a fortress and an intimidation tactic against the rebellious "Burghers of Ghent" – these were citizens who refused to be hanged during the Revolt of Ghent. Today Gravensteen Castle houses the Museum of Arms and the Museum of Judicial Objects, where you'll find exhibits of warfare weapons and torture tools.
If you're not afraid of some grim history, check out other interesting exhibits like the guillotine and the spine-shivering "Mask of Shame".
Patershol
Ghent's photogenic neighborhood of Patershol has not changed much since medieval times. This charming district has cobblestone streets, a maze of brick-terraced houses, and again, plenty of cafes, restaurants, and local bars. Sensing a pattern here?
Patershol is one of the best hidden gems in Europe that every traveler should explore. We really enjoyed meandering through the array of specialty shops and coffee houses and just imagining life there in medieval times. If it's during the week in the off-season, there won't be a whole lot going on there, however. Weekends are much more active.
Drinks
Once you're done with the main sight seeing in Patershol, it's likely time for a drink. Ghent has some really great cocktail bars and beer bars. Here are a few we went to that we really enjoyed.
Beer Walking Tour
Ghent is well known for its beer (you're in Belgium after all!), so you might be interested in seeing the city on a beer walking tour. On the tour, you'll learn all about Belgian beer and enjoy a wide range of tastes and samples along the way. Right now it's only given on the weekends at 2pm.
Located in Patershol, this is a small, quirky subterranean bar in the historic center with really knowledgeable mixologists and top ingredients. If you're a true cocktail fan, you'll get what they're trying to do. If you're just looking for a large sugar bomb cocktail, this isn't your place.
This is an absolutely must-do in Ghent, even if you're not really a beer person. You cannot go to Ghent without trying at least one beer. There are lambics for those who aren't into heavy dark beers. The beer list is 500 long at Dulle Greit, and it's located right on Vrijdagmarkt Square for great people watching.
In Graslei there's a great cocktail bar called The Cobbler located in the historic Post Hotel. It's a bit of old-world elegance with a modern twist. The cocktails are great – albeit expensive – and the atmosphere is great.
Where to Eat in Ghent
Manhattn's Burgers – An iconic burger spot and it's right in the heart of the Graslei, with canal views. You really can't beat it. Order your favorite burger, frites, a dipping sauce, and a Belgian beer and sit on the patio.
Roots – This restaurant is the place to go for creative Belgian cuisine in an elegant atmosphere. Every dish is a feast for the eyes, like a plate of art, but also delivers on taste. There's a reasonable priced set menu with a few extras you can add.
't Klaverblad – This family owned and operated restaurant is located down a narrow street in Patershol. The food, the service, the atmosphere, the wine – it's all exceptional and will make your dinner in Ghent magical.
When it comes to fun and interesting things to do, Ghent is a great place that's not to be missed on all Belgium itineraries. This charming medieval city has so much to explore it gives nearby counterparts like the capital city, Brussels and Bruges, a run for their money.
So there you have it, a fantastic one-day itinerary of what to see in Ghent.
Like this post? Why not save it to Pinterest?
FOLLOW US on Pinterest, Instagram, Facebook for more great travel inspiration and tips.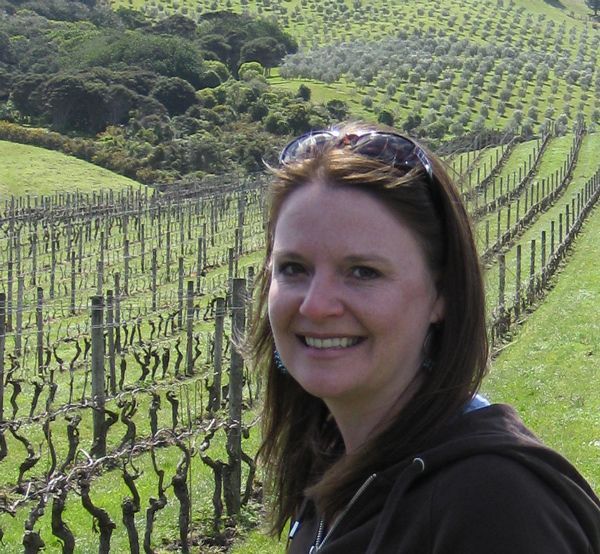 Laura Lynch, creator and writer of Savored Journeys, is an avid world traveler, certified wine expert, and international food specialist. She has written about travel and food for over 20 years and has visited over 75 countries.