This Discover Wine series focuses on regions of the world that you can visit for wine tasting.
Paso Robles is well-known wine region of the central California coast. This wine region is known for its dark, full-bodied reds. Located along Central California's beautiful coast, Paso Robles is the largest AVA in California.
With 26,000 acres of vineyards and over 200 wineries producing premium wines, Paso Robles has steadily became recognized as a world-class wine-growing area and no longer takes a backseat to Sonoma and Napa Valley.
With its ideal climate and rustic wine country charm, it's the perfect place to enjoy a weekend of wine tasting, particularly in the spring before it really starts to heat up. The area has a perfect climate for growing Zinfandel and other hearty red grapes.
★ Plan ahead. Book your San Luis Obispo & Paso Robles wine tour here.
Get the Lay of the Land
There are a couple of distinct tasting areas in Paso Robles. The historic downtown area has more than 15 tasting rooms surrounded by local eateries, delis, cheese shops and olive oil producers, and can be enjoyed on foot if you're staying in a hotel downtown.
The westside wineries are scattered among the rolling hills to the west to town and area bit harder to get to, with winding, narrow roads leading to some. The Hwy 46 East will take you to large, palatial estate wineries with special features like large courtyards where events are held and outdoor amphitheaters for summer concert series.
Some of the varietals you can expect to see are Cabernet Sauvignon, Merlot, Syrah, Voignier and Roussanne, as well as the area's heritage wine, Zinfandel. If you're a fan of a particular varietal, you may wish to tour top producers of those wines.
Wineries to Visit in Paso Robles
For a taste of award-winning 90+ point rated Zinfandels, plan stops at Turley Wine Cellars, Peachy Canyon Winery, J Dusi Wines and Adelaida Cellars.
If you're searching for views, drive along Adelaida Road, stopping at Lone Madrone, Tablas Creek, and Oso Libre before heading back to town, hitting up Summerwood Winery on the way.
On the east side of town, plan to stop at Vina Robles, Robert Hall and EOS wineries, where we received some of the best hospitality of any of the wineries we visited in the area, despite their large size.
There are literally thousands of combinations of wineries to visit, based on your own desires. A fun way to build your own itinerary, or find one that someone else has already created, is by going to Grow Wild Paso Robles Wine Country Trip Planner.
The planner allows you to select your wineries, add in hotels and restaurants and even create a printable PDF of your entire journey with driving directions.
Where to Stay in Paso Robles
When you're in the middle of wine country, the best place to stay is among the vines, and there are abundant choices of charming B&Bs. If you're planning to a stay in a B&B, you'll want to make reservations well in advance as many only have a couple of rooms and they fill up fast.
Winery Inns and Airbnbs
Hotels
For traditional hotels, there are some good choices in the historic downtown area.
Where to Eat in Paso Robles
Many of the wineries have picnic areas and views that are to die for, so don't bother going out for lunch and breaking up your wine tour. Red Scooter Deli makes it easy to order lunch ahead and take it with you for a quick picnic overlooking the vines. Their sandwich and salad options all come with a choice of side and a cookie for dessert.
For dinner, Thomas Hill Organics serves woodfire pizzas alongside some great appetizers and main dishes that can be enjoyed both inside or outside on the lovely covered patio. If you're looking for something a little more fancy, Bistro Laurent has a 5-course tasting menu with wine pairings.
For even more food ideas, check out this booze and food guide to Paso Robles.
Tours to Book:
How to Get to Paso Robles
Paso Robles is off U.S. 101, about 3 hours north of Los Angeles and 3 hours south of San Francisco. The closest airport is San Luis Obispo, about 30 minutes drive away, but you can often save money by flying into San Francisco, Santa Barbara or San Jose and driving.
Alternatively, if you live within 3-4 hours, the Amtrak train, the Pacific Surfliner, is a very pleasant trip and treats you with amazing views along the way.
The best way to explore the area is to arrange for transportation or take a wine tasting tour so you're not sipping and driving. Another great option is to take a hop-on-hop-off wine tasting tour, so you can spend as much time as you want at each winery.
CONCLUSION
You're going to immediately fall in love with the Paso Robles wine region. It's a really gorgeous area and the wine is unpretentious and just downright good. Have you been to Paso Robles? What are your favorite wineries in the area?
Quick. Check these necessities off your prep list!
Like this post? Why not save it to Pinterest?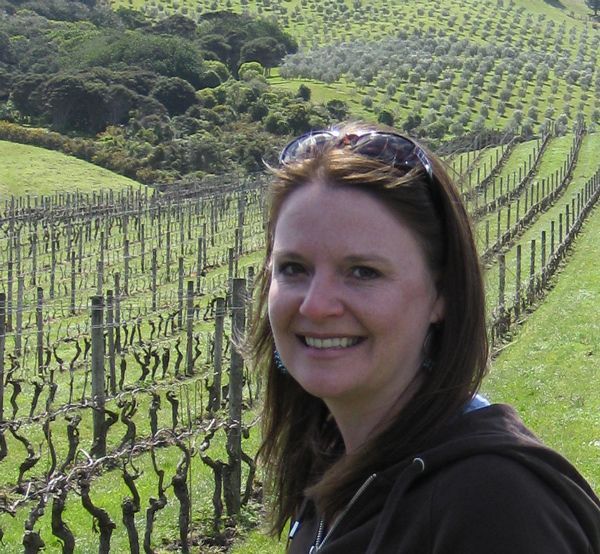 Laura Lynch, creator and writer of Savored Journeys, is an avid world traveler, certified wine expert, and international food specialist. She has written about travel and food for over 20 years and has visited 70+ countries.