If you are a bit of a wine enthusiast, then Pennsylvania is a place you need to check out. With the number of wineries and vineyards available to you, you will be spoiled for choice on where you can visit.
Many people don't know this, but Pennsylvania wineries are very interesting to visit. It's actually the 5th largest wine producer in the whole of the United States, with over 300 wineries housed within its borders and over 14,000 acres of vineyard spread all around.
» Looking for more travel inspiration in the United States? See our U.S. Summer Vacation Ideas and 12 U.S. National Parks to Visit. Here are a few more fabulous U.S. Cities to visit.
There is no shortage in the variety of wine either. Whether you are into your full-bodied reds or a refreshing rosé, there's a wine to suit everyone's taste in the Pennsylvania area. The grape varietals might surprise you as well because you've likely not heard of many of them.
There are both native and classic European varietals. Some of the most popular include Pinot Noir, Albarino, and Cabernet Franc, but you will also find others like Catawba, Chambourcin, and Traminette.
If you are looking for the best wineries to visit in the state, we'll introduce you to 10 best wineries to visit in Pennsylvania. They are spread around the state, so it doesn't really make a great wine tour. You'll just have to keep coming back to try them all.
Are Pennsylvania Wines Actually Good?
Before we get into the wineries themselves, you might be asking, "Why Pennsylvania?" or "Are the wines in Pennsylvania actually good?"
Pennsylvania has a diverse environment, with many areas of the region being vastly different from each other. Because the state is so diverse and the environments are so different, this makes it the perfect place with the perfect conditions for the grapes to grow.
The difference in the environments also means that a wide variety of different types of grapes can be produced.
In answer to your question, yes, the wines in Pennsylvania are very good. The white wines and the sweet wines are really the states best if you want to narrow it down, but their reds and other varieties are also mouthwatering.
So if you were a bit doubtful about the quality of wine in Pennsylvania, you don't have to worry! Choosing a winery to visit in this state will be a positive and wonderful experience for you and you will be dying to tell people about the wines you have sampled!
Where Are the Wineries in Pennsylvania?
If you've ever done an east coast road trip, you've likely driven through Philadelphia, but maybe you've never been to other parts of the states. I've surely never seen any vines around the Philly area. So where are all the wineries in Pennsylvania?
It stands to reason that the wineries are located where all the people aren't. All that land is needed to grow the grapes. The vast majority of vineyards in the state are located around Harrisburg, in the southeast. Actually not that far from Philadelphia after all!
You'll find a cluster of about 6 wineries between Harrisburg and Grantville. The others are really spread out from there. We recommend checking this map to see where they are all.
10 Pennsylvania Wineries to Visit
1. Adams County Winery
Kicking off our list is Adams County Winery. It is the fifth oldest in the whole state and is one of the most popular.
Adams County Winery is known for its tasting room, which is located in a historic bank barn that was built sometime in the 1860s. Outside of the tasting room are gorgeous views which also house a covered pavilion, making the atmosphere of this winery relaxing and comforting.
People who have visited this winery rave about the attentiveness and great customer service provided by the staff, and besides wine, you can also feast on an assortment of snacks such as high-grade meats and cheese.
If you want a bit of history mixed with ambiance, then Adams County Winery is the one for you.
Hours: Everyday 10am to 5pm
Location: 251 Peach Tree Road, Orrtanna, PA
2. Blue Ridge Estate Vineyard & Winery
If you are looking for scenic views to go with your wine, then Blue Ridge Estate is the winery for you! During your stay at Blue Ridge, you will be right in the middle of mountains, vineyards, and even a Christmas tree farm which is located in the nearby valley.
Because there is a Christmas tree farm nearby, this would be a great winery to spend the festive season at! It's great to visit all year round though, with each season offering you a beautiful ambiance.
When it comes to the wine itself, Blue Ridge has multiple varieties on offer which include Chardonnay, Pinot Grigio, Merlot, and Riesling.
There are lots of events that go on at Blue Ridge too, such as Friday night dinners, underground experiences, and even murder mystery events.
Hours: Everyday 11am to close
Location: 239 Blue Ridge Rd, Saylorsburg, PA
3. Folino Estate Vineyard & Winery
This winery is known for its beautiful atmosphere, fine wines, and stunning food. The views are pretty sweet as well, ranging from vineyards to vibrant foliage to huge trees, which means you won't get bored of your surroundings during your stay!
The food at Folino Estate Vineyard is strictly Italian, so it compliments the wine really well. There's no shortage of events at Folino Estate either, ranging from live music all the way to murder mystery dinners.
Besides the wonderful wine and fantastic food, Folino Estate also has a tasting lounge that features a very toast and ambient fireplace, making it the perfect place to relax while you enjoy sampling the wines, and they also have their own gift shop where you can pick up a lovely memento to remember your trip.
This is a popular location for weddings because of its gorgeous views. Outside, Folino Estate has its own waterfall, which is perfect for photoshoots.
Hours: Wednesday to Sunday, 11am to 8pm
Location: 340 Old U.S. 22, Kutztown, PA
4. Narcisi Winery
Narcisi is a Tuscan-style winery, with its own Tuscan-style villa, which will make you feel like you're sampling your wine in the heart of the Italian countryside. It's been family owned and operated since 2001 by Italian winemakers.
The winery has expanded quickly through the years, adding a full kitchen, gift shop, and a tank room expansion that has helped them grow into the winery they are today.
On the weekends, you can join their private tastings and tours, which include having a look at their wine production facilities and vineyards. They have a full restaurant, full-service bar area, a picnic pavilion, and lawn space where you can sit with a bottle of wine and enjoy.
Hours: Wednesday to Sunday, 11am to at least 8pm
Location: 4578 Gibsonia Rd, Gibsonia, PA
5. Spring Gate Vineyard
Spring Gate is another of the most popular vineyards in Pennsylvania. The winery is surrounded by nature, with vineyards, orchards, and streams nearby. The tasting room is modern "rustic", housed in an old barn, and the wines are considered sublime and the views and scenery are exceptional.
You can stop by for a bottle of cider or wine, wine tastings, food, music, or a pint or crowler of their artisan beers. They pretty much do it all. Spring Gate is also home to BBQs and music, and you can hire one of their many locations for any events or weddings you want to host. Oh and there's also a cocktail bar open Friday and Saturday.
Hours: They are open Tuesday to Sunday; Noon to 10pm, 11pm on weekends
Location: 5790 Devonshire Road, Harrisburg PA
6. Brookmere Winery & Vineyard Inn
Brookmere is a small family winery with high-quality wine-making standards, but they aren't just a winery – they're also a B&B and event venue. They specialize in many of the native grape varietals and have many different wines to sample.
Brookmere has a reputation for fantastic lodgings. The accommodation they provide for their guests is considered extremely cozy and peaceful. You can also hire rooms and areas in this beautiful location for birthdays, weddings, and other parties.
Hours: Monday-Saturday 10am-5pm; Sunday 1pm-4pm
Location: 5369 Pennsylvania, PA-655, Belleville, PA
7. The Inn At Grace Winery
Everything about The Inn is high quality. The winery is located on fifty acres in the historic Brandywine Valley, with an original Quaker farmhouse dating back to 1734. There is so much history at the estate that is fascinating to learn about.
On top of the tasting sessions, you can attend in their tasting room, they also have paths to walk, a vineyard, animals, fire pits, seating areas with fireplaces, and a restaurant. It's a great place for a getaway and to rejuvenate.
Hours: Friday to Sunday 3pm to 8pm (tasting room times vary, make sure to check before going)
Location: 50 Sweetwater Rd, Glen Mills, PA
8. Seven Mountains Wine Cellars
Winemaker, Scott Bubb opened Seven Mountains Wine Cellars in 2008 with his wife, Mary Ann. It's now an award-winning winery offering around 40 different wines for sale.
When you visit the winery, you can enjoy a tasting, take a tour of the winery, or join in one of their events. They host dueling pianos, BBQs, and even campfire sing-alongs, and live music.
Seven Mountains is a beautiful location with a very warm atmosphere, making it the perfect place to relax and enjoy some wine.
Hours: Wednesday to Sunday 11am to 5pm
Location: 324 Decker Valley Rd, Spring Mills, PA
9. Penn Shore Winery And Vineyards
Penn Shore Winery, located along the Lake Erie shoreline, was opened in 1970 and is one of the largest and longest established wineries in the state.
They pride themselves on producing high-quality wines for an affordable price, which is one of the reasons Penn Shore is so popular. Their estate is very beautiful, with their outdoor patio having a delightful view of the vineyards.
During the summer months, the patio comes alive with live music for their summer concert series "Music in the Vineyards".
They offer self-guided tours as well as tasting flights. If you do opt to go on one of their tours, they are great for people who want to learn more about the history of the winery and the wine-making process.
Hours: Monday-Saturday: 9:00am-5:30pm; Sunday: 11:00am-4:30pm
Location: 10225 E Lake Rd, North East, PA
10. Bella Terra Vineyards
Bella Terra Vineyards is known for its events. There always seems to be something exciting going on alongside the chance to taste some of their beautiful wines.
Some of their many fun events include game nights, seasonal activities, comedy nights, and live music. Bella Terra also has a delightful bistro filled with a variety of delicious foods that you can sink your teeth into!
Bella Terra's wine tasting room is considered incredibly luxurious and stylish, making your wine tasting experience feel grand and spectacular!
Conclusion
Pennsylvania is one of the best places to visit wineries and vineyards, and it's no surprise why! From the beautiful scenic areas found in the state to the quality of wine, is it really any surprise that wine holidays in Pennsylvania are so popular?
If you're looking for a winery or vineyard to visit in Pennsylvania, hopefully, this list of the top 10 wineries in Pennsylvania will help you narrow down your search.
Though you can't visit them all in one go, lots of these wineries are quite close to each other, especially when you're traveling by car, so if you have the money, you could even do a wine-tasting road trip!
Whichever winery you decide to visit though, you're sure to have a good time, see some beautiful scenic areas, and come away with some amazing memories.
Like this post? Why not save it to Pinterest?
FOLLOW US on Pinterest, Instagram, Facebook for more great travel inspiration and tips.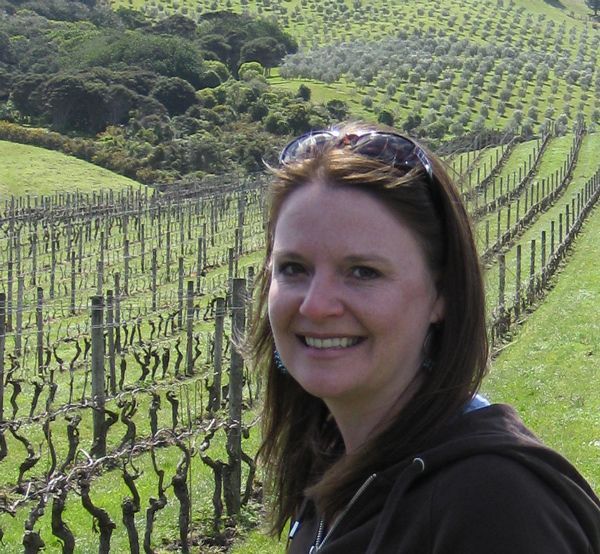 Laura Lynch, creator and writer of Savored Journeys, is an avid world traveler, certified wine expert, and international food specialist. She has written about travel and food for over 20 years and has visited over 75 countries.