One of my favorite things to do in all of Spain is the pinchos crawl that takes place on a tiny street called Calle Laurel in the town of Logroño, located in the heart of the Rioja wine region. I love this pinchos crawl because it marries all the things I love best about traveling — cultural immersion, trying local foods and drinking great beer and wine.
Plus, it fits perfectly into your schedule as a mid-day refueling while out visiting Rioja's wineries. If you're getting ready to visit Logrono and you landed on this page, I'm sure you're wondering what a pinchos crawl is and how you can take part in it.
The good news is that the pinchos crawl in Logrono takes place twice a day – at lunchtime and dinnertime. All you have to do is show up with an appetite and dig right in. There are two really great features to the Logrono pinchos crawl.
One – the street is packed full of locals and you'll likely be one of the only tourists around, which makes it feel totally authentic and real, like you've found a hidden gem that only locals know about.
Two – each of the bars along this conglomeration of tiny alleyways has been perfecting their signature dish for ages, so all you have to do is order the specialty of that bar to ensure you're eating the best of the best.
I'm sure you have a lot of questions about the pinchos crawl in Logrono, so read on to find answers too all your inquiries.
⇒ Check out our full list of enticing Spanish foods you must try and be sure to visit nearby San Sebastian for its incredible pintxos.
What is a Pincho?
To give you a better idea what we're talking about, Pincho typically look like this:
To keep it simple, pinchos is a term used to refer to a small snack that is often served on a stick or on top of bread. The term comes from the Spanish verb "pinchar", which means to pierce. You may consider it to be a version of tapas, which you'll find is a small dish of food served in bars throughout Spain.
However, pinchos are not the same as tapas, because they are rarely served as a "dish" of something, they are more likely to be finger food or pierced with a toothpick. Another difference is location. I'm sure they're doing it just to confuse tourists, but there are different terms for tapas-like foods throughout Spain.
My way of dealing with this is to take a cue from the locals. When you arrive in a location, listen for what they're calling it and go with it. In the La Rioja region of Spain, it's called pinchos.
Not far away to the northeast, in Basque country, particularly San Sebastian, they are called pintxos, and often falls somewhere between tapas and pinchos in serving style. (Read our full guide on pintxos in San Sebastian).
You'll find tapas in other parts of Spain, like Madrid, Seville, Andalucia and Granada (see our article on tapas in Madrid).
Tapas look more like this:
What is a Pinchos Crawl?
A pinchos crawl is very similar to a typical bar crawl, except these bars primarily serve beer. While hopping from bar to bar, you order a pincho with your drink of choice — a glass of Rioja (Crianza is a popular choice), a caña (draft beer), or a Sidra (Spanish cider).
There are no tables. Everyone stands either around the bar or around the wine barrels that are placed outside the bar as a gathering place. Rarely do you see just one or two people together, as this is typically a group activity. Large groups go together, and they send in one person to do the ordering for everyone.
But don't worry, you won't feel out of place if it's just you. In Logroño, the pinchos "crawl" is jokingly referred to as "The Trail of Elephants" by locals because that's how some people have emerged from the experience — on all fours, bellowing like an elephant from having drank and ate too much. (Note: You'll soon see why.)
Everything You Need to Know About the Logrono Pinchos Crawl
Where Does the Pinchos Crawl Take Place?
On Calle del Laurel, which is the main pinchos street in Logrono, there are upwards of 50 closet-like bars packed into what amounts to about 150 feet worth of dining pleasure. In these tiny restaurants, there's room for about 15 people at the bar, and elbow space in the interior.
Aside from Calle del Laurel, there are a few additional side streets that also contain pinchos bars — everyone wants in on the excitement. They are Travesia de Laurel, Calle San Agustín, Calle San Juan and Calle Albornoz.
You don't need a map to get around. Just wander along the alleyways and you'll see where the bars are concentrated by the crowds of people.
When is the Pinchos Crawl?
The hours for the crawl usually span from 1pm – 3pm and from 9pm – 11pm. Remember, Spaniards eat dinner very late. A few bars may be open a bit earlier, and it's to your advantage to arrive early because there will be less crowds the earlier you go.
What Should I Order?
Each bar offers something different — either their house specialty or a small list of pinchos they do best. Check out the list of bars and their specialties here.
This will help you decide where you want to go. The idea is to order one dish (usually the specialty of that bar), and a beer (or half beer), wine or sidra. It's not normal to order more than 1 or 2 things at each bar. If you want to try more than one thing, order and eat each one at a time.
It is to your advantage to seek out whatever the specialty is at each bar and order that. It's usually easy to tell what the popular dish is. There are signs with pictures outside the door, or you can just see what everyone is carrying as they step out onto the street.
Be prepared to elbow your way to the bar and have your order and money ready when you get there.
If I Don't Speak Spanish, Will I Be Able to Order?
If you don't know much or any Spanish, you can still order easily, because each item on the menu has a name, so just state the name of the item you want and hand over the money. Always place your order and pay at the same time. This is convenient because you'll likely only order one pincho and one drink at each bar.
Nearly every bar has a menu with pictures hanging outside the entrance. You can quickly see from that picture what the specialty is. If you're really worried about speaking Spanish, you could just point to the menu.
With that being said, it's always a good idea to go in with a small vocabulary that will help you deal with ordering and payment. Here are a few useful phrases to memorize: (Note: replace "especialidad" with whatever the dish is, if you know it…. for instance… una patatas bravas, or una pulpo y pimientos)
One specialty and one beer, please…. Una especialidad y una cana, por favor
Two specialties and two wines, please. una copa… Dos especialidades y dos copa de vino tinto (or) dos Crianza, por favor
That is all, thank you…. Es todo, gracias
How Much Cash Do I Need? Is Tipping Expected?
The easiest way to participate in the pinchos crawl in Logrono is to have small bills with which to pay. A few random bars do take credit cards, but you don't want to be caught trying to pay with a card in a long line with pushy people.
Each pincho costs around €3-€5 (some more, some less) and a beer or wine costs €1-€2. We typically hit up 3 or 4 bars during a pinchos crawl, and spend < €10 for 2 of us per bar. So plan to have around €20 per person for a decent crawl.
Base your estimate on how hungry you are. Oftentimes, the Spanish use a pinchos crawl as a prelude to a full dinner, so they will just grab one or two snacks as appetizers. We often end up making it a meal.
Tipping is not expected. If you want to leave your extra change as a tip, you can, but it's not expected. For instance, if your order comes to €3.80, you could leave the 20 cents. Again, not at all necessary.
What Else Should I Know?
A few final notes to help you have a fun and delicious pincho crawl in Logrono, Spain. The bars can become quite packed with people, especially during weekends and during the middle and end of the crawl hours. To avoid high traffic, plan to arrive as soon as the bars open.
If the place is packed, you will have to assert yourself to get attention. If you don't, you'll be waiting there a long time. You may also notice that it gets quite messy, both in the bars and on the streets.
It's completely acceptable in most places to throw your toothpicks and napkins on the floor. It serves as a sign of popularity for that particular bar. When I say napkins, I mean these tiny little slips of tissue paper that are sometimes, not not always, offered at a bar to clean your hands. They aren't actual paper napkins.
Take one if you absolutely need one. It's not a big thing in Spain to use a napkin at the bar. There's no need to bus your own plates and glasses, especially if you're standing outside to eat. You can leave your glasses on the wine barrels or just inside the door.
Our Favorite Pinchos Bars in Logrono
We've done the Logrono Pinchos crawl many times and each time we say we're going to find new favorites, but we always head back to our favorites, too. There are so many choices and so little time.
You really have to be choosy and try a little bit of everything, if possible. Below are a couple of ideas to get your started. We think the first four are absolutely must-try pinchos in Logrono.
Bar Jubera
I just got done telling you that a pincho is served on a stick or on a piece of bread and now I'm going to contradict myself. There are always exceptions. Bar Jubera is famous for their patatas bravas and it's definitely a dish you want to try.
If you've spent any time in Spain, you likely already know about this mainstay dish. It's a Spanish specialty and can be found pretty much everywhere. The dish is made up of chunks of perfectly fried potatoes, topped with a creamy aioli or mayo-like sauce and a slightly sweet tomato sauce. It's pretty amazing.
And you'll see that everyone in Logrono agrees because this place gets really packed. I would make this the first stop on the pinchos crawl if you arrive at the very start, because it only gets busier as the night goes on.
Location: Calle del Laurel, 18
D.O. Laurel
What I liked most about this place was the atmosphere and the variety of interesting pinchos. It's also one of the nicer and larger bars on the street, and one that doesn't really have a particular specialty associated with it.
They have a lot of great pinchos to try, so if you want to get a variety or try something new, go here. Try the beef filet mignon (solomillo) with peppers or the delicious grilled veal sweetbreads (lecheritas). We also like the octopus skewered with pickles and drizzled in olive oil and the fried artichoke with a slice of Jamon Iberico.
Location: Calle del Laurel, 4
Bar Soriano
One of the most famous pinchos on Calle Laurel is the stacked grilled mushrooms. There are two places that serve this, which is unusual because usually there isn't much competition between bars.
Bar Soriano was absolutely packed and was one of the only places where we had to wait for about 5 minutes to be served. We elbowed our way up to the bar and watched them make the mushrooms on the flat top grill, which was incredibly entertaining.
These mushrooms are doused with olive oil, fried up and skewered with a small shrimp on top a piece of bread which catches all the juices as they flow off. The other place to get these is at Bar Angel, which is only a few steps away.
Location: Travesía del Laurel, 2.
Bar Torrecilla
At Bar Torrecilla, we would have been happy eating just about anything on their menu. They had mini-hamburgers, a really delicious piece of toast with crispy foie gras on top, and one of their specialties was a piece of bread with brie cheese, a slice of tomato and a caramelized piece of jamon Iberico.
To drink, I had a cider, and Nick had beer. There were dozens of choice of things to drink and the menu on the wall behind the bar suggested specials and various wines to pair.
Location: Calle Laurel, 15
Pata Negra
At Pata Negra, the specialty is a little sandwich, called a boletita, with jamon and melted cheese. The ingredients meld together really well and provide you with the perfect hand-held pincho. Pata Negra also has an extensive wine list that you can order by the glass "copa", so be sure to stop there if you want to try a variety of Rioja wines.
Location: Laurel Street, 24
Juan y Pinchamé
You can't miss this one. It's located right in the heart of Calle Laurel and it's dedicated entirely to grilled shrimp and pineapple skewers. They are delectable. The flavors meld together so that the shrimp take on a sweetness and the pineapple becomes somewhat savory and carmelized at the same time. You'll get bread to sop up the juices too.
Location: Calle Laurel, 9.
Bar Lorenzo
This place is always incredibly packed. You'll notice two things coming out the door in swarms. Their specialty is a pork and chorizo sandwich, called the Tio Agus, that can be covered in their house green sauce. To order it, ask for the agus salchichon con salsa.
It's really good and addictive. Also quite messy, so be prepared. You can also get any number of different types of grilled meats on a skewer, but we advise to stick with the agus.
Location: Travesia Laurel, 4.
Letras de Laurel
This bar has a specialty called Piruleta de solomillo ibérico. It's a pork lollipop wrapped in iberico and grilled, with a mushroom sauce on top. It's not my favorite pincho on the block, but it's certainly one of the most famous and therefore is required eating.
Location: Calle Laurel, 22
CONCLUSION
No matter what you have to eat, the pinchos crawl in Logrono will be one of the best parts of your trip to this area. We would love to have something similar to this concept in the US. It's pretty much the best way to try a bunch of the food in a city without eating a bunch of large plates of food.
We love it and have been back to Spain for pinchos and tapas crawls many times. Have you been on a pinchos crawl? Tell us about it in the comments. We want to hear what you loved about it the most.
Like this post? Why not save it to Pinterest?
FOLLOW US on Pinterest, Instagram, Facebook for more great travel inspiration and tips.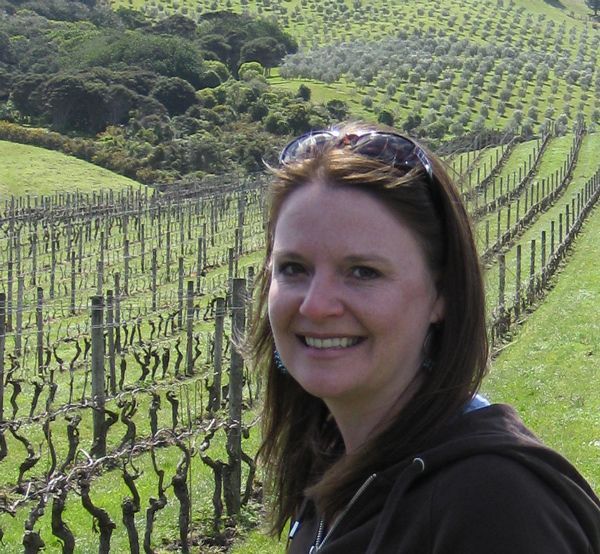 Laura Lynch, creator and writer of Savored Journeys, is an avid world traveler, certified wine expert, and international food specialist. She has written about travel and food for over 20 years and has visited over 75 countries.