The Priorat Wine Region in the province of Tarragona, in the southwest of Catalonia, is one where you'll find luscious, deep red wines that will blow your mind. Even though this area has been making wine for thousands of years, it wasn't until much more recently that the true value of it was discovered.
Oftentimes, you'll visit a wine region that has just what you expected to find, but rarely do you visit a wine region and find yourself surprised at the quality that you find. That's exactly what the Priorat wineries will do to you. Trust me.
Taking a trip to visit Priorat wineries isn't as straightforward as other Spain wine regions, like Rioja can be. You need to make appointments, and often pay in advance, and you should definitely be ready for the windy, twisty-turvy roads you'll be driving on in the mountain range.
But what you'll find there is something exceptional and definitely palate pleasing. The wines are expensive but they are worth it.
» Want more info on what to eat in Spain? Check out our Spain travel guide. I highly recommend a pinchos crawl in Logrono or pintxos in San Sebastian, in Northern Spain. If you're going to Southern Spain, find out where to eat tapas in Seville. And don't miss a trip to the Rioja wine region.
Introduction to Priorat Wine Region
In case you don't know very much about the Priorat Wine Region already, here's your crash course. Priorat is a Denominació d'Origen Qualificada (DOQ) for Catalan wines. The primary type of wine made there is full-bodied, powerful red wines.
However, it wasn't until the 1990s that Priorat started to be taken seriously. It was then, even, that they started bottling their wines and selling them at the premium they do today. Before that, they were mostly producing high-volume table wine at a low price.
However, the first recorded evidence of grape growing and wine production there dates back to the 12th century, when the Carthusian monks founded their monastery in 1194 and introduced the art of wine making in the area.
The high altitude vineyards have a unique combination of black slate and quartz soil that forms the foundation of the terroir for these wines.
Priorat 2-Day Suggested Itinerary
Below you'll find the 6 wineries we visited, with information on how to book. To make it really easy on you, here is our suggested itinerary. We built this itinerary ourselves and found it to be a good pace at which to see the wineries, and in an order that means you won't have to backtrack much along the windy roads.
Day 1
10:30am – Visit Scala Dei
2pm – Visit and lunch at Clos Figueres
4:30pm – Visit and tasting at Devinssi
Dinner at Alma Mater in Terra Dominicata Hotel
Day 2
11am – Visit and tasting at Perinet
12:30 – Visit and tasting at Mas Doix
2pm – Lunch at Restaurant Brots in Poboleda
Dinner at Amics (Friday or Saturday nights only) or dinner at La Bacchanal in Falset
6 Wineries to Visit in Priorat
1. Trossos del Priorat
Trossos del Priorat is located in Gratallops is surrounded by its own vineyards. Being that it's so close to the town and has an amazing vantage point for the region, Trossos is also a great place to stay while visiting the area. It's a modern comfortable 3-star with 7 rooms, all with a balcony and amazing view. They also have a 4-star sister hotel with 26 rooms and a lovely restaurant, Terra Dominicata.
As for the winery, it began in 2003 when Enrique Vives and Juli Mestre bought the first vineyards. It remains a family operation, and you can visit for a tasting at Trossos or at Terra Dominicata.
They make really nice handcrafted wines from all organic vineyards. There are a few white wines, like Abracadabra, made with Garnacha Blanca and Macabeo, and a few reds, like Le Petit de la Casa, made with Garnacha Negra, Cabernet Sauvignon and Syrah.
If you stay at the hotel, you will have the opportunity to try the wines in an honor-system bar, which is a convenient way to try the wines even you can't book a tour/tasting.
Visits: You can make a booking for a tour and wine tasting on their website. It's an hour and 30 minutes and you'll get to taste a number of their wines.
2. Cellers de Scala Dei
The wineries in Priorat all have fascinating stories, but Scala Dei is one of the best. We were given one of the best wine tours we've ever had at Scala Dei, where they clearly really care about conveying the history and significance of this winery to wine making in the area.
The first wines were made here in 1263 by the Carthusian monks, who were run off in 1835. Soon after, 5 local families bought the monastary and the land and formed a union. That was the beginning of what has become modern wine making in Priorat. Today, you will find gorgeous wines made mostly with Grenache grapes on vineyards that are planted at high altitude and with plenty of character.
Visits: Tasting only 3 wines: €20. Visit and tasting of 4 wines: 10:30 am tasting in English or 16:00 in "various languages" (Catalan and Spanish also available); €20
Book on the website
Scala Dei Monastery
If you have time to take a break from wine tasting, you should visit the the Carthusian Monastery of Scala Dei, which is just a few minutes' drive from the winery. It was founded in 1194. The families that bought Scala Dei gave the property to Generalitat de Catalunya for its preservation. You can visit the sight and go on a self-guided tour.
3. Devinssi
Devinssi is a small operation in the center of Gratallops. Being a smaller operation, they can offer a different type of experience. They have some really old vineyards up on the mountain behind the town and they'll take you up there for a look around. You won't believe the view from up there! It's incredible.
There are a number of different experiences you can book with Devinssi. It can be specialized to what you're looking for. You can also book a sunset tour, which is what we did to get that amazing view in the photo above, or a morning 10am tour. They also have a popular PICA-PICA tasting, which includes a vineyard and winery tour, tasting, and local products pairing.
Visits: See options on the website; book via Whatsapp +34608783094; Cost varies from 15€ – 100€
4. Perinet
Located in Poboleda, Perinet is a large winery with a lot of space for expansion. They focus on boutique wines, from the local varietals they have planted, like Carignan and Grenache, as well as international varietals, Cabernet Sauvignon, Syrah, and Merlot.
Perinet estate vineyards are located in three distinct micro-climates which gives ultimate flexibility to the winemaking team to blend and formulate the perfect wines. The three are called Mas Vell, Mas del Xes, and Pendents.
A visit to Perinet includes a walk through some of the vineyards, so you can see the modern and old style of planting, the unique terraced vineyards, and the vast wine making facility and cellars.
Visit: They have a classic tour that takes 1.5 hours and costs 20€ for a visit, tour, and tasting of 3 wines. Book on their website
5. Mas Doix
Now located in this stunning location on top of the hillside with the Montsant Mountains in the background near the town of Poboleda, Cellar Mas Doix is a premier winery with amazing views and really great wines.
When you visit the winery, you'll be able to walk among the vines, see the cellar and wine production area, as well as taste the wines. They use organic viticulture with biodynamic practices to make wines that are fresh and elegant, with subtle minerality and made in limited production.
Visits: They have the option to taste 3, 5, or 7 of their wines. Believe me, you're going to want to try them all. Book on their website; prices range from €26 – €80
6. Celler Clos Figueras
Cellar Clos Figueras is both a cellar and a restaurant. I can very much recommend going there for a tour and tasting, followed by lunch. We had a lovely tour, given by a guide who was very knowledgeable and passionate about the wine making at Clos Figueras, as well as the story of Priorat and it's history.
We has some of our favorite wines of our trip to Priorat here, especially paired with the fantastic food in their restaurant. Font de la Figueras and Clos Figueras are both stunning wines.
Clos Figueras has 18 hectares of vineyards planted in the llicorella soil that makes Priorat so unique, just to the north of Gratallops, where the cellar and restaurant is located. The property was purchased in 1997 by Charlotte and Christopher Cannan, after the owner of Clos Mogador estate convinced him it was a good purchase. I'm sure if he wasn't initially convinced, the exceptional rating the wine received from Robert Parker would have done it.
Visit: A tour and tasting of 5 wines takes 1 hour and costs €21. But why not stay for lunch where the tour is combined with a 4-course meal and wine pairings for €42. It's very much worth it! Book by emailing: enoturisme@closfigueras.com.
Where to Eat in Priorat
We were lucky to have reservations at three very good restaurants in Priorat. There are many great places to eat beyond these, but do check the schedules in advance because we found that many of them are only open for lunch everyday, with dinner only on Friday and Saturdays.
Restaurant Brots
A little hidden gem for sure, located in Poboleda and run by innovative chef Pieter Truyts, Restaurant Brots is exactly the right place for a wine lunch while you're out visiting the wineries. Our first introduction was the video that plays on the website. You must watch it. It's clear that you're going to have an experience at this restaurant. There were two set menus to choose from on the day we visiting and we loved everything we tasted.
Clos Figueras
Mentioned above, Close Figueras is a winery and a restaurant. They have a really great spacious patio, outdoor seating, and restaurant. If you go here for lunch, you can do a winery tour and then have the tasting paired with your 4-course lunch menu. It's a really great value and the food was so good. We left there very happy.
Alma Mater
A great place for dinner in the area is Alma Mater, located in the Terra Dominicata hotel. It's an adult only hotel and has a really nice vibe in the restaurant with some really tasty dishes to choose from and a very good wine menu. We paired our dinner with some of the favorite wines we had tried during the day at the wineries.
Where to Stay in Priorat
The two great choices we recommend are Trossos del Priorat and its sister hotel, Terra Dominicata. There are other hotels in the area, but we weren't able to stay at them, so can't give a recommendation.
Trossos del Priorat
Trossos is a great location about halfway between all the wineries you're likely to visit. It's very easy to get in and out of the hotel to get on the road each day. They offer a very nice cooked breakfast and a loyalty bar where you can try their wines after hours, in the kitchen where you can cook your own meals.
This is a 3-star with small rooms and not a lot of services. It's meant to be a sort of hands-off kind of place with no fuss. We found the rooms very comfortable and great value, though the walls are fairly thin. There is no restaurant on the premises, but you can cook for yourself, and there is a breakfast service.
Terra Dominicata
You'll have to drive further into the mountains to reach this hotel, but it's a full-service 5-star adult only hotel that might be more your style if you're looking for something a little more upscale. It's a Small Luxury Hotels of the World property. The ground are enormous and very lovely, and the restaurant is a great benefit after a long day of wine tasting.
Like this post? Why not save it to Pinterest?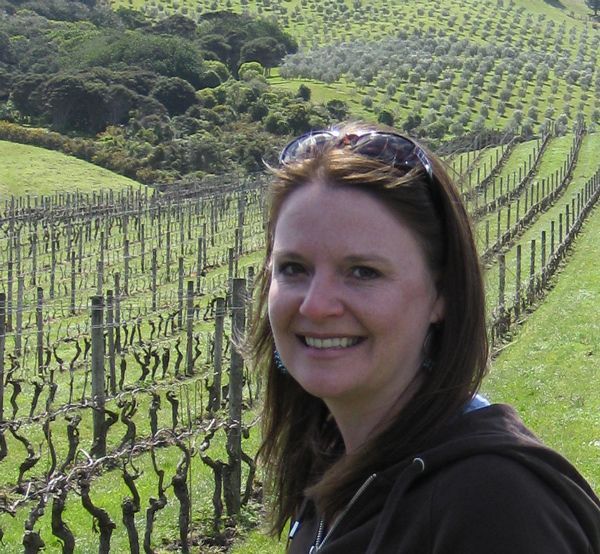 Laura Lynch, creator and writer of Savored Journeys, is an avid world traveler, certified wine expert, and international food specialist. She has written about travel and food for over 20 years and has visited 70+ countries.