Have you ever eaten authentic Mexican cuisine? I know you'll be tempted to say you have, but I mean truly authentic foods, using ancient ingredients like chochinita pibil and huitlacoche. I would venture to say that most people haven't even heard of those ingredients. I certainly hadn't until we visited Pujol in Mexico City, the #9 restaurant on the World's 50 Best Restaurants list.
I've been wanting to eat at Pujol for a long time, knowing that the chef, Enrique Olvera, employs ancient ingredients to create and invent modern Mexican cuisine. Mexico has a rich culinary history dating back long before the Spanish settlers.
What Makes Pujol So Special?
The Aztecs and Mayans, among other ancient civilizations, obviously had a major influence on what we call Mexican cuisine. While we don't see many ancient recipes being made today, we can still taste the influence through the ingredients that are still available today.
Many of these ingredients are one we've never heard of, despite really enjoying and eating Mexican food often. At Pujol, these rare ingredients are celebrated and brought back to life in new and fascinating ways.
Dinner at Pujol begins with a cocktail (if you so choose) and delivery of the evening's menu, folded in a white envelop, closed with a red seal.
There is only one menu, so you can catch a glimpse of what's to come by peeking at your neighbors who are likely all on different courses of the seven-course menu. As I go through the courses, I'll try to explain the ingredients that are the most fascinating.
Starter Course: Street Snacks
Bocol Huasteco (corn dough with cheese, lard) – I never got a clear answer as to what exactly "Bocol Huasteco" means. The dish was a small fried corn cake topped with cheese.
Castilla pumpkin chileatole, mulato chili chicharron – Chileatole is a pre-Hispanic drink of corn dough and sugar cooked in water.
This was more of a typical pumpkin soup, topped with a chicharron made of a mulato chili. It was slightly sweet, but not very spicy.
Chia tostada – This airy tostada was almost like a rice cake in texture, with a bunch of little crispy chia seeds mixed in. It was topped with a little bit of guacamole.
Baby corn, powdered chicatana ant, coffee, costeño chile mayonnaise – one of the most interesting and exciting dishes of the night was the baby corn. Served in a hollowed-out gorde full of smoke, the presentation was quite unique.
As the gorde is set on the table, the smoke begins to waft around the room, and inside is one skewer holding a single, slightly charred baby corn, dipped and covered in chile mayonnaise and coffee and dusted with powdered ants. No, you can't tell you're eating ants. The corn was slightly crunchy, smoky and flavorful.
Second Course
At the point in the menu, you choose between four options. Since Nick and I were dining together, we were able to try two of the four choices:
Cuitlacoche, molleja, chicken liver – I've always seen this ingredient spelled with an h – "huitlacoche". It's a fungus that grows on corn and has a vibrant and earthy taste, much like a mushroom. It was served with molleja, or chicken liver in English.
Jerky tartar, preserved lemon, radish, watercress, creole avocado – I'm not sure what I expected from jerky tartar, but it was basically beef tartar with radish mixed in, topped with watercress and crumbled preserved lemon, then topped with a thin tortilla crisp.
Third Course
Suckling lamb taco, avocado leaf adobo, avocado puree – I loved the handmade avocado tortilla this taco was built on. It was soft and chewy and topped with pieces of crispy and delicious suckling lamb, a zucchini blossom, and avocado puree. Beautiful.
Suckling pig taco, smoked tortilla, salsa tatemada, chinicuil, chickpea puree, coriander, red jalapeño – The smoked tortilla used for this taco was also very good. The suckling pig was topped with salsa tatemada, which means charred salsa and chinicuil, which I hear is the edible larva of the moth.
Fourth Course
Rabbit, red pepian, carriot, guajillo, hierba de conejo – If you've ever done a long-format tasting menu like this, you might have some sympathy for my current predicament. We have no photographic evidence of the rabbit dish. All I can say is that it must have been so good that we ate it without even thinking about photos!
Chicken, chili marinade, nopal Chicken, chili marinade, nopal, romeritos, black radish, bean, onion ash – The chicken was covered in a chili marinade and served on top of a bed of romeritos, which is a wild plant also known as seepweed — the little green nettle-like vegetable on the bottom, with some bean and nopal (cactus) mixed in. There is shaved black radish on top and the whole dish is dusted with an onion ash.
Fifth Course
Mole madre, mole nuevo – The mole is one of Oliviera's greatest dishes. He cooks the mole madre for a very long time (849 days in this case) and then combines it with a mole nuevo. Instead of muddling the flavor of the mole by smothering it over an enchilada, as we typically do, he serves it cleanly on a plate with just some corn tortillas to sop it up with. The contrast of the two sauces is dramatic.
Sixth & Seventh Courses
Pre-dessert and Happy Endings – I've surely mixed up the order of these courses, being that it was at the end of the night and we'd already had cocktails and shared a delicious bottle of Mexican wine.
Happy Endings included a few different small sweet bites, along with a crazy good churro with dulce de leche for dipping. That was quite possibly my favorite part of the whole meal. The churro was really delicious. Another high point of dessert was the guacamole ice cream.
CONCLUSION
This meal was definitely special. Indulging in a highly skilled seven-course menu from a very highly regarded chef is a fantastic experience and one of the top reasons why I love to travel. If you are ever in Mexico City and want to try something really unique, Pujol is definitely the place to go. Just make sure you make reservations far in advance (at least a month).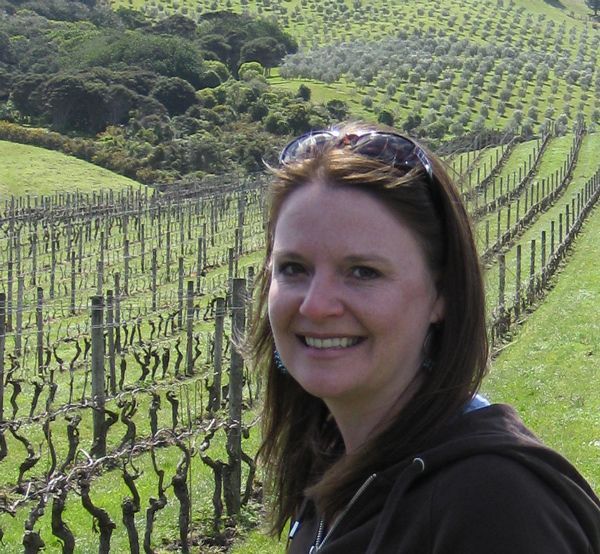 Laura Lynch, creator and writer of Savored Journeys, is an avid world traveler, certified wine expert, and international food specialist. She has written about travel and food for over 20 years and has visited 70+ countries.