Milan, Italy, is known as the fashion and design capital of Italy and even if you're not a shopper, you'll be blown away by the designer shopping options. But what to do in Milan doesn't end there.
There are also many historic and cultural activities you don't want to miss, like the Duomo di Milano Cathedral and the Santa Maria delle Grazie convent, which is home to Leonardo da Vinci's mural "The Last Supper".
Once you start walking around Milan, you'll discover how easy it is to explore this city. From architectural marvels, to fine art and dining, and plenty of hidden gems in Milan, you'll want to make time for everything. This guide aims to show you the top 10 things to do in Milan, so you can build the perfect itinerary.
If you're hitting up Italy as part of a larger trip to Europe, be sure to check out our 2-week Europe Itinerary.
» Here is our 2-week Italy itinerary to help you plan your trip around Italy's top cities. We also have a travel guide for Venice, a 3-day Rome itinerary, things to see in Florence, foodie things to do in Bologna, and a guide to the top landmarks in Italy. Learn about renting a car in Italy. Be sure to check out our 2-week Europe Itinerary.
Where is Milan, Italy?
Milan, Italy is located in northern Italy, about 70 miles northwest of Venice. It is the capital of the Lombardy region and one of the largest and most populous cities in Italy.
Milan is known for its fashion, design and business culture, as well as its iconic architecture like the Duomo di Milano cathedral and La Scala opera house.
How To Get To Milan
There are several ways to get to Milan, Italy.
By air, there are two airports near Milan – Malpensa International Airport and Linate Airport. Milan is also connected by rail from other cities in Italy and Europe via the Italian railway network (FS). You can also drive to Milan by car or take the bus for a more scenic journey.
Another option is taking a ferry from Genoa or Livorno to the port of Milan.
Best Time to Travel To Milan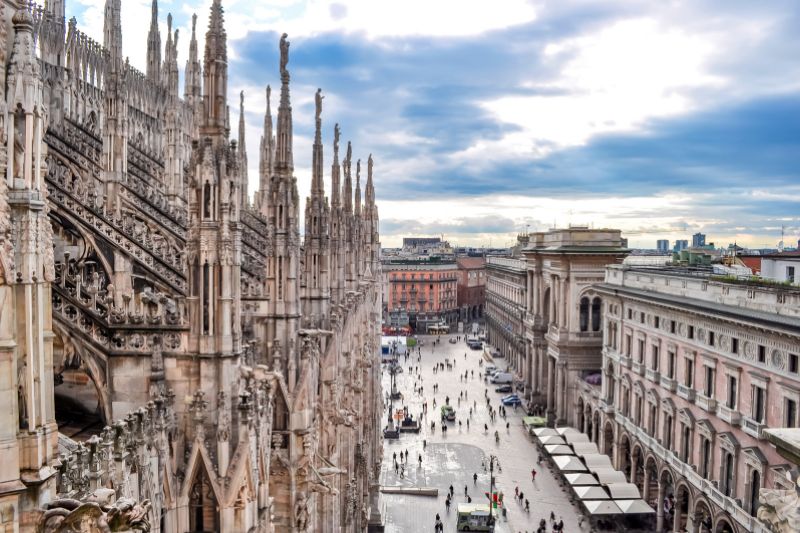 The best time to visit Milan is generally during the warmer months, from April to October. During these months, temperatures are milder and the city is alive with events such as fashion shows and street performances.
That said, winter in Milan can be beautiful too; many travelers enjoy taking a stroll through the sparkling Christmas markets and browsing for gifts.
Visiting during the shoulder seasons (March and November) often offers the best of both worlds – comfortable temperatures and fewer crowds!
10 Things To Do in Milan Italy
Milan's tourist attractions will make you want to pack your bags and head off on a new adventure in Italy's most dynamic and luxurious city. Whether you spend one day in Milan or a whole week, this list has all the Milan must-sees.
If you're visiting other spots in Italy, we recommend this 10-day Italy itinerary, which covers many of the top spots in Italy.
1. Shopping in Milan – Shop 'til you drop in the fashion capital of Europe
Milan's shopping scene is pretty impressive and they take fashion quite seriously. There is a myriad of shops and boutiques to explore in the city, so make sure to bring an extra suitcase for all the new stylish clothes and shoes you are going to buy.
If you want to indulge in the high-end shopping, head to Via Montenapoleone where all the main luxury stores are located. This is considered the center of the "Quadrilatero della Moda". Gucci, Valentino, Dolce & Gabbana, Versace and much more.
Of course, Milan isn't only about exclusive boutiques. There are many high-street stores and small, family-run shops with handmade goods as well. Some of the best locations for endless shopping in Milan include Corso Buenos Aires, Via Torino and the Duomo area.
2. Eat Italian Gelato
While in Milan you will get a chance to try the best authentic Italian gelato, which I assure you is nothing like the ice cream OR the gelato you buy back home.
Ice-cream shops (gelateria) can be spotted around every corner and the choice of flavors is incredible.
During summer the lines might get pretty long with both the locals and the tourists treating themselves with a delicious cone, but it's definitely worth the wait.
A few of my favorite ice-cream shops located in the center of Milan include:
Grom, in Corso Buenos Aires and in Via Santa Margherita
Venchi, in Piazza dei Mercanti
Viel, in Corso Buenos Aires and in Viale Abruzzi
3. Enjoying an "Aperitivo"
The "aperitivo" or happy hour is a fantastic way to start your night out, meet new people and relax after a long day of shopping and sightseeing. The "aperitivo" is a wonderful way to get a glimpse of the authentic Italian lifestyle.
It lasts from about 6pm to 8 or 9pm and you get to enjoy a drink and a buffet at a moderate price (it's usually around 10 €) with lounge music playing in the background.
Aperitivo is very popular in Milan so there are plenty of great places where you can enjoy it.
One of these is certainly the area of Navigli, which has a fantastic atmosphere and is literally filled with bars and pubs of all kinds.
4. Seeing Italy's Largest Church – Duomo di Milano
The Milan Cathedral is a beautiful and breathtaking monument and a perfect example of Gothic architecture. This is the most important spot in the city and a picture in front of it is a must.
Make sure to go inside to admire the beautiful art and all the incredible details (remember to wear an appropriate outfit).
On the top of the Cathedral there is a roof terrace from which, looking between the characteristic spires, you can admire a breathtaking panoramic view of all the city.
The Duomo is also one of the largest cathedrals in Europe.
Pro Tip: Schedule your visit in advance since both terrace and Cathedral have a last admission policy at 6:10 pm.
»Book A Milan Cathedral Tour Here: Milan Cathedral and Rooftops by Elevator.
5. See Leonardo Da Vinci's "The Last Supper"
There are not many other cities around the globe where you can to admire one of the world's most important paintings. The Last Supper by Leonardo da Vinci is a mural painting located in the refectory (Cenacolo) at Santa Maria delle Grazie and it dates back to the 15th century.
It is considered one of the most important paintings in history and a must-see if you're visiting Milan. In this case, planning in advance is crucial since tickets sell out very quickly – usually I would recommend booking at least one month before your visit.
Also, remember that taking pictures of the painting is forbidden. After visiting The Last Supper, don't forget to take some time to visit also the famous Church of Santa Maria delle Grazie, which is a UNESCO World Heritage Site and is located right next door.
»Here's a tour you can book right now: Best of Milan Walking Tour with Skip-the-Line to Duomo & 'Last Supper'
6. Meet the Friendly Locals
Milan is Italy's economic center and work is an important aspect of people's lives here. And even though, just as in any other big city, life can get hectic and busy, the Milanese remain friendly, easy going and always willing to have a small talk with foreign tourists.
More than once I wasn't sure about where I could find certain shops and stores, but I could always count on the locals with no hesitation.
Also they speak English pretty well, this is especially true in the touristic and central part of the city.
7. Amazing Day Trips
Thanks to its location, Milan is great for organizing fun and interesting day trips. The famous ​Lake Como​ is situated only 50 km north of Milan and can be easily reached with a local train departing from the Central station or Cordusio station.
One of our favorite foodie cities in Italy is Bologna, which is just an hour and 15 minutes by train from Milan. We have another post about the great day trips from Bologna to expand your search.
The historical university town – Pavia, as well as Bergamo and Cremona, are also located nearby and are of exceptional beauty.
Ride along one of the most beautiful train routes in the world on this UNESCO-listed route. Ride the Bernina Red Train through the Swiss Alps and marvel at the beauty. Book the Swiss Alps Bernina Express Rail Tour from Milan here.
If you're feeling romantic, then follow Shakespeare's footsteps while discovering Verona (book the tour here). Verona — the town of Romeo and Juliet — is only an hour and a half from Milan.
More tours you may enjoy:
8. Trying Risotto alla Milanese
Risotto alla Milanese is one of the most famous and typical dishes from Milan. Apart from the rice, its main ingredient is a spice called saffron which gives it the distinctive yellow color and flavor.
The aroma is unique and is mouthwatering if tasted during a typical cold winter day. My advice is also to add some additional Parmigiano Reggiano (or Grana Padano) on top to make it even more creamy.
There is no better place in the entire world to try a risotto than Milan so… Buon Appetito.
» Keep your eye out for these 47 Famous Food in Italy You Must Try.
9. Milan Food Walking Tour
It's Italy, so of course there's fantastic food to try at just about every turn in Milan. You'll want to get in on a food walking tour with a guide who is knowledgeable in the best areas and places to stop to sample the food.
You'll get a chance to try specialties like Parma ham, Italian cheeses and pasta, but also classic Milanese dishes such as mondeghili (meatballs).
A guided tour is a great way to start your trip in a new city, so you can ask for recommendations for the best places to eat while you're there.
Book your food tours of Milan:
10. Teatro alla Scala
You don't have to be a huge fan of opera to appreciate the beauty and the cultural impact of La Scala. Opened in 1778, this opera house is one of the most important ballet and opera theaters in the world.
The interior of this place is incredibly elegant with beautifully decorated galleries and a magical atmosphere.
If you're interested in opera music and are visiting Milan, you should check the Calendar Season that starts each year on the day of "Sant'Ambrogio" (December 7) and, also in this case, book well in advance since the tickets run out fairly quickly.
When leaving La Scala don't forget to pass through the beautiful Galleria Vittorio Emanuele, which besides being Italy's oldest shopping mall, is also one of the most beautiful streets you'll find that leads directly into the Piazza del Duomo.
» Don't miss out on this La Scala Theatre and Museum guided experience.
How to Get Around Milan
Don't worry, you won't need a car to get around in Milan. It's easy to walk to the various attractions.
Getting around Milan is easy and cheap thanks to the public transportation network. The subway, known as Milan Metropolitana, covers the city's most important points, the trains stop frequently and are usually on time.
With 4 lines (M1, M2, M3, M5), all Milan is easily reachable in no more than 30 minutes at a very reasonable price – the standard urban one way ticket costs only 1.50 euro.
You can also use trams and buses, but those are not as reliable as the metro and might be a bit more complicated to work out for non-Italian speakers.
Remember also that, if you are staying in or not far from the city center, you will be able to walk to all the main tourist attractions without using any public transport.
Before You Go
Hopefully, you've enjoyed these reasons to visit Milan. You may be interested in these other closely related posts.
Like this post? Why not save it to Pinterest?
FOLLOW US on Pinterest, Instagram, Facebook for more great travel inspiration and tips.
Like this post? Please share it on your Pinterest board! 🙂
ABOUT THE AUTHOR
Barbara is the founder of Crab In The Air, a travel blog where she shares her passion for traveling. She loves writing about all the hotels visited, the wonderful cities explored and the unique people met along the way.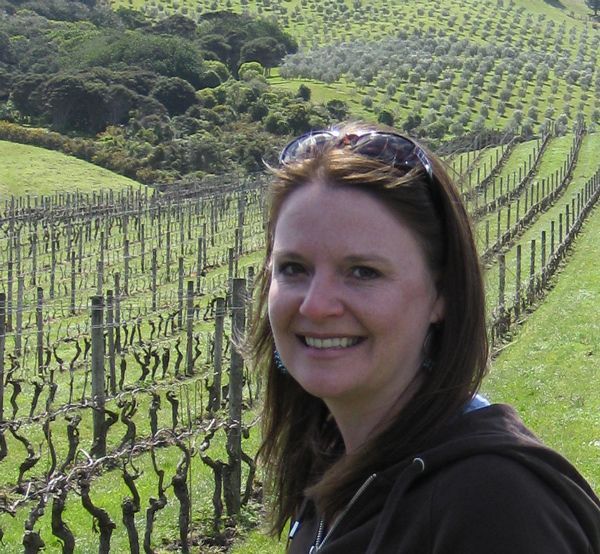 Laura Lynch, creator and writer of Savored Journeys, is an avid world traveler, certified wine expert, and international food specialist. She has written about travel and food for over 20 years and has visited over 75 countries.