This article has links to products and services we recommend, which we may make commission from.
Iceland is always a popular spot for long-weekend getaways, due to the fact that it's not too far from anywhere and is often a direct flight, whether you're coming from a city in the U.S. or from Europe.
Depending on your travel style, you can easily see Reykjavik and surrounding areas in four days and feel like you've done more than scrape the surface. That's exactly what we did on our 4-day trip. It was short, but packed full of excitement.
If you're looking for a quick guide, here are the top 10 things to do in Iceland to get you started. You may also want to look at our country guide to Iceland, which includes information on when to go and what to expect.
Planning your trip to Reykjavik? See our recommended hotels at the end of this post.
Complete Four-Day Reykjavik Itinerary
First, pick a transfer/excursion company. Most visitors to Reykjavik choose one of the convenient tour companies for transfers to and from the airport. Those companies also offer a combination that includes a stop at the Blue Lagoon and other add-ons, such as a Golden Circle tour, a Northern Lights tour or to other places of interest further afield in Iceland. For a four day jaunt, we recommend using BusTravel Iceland for these services. They will arrange all of your pick-ups and drop-offs with ease and provide knowledgeable and personable guides for their tours.
Next, pick a centrally located hotel. We recommend a hotel near the main walking streets, Skólavörðustígur and Laugavegur, such as the quiet and welcoming Hotel Odinsve. The hotel is clean and comfortable, with all of the amenities you might need for a short stay in the city. The adjoining Snaps Restaurant is a convenient place for breakfast or lunch. And best of all, the location is easy walking distance to everything included in this itinerary. Alternatively, if you'd rather stay near the marina, Center Hotel is a good choice. Both of these locations will put you in the perfect spot for walking and taking in everything the city has to offer.
Don't Want to Play It On Your Own?
Prearranged Iceland Tours A great way to see more of the country with less hassle is by going with G Adventures. There are a number of different itineraries to choose from so you can pick your favored destinations and length of vacation. ⇒ Book now and save up to 25% on Last Minute Adventure Travel Packages
.
Popular Reykjavik Day Tours
Adding these popular day tours from Reykjavik are a great way to see more and experience the countryside outside the city. If you plan to add any day trips, you can use the links below to pre-book the activities you want to do while you're in Reykjavik so you don't miss out. Tours in Iceland tend to book up quickly. It's always best to have your tickets booked in advance.
It's fairly easy to snag a layover in Reykjavik on your way to other locations in Europe, as well. These tours are perfect for a long layover or stopover in Reykjavik.
Since most flights into Reykjavik arrive in the early morning hours, you'll need to fill the first half of the day before being able to check into your hotel room. The biggest decision you'll need to make is whether to stop at the Blue Lagoon upon arriving, or wait until your return to the airport. The transfer companies provide this service in their packages, and it's a very convenient way to get to and from the Blue Lagoon. It is approximately 45 minutes from Reykjavik and 20 minutes from the airport.
If you choose to go on the way into town, you will check your bags at the main gate of the Blue Lagoon and continue on to the locker rooms to get changed. It is highly recommended to purchase tickets in advance so you don't have to wait in the line. Plan to stay for 3-4 hours total. More if you're enjoying spa treatments and a nice leisurely lunch, less if all you plan to do is soak in the lagoon. Lava Restaurant is on the premises and offers an exceptional lunch menu and drinks that will start your day off right.
We recommend waiting until your return to enjoy the lagoon, as you'll be more likely to enjoy it fully when you're not jetlagged or sleep deprived from the red-eye. If you choose this option, you'll likely find yourself at your hotel by 9am. They will store your bags for you until check in, so you can set off to explore the town.
⇒ Get your tickets in advance for the Blue Lagoon. Book here.
For a hearty breakfast and caffeine boost, stop in at Grái Kötturinn. After a plate of eggs and potatoes, you'll be ready to explore the many tourist shops along Skólavörðustígur.
Along the way stop off at the impressive Hallgrímskirkja Church for a panaramic view of the town from the clock tower. Out front you'll find a statue of Leifur Erikson, a Norse explorer who is credited as the first European to land in North America. Don't miss the Einar Jónsson Museum next door, dedicated to Iceland's most renowned sculptor.
Walk down to Laugavegur for a lunch stop. After lunch, continue your tour of the upper part of the city on Laugavegur. You can stop for an afternoon refresher and some great people-watching at Te & Kaffi or Stofan Cafe, then catch a mid-afternoon catnap now that you can check into your hotel.
Reservations for dinner are always advised, and sometimes absolutely necessary. Plan ahead at least a couple of weeks so you won't be disappointed. Grillmarkadurinn is just the right place for your first dinner. The tasting menu will lead you through an array of impressive Icelandic dishes. Save room for the crazy good bread and butter service. For an after-dinner drink and some LIVE music, stop in at the Kofinn, or hit up one of the many night-clubs nearby for a rowdier evening.
Now that you're somewhat recovered from the lack of sleep from the red-eye, you'll be refreshed and ready for a new day exploring the city. Today, head south on the walking street toward the marina. Hit up the Tourist Information Center first to grab some maps and information. There are also some nice tourist shops nearby to pop into for a look.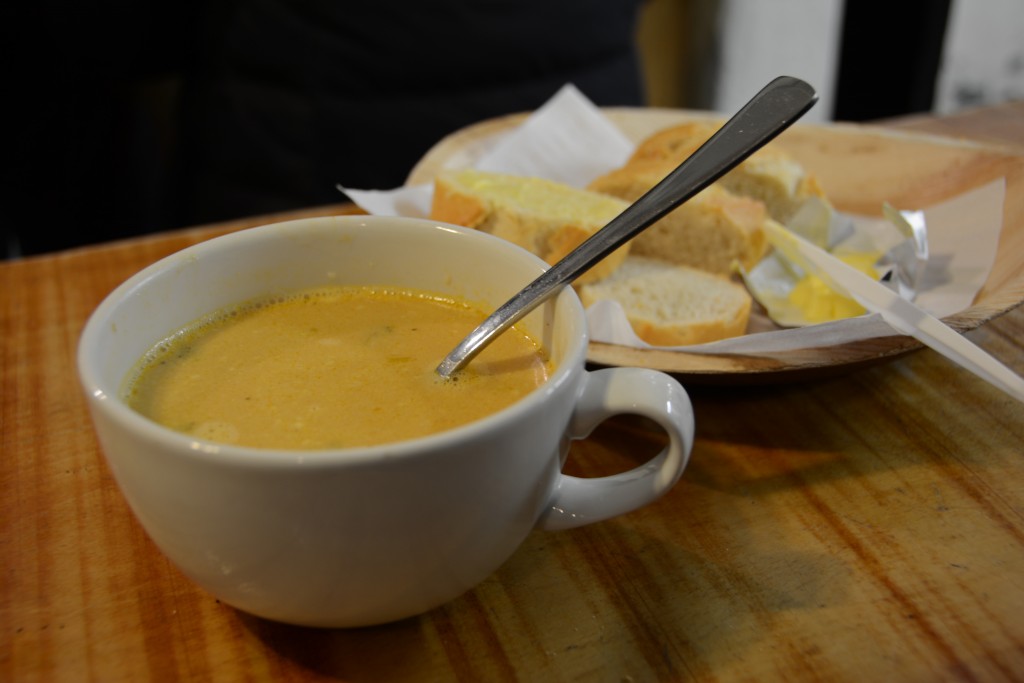 If you're a foodie like us, you'll want to start early so you can try many of the special treats near the marina. Start with a lamb hotdog with "everything" at Bæjarins Beztu Pylsur (or try Pylsuhusid Hot Dog House recommended by Eating the Globe), then head to Saegreifinn for a bowl of their famous lobster soup and our choice of skewer from their display case. If you still have room, grab an order of fish and chips and a local beer across the street at Icelandic Fish and Chips.
MicroBar in the Center Hotel opens at 5pm and has an impressive selection of bottled beer from all over the world, as well as taps from many of the local breweries that you can try in a tasting tray. Spend a couple hours here exploring their selections and quizzing the knowledgeable staff.
⇒ Sample up to 10 of Iceland's craft beers on an Icelandic Beer Tour in Reykjavik. Book here.
Take a walk around Harpa Conference and Concert Center and enjoy the view from the top floor, overlooking the beautiful bay and mountains in the distance. A little further down the seawall you'll find the Solfar (Sun Voyager) Sculpture, which is also a popular location for viewing the Northern Lights during the winter months.
When you're ready for dinner, head to Tapas Barinn to enjoy the tasting menu or choose your own dishes from the extensive list of Tapas on offer. Don't forget to try the local liquor, Brennevin.
If you're lucky enough to be visiting Reykjavik from September to March, many of the local tour companies lead evening trips to search for the Northern Lights. Typically, you'd be picked up around 7-9pm and spend a few hours driving in a large tour bus in search of the lights. There are smaller tours available as well as private excursions that also allow the opportunity to bathe in a thermal pool while waiting for the lights to pick up. If you chose BusTravel as your transfer company, you can add on a northern lights tour to your package.
⇒ Check out the Northern Lights tour we went on in Reykjavik.
A great way to see the surrounding countryside without venturing too far afield is on a Golden Circle Tour. The full-day tour departs around 9am and takes you to see Faxi waterfall, the Geysir area with the 20-metre high hotspring geysir Strokkur, the Gullfoss Waterfall, and the Thingvellir National Park. If you chose BusTravel as your transfer company, you can add on a Grand Golden Circle tour and they will organize everything.
⇒ Get your tickets in advance for the Golden Circle Tour. We combined our love of food with our tour and went on the Golden Circle Gourmet Food Tasting Tour.
When you arrive back in Reykjavik, you'll probably be hungry. Sjavargrillid (Seafood Grill) is the perfect place for a laid-back dinner and amazing cocktails. They have a tasting menu to enjoy, plus plenty of delicious seafood options on the a la carte menu. You might not be feeling up to a big dinner after being out all day, but you really don't want to miss the delicious food at Sjavargrillid, so make sure you add it to your Reykjavik itinerary on another day.
If you didn't stop at the Blue Lagoon on the way into town, today is the day to enjoy the thermal pools and spa at The Blue Lagoon. You'll want to leave the hotel with plenty of time to enjoy a leisurely soak in the lagoon, as well an incredible last meal at the on-site restaurant Lava, where you can even dine in your bathrobe. Remember that it takes 45 minutes to get to the Blue Lagoon. It opens at 8am (except from end of May to mid-August, when it opens at 7am).
With most flights back to the U.S. leaving at 5pm, you'll have just enough time to accomplish the above mentioned activities before heading back to the airport around 2pm. If you wish to add on spa services or enjoy more leisure time at the lagoon, you definitely need to go to the Blue Lagoon at the beginning of your trip, so you have as much time as you wish. We found that four hours was ideal for enjoying the lagoon without extra services. More time would have resulted in especially wrinkled skin!
We hope you enjoy your four days in Reykjavik and the rest of Iceland as much as we did. Feel free to contact us with your Reykjavik itinerary questions.
Just returned from Iceland? Tell us about your trip in the comments section. We'd love to hear how you like it and what you did.
Where to Stay in Reykjavik Iceland
Many visitors to Iceland start their trip in Reykjavik, which we highly recommend. It's a fun city, with plenty of things to do, and nice places to stay.
Here are our favorite places to stay in Reykjavik. You can see reviews on Trip Advisor, or book through Booking.com by using these links:
Like this post and want to save it for later? Pin it to your Pinterest board!
(Disclaimer: This post contains affiliate links. If you use these links to book, we will receive a small commission at no cost to you.)