Iceland is always a popular spot for long-weekend getaways, due to the fact that it's not too far from anywhere and is often a direct flight, whether you're coming from a city in the U.S. or from Europe.
Depending on your travel style, you can easily see Reykjavik and surrounding areas in four days and feel like you've done more than scrape the surface. That's exactly what we did on our 4-day Reykjavik itinerary. It was short, but packed full of excitement, even in winter.
If you have more time to spend, you can set off from Reykjavik on one or more of these great Iceland road trips. Here are many of the epic things to do in Iceland that you'll encounter along the way. You may also want to look at our country guide to Iceland, which includes information on when to go and what to expect.
Rent a Car / Book a Transfer
Most visitors to Iceland choose to rent a car so they can see more of the island than just Reykjavik. However, you don't have to rent the car at the airport. If you're going to spend 4 days in Reykjavik prior to setting out on a road trip around the island, you can get a transfer into the city instead, then rent the car in the city.
» Renting a car or camper van? Check out Northbound.is for the best deals and cars on the island. They also have lots of tours you can book on the site.
Pre-book your airport transfers here, so you can avoid the line, and possible delays at the airport.
Where to Stay in Reykjavik
Pick a centrally located hotel in Reykjavik. We recommend a hotel near the main walking streets, Skólavörðustígur and Laugavegur. Our top pick is the Canopy by Hilton. It's just 2 minutes from Laugavegur and is a great affordable luxury option. Best of all, the location is easy walking distance to everything included in this itinerary.
Many visitors to Iceland start their trip in Reykjavik, which we highly recommend. It's a fun city, with plenty of things to do, and nice places to stay.
Here are our favorite places to stay in Reykjavik.
For more choices, check out these Hotels in Reykjavik, Iceland
Popular Reykjavik Day Tours
Adding these popular day tours from Reykjavik are a great way to see more and experience the countryside outside the city. If you plan to add any day trips, you can use the links below to pre-book the activities you want to do while you're in Reykjavik so you don't miss out. Tours in Iceland tend to book up quickly. It's always best to have your tickets booked in advance.
It's fairly easy to snag a layover in Reykjavik on your way to other locations in Europe, as well. These tours are perfect for a long layover or stopover in Reykjavik.
Complete Four-Day Reykjavik Itinerary
Visit the Blue Lagoon
Some flights into Reykjavik from the U.S. arrive in the early morning hours, so you'll need to fill the first half of the day before being able to check into your hotel room. We thought this was a great time to visit the Blue Lagoon.
When you arrive, if you're not renting a car, you can book a transfer that will take you either to the Blue Lagoon or to the city center. It's a very convenient way to get to and from the Blue Lagoon, which is approximately 20 minutes from the airport, and 45 minutes from Reykjavik.
You can check your luggage at the main gate of the Blue Lagoon and continue on to the locker rooms to get changed. I suggest purchasing tickets in advance, so you don't have to wait in the line. Plan to stay for 3-4 hours total. More if you're enjoying spa treatments and a nice leisurely lunch, less if all you plan to do is soak in the lagoon.
Lava Restaurant is on the premises and offers an exceptional lunch menu and drinks that will start your day off right.
⇒ Get your tickets in advance for the Blue Lagoon. Book here.
Head into Reykjavik City Center
For a hearty breakfast and caffeine boost, stop in at Grái Kötturinn. After a plate of eggs and potatoes, you'll be ready to explore the many tourist shops along Skólavörðustígur. This shopping street leads uphill directly to the impressive Hallgrímskirkja Church.
Hallgrímskirkja is named after Iceland's famous psalm composer, Hallgrímur Pétursson. It was finished in 1986 and stands as a beacon for the city. You won't get lost no matter where you are in the city, if you use this as a landmark. It's also a great viewpoint. You can climb up to the top of the tower for a view.
In front of the church is a statue of Leifur Erikson, a Norse explorer who is credited as the first European to land in North America. Don't miss the Einar Jónsson Museum next door, dedicated to Iceland's most renowned sculptor.
Laugavegur Street
Walk down to Laugavegur street for a look around the shops. There are many restaurants and bars among the shopping, so plan to stop for a bite to eat at Sushibarinn or Prikið. Kaldi was one of Iceland's first craft beers, and you can sample a range of their beers at their bar at 20b Laugavegur.
At this point, you're probably ready for a break, so you can settle in for an afternoon refresher and some great people-watching at Te & Kaffi or Stofan Cafe.
Check into your hotel and get a bit of rest before dinner.
Dinner at Grillmarkadurinn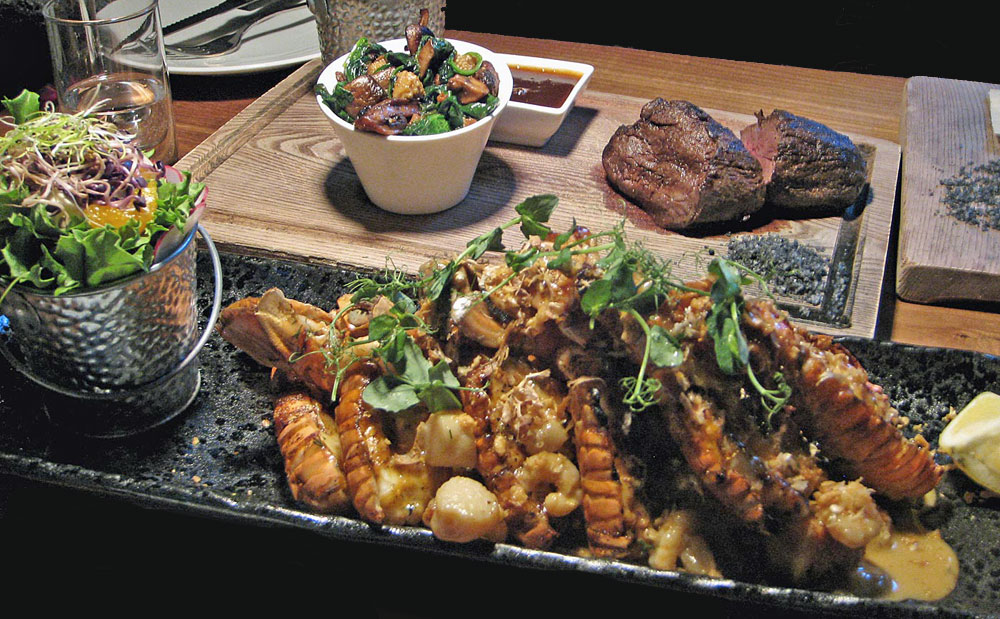 Reservations for dinner are always advised, and sometimes absolutely necessary. Plan ahead at least a couple of weeks so you won't be disappointed. Grillmarkadurinn is just the right place for your first dinner.
The tasting menu will lead you through an array of impressive Icelandic dishes. Save room for the crazy good bread and butter service.
For an after-dinner drink and some LIVE music, stop in at the Kofinn, or hit up one of the many night-clubs nearby for a rowdier evening.
Museums
Start out your day by heading south on the walking street toward the marina. Hit up the Tourist Information Center first to grab some maps and information. There are also some nice tourist shops nearby to pop into for a look.
There are a few museums nearby to spend a few hours visiting. The Saga Museum is a history museum with wax displays to tell the story and the Aurora museum is one for Northern Lights enthusiasts, the Reykjavik City Museum and the Maritime Museum are just a few blocks away.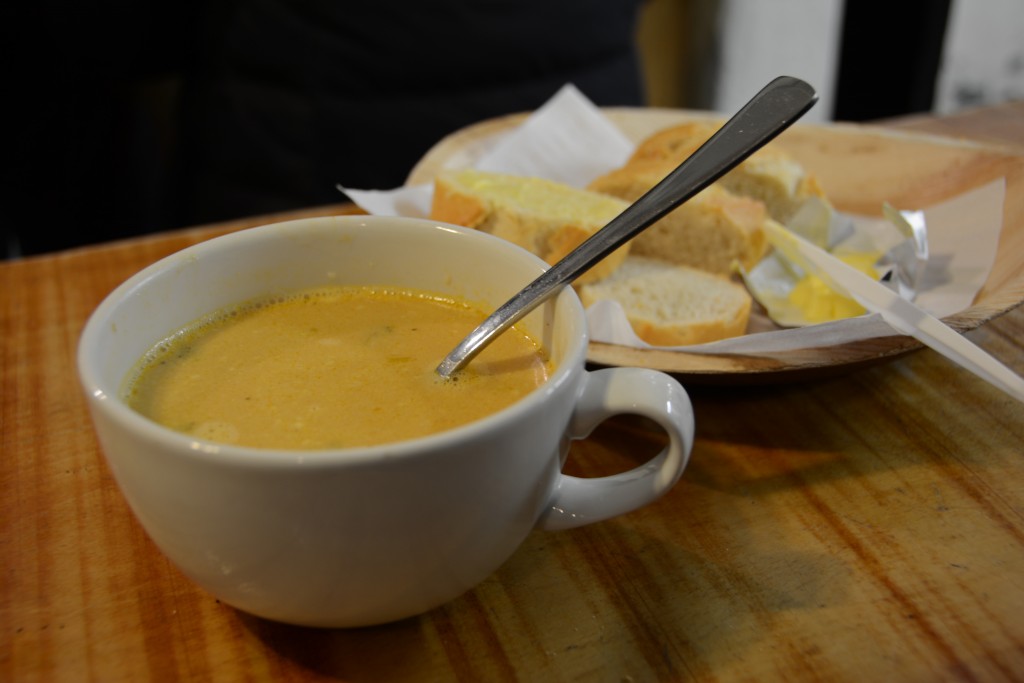 Lunch
If you're a foodie like us, you'll want to start early so you can try many of the special treats near the marina. Start with a lamb hotdog with "everything" at Bæjarins Beztu Pylsur (or try Pylsuhusid Hot Dog House recommended by Eating the Globe), then head to Saegreifinn for a bowl of their famous lobster soup and our choice of skewer from their display case.
Tour the Harpa Center
Take a walk around Harpa Conference and Concert Center and enjoy the view from the top floor, overlooking the beautiful bay and mountains in the distance. A little further down the seawall you'll find the Solfar (Sun Voyager) Sculpture, which is also a popular location for viewing the Northern Lights during the winter months.
Sample Local Craft Beer
MicroBar in the Center Hotel opens at 4pm and has an impressive selection of bottled beer from all over the world, as well as taps from many of the local breweries that you can try in a tasting tray. Spend a couple hours here exploring their selections and quizzing the knowledgeable staff.
⇒ Sample up to 10 of Iceland's craft beers on an Icelandic Beer Tour in Reykjavik.
Dinner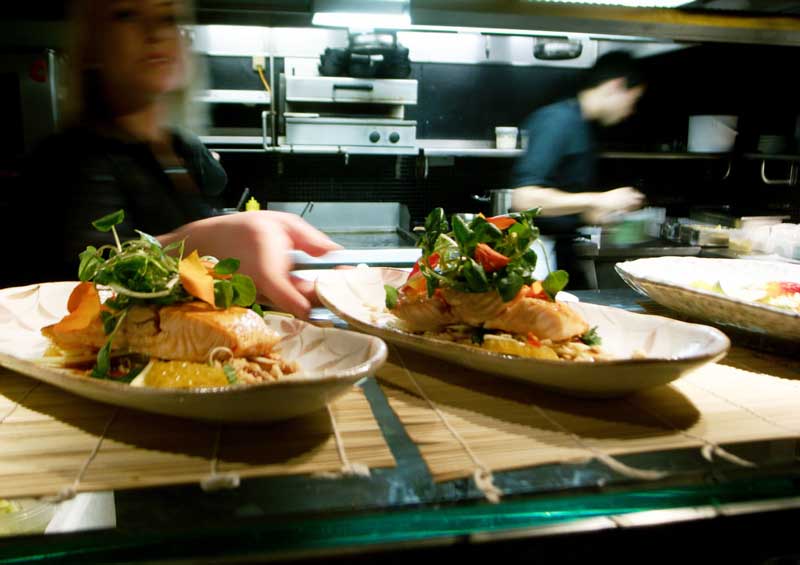 When you're ready for dinner, head to Tapas Barinn to enjoy the tasting menu or choose your own dishes from the extensive list of Tapas on offer. Don't forget to try the local liquor, Brennevin.
Another restaurant we suggest is Fiskmarkadurinn. It's the gold standard for fish with a beautiful setting and great service. You can order the tasting menu and just sit back and enjoy all the dishes that are brought out, or you can order a la carte.
Northern Lights Evening Tour (During winter months)
If you're lucky enough to be visiting Reykjavik from September to March, many of the local tour companies lead evening trips to search for the Northern Lights. Typically, you'd be picked up around 7-9pm and spend a few hours driving in a large tour bus in search of the lights.
There are smaller tours available as well as private excursions that also allow the opportunity to bathe in a thermal pool while waiting for the lights to pick up.
⇒ Check out the Northern Lights tour we went on in Reykjavik.
Golden Circle Tour
A great way to see the surrounding countryside without venturing too far afield is on a Golden Circle Tour. The full-day tour departs around 9am and takes you to see Faxi waterfall, the Geysir area with the 20-meter-high hotspring geysir called Strokkur, the Gullfoss Waterfall, and the Thingvellir National Park.
If you have a rental car, you can do this tour on your own. It's not recommended to do it in the winter when the roads can be very dangerous. But in the summer, it's a great way to spend a day. If you don't have a rental car, you can book a group tour. We just recommend looking for a small one. The one below has a maximum of just 14 travelers (compared to some with up to 60).
⇒ Get your tickets in advance for the Golden Circle Tour.
Dinner at Sjavargrillid
When you arrive back in Reykjavik, you'll probably be hungry. Sjavargrillid (Seafood Grill) is the perfect place for a laid-back dinner and amazing cocktails. The interior of the restaurant is gorgeous and they have a bit of outdoor space as well.
They have a 4-course Lobster Feast menu that includes their famous lobster tacos, plus plenty of delicious seafood options on the a la carte menu, like salted cod and grilled lamb.
With most flights back to the U.S. leaving at 5pm, you'll have just half a day to enjoy on your 4th day, enough time to head out on another half-day tour, en route to the airport.
Some possible activities include Whale Watching, Icelandic horseback riding, or the Lava Tunnel Tour. All of these tours take under 3 hours and leave from Reykjavik.
Tours to Book:
CONCLUSION
We hope you enjoy your four days in Reykjavik and the rest of Iceland as much as we did. Feel free to contact us with your Reykjavik itinerary questions.
Just returned from Iceland? Tell us about your trip in the comments section. We'd love to hear how you like it and what you did.
Related Posts:
Like this post? Why not save it to Pinterest?
FOLLOW US on Pinterest, Instagram, Facebook for more great travel inspiration and tips.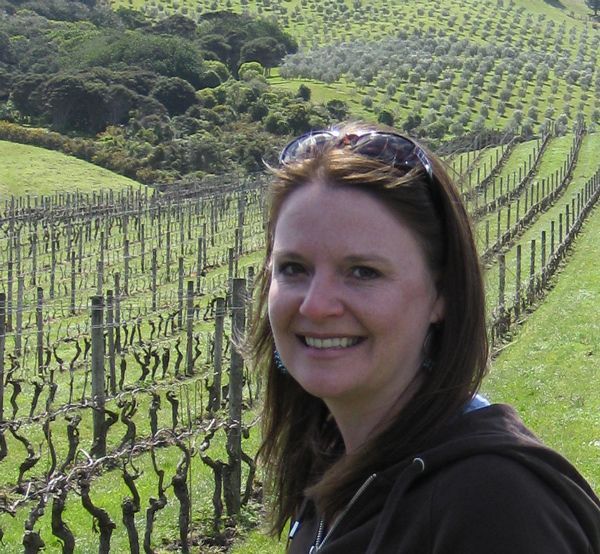 Laura Lynch, creator and writer of Savored Journeys, is an avid world traveler, certified wine expert, and international food specialist. She has written about travel and food for over 20 years and has visited over 75 countries.