Saint-Emilion – part of the world-renown Bordeaux wine region – is a charming commune in southwest France that was made a UNESCO World Heritage Site in 1999, thanks to its history of prestigious wine-making, beautiful Romanesque churches, and picturesque medieval city.
Every wine lover should visit Bordeaux, and in particular Saint-Emilion, to learn about and try its famous wine. However, there are nearly 800 Saint-Emilion wineries – mainly family-run – so finding the best St. Emilion wineries to try can be a bit tricky.
We've spent quite a bit of time in Saint-Emilion, so we've written this guide to help narrow down the options to just the top 14 wineries that we recommend visiting in the area. Seven of them can be booked easily through Rue des Vignerons using the Make An Appointment buttons below.
On your next foodie vacation to France, spend at least a few days in Saint-Emilion as part of a broader Bordeaux visit that also includes the Medoc area wineries, Graves and Pomerol, and you'll see why the world goes crazy for Bordeaux wines.
About St. Emilion Wine Tours
Each wine region in France has a distinct personality due to varied terrain, regional differences, and grape varietals. St. Emilion is no different. This region specializes in red wines — more specifically, Merlots and Cabernet Francs. However, it's not uncommon to also find Cabernet Sauvignon, Malbec, and Petit Verdot.
When preparing for a Saint-Emilion wine tour, you might hear talks of Grand Cru, Premier Grand Cru, and Grand Cru Classe. While quite complex, it means that the winery's vines are located in these classified areas. These were introduced in Bordeaux in 1855 and used in Saint Emilion since 1955 to classify the terroirs and vineyards according to quality.
The Saint Emilion Grand Cru rankings are revisited every 10 years.
Arrange a Private Tour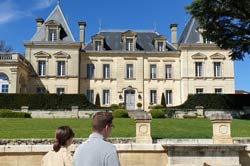 If you don't want to build your own self-guided wine tour to the wine areas of Bordeaux, I suggest booking a private wine tour through B for Bordeaux, a wine tour company run by Berit Simonsen, who is very knowledgeable and works closely with the wineries to ensure your visit is great.
With this tour, the whole process is up to you. You can decide where to go yourself, or have Berit take care of all the details for you. You can book one day or 5 days – it's entirely up to you.
Here's a recent customer review: "We considered a few options for a day tour of the Medoc but chose Berit on the basis of her great communication, responsiveness, reasonable rate and her flexibility in meeting our requirements. Our expectations were fully met, even exceeded."
Check out the offerings here and be sure to tell her that Savored Journeys sent you.
Tours With Rue des Vignerons
On the road to Saint-Emilion by bike (full day) – 160€ – Departure from the tourist office in Bordeaux in a minivan. They will take care of the handling of the bikes, the visit to a chateau in Saint-Emilion and wine tasting, followed by a picnic type lunch in the vineyards. Finish with a visit to the medieval village and a wine tasting in a family winery.
Self-Guided Touring
I personally prefer to do self-guided touring when I visit wine regions because it gives me the greatest flexibility and I actually really like researching and choosing the wineries I want to go to.
While there is a little more work involved because you have to set up all the tours yourself, there are tools that will help make this super easy. The one I use is called Rue des Vignerons. It's a French website that makes booking wine appointments super easy.
The site has 450 wineries and distilleries, both family-owned and famous houses, that includes 1,500 bookable experiences, including tastings, tours, workshops, and meals. You can book online up to 30 minutes before and your appointment is confirmed instantly. This is the website I used to book all of my Bordeaux tasting appointments.
In our descriptions below, I will give you links directly to Rue des Vignerons for each winery so you can easily book it.
---
Top Saint-Emilion Wineries to Visit
This is one of the few chateaux that offer lunch and dinner. While it's a bit farther from the center of town, it's worth the drive. The restaurant l'Atelier de Candale, is owned by a famous winemaker and cooper, Jean Louis Vicard.
With 4 properties, 2 Grands Crus Classés, 1 restaurant, 1 boutique, and unique wine tourism trails, Château de Candale has everything a visitor is looking for in Bordeaux charm and experiences.
The outdoor patio is perfect for al fresco dining with a view of the vineyards. You can also take a tour and have a tasting. A tasting alone costs 10€. Tour and tastings range from 18 to 30€. You can also do a private gourmet pairing with food for 20€ or a 3-course meal with 3 wine pairings for 60€.
---
Château de Pressac, a Grand cru classé since 2012, is a prestigious winery of St Emilion with a strong medieval history. The Chateau was built in the 14th century. The first grape variety which was used for their wines was the "Noir de Pressac", which is now called "Malbec".
It offers the best views of the whole of Saint Emilion from up on a hill. That alone should warrant a visit. But if you'd love to taste their wines, you can't go wrong with a tour that takes you along the historic property, cellars, and barrels.
To conclude the tour, you'll also get a special wine tasting of four of their wines that includes a blind tasting with savory pairings. Tour and tasting costs 25€ and lasts 1 hour.
Note: Tours by appointment only
The Château Cadet Bon is a famous Grand cru classé winery with a biological / organic approach. Its wines are composed of 80% Merlot and 20% Cabernet Franc. Their vines are located on one of the most typical terroirs of St Emilion, so you can taste the quintessential wine of the area. The soil is composed of three types of minerals which provide the wine's complexity.
A wine tour and tasting with 3 vintages is 13.50€ and lasts 1 hour 30 minutes. You can also do a tour and comparative tasting of different wines for 19€ or take a full tasting course to unlock the key to tasting wine for 60€ (2h30min).
---
The Château Bernateau is a family-owned winery with 8 generations of winegrowers. The winery has an organic approach and is located 5 minutes from the medieval city, on a beautiful spot that has been classified as a UNESCO World Heritage site.
There are tours and tasting available along with a guided walk through the vineyard. At the end of the tour, you will taste several vintages of two of their Saint Emilion Grands Crus wines. You can book a tasting alone for 6€ or a tour and tasting lasting 1h30 or 2hrs and ranging in price from 10€ to 25€.
---
Château Grangey is family owned organci winery just 5km from St Emilion. It was built 3 centuries ago and has a strong history. Franck and Elodie (the winegrowers) describe themselves as wine lovers who are happy to share their passion with visitors and to invite them into their world.
Their tour and tasting is 15€ or 40€ with a vertical tasting of their premier wine, Château Grangey. Both experiences last for 1 hour and you'll visit the cellar where the barrels, casks and amphorae are housed.
---
This is an iconic chateau of St Emilion, awarded "Premier Grand Cru classé". The setting and experience are breathtaking, exactly as you would hope for a Bordeau winery. The Becot Family, who have been established in ST Emilion since the French Revolution, bought the winery in 1969 and it was classified as a Premier Cru in 1996.
The soil of the vines has an exceptional terroir composed of calcaire, which is very unique. They also have 7 hectares of ancient limestone quarries that form a perfect cellar for tens of thousands of bottles of wine. The wine tours and tasting are more expensive here (from 41€), but it's worth it.
This chateau is a small, family-run winery right in the heart of Saint-Emilion. It has been in the family for many generations. There is a really extensive and incredible underground cave cellar that you can tour, which ends in a wonderful tasting of their Grand Cru Classe wine.
It is essential to make a reservation prior to visiting the cellar.
Château Chauvin, a Grand Cru Classé since 1955, has belonged since 2014 to the Cazes-Régimbeau family, who are also co-owners of the famous Château Lynch-Bages in Pauillac, a pioneer in wine tourism, which has been receiving numerous visitors for decades.
Just 40 km from the centre of Bordeaux, this small family estate offers a friendly stopover with a visit to the new cellars. Click below to book a tour and tasting.
---
Château Franc Mayne is a Grand Cru Classé in Saint Emilion. They do traditional farming with horses on sloping plots, manual harvest and sorting, and plot vinification in order to ensure the best yield and quality. A former post house proves that pilgrims used to come here on their way to Santiago de Compostela.
---
The name Fombrauge comes from "Fons brogiera", which means "water source surrounded by heathers and bushes". The water source that garnered the name of this Grand Cru Classé still exist and is located at the heart of the vineyard. This is one of the largest wineries in Saint-Emilion, with more than 5860 hectares.
---
Located just 4km from the famous medieval village of St Emilion, Chateau Mauvinon is a lovely family owned estate of the prestigious Saint Emilion appellation classified as a World Heritage site by UNESCO. The winery offers a simple tasting of 2 or 4 wines, or you can book a walk in the vineyards, a visit of the vat house and a commented tasting of 3 wines paired with 3 cheeses to better understand wine and food pairing.
Dating to the 16th century, Château La Dominique is a Grands Crus Classés winery a short drive from the city center.
The current owner, Jean-Claude Fayat, has been walking the grounds since he was 11. Today, he and his team ensure the grape variety vines of Merlot, Cabernet Franc, and Cabernet Sauvignon always cultivate exceptional wines.
The most basic tour is the La Dominique's Delicacies tour which sees you tasting their wines paired with Chocolaterie Maëlig's chocolates. You can also take a VIP, private, and blind-tasting tour. Besides the wine tasting, all four tours also show you around the estate.
The Saint Emilion chateau also has a restaurant called "La Terrasse Rouge". Here, guests can eat a range of meals paired perfectly with the winery's best wines.
Note: All of these tours are by appointment only.
Where to Stay
If you're looking for a chateau in Saint Emilion to spend the night in, these centrally located hotels are more than just a simple hotel. Both of them are in grand estates with wineries attached where you can also do a wine tasting!
Chateau Hotel & Spa Grand Barrail (Pool & hot tub / wine tasting on site)
Château Fombrauge – Bernard Magrez Luxury Wine Experience (free breakfast, and on-site winery)
How to Get to Bordeaux's Wine Regions
Bordeaux is an easy city to reach, as it is very well connected with the rest of Europe. It is just a few hours' train ride from Paris, making it an easy side trip.
I'm not aware of any direct flights from the U.S. to Bordeaux, but there are a lot of connecting flight options (which is great news for anyone looking to take advantage of a free stopover in another major European city).
Once you've landed in Bordeaux, you can take a bus or the tram into the city center, or rent a car and drive to the countryside to visit the Chateaux.
If your goal is wine tasting and going on Bordeaux vineyard tours, then a car is a necessity. Not that you can't get around by public transpiration, but it will take you so much longer. We recommend booking a car through Discover Cars. They collect and display the best car rental deals and they're very easy to work with.
Best Wineries to Visit in St Emilion: Conclusion
If you're looking for some of the best St. Emilion wines, you won't go wrong stopping by one of these. Whether you're hoping to get more insight into the estates or winemaking process or just want to have fun tasting different wines. You'll have a great time at any one of these top Saint Emilion wineries.
Like this post? Why not save it to Pinterest?
FOLLOW US on Pinterest, Instagram, Facebook for more great travel inspiration and tips.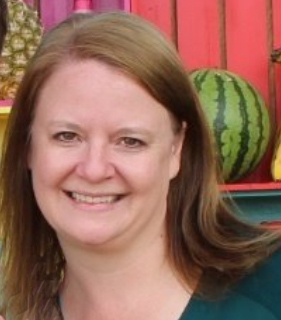 Laura Lynch, creator and writer of Savored Journeys, is an avid world traveler, certified wine expert, and international food specialist. She has written about travel and food for over 20 years and has visited over 75 countries. Her work has been published in numerous guidebooks, websites, and magazines.