We've been wine tasting in many different countries. You'd think in all that time we'd have seen it all when it comes to wine production. But not in Santorini, Greece! We were taken by surprise on our Santorini wine tour when we learned of a unique wine-growing technique that we'd never seen before.
This ancient growing technique is called koulara, where the grapes are grown in a low-to-the-ground basket style that protects the grapes from strong winds and allows it to soak up what little water is available from the porous volcanic soil.
I highly recommend taking a winery tour with while you're visiting Santorini. Not only will you learn about this technique that has been protecting and allowing the grapes to grown on Santorini island for many decades, you'll also be introduced to the island's flagship grape, Assyrtiko, and have the opportunity to try many of the top wines produced on the island.
It's easy enough to find the wineries and stop for a tasting on Santorini, but the driving is a different story. If you're going to be drinking, it's always best to have a driver. These wine tours are a perfect way to leave the driving and planning to someone else.
→ Be sure to read our guide on what to do in Santorini. It's packed full of all the best activities and things to see on the island.
Wine Tasting in Santorini Greece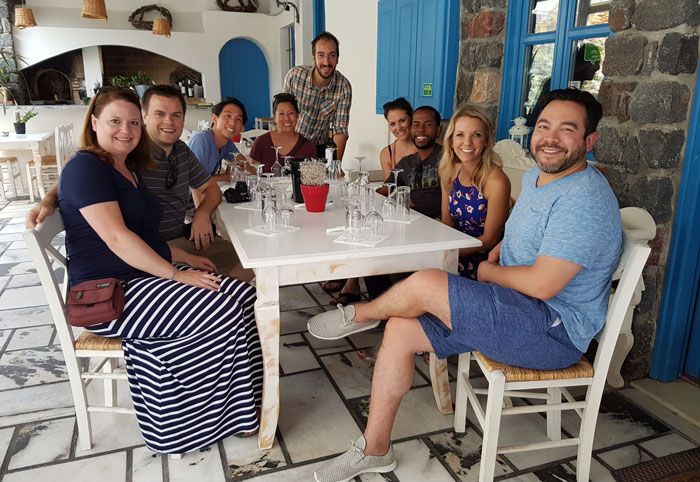 The first thing we did on our tour was learn about the fascinating growing technique. We first noticed these interesting-looking vines when we were driven to our hotel in an airport shuttle. The driver pointed out what looked like weeds alongside the road and said they were the vines that produced the bulk on Santorini's wine production.
We thought for sure we'd heard him wrong. The basket growing style is certainly unique. If we hadn't asked, we would never have thought these were grape vines. The vines are grown very close to the ground in a basket style to protect the grapes and give them every chance to survive in the mostly dead soil they live in.
The Assrytiko grape makes up almost 70% of the vineyards of Santorini. It is a strong, bold white grape used in many single-varietal and blended wines in Santorini, and unique to the island.
We learned a lot about it on our wine tour, which took us to three different wineries, thanks to our incredibly knowledgeable guide, Evan. Usually the guide on these type of tours doesn't have a wine education, but all of these guides have extensive wine educations.
Where to Go Wine Tasting in Santorini
Our first stop, at Boutari, was also our favorite. The winery has a fantastic set up for wine tasting. They'd set up a beautiful table for our group with a tasting sheet, glasses and the bottles of wine we were trying. Evan explained all of wines as we tasted them, and showed us how to expertly taste the wine, which can sometimes be boring, but Evan made it fun for everyone, and we all learned a lot about identifying what we were tasting and smelling.
Our second stop was at Gavalas, a traditional family winery. They still have a traditional grape-stomping cellar where they still maintain the ceremony of stomping the grapes with family and neighbors. Of course, they mostly use more modern methods these days to make their wine.
The third stop was at Artemis Karamolegos family winery. We all loved the wine here, along with the lovely plate of cheese, meat and snacks they'd prepared for us.
Each winery allowed us to taste (at least) three of their top wines, that are typically made by all of the wineries in the area: Assyrtiko, Nykteri and Vinsanto. Each was very unique to the winery, though after a few tastes, we began to taste the similarities of the grapes in each.
I can't recommend this tour enough. It was a really fun time and a great way to get more familiar with the grapes and wines of Santorini. You can book a tour on Viator. We recommend this one that includes a stop at the Wine Museum Koutsogiannopoulos, and a sunset cocktail at Sun Spirit Cocktail Bar.
You will be glad you did the sunset tour, as the views are incredible at dusk. I found while booking the tour that it was less expensive than other tours given in Santorini, and the caliper of the guides makes it the best value tour around.
Also check out this guide to 48-hours in Santorini to decide what to do with the rest of your time on the island. If you're going to be in Athens while in Greece, also check out the fantastic food tour we had with Greeking.me.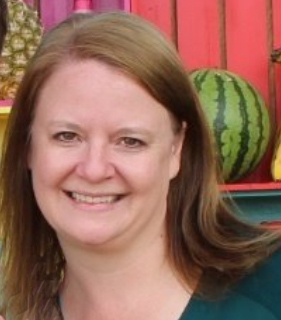 Laura Lynch, creator and writer of Savored Journeys, is an avid world traveler, certified wine expert, and international food specialist. She has written about travel and food for over 20 years and has visited over 75 countries. Her work has been published in numerous guidebooks, websites, and magazines.