This article has links to products and services we recommend, which we may make commission from.
If you're ever visited Vancouver, you already know about the vast beauty of this area and the heaps of charm the city has to offer. It's a great place for adventure travelers who like to hike, bike, fish and, well, do just about anything outdoors.
The beautiful city of Vancouver is located in the Southwestern corner of British Columbia, Canada; on the coast of the Pacific Ocean. Being overlooked by the Coast Range Mountains and surrounded by water on three sides, the city has a landscape that truly takes your breath away.
Greater Vancouver has everything from beaches, mountains, and 192 beautiful parks to a cosmopolitan downtown area, fabulous shopping and entertainment.
In fact, Vancouver itself is made up of 23 different neighborhoods – each having its own distinct character – so there's an endless supply of new things to see and do.
Foodies will love the city's street food and markets, like the one on Granville Island, plus the many cocktail bars and craft breweries.
» Read our foodie guide to Vancouver.
When to Visit Vancouver
There is no "best time" to visit Vancouver. The weather is a bit drizzly in the winter, but it never really gets too cold or two hot. Summer are downright incredible, and there are plenty of things to do in winter too.
Due to it's location it has a mild climate, which means not too much snow in the winter and pleasant temperatures in the summer, but it does to tend to have a lot of rain. The average annual rain and snow fall is 1219mm.
You'll also find many day trips nearby including Whistler, Victoria and Vancouver Island.
Vancouver's Best Neighborhoods
Gastown is the historical part of the city with cobblestone streets, heritage buildings, shops, restaurants and galleries. It's located just south of the harbor and is a vibrant place.
Located just under the Granville Street Bridge is Granville Island Market which offers a mix of food, arts and crafts, shopping and theaters. Water taxis ferry shoppers to and from the market or you can stroll there.
Stanley Park, located close to downtown, has over 1000 acres of forest and is a firm favorite with both locals and tourists. The park has many miles of pathway, an aquarium, a pitch and putt golf course, a miniature railway, tennis, restaurants, beaches and on summer evenings live theater.
Robson Street is in the heart of downtown and offers boutiques, side walk cafes, shops and restaurants.
How to Get Around in Vancouver
There is an excellent public transport system which consists of buses, Seabus, Skytrain and a commuter rail service called the West Coast Express. This is an integrated system and you can use the same tickets for different modes of transport. There is also an extensive system of bikeways, so cycling is another good way to get around.
The city has many tree lined streets and no highway cutting through the city so walking is encouraged. It is illegal to cross the street anywhere but at a marked intersection crossing in the city.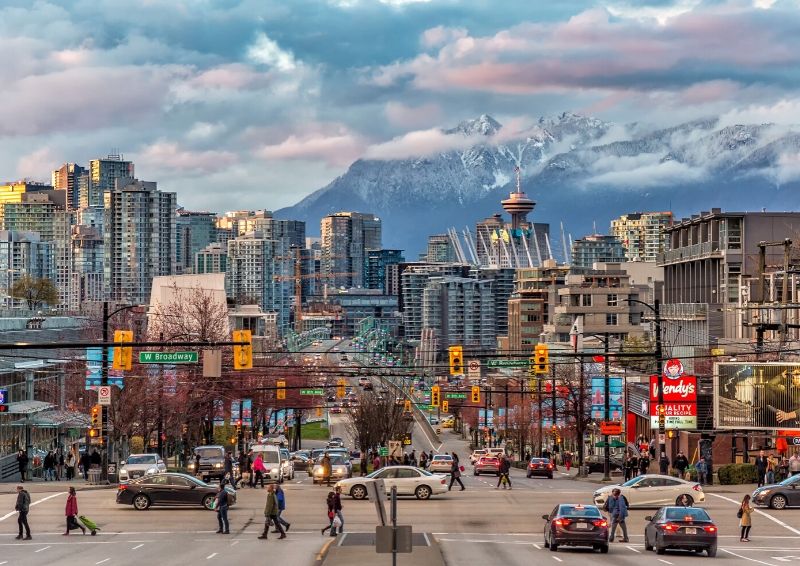 What to Do in and Around Vancouver
For a comprehensive list of the top things to do in Vancouver, read this post, and check out the infographic at the bottom of this post.
Want to plan ahead and book a few of the things we've mentioned to do below? It's always a good idea to pre-book for popular tours. They sell out fast.
One of the best day tours you can do is the Vancouver city tour with the Vancouver Lookout. It goes to many of the best parts of the city. There's also the Capilano Suspension Bridge. You won't believe the bridge until you see it. Amazing! If you want to include the trip out to the bridge, this tour will take you there.
Another tour you might like is the Granville Island Market tour. I can't get enough of the Granville Island Market. The tour is a small group, so it's easy to see and try things along the way.
Where to Stay in Vancouver
We always choose to stay somewhere in downtown Vancouver, because of the easy walking proximity to just about everything. You can park your car and use your legs instead. Popular areas include Gastown, Yaletown and Downtown. No matter which area you choose, you'll find some really great restaurants and bars within a block or two that exemplify the neighborhood.
Here are our recommended hotels:
Sutton Place Hotel
4.5-star hotel in downtown Vancouver (West End), stellar location, great restaurant.
Listel Hotel
Comfortable 4-star hotel with a spa, restaurant, and free wifi in downtown.
Shangri-La Hotel
5-star luxury hotel with beautiful, well-appointed rooms and an outdoor pool.
Shortcut Travel Guide to Vancouver, British Columbia
You might also like this post:
Pin and share