Rome is a city that will capture your heart the moment you arrive. It's incredible to see so much history packed into one place, and so much of it is scattered right in the middle of a modern city.
There's really no where else like it. If you're planning a trip to Rome, we've got you covered with our shortcut travel guide to Rome: an informative and helpful infographic that will give you a quick peek at all the top things to do in Rome, where to stay, how to get around, and most importantly – what to eat in Rome!
Do keep in mind that Rome is a very popular tourist destination, so hotels, tours and activities fill up and sell out quickly. This is one city where it pays to plan ahead.
Don't wait until the last minute to secure tickets for things you want to see like the Sistine Chapel and the Colosseum.
Planning your trip to Rome?
Where to Stay in Rome:
Best Tours and Experiences in Rome:
If your plans take you to other parts of Europe, check out our how to plan a trip to Europe guide.
» Also see our shortcut guides to Venice and the Chianti Wine Region.
↓ Click to continue down to the bottom to see the infographic.
What Are the Top Things to Do in Rome?
The top things to do in Rome are visiting the Roman Forum, the Colosseum, the Vatican and the Sistine Chapel, seeing the Trevi Fountain, the Spanish Steps, and the Pantheon; and walking through the impressive Plaza Navona and Palentine Hill.
We always like to add taking a Rome food tour to the list, because Rome is a wonderful culinary destination.
With so many great things to do in Rome, you really need to set up a good itinerary before you leave, to make sure you fit everything in.
You can pre-book some of the activities listed in our essential travel guide to Rome (below) through these links:
Video: Top 10 Things to Do in Rome
Check out our YouTube video of the top things to do in Rome. You can spend your time doing the main tourist activities we've listed here, or just go out and discover the city your way. You'll be amazed at all the wonderful things you fine.
Tours to Book:
Where is the Best Place to Stay in Rome?
The best locations for tourists in Rome are the area between the Roman Forum and the Trevi Fountain, called Rione i Monti (or Monti, for short), around the Pantheon to Piazza Navona and Campo Marzio, where the Spanish Steps are located.
Trastevere is also a great place to stay, but it's a bit further removed from the main sights.
Two great choices in the affordable luxury range near the Spanish Steps are The Inn at the Spanish Steps (with a gorgeous roof-top pool) and Il Palazzetto.
We also really enjoyed staying at Nerva Boutique Hotel in Monti – it's stylish and exclusive.
How Long Should You Spend in Rome?
Most travelers spend from 3-7 days in Rome. If you're short on time, or combining Rome with other Italy destinations, then 3 days in Rome is enough to see the main attractions and get a feel for the city.
The main sights most visitors wish to see are within close proximity to each other. You can expect to do a lot of walking, but it's easy to get from sight to sight. If you follow a dedicated itinerary, you can do it in 3 days.
However, if you really want to enjoy the city and see lesser-known sights, and sit at outdoor cafes like a local, you'll need up to 7 days to do it properly.
How to Get to Rome
International flights come into two different airports in Rome. There's the larger Rome Fiumicino (FCO) airport and the smaller Rome Ciampino (CIAO) airport.
From FCO, it's a 40-minute taxi ride or 30-minute train ride to the city center, depending on where you're going. From ICAO, it's a 35-minute taxi ride or 45-min bus ride.
On the train, there are regular departures from the train station located in Terminal 3. There are two trains that go in to Rome. One is the express train directly to Termini station in 30 minutes and with no stops in between.
The other option is a regional train that stops more often and takes longer. The express train costs 14€ and runs every 15 minutes. You can buy tickets from the vending machine in the airport.
When is the Best Time to Visit Rome?
Rome is always bustling with tourists, but there are a few months that are ideal for visiting the city, when there are less tourists, and the weather is at its best. Those months are April and May, and end of September through November.
It can get really hot in summer in Italy. I always do my best to avoid traveling there in July and August, as the heat coupled with the throngs of people is just not very enjoyable. If you can, avoid those months and visit in the spring or fall.
What To Eat in Rome
Rome has many food specialties, some that differ from other areas of Italy. If you want to get a real immersion in Rome, you must try these specialties:
Cacio e Pepe. This is one of my favorite things to eat in Rome. It's a very simple pasta dish that literally means "cheese and pepper".
The pasta used are special to this dish, like bucatini, they are thicker strands than spaghetti. And they are covered in Grana Padano or Parmesan cheese, butter, and ground black pepper.
Carbonara – Not too much different than Cacio e Pepe, Carbonara is made with egg, hard cheese, guanciale, and black pepper. The pasta itself can vary from spaghetti alla carbonara to rigatoni alla carbonara.
Bucatini all'amatriciana – To finish off the list of most popular pastas in Rome, you must try all'amatriciana, which has a sauce of black pepper, red pepper, guanciale, Pecorino cheese, and tomato.
Suppli – If you like Arancini, you'll love Suppli. It's a fried ball of rice with a filling of tomato sauce and melted mozzarella. You can find really delicious variations at Supplizio.
Gelato – Of course you can't go to Rome without sampling the various gelato flavors. You will find a gelato stand on nearly every block.
Pizza al Taglio – Translation: Pizza by the slice. This pizza is baked in large rectangular pies and cut into squares. You can find it at street food stalls or quick stop shops all over Rome. Pop in where you see a line and try a slice.
Aperol Spritz – Don't forget the iconic drink of Italy! Everyone will be sitting around outside on a nice day sipping on this gorgeous orange-colored cocktail with Aperol, Prosecco, and soda water.
Chianti or Sangiovese wine – With Tuscany and Chianti regions being so close to Rome, you'll find an amazing selection of both of these wines to drink.
Essential Travel Guide to Rome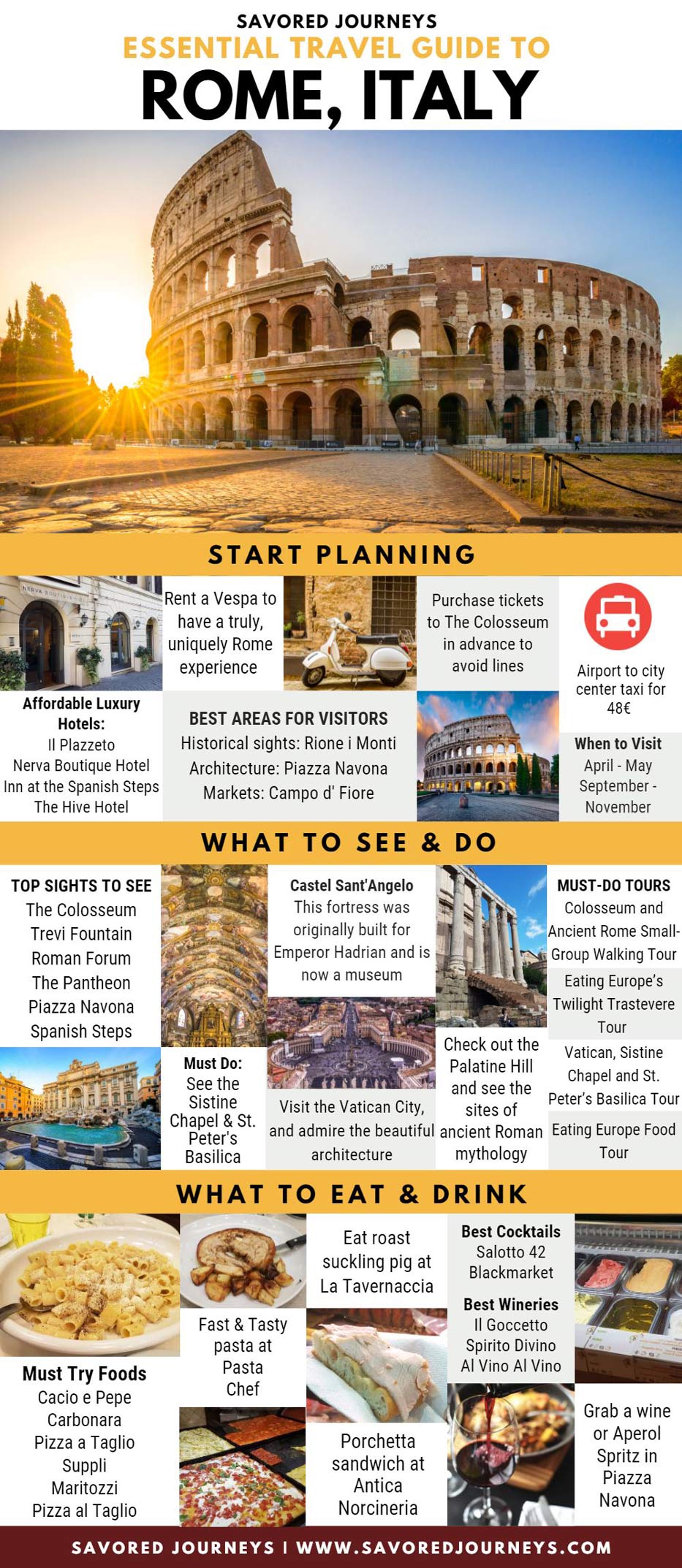 CONCLUSION
No matter how much time you spend in Rome – from just a few days to a full month – you'll be able to discover fascinating parts of the city you would never believe existed.
We hope this travel guide to Rome helps you easily plan your trip. We're happy to help answer your questions, if you need help planning.
Like this post? Pin it to Pinterest!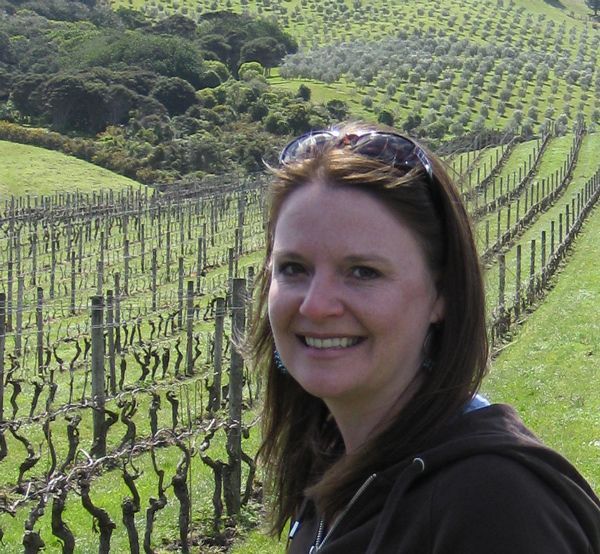 Laura Lynch, creator and writer of Savored Journeys, is an avid world traveler, certified wine expert, and international food specialist. She has written about travel and food for over 20 years and has visited over 75 countries.