I have been really fortunate over the past year to have "met" so many great travel bloggers online and to become acquainted with their blogs and their travels. It's almost like having coworkers, and it makes working at home alone so much more bearable. That's why I'm so excited that I was nominated for the Sisterhood of the World Bloggers Award by my fellow blogger, Maggie, from the awesome blog Mags on the Move. Thanks Maggie! You made my day by nominating me!
Here are the rules. Once nominated, you thank the blogger that nominated you (Thanks Maggie!) and answer their 10 questions. Then, you pass along this award to 10 other bloggers you believe deserve it, along with 10 questions of your own for them to answer.
Without further ado, here are my answers:
1. If you could only return to one destination (aside from where you live) for the rest of your life, where would it be?
This question is always hard for me to answer, because I'm not the type of traveler who returns to the same place twice. I like to see new things and never really get attached to one particular spot. I guess if I had to pick one place, it would be Cape Town, South Africa. It's so beautiful there and it has a little bit of everything I love – wine, good food, the ocean, great views, wild animals. It's pretty much perfect.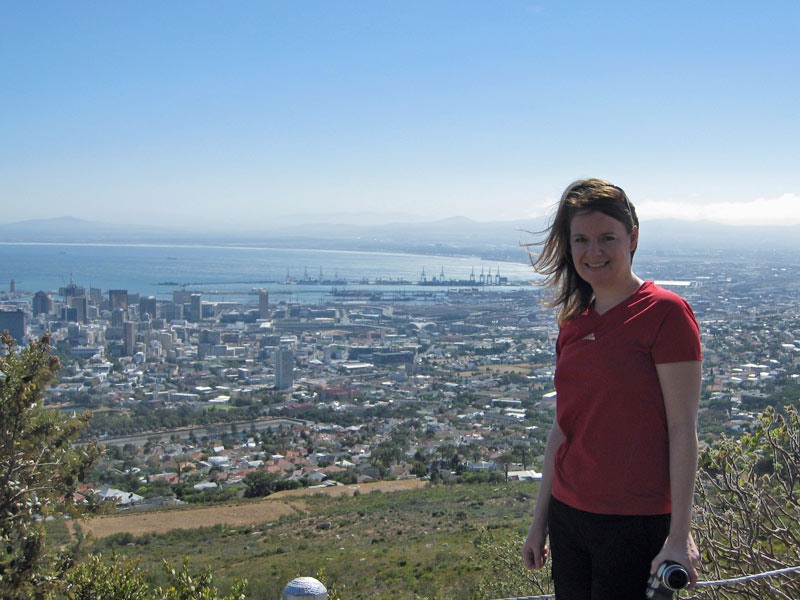 2. What's your least favorite place you've traveled to and why?
I can't name one place that was my least favorite. I've been to place that I didn't like as much as others, but there's not one place that particularly stands out among them. I try to make the best of every place we go, no matter what the issues might be, so in the end I've always come home with great memories. That's all I can ask for.
3. How far in advance do you usually plan a trip?
I generally start planning about 6 months in advance. We usually go on two International trips a year and I start planning the next one as soon as we get home. Though, there are many things that can't be booked or commit to until about 2 months in advance, so the first 4 months are usually when I scour reviews and formulate ideas.
4. What is the first thing you do when you arrive in a new city?
We really like going on food tours when we arrive in a new city, because it acquaints us with the cuisine and the foods we might want to try throughout our stay and it gives a really good lay of the land as far as things to see and restaurants that might be good to try. Plus, the guide is always an incredible resource of local knowledge that they don't mind sharing freely. We've been on many. Our favorite was in Istabul, but other favorites were in Estonia, Bangkok and Buenos Aires.
5. Do you have a favorite item you never travel with out? (particular suitcase, backpack, camera, etc.)
I hate to call him an "item" but one thing I never travel without is my husband, Nick. He's the best travel partner in the world. He's so much fun to be with, we always have something to talk about, even after spending 12 days straight of spending every minute together. He's so laid-back and calming, so when I'm frustrated or panicking, he's the voice of reason that sets everything straight again. Plus, he's willing and happy to go along with whatever I've planned for us.
6. Share your best travel memory or experience.
In 2011, Nick and I went to New Zealand and Fiji. We were staying in a fun little bungalow on the beach in Fiji and we were walking back from dinner one night along the beach when Nick surprised me with a ring and asked me to marry him. I'll always remember that special night under the stars in Fiji.
7. Now, share your worst.
I've been very fortunate not to have any major travel mishaps, so I don't have a particularly bad memory or experience to share. The most awkward and terrifying moment I've had was when we were attempting to navigate the tiny streets in Uchisar, Turkey in our stick-shift rental car. We'd gone down a particularly narrow alley to find we'd been blocked in by another car and would have to reverse to get out. I managed to get us wedged between a building and a cliff that my limited shifting ability was not capable of getting us out of. We had to leave the car there and go to the hotel for help. It was worth it though because Cappadocia is an incredible place.
8. How long have you been blogging and what inspired you to start?
I started my blog a year and two months ago. I've always been a writer and a traveler, I just hadn't put the two together before then. Nick and I were discussing ways that I could share my travel knowledge and becoming a travel agent just didn't seem like that much fun, so I opted for blogging. I love it and I hope I'm always doing it.
9. Where was the last place you traveled?
We just got back from a 12-day cruise to Northern Europe. We visited 7 countries, with our great friends from The Vintage Gourmet – Sweden, Finland, Russia, Estonia, Germany, Denmark and The Netherlands. The last country we visited, The Netherlands, was the 50th country that I've been to, so it was a big one for me.
10. Where are you headed to next?
Our next trip will be to Mexico City and Cuba, both of which I've been wanting to go to for a long time. Living in the U.S., we are so close to Mexico that we don't give it much thought as a travel destination, but Mexico City has always been on my list – the food is particularly alluring to me. And, of course, Cuba has only been a dream destination for so long, given the relations between the two countries, but now that it's opening up a little more, it's definitely time to go before the old classic cars and charming slices of a bygone era are all replaced with newer, more modern conveniences for travelers.
Who I'm Nominating (…should they choose to accept)
Sarah-Jane from Chasing the Donkey
Megan from Mapping Megan
Shelly from Norway to Nowhere
KP Schwan from Where in the World
Jessica Kay from A Passion and a Passport
Chrysoula Manika from Travel Passionate
Gemma Orrock from Two Scots Abraod
Annemarie from Travel on the Brain
Emma Hart Paper Planes & Caramel Waffles
Katie from Around the World in KT Days
Questions
Where was your first International trip? Would you go back?
Where would you go if there were no obstacles (time, money, etc)?
When and why did you start your travel blog?
What is one awesome travel tip you can pass on to other travelers?
What's one thing about yourself that you're the most proud of?
What is your biggest phobia?
If your life was a movie, what would it be titled?
What are the top 3 destinations on your bucket list and why?
Where was the last place you traveled?
What is your favorite place you've ever been?