This article has links to products and services we recommend, which we may make commission from.
This is a guest post by Mike from HoiAnNow.com.
There's nothing like supping on a hearty broth to get you ready for the day and energize your mood.
Luckily there are many venues where you can have your fill of the top soups to try in Hoi An, with both Vietnamese and Western styles available. They're perfect for the adventurous foodie!
Three of the most popular and tastiest Vietnamese soups to enjoy include Phở, Bún bò Huế and Cháo Vit.
You can find all of these soups at hawker (street) vendors and sometimes in the smaller, local restaurants.
There's nothing like a good soup for the soul. We're talking about local concoctions brewing in big hotpots and brimming with ageless remedies, secret herbs and spices wafting from the steam; broths that are made with tender loving care and spooned down from generation to generation.
And let's face it, real soul food comes from the streets. If you want the most authentic street-food experience in Hoi An, look for venues crowded with locals. That's how you know you've found the really good stuff.
What The Phở?
Phở is considered Vietnam's "national dish" due to its widespread popularity. It is the food of the common people; bona fide street food. Originally from Hanoi,  phở is the ultimate comfort food –  flavorsome and warm.
It is a noodle dish, of which the broth is essential. It is difficult to capture the complexity of a dish that looks deceivingly simple. If you haven't tried it, you better get to it.
Traditionally, the broth for phở is made with simmering beef or chicken bones, charred onion and spices such as Saigon cinnamon, star anise, ginger, coriander and cloves. It takes hours to prepare a decent stock.
The broth is added to white rice noodles and meat (you can have chicken, beef or a combination of the two which often includes organs and offal). Phở bo (phở made with tender beef slices) is the most popular choice and typical accompaniments are lime wedges, chilli, soy sauce, Thai basil and bean sprouts (the sprouts provide for a great crunchy texture).
Vietnamese culinary experts generally agree that the term phở is a derivative of the French word "feu" which means "fire." It's possible that phở is a Vietnamese adaptation of the French soup "pot au feu" or French beef stew, which the French introduced to Vietnam when they occupied the country. "Pot au feu" translates to "pot on the fire," indicating the lengthy time period needed to create the soup.
As suggested by the name, this noodle soup comes from the old imperial capital of Hue. Unlike phở, this broth is spicier and has a noticeable lemongrass zest.
Thin slices of marinated beef shank, as well as oxtail, pork and sometimes pork knuckles feature in the soup, as well as round rice noodles, bean sprouts, onion, cilantro, mint and banana blossom.
A dollop of shrimp paste is usually added as well as a healthy amount of chopped chilli. This tangy combination is a fantastic way to warm up and the spicy, tart flavors are a treat in the mouth.
Chow Into Cháo Vit
More a porridge than a soup, this Vietnamese favorite is an immensely delicious and filling meal. Unlike porridge made from oats, Asian porridge (or congee) is made from rice and always served savoury.
There are various versions of cháo (you can have it with any meat) but we recommend cháo vit, which is made with juicy portions of steamed duck.
Dished up from a huge kettle afloat with green onions and black pepper, cháo is spooned into a bowl and topped with tender duck meat and liver (although you can tell them to leave off the liver if you wish) and crispy shallots.
There is a jam-like sauce you typically add which mostly comprises red chilli, fish sauce, garlic, ginger and a hint of lemongrass. The porridge is accompanied with fresh vegetables and herbs. It's divine.
Vietnamese Restaurants That Soup It Up
Beyond the dishes mentioned above, there are a number of locally-inspired soups found on the menus of Vietnamese restaurants in town.
A typical Hoi An soup will have fish inside, such as river trout, snapper or sea bass and often blends sweet and sour flavors together in the broth (for example, pineapple chunks are juxtaposed with lady fingers, onion, basil and chilli).
You can almost always find this type of soup locally and it's a refreshing dish to try. Other classic soups are the Cabbage Rolls Soup (cabbage dumplings filled with either pork or shrimp) and Clams and Lemongrass Broth (order these on the beach for absolute freshness!).
For unique Vietnamese soup recipes that have been passed down within the family, I recommend Morning Glory restaurant (106 Nguyen Thai Hoc St). My favorites are the Seaweed Fish Soup with Fresh Oregano, Shrimp & Morning Glory Shoots Broth and Tofu and Garlic Chives in Pork Broth.
Hearty Gumbos From Western Menus
If you'd rather a good ol' hearty Western broth? You can certainly find these in town too. For a robust soup packed with vegetables and legumes, nothing beats the traditional Italian minestrone.
A great soup and one of the cornerstones of Italian cooking – minestrone is made from a tomato-influenced stock (could be a vegetable, chicken or beef stock).
The word "Minestrone" in Italian roughly translates to "the big soup", meaning it has many ingredients. If you're craving a proper home-style Italian minestrone than you should try Chef Alberto's at Good Morning Vietnam (the only Italian restaurant in Hoi An on 102 Nguyen Thai Hoc St).
For other Western staples of the potage variety, try River Lounge (their pumpkin soup has a twist with coconut cream and a capsicum foam), Casa Verde (Chef Gustav is a master cook whose clientele mostly comprises expats in need of top notch Western-style dishes) or Tam Tam (a long-established restaurant that also has decent international choices, including classic Western soups).
________________________________
ABOUT THE AUTHOR
Mike is currently living life as a "Digital Nomad". When he's not carrying around his backpack – he's helping out here.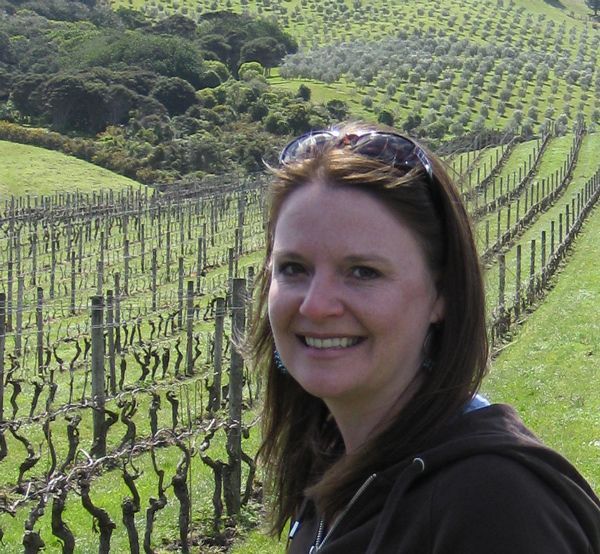 Laura Lynch, creator and writer of Savored Journeys, is an avid world traveler, certified wine expert, and international food specialist. She has written about travel and food for over 20 years and has visited 70+ countries.