This article has links to products and services we recommend, which we may make commission from.
Located in the south west of England, just an hour and a half drive from London's Heathrow airport, is the fun and vivacious town of Bristol. The city is located along the River Avon and the old industrial port is now home to lively restaurants and museums.
During our visit to the south west of England, courtesy of VisitBritain, we had the chance to spend two days in Bristol, and it turned out to be a lot of fun.
If you're visiting the area, it's definitely worth it to at least spend two days in Bristol. We had spent a few days in Bath, prior to stopping in Bristol, and the two together provided us with contrasting views of the south west of England.
We arrived in Bristol with a few things we wanted to do on our list, but the rest of the time we spend just wandering around exploring.
There are a lot of great museums and cultural areas of the city to walk around. If you arrive there with a rough plan, you'll be able to get around to everything you want to see in just two days in Bristol. For your overnight, check out this guide for where to stay in Bristol.
Here are a few of our favorite activities in Bristol to get you started.
Bristol Street Art Tour
A company called WheretheWall conducts the original, and most comprehensive, street art tour in Bristol every Saturday and Sunday during the spring and every day in the summer. The tour starts promptly at 11am from the College Green and takes you around town to see some of the best and most creative street art in the city. What sets this tour apart from others is that their tour guides are immersed in the Bristol street art community and know the artists personally.
Read more about the Bristol Street Art Tour
Our guide was John Nation, who has been called the Godfather of Bristol urban art. He has worked with the Bristol youth for decades, trying to provide a legal way for them to showcase their talents and turn what would be illegal graffiti into something enjoyable for the community and worthwhile for the youth. He and their other tour guides have the insider knowledge that makes the tour both up to date with the newest art and thoroughly educational. You'll get to see some of the famous Banksy paintings, along with commissioned pieces and freshly painted art by up-and-coming Bristol taggers.
To Book: bookings@wherethewall.com | Phone: (0) 7748 632 663
Harbourside
Once a busy port bustling with sailors and merchants, the Harbourside in Bristol has been renovated through the years and has blossomed as one of the top spots in the city. We spent a lot of time at Harbourside enjoying the restaurants, walking along the waterfront, checking out the Saturday market stalls that pop up along the walkway, and stopping in to a few places for beer and cider along the way.
The Harbourside is packed full of great places to eat, but our favorite was Bordeaux Quay, an all-in-one restaurant, brasserie, bar, deli and bakery. The food at the brasserie was fantastic – we had a delicious steak sandwich and fish and chips – and then we walked around the deli perusing through the products and admiring the freshly baked breads and homemade sandwiches. Upstairs is a full restaurant and bar with a really great view of the waterfront.
Website: http://www.harboursidealive.co.uk/
Bristol Cider Shop
We love to try new beers and ciders when we travel and England has a lot of both. One of the best places in Bristol to check out the variety of ciders is the Bristol Cider Shop. They stock over 100 varieties of ciders and perry, and everything sold there is made within 50 miles of the shop. If you're lucky, there will be a cider tasting while you're there. Check their website for details. Tastings last about an hour and a half and include 10 different ciders plus bread and cheese. If you aren't there on the right day for a tasting, we found that a good alternate place to try the ciders of the area is The Stable in the Harbourside shops.
SS Great Britain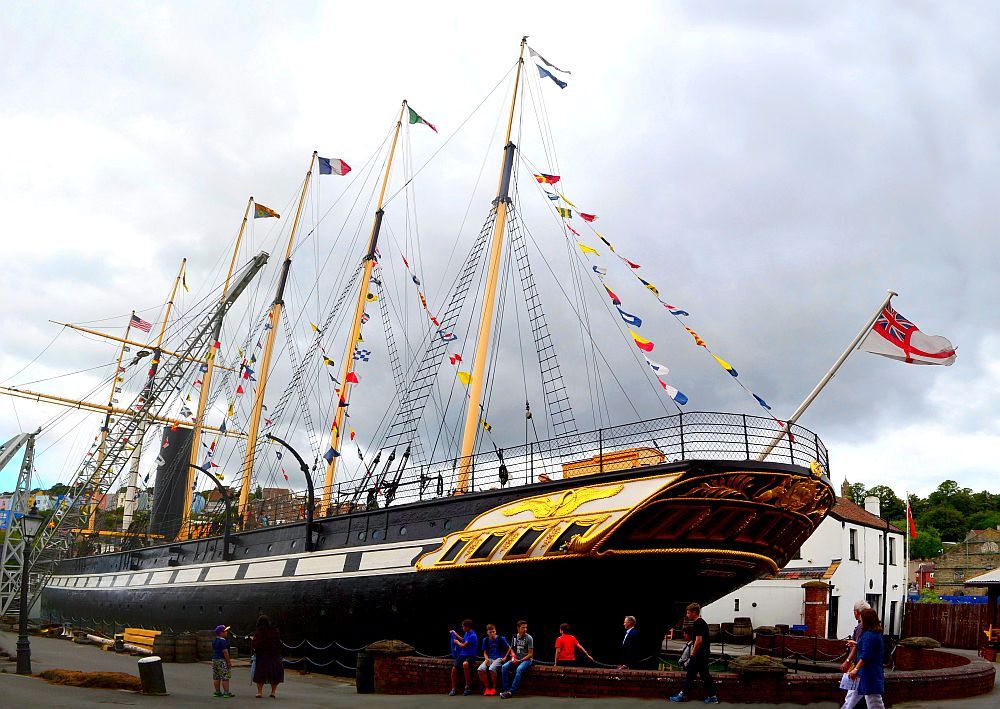 This isn't your typical dull old boat, it's a national treasure and an engineering marvel. At the time of her launch in 1843, she was the largest ship in the world, intended for luxury trans-Atlantic passenger travel. The engineer behind this vessel is Isambard Kingdom Brunel, a 19th-century engineering great. When you visit the ship, you can go aboard and pretend to be a passenger, check out the galley, the luxury cabins and the cargo hold. It's a fascinating look at what it was like to travel on the world's first ocean liner.
Ticket prices: Adult – £14; Child – £8. Family and group discounts available.
Website: http://www.ssgreatbritain.org/your-visit/tickets
Cookery School at Bordeaux Quay
As I already mentioned, Bordeaux Quay is an all-in-one kind of place, with a brasserie, restaurant, bar and bakery. Well, they also have a cookery school, with adult and kid classes available throughout the year, as well as for private hire. For tourists, the best option is to join in a one-day cookery class, like Italian, Bread or Foundation Skills. The classroom is a bright and open modern kitchen and the class size is small. All classes are £150.
Website: http://www.bordeaux-quay.co.uk/cookery-school-adult-classes Phone: 0117 942 1200
M Shed
Celebrating the city's past, M Shed is a museum full of city pride. You'll find exhibits that showcase the city's people, places and life from prehistoric times through to the present day in the 4-story building on the harbour docks. It's free to get in and it's a great place to take the kids to play with and enjoy the interactive displays. Just out front are electric cargo cranes from the big days of Bristol trading in the 1950s. You can even board The Henbury and Portbury steam locomotives from the early 1900s for a ride along the docks. Steam boats, tug boats and fire boats can also be seen out in front of the musuem. It's a great place to spend a few hours.
Website: https://www.bristolmuseums.org.uk/m-shed/ Phone: 0117 352 6600
These were our favorites in Bristol. With two days to spend, you can see a good bit of the city and fall in love with its history and the new modern vibe that is happening there now. It's a great city for walking.
A big thank you to VisitBritain and VisitBristol for hosting our visit to Bristol. See all the coverage of our trip to the south west of England.
(As always, all thoughts and opinions expressed in this post are my own honest reflection on our travel experiences).