One of the most alluring reasons to visit Scotland is to visit the Speyside distilleries along the Malt Whisky Trail outside of Inverness in the Scottish Highlands. If you've always wanted to take a trip to learn more about Scotland's whisky, this is absolutely the trip for you.
You'll want to set up a few of the best Speyside distillery tours in advance of your trip, to make sure you have an itinerary that covers all the distilleries you want to visit. The area is attracting more and more tourists, so it's important to plan ahead. It takes around 2-3 days to cover the Malt Whisky Trail in Speyside.
If you're a true whisky fan, looking to cover as much ground as possible, you could spend up to five days hopping from one distillery to another, and enjoying the countryside as you go. We managed to fit a visit to all 9 distilleries on our 3-day trip, so this guide will help you plan out the entire official Malt Whisky Trail.
Keep reading to learn more about how to plan your trip, which whisky distilleries to visit, and how to get to and navigate the Malt Whisky Trail.
» If you're coming from the United States to Scotland, check out our 7-day itinerary that covers the west of Scotland and the Isle of Skye, or this week-long itinerary to the east. You'll also love visiting Edinburgh.
What is the Malt Whisky Trail?
The Malt Whisky Trail was started by to offer visitors a way to discover the Moray Speyside region of Scotland. It is made up of a collection of distilleries and whisky-related businesses. On the Malt Whisky Trail you'll discover historic distilleries, famous whisky brands, and even learn how the whisky barrels are made.
You may not know this, but Speyside has the world's largest concentration of Scotch malt whisky distilleries in the world. While there are many choices of distilleries to visit, we think the Malt Whisky Trail gives you a really easy way to meet the distillers, visit both major brands and small boutique brands, and have a great time along the way.
The Malt Whisky Trail is made up of nine Speyside distilleries you can visit and enjoy. We've got an overview of each in more detail below, including when and how to visit them.
Benromach
Cardhu
Glen Grant
Glen Moray
Glenfiddich
The Glenlivet
Strathlisa
Dallas Dhu
The Speyside Cooperage
How to Get to the Speyside Distilleries
The easiest way to get to the Speyside region is to fly into either Inverness or Aberdeen International airports in Scotland. There are regular flights daily that connect these airports with the major cities you will probably fly into, like London, Paris, Edinburgh or Dublin.
Inverness is to the west of the Malt Whisky Trail and Aberdeen is to the east. They are both about equidistant, so fly into the one that offers the best connections for your trip.
You'll need to rent a car at the airport so you can get around to the distilleries. Speyside is very much the countryside of Scotland. There are very few public transport options, and only a handful of the distilleries are located on a transport line. We like to book cars through Rental Cars Direct – that's where we usually find the best deals.
How to Visit the Best Speyside Distilleries in 3 Days
Most visitors to Speyside choose to spend 2-3 days visiting distilleries. Any more time and you'll probably be ready to start your own distillery with all the tips you've picked up on the tours.
We wanted to finish the entire Malt Whisky Trail, which took us three full days. However, we could have easily stopped at two days and felt like we'd gotten a great overview. Below you'll find a full three day's worth of whisky tours. You can pick and choose as it fits your schedule.
Maybe you only want to visit 3 over three days time, or you want to try to do 4 in two days – it's up to you to mix and match. If you're wanting to finish all nine in three days, like we did, we recommend flying into Inverness the night before to be able to get an early start on the first day. (See below for hotel recommendations).
DAY ONE
10:00am – Glenlivet
Glenlivet offers three different tours. You should book a time in advance to avoid disappointment. It is fairly busy all the time, so tours can fill up fast. They have a cafe/restaurant with a full menu and a whisky store where you can buy some bottles to take home with you.
There's a large, free car park right in front of the building. Just in case you don't want to take the full tour, you can also try the whisky without a tour.
Glenlivet Classic Tour: £10 per person; Duration: 1 hour 15 mins (book here)
Drams of Distinction Tasting: £40 per person; Duration: 1 hour (book here)
Definitive Spirit: £65 per person; Duration: 2 hour, 30 mins (book here)
Location: Castleton Of Blairfindy, Glenlivet AB37 9DB | Website
Hours: Open mid March to early November, Monday to Sunday from 9.30am to 6pm. Tours depart every 30 minutes from 10am, with the last tour at 4.30pm.
12:30pm – Lunch at Glenlivet cafe or bring a picnic
(25 min drive to Cardhu)
14:00 – Cardhu
The Cardhu Distillery is part of a larger conglomeration of distilleries. They feature a 12, 15 and 18-year-old whiskies It is home to the famous Johnny Walker blend. The small visitor center is where you'll meet to start your tour and do a tasting.
You can take home your samples if you're the designated driver. They also have a shop where you can purchase bottles. There aren't any food options nearby.
Cardhu Distillery Tour: £6 per person; Duration: 40 mins. Includes a tour and dram of single malt whisky (book here)
"Guess Dhu" Tour: £10.50 per person; Duration: 1 hour. Includes a tour plus nosing and blind tasting of 3 whiskies + free whisky glass (book here)
Cardhu Collection Tour: £20 per person; Duration: 1 hour, 15 mins. Includes a tour plus nosing and tasting of the Cardhu range + free whisky glass (book here)
Location: Knockando, Aberlour AB38 7RY
Hours: Open Monday- Friday year around 10am to 4pm. April to September open til 5pm. May to September also open Saturday til 5pm and Sunday til 4pm. (20 min drive to The Speyside Cooperage)
16:00 – The Speyside Cooperage
It's fairly likely that two distilleries is enough for most people to do in a day, so the Speyside Cooperage gives an alternate activity to add to your schedule. This is where the whisky casks are made, and you can actually watch the coopers making barrels most days.
A tour of the cooperage takes you through a video history of the craft and the cooperage, then you'll go up to the viewing platform where you can watch the action. The grounds of the cooperage are large and provide plenty of space for a picnic.
They have a small cafe with a few sandwiches, soups and homemade bread and pastries.
Classic Tour: £3.50 per person; Duration: 45 mins. Includes a tour and dram of single malt whisky (book here)
VIP Tour: Duration: 1 hour, 30 min; An experience cooper will take you on a tour of the facility and will then help you construct your own mini-cask. Email for pricing.
Location: Dufftown Road, Craigellachie, Banffshire, Aberlour AB38 9RS
Hours: Mon-Fri 9am to 5pm; Tours every half hour from 9-3:30pm. Closed for Christmas holidays.
DAY TWO
10:00 – Glenfiddich
For many whisky lovers, a visit to Glenfiddich is an absolute must. I can vouch for the experience. It might be a major, well-known brand, but the distillery tour is fantastic and well worth the time. It was our favorite one of all the stops along the Malt Whisky Trail. The distillery was founded in 1886 by William Grant and is currently still being run by the fifth generation of his family.
Explorer's Tour: £10 per person; Duration: 90 mins. Includes a tour and tasting of 4 single malt whiskies (book here)
Solera – Deconstructed Tour: £50 per person; Duration: 2 hours, 30 mins. Includes a tour of Warehouse 8 where the Solera whisky is aged, then on to the malt master blending room where you get to taste a variety of cask samples and blend your own mini bottle of whisky to take home (book here)
Pioneer Tour: £95 per person; Duration: 4 hours. Includes a tour and dram of single malt whisky (book here)
Location: Dufftown, Keith AB55 4DH | Website
Hours: 9:30am – 4pm everyday
12:30 – Lunch (Glenfiddich Cafe or nearby restaurants)
(15 min drive to Glen Grant)
2pm – Glen Grant
We really enjoyed this distillery because it's a bit more than just a distillery tour and tasting. Visitors can also walk around the Victorian gardens that surround the distillery. There's a nice path that leads around the garden, plus benches and plenty of space to relax on the grass.
After that, you can go on a 45-minute tour that includes two tastings. Tours leave regularly and bookings are not necessary. The cost is £7.50 or just £5 to walk around the gardens.
Location: Elgin Road, Aberlour AB38 7BS  | Website
Hours: 9:30am – 5pm every day except Sunday 12pm-5pm (20 min drive to Strathisla)
4pm – Strathisla
Strathisla distillery is the oldest continuously operating distillery in Scotland, built in 1786. Today it is home to Chivas Regal, but the distillery also makes their own single malt whisky to uphold the tradition.
Tours of the distillery leave every hour from 10am until 4pm Monday to Saturday and from 12pm to 4pm on Sundays. Appointments are not necessary for the traditional tour, although we think it's best to call in advance to make sure the time slot you need is available.
Visitors under 18's are not permitted in the production areas, but are welcome in the Visitor Centre).
Traditional Distillery Tour – £15 per person. Duration: 1+ hour. Includes a tour of the distillery with seated tutored tasting of four whiskies in the library.
Chivas Regal Blending Experience – £60 per person; Duration: 2hrs 15mins. Includes a tour of the distillery and a tasting of some special drams, plus an opportunity to create your own blend in the style of Chivas Regal. You can take your blend home with you in a small bottle.
Straight from the Cask (Connoisseur Tour) – £50 per person; Duration: 2hrs 15mins. Includes a tour with one of the top guides through the distillery and a chance to try some limited edition cask strength Single Malts, exclusive to the Chivas Brothers' portfolio.
If you don't have time for a tour, you can also stop by the bar behind the visitor center for a tasting of 3 drams, or to choose special whiskies you'd like to try.
Location: Seafield Avenue, Keith, Banffshire | Website
Hours: 9:30am – 6pm every day (hours may change in the winter)
DAY THREE
11am: Glen Moray
This distillery is located within the town of Elgin, making it a convenient first stop if you're staying there. You'll find that it's a rather laidback and welcoming place, with tables inside and out where you can enjoy your drams. They also serve food.
Distillery Tour: £5 per person. Duration: 1 hour. Includes a tour and tasting. Tour times are Monday to Friday 9.30, 11.00, 12.30, 2.00 and 3.30, Saturday 10.30, 12.00, 1.30 and 3.00. Bookings are recommended.
Fifth Chapter Tour: £50 per person. Duration: 1 hour. An in-depth tour and tasting with Distillery Manager.
Tastings Only: You can also stop by for a tasting only, if you don't want to participate in the tour. They have an essential, select and exclusive tasting flight ranging from £5-£20.
Location: Bruceland Road, Elgin, IV30 1YE | Website
Hours: Mon-Fri 9am-5pm; Sat 10am – 4:30pm (closed on Sat in winter)
Noon – Stay at Glen Moray for lunch, or head into the town of Elgin.
(25 min drive to Benromach)
1:30 pm – Benromach
This distillery has been making whisky since 1898 using the same spring water from the nearby Romach Hills. Their visitor center has a lot of options to offer for tours and tastings.
The Classic Tour – £6 per person. Duration: 1 hour. Includes a 30 min tour through the distillery followed by a tasting of their 10-year whisky.
The Contrast Tour – £20 per person. Duration: 90 mins. Includes a longer tour with a tasting of the contrasting flavors of their single malt whisky expressions.
The Heritage Tour – £60 per person. Duration: 2 hours. Includes an in depth tour of the distillery plus a tasting of the Benromach Whisky range.
Meet the Maker – £125 per person. Duration: 2 hours. Includes a tour through the distillery with a manager to learn about all the technical aspects, spirits development and cask production in the distillery. Followed by an informative tour and a bottle of exclusive whisky to take home.
Tastings Only – You can also stop by for a tasting only, if you don't want to participate in the tour. They offer their classic, contrast and heritage tasting flights ranging from £10-£35.
Location: Invererne Rd, Forres IV36 3EB | Website
Hours: Mon-Fri 10am – 4pm (Saturday & Sunday during the summer only) Check website for detailed hours. (8 min drive to Dallas Dhu)
3:00: Dallas Dhu Distillery
If you're starting to get whisky logged, don't worry. The Dallas Dhu Distillery no longer makes whisky. They are still a historic distillery with a tour, however. According to the Malt Whisky Trail website, "Step back in time to see how whisky was made in the 1900s.
Get up close to the old machinery and processes which helped make Speyside whisky a global brand, and sample a dram for yourself." If you have a Historic Scotland Member pass, you can get in for free. Otherwise, the cost is £6 for an audio tour and dram tasting.
There are no set tour times. You will take a self-guided tour through the facility with an audio guide.
Location: Mannachie Road, Forres, Morayshire, IV36 2RR | Website
Hours: Mon-Sat 9:30-5:30 in summer; Sat-Wed 10am-4pm in winter.
Where to Stay in Speyside
There are many towns that make up this area, so you'll have to decide what makes the most sense for you and how you travel. We knew we wanted to be located in an area where we could easily find restaurants and services, so we stayed in the town of Elgin at the St. Michael's Guesthouse.
Another option would be to stay out in the countryside, so you're closer to all of the stops on the Malt Whisky Trail. The Craigellachie Hotel would be my top pick for a luxury hotel, but make sure to reserve far in advance because it tends to fill up fast.
CONCLUSION
That completes the entire Malt Whisky Trail. If you can make it around to all 9 of these stops, you've done it all! Of course, there are plenty of other distilleries and points of interest along the way, so you haven't see it all just yet. I guess that means you'll have to come back for another trip.
Let us know how you enjoyed this trip and if you have any favorites.
Want to save this information for later? Pin it on your Pinterest board.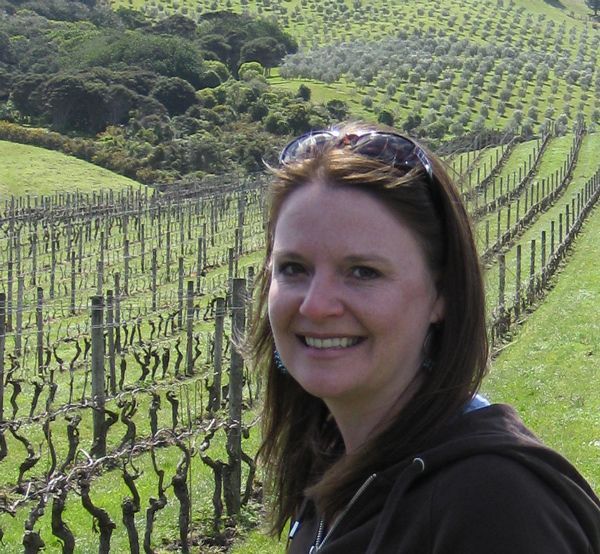 Laura Lynch, creator and writer of Savored Journeys, is an avid world traveler, certified wine expert, and international food specialist. She has written about travel and food for over 20 years and has visited 70+ countries.