For almost three years now I've been coordinating a Supper Club with my friends where we choose specific ingredients (sorta like a more relaxed version of Chopped) and then come together to share our delicious creations. Every time we have one, our friends and family members ask for photos so they can see what we've made and enjoy the experience vicariously. Learn how to start your own Supper Club.
Until this past month, I haven't been very good at taking the necessary photos and collecting the recipes to be able to do it any justice in a blog post, but this month I was a good little food writer. I took tons of photos and I'm finally able to relive our supper club here for everyone to enjoy. And I'm really happy to share it, because we did a fantastic job and the pictures are scrumptious. Now if only I could add scratch and sniff.
As I mentioned, we always have specific ingredients that we cook with. The host chooses those ingredients ahead of time, so it was Nick's and my turn this month. When we're choosing, I usually find a recipe that I really like and pick the ingredients from there. This is what we chose:
Veal – Parmesan – Mint – Brandy
When we're not the hosts, our only job is to scour through recipes and concepts and make the best, most inventive dish from the given ingredients as possible. It often takes days (for me at least) to pick a recipe, as I am (somewhat) addicted to Pinterest (follow me!) and I get mesmerized by all the possibilities.
Each couple also picks out the wine that will pair with their meal. And we always end up with a really nice variety. This time, we had two great reds from Woodinville wineries. Harvester's Red from Piccola Cellars and Serendipity from Red Sky. We also had a Pinot Gris from 14 Hands, an Avissi Prosecco and a dry cider from Grizzly Ciderworks.
We thought when we started this concept that we would all inevitably end up making the same dish, or something so similar that it wouldn't be very fun, but that has never been the case. We always end up with a wide range of styles. Along with the opportunity to see our friends more regularly and the very lively conversation that always ensues, my favorite part of Supper Club is the element of surprise as each dish is revealed and everyone exclaims in surprise and awe.
As the hosts of the round, we had a few additional jobs. We provided the opening cocktail, the appetizers and the dessert. It was such a nice, Spring-like day outside that I threw in Caprese skewers as an amuse bouche, as well. While I prepared the snacks, Nick made the cocktails. We incorporated the brandy from the ingredients list into our cocktail to make a sidecar, which has brandy, orange liquor and lemon juice.
Appetizers: Arancini paired with 14 Hands Reserve Pinot Gris
For the appetizer, we wanted to make Arancini (mozzarella-stuffed rice balls), but we've made them before and they were a big disaster. They turned out dry and the mozzarella disappeared inside. I was worried they'd turn out just as bad this time around, so I used a Serious Eats recipe that went into great detail about how to ensure a creamy, cheesy interior. Kudos to them because I followed the recipe exactly, even using the pressure cooker to make the rice, with incredible results!
First Course: Veal-Stuffed Apples paired with Avissi Prosecco
For the first course, Heidi made Veal-stuffed Apples. She modified a recipe from Astray Recipes for the apples, but made a couple of key ingredient changes. Instead of walnuts, she used pine nuts, which gave just the right texture without the sometimes bitter taste of walnuts. Since mint was one of the chosen ingredients, she added mint to the veal stock, and she chose not to peel the apples.
Second Course: Veal-stuffed Phyllo with Mint Chutney and Radishes paired with Red Sky Serendipity
Mike and Ann-Li made a Phyllo triangle stuffed with curried veal and mushrooms, topped with a mint chutney. Served alongside the pastry was crunchy radishes in yogurt. It was a really beautiful dish. The pastry was so perfectly browned and crunchy. They didn't provide me with a recipe, but I found one for the Phyllo triangles that is very similar but uses beef instead of veal (which is much better for an everyday meal anyway).
Third Course: Veal Involtini with Proscuitto and Parmesan paired with Piccola Cellars Harvester's Red
For our main dish, we used a Bon Appétit recipes for Veal Involtini with Proscuitto and Parmesan. Now you can see why we chose these specific ingredients. I have to admit, I was too consumed with the fact that we almost melted the plastic right off our microwave when we added the brandy to the sauce and it flared up. So I ended up allowing the sauce to break. Looking back at the reciipe, we were also supposed to put the sauce on the plate first, so as not to cover up the beautiful rolls of meat (sorry Bon Appétit), but oh well. It all tasted the same in the end.
Dessert: Salted-Caramel Apple Hand Pie paired with Grizzly Ciderworks The Ridge Original Dry Cider
I'm not really a dessert person. I prefer to drink my dessert, usually. But the caramel apple hand pies we made for dessert turned out to my one of my favorite parts of the entire meal. The pies contained Granny Smith apples, caramel pieces and a sprinkle of flake salt. They were served with a dollop of vanilla ice cream and some caramel sauce. I liked the compact size, and that made the ratio of apple to crust just right.
If you'd like to start your own supper club, I promise it's super easy to do and it will be incredibly rewarding. You don't have to be a fabulous cook (just look at the mistakes we made this time!), you don't have to have a fancy kitchen or even matching dishes.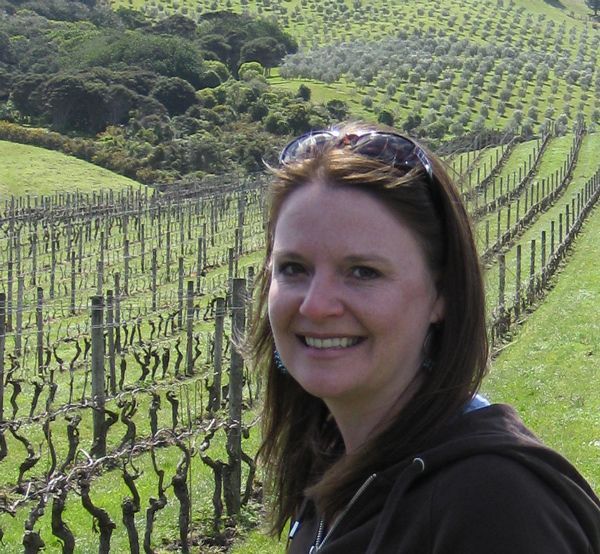 Laura Lynch, creator and writer of Savored Journeys, is an avid world traveler, certified wine expert, and international food specialist. She has written about travel and food for over 20 years and has visited 70+ countries.