The whole idea behind Savored Journeys is exploring and discovering great food and drink around the world. But what about all the delicious experiences you can have while at home? When you're not out traveling and eating exotic foods, meals had at home should be just as savored. That's why you should start you own Supper Club at home!
I've participated in a number of supper clubs over the years (over 10 years to be exact). All have been different in style, but most importantly, they've all been great fun. I've passed along my love for supper club to many of my friends along the way, encouraging them to start their own, to join mine or even just to live vicariously through the photos I post of delicious meals that have been served at my events. But I'm here to tell you — it's incredibly easy to start your own club and given the low level of effort, the return on investment will far exceed your expectations.
What is Supper Club?
Let's start with the basics. What is a supper club, anyway?
In some parts of the world (London for instance) a Supper Club is a popup or underground informal restaurant where diners are given special invitation to join as a professional chef or aspiring chef cooks a fabulous meal for them. But it can also refer to a group that visits different restaurants or cooks at home.
For our informal, at-home purposes, a Supper Club is just a fun gathering of friends around the table to share a passion for cooking (and eating!), a delicious meal and good conversation. How you wish to put together your club and what the rules will be, are entirely up to you.
The important part is not to let the details get in the way of actually getting started. You can adjust the specifics later, if necessary.
Define your goal
I've started three of my own supper clubs, and as I said earlier, they've all been different. What you want the club to be and what you're hoping to get out of it is what will make your club unique, and that has to be decided up front. Do you want a large club that's more like a cocktail party than a formal dinner? Do you want a more intimate affair with only exceptionally creative and seasoned cooks? Will the purpose be to meet and make new friends or to invest more deeply in current friendships? Will the date be flexible or fixed?
Define your concept
The general concept is always the same: A specific number of people (usually a number that most hosts can accommodate for dining) are invited, a host or designee provides the location and the food, and everyone has a great time.
The most basic format would call for rotating hosts. Each guest will be placed in a rotation and when its their turn, they host the dinner and provide all the food. Another choice would be to have the host create the menu and assign parts of the meal to the other participants to bring (someone brings the wine, someone brings the salad, and so forth). Alternatively, the host of your club could always be the same, or you could choose a neutral location like a condo party room where there is no set host.
Next, you should decide if you will have a theme. You could have an International theme, where each meal features a different country, or you could choose seasonal or monthly themes. Will your dinners be formal, dressy events, or casual potluck-type parties. Remember, you can always change your mind later.
Putting it all together
Once you've decided on a goal and a concept, it's easy to get started. Choose the guests to whom you will extend an invite. You'll want to send out an initial invitation that explains what the Supper Club is all about and how it will work. Keep the nitty-gritty details to a minimum, just provide a basic overview to gauge the response.
Don't be surprised if your invited guests are a little leery at first. You may have to do some convincing before all your guests are on board. See below for the top reasons why people are hesitant to join a supper club.
Once your initial invitation to join the group has been accepted, you can then send out the details of your first meeting. Since you're the organizer, you make the rules.
Establishing the rules
You'll now use the information you've already brainstormed above to establish the rules for your supper club. It can be as relaxed or defined as you want. Here are some possible things to consider:
How many guests will there be?
When and where will you meet?
Will there be one established host or rotational hosts?
Will this be a seated dinner or informal gathering?
Who will decide, make and provide the food?
Who will decide on and bring the wine or other beverages?
Will there be a theme?
Will there be any other interesting twists? (see below for more details)
How often will you meet?
Why people are hesitant to join
Common misconceptions often keep people from wanting to commit to a supper club at first. You may have even fretted about these issues yourself. Don't let these stand in your way.
Misconception #1: You need to be a fantastic cook to participate in a supper club.
That's just not the case. You will learn a lot by putting in your best effort, stretching yourself outside your comfort zone and embracing the challenge. And you will become a better cook because of it. That's almost guaranteed. But you don't need to have incredible cooking chops to join. Assure guests that, while some members will be better cooks than others, it's the camaraderie and common love of food that is more important.
Misconception #2: You need to have a fancy house with a big dining table and enough matching dinnerware to serve everyone.
If the concept is to have formal dinners with 12 people, then you shouldn't invite guests whom you know can't accommodate that requirement. But for an informal supper club, it won't matter if there's room at a table for everyone. It's just as fun to set up folding chairs or eat picnic style on the floor together. Assure guests that whatever they have available for hosting is totally fine. No fancy cutlery or pricey cookware set required.
Misconception #3: You're too busy to participate.
Unless you intend to meet up every week, the commitment is usually rather small. It's the equivalent to going out to dinner once a month or less. Who can't conceivably make time for ONE dinner out in a month? If you've invited someone who can't, it's either an excuse or they are the world's busiest person. It will consumes more time if you're the host – but you'll likely only host once or twice a year.
If you have a larger group where it doesn't matter if everyone show up, it might be possible to set a recurring date, like the 2nd Friday of each month, but be prepared for cancellations because there will always be conflicts with that method. In my supper club, we choose the next date together after dinner so everyone can look at their calendars and decide what's best. We've gone as little as three weeks to up to three months in between meetings in order to find a date that suits everyone, but then we commit to that date, and it always works out.


A Supper Club plan you can use today
If you want to start your supper club today, without having to spend hours thinking through concepts and deciding on themes, I have a great plan you can implement today to start your own club with very little effort. This is the plan that I use for my current supper club and we LOVE it. I'm sure you will too.
Goal: To expand our culinary and cooking knowledge and build on current friendships at a casual, seated dinner.
Guests: 6 or 8 people. This concept works best with couples, though cooking teams could be established instead.
Concept: One couple acts as host on a rotational basis. The host provides the location, an opening cocktail, appetizer and dessert. The host also decides which ingredients will be used for this round. Three or four ingredients are chosen and emailed to the group at least one week in advance (two is preferable for maximum creativity). We often choose a protein, a vegetable, a spice or herb or another random ingredient. For instance, our most recent dinner featured veal, Parmesan, mint and brandy.
Each couple then uses the chosen ingredients to create a main dish. They will also bring a bottle of wine that pairs with their main dish. Usually the dish they've made is kept secret for the element of surprise.
At the supper club, after opening cocktails and appetizers are finished, an order for serving the main course is established. We all divulge whether our dish is light or heavy, served with white or red wine, and that helps us determine who should go first and last. Each couple is then given time to finish cooking, put together their dish and present it as a course. It's best to keep portions small, especially if there are 4 couples. You want to be able to make it to dessert, after all!
In the past, I've done supper clubs that involved the host providing the entire meal from start to finish, the guests only providing the wine, but I've found this new concept to be much more engaging and rewarding. Everyone gets to participate each time, there's friendly banter about whose dish was the best, and you get to experience the same ingredients interpreted three or four different ways.
At first, we thought all the dishes would end up being the same, or so similar that it wouldn't be fun, but in over 15 rounds that we've already held, a dish has never been duplicated. In fact, we usually get such different dishes that we're amazed at the versatility and creativity we've all shown.
Other fun concepts or twists to add
There are a million ways you can make your supper club unique and fun. Adding a twist to a basic concept is the best way to spice it up. Here are a couple of ideas for adding a twist:
Add a theme each time: Mardi Gras night, Martini night, all-white night
Make it a Chopped or Iron Chef theme with friendly competition built in
Go out to dinner as a group instead of the usual dinner at home.
Have a progressive meal, where you move from house to house, eating one course at each place (that is, if everyone lives close enough together)
Invite a professional chef to cook for you or do a cooking demonstration
Cook the main courses together as a group.
Have a cook-off style dinner (everyone makes their best version of the same dish)
At one supper club I did, each person made a cooking rule that the host had to incorporate into the meal. When you were the host, you could replace your old rule with a new one. So there were always 6 rules you cooked with (such as "must cook with cheese", "must make 5 courses", "must have a sauce"). Since the rules were constantly being replaced, the cooking was always fun and challenging.
As the organizer, you may have to replace members of the group occasionally. Be prepared with a backup couple or friends who you know will want to join in case you need replacements on short notice. As you start mentioning it to friends, you'll probably find that so many people want to join that you could start multiple clubs.
Above all, have fun with it, experiment with different concepts, enjoy the food and conversation and pass the idea forward so more people can enjoy the fun of Supper Club!
Do you have a Supper Club or want to create one but you still have questions? Comment below. I'd love to hear your stories or answer your questions.
If you like cooking and wine, you might also be interested in hosting your own blind wine tasting party! Click to learn how to set up a blind tasting party with your wine-loving friends. It's a really fun time.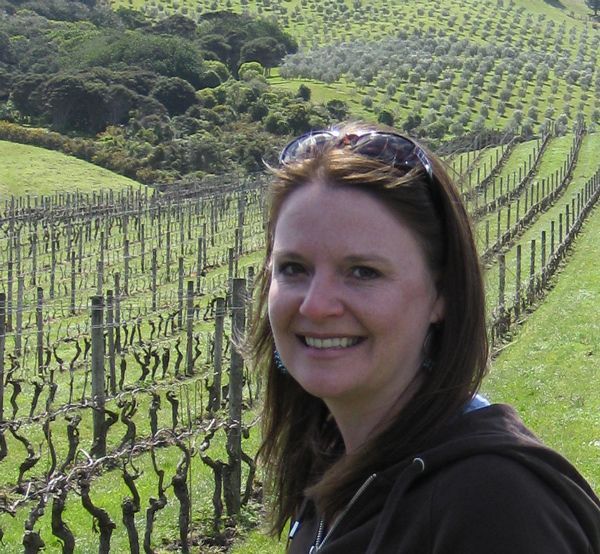 Laura Lynch, creator and writer of Savored Journeys, is an avid world traveler, certified wine expert, and international food specialist. She has written about travel and food for over 20 years and has visited 70+ countries.