This article has links to products and services we recommend, which we may make commission from.
I've wanted to go to the Taste of Tulalip Grand Taste event, held every November for the past 6 years at the Tulalip Casino & Resort in Marysville, Washington, ever since I moved here five years ago. We almost made it a couple years ago but had to sell our tickets at the last minute. This year, we finally went! I'm trying to make this the year of "yes" in which we do all the things we keep saying we're going to do. So far, so good.
The ticket price has gone up over the years and now cost $95. What you get for that hefty price is 4 hours worth of drinking wines from California, Oregon and Washington (plus some from New Zealand and Germany), beer tasting of some of our favorite local brews, and lots of creative foods made by the in-house chefs. How can you go wrong?
They always invite a guest celebrity chef or two to make appearances, do chef demonstrations and exclusive events throughout the weekend, and to draw crowds and make you feel like you're getting your money's worth. This year's chefs were Chef Ming Tsai, innovator and creator of amazing East-meets-West cuisine, along with the Northwest's own Chef in the Hat, Thierry Rautureau (Loulay and Luc). I love both of them, so it was quite a treat to see them hanging out at the event, mingling with guests.
We started the event in the pool room where the beer stations were set up. We had a couple of nice bites of food (a wonton wrapped shrimp, and a maple bacon wrapped quail egg) both of which paired nicely with some of our favorite beers from the area. I particularly liked the seasonal Russian Imperial Stout, called Oharov, from Georgetown and the MacPelican's Wee Heavy Ale from Pelican Brewing in Pacific City, Washington. Pelican also had an English-style barleywine, called Mother of All Storms, that was aged in Kentucky Bourbon barrels and had yummy toasted malt, caramel and vanilla flavors.
The winery selections were split up in two rooms, plus a section in the middle for the outliers — the New Zealand and Germany wines. In the large Orca Ballroom were all Washington wines. We found our favorites — Northstar, Dunham, Pepperbridge — and tried a handful of others we hadn't heard of yet, which is always a treat.
The food in the Washington room was quite good. I came upon an interesting lollipop first — a pistachio encrusted foie gras lollipop covered in peanut and jelly flavored cotton candy. There was a delicious Philly Cheesesteak with crispy onions and cheese drizzled over the top. My favorite in this room was the honey wasabi fried shrimp ball. It was sitting atop a bed of cilantro and microgreens with a tangy, honey wasabi glaze.
The California & Oregon room was inexplicably packed with people — so packed that we couldn't comfortably walk through the room and enjoy anything, so we spent very little time there – despite there being some really great wines on display from both states. My favorite of the few that I tried was a Reserve Cabernet Sauvignon from Charles Krug in St. Helena, California.
The food was probably the main reason why it was so packed. On one side of the room was an enormous table filled with aged cheeses from Sartori that had an array of different soaked rinds and flavors like balsamic, merlot, espresso and rosemary olive oil. They were incredibly good cheeses and one could be convinced to stand around the cheese table for a very long time.
On the other side of the room were two food stations with a gaggle of chefs, all diligently placing a component on each dish and serving the never-ending line of hungry guests. One was a perfect piece of pork belly and glazed bacon that was an amazing bite of food. Sadly I forgot to go back for seconds on that one.
At around the halfway mark, we made our way out to the "Rock & Roll Challenge" that was taking place in a tent outside in the parking lot. Chefs Tsai and Rautureau were on hand to MC a cooking challenge between three teams of local chefs. The competition promised to be an exciting 45 minutes, but quickly turned into a waiting game for viewers. The camera work was pretty bad and we couldn't see what was going on at any of the stations, so the 30-minute cooking time held almost no entertainment value.
I'm sad to say that we left before the winning team was announced. It took too long for the judges to taste the dishes and record their scores. Remember, we paid $95 for the ticket and at that point we felt we were wasting valuable time.
And oh how right we were! When we returned to the ballroom at 5pm, more than half of the wine vendors were gone, leaving behind only stained white tableclothes and empty bottles. The event  wasn't supposed to end until 6:30pm, but by only 5pm, many, if not most, of the wine was already gone. That would be fine if, say, the event went until 5:30, but I have to wonder what happened. This was the 6th year for this event, so they should know by now how much wine it takes to make it to the end. Did they underestimate the demand, did they oversell tickets or were the participants just more thirsty than they'd reckoned for? In any case, it was disappointing.
In the end, I would rate the event a 3 out of 5. The food was really tasty. There were a lot of great wine producers pouring some of their best wines. It wasn't incredibly overpacked (I hate to elbow my way through a crowd of drunks). But there were definitely areas for improvement.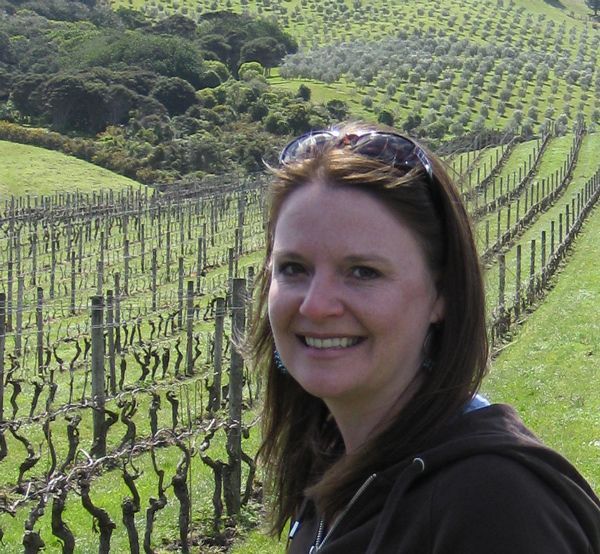 Laura Lynch, creator and writer of Savored Journeys, is an avid world traveler, certified wine expert, and international food specialist. She has written about travel and food for over 20 years and has visited 70+ countries.