Morocco is a colorful and vibrant country filled with unforgettable sights, varied geography that includes plains and mountains, sea, and desert, and amazing foods. It's a great place for adventure, history, and relaxation.
Because of this, planning a trip to Morocco is both easy and difficult. Morocco covers an expanse of land that is full of adventure. You can explore the souks and medinas of the various cities, hike in the Atlas Mountains, ride a camel in the Sahara desert, visit a Hammam, or even stretch out on a sandy beach.
To make the planning process a little easier for you, we've created a 10-day Morocco itinerary that includes all the top things to do, cities and sights to see in Morocco. If you only have 8-10 days to spend, this itinerary covers as much ground as possible and gives a great overview of the country.
If you're wondering how to put it all together to make the best itinerary, you'll find that information in this post.
» For more exciting travel in the Middle East, check out our Jordan itinerary and start planning a trip to Egypt.
How to Plan the Ultimate Morocco Travel Itinerary
When to Visit Morocco
As Morocco is very diverse, with mountains and beaches, it's not possible to pinpoint a perfect time to visit. You can actually enjoy different activities year-round in Morocco. For instance, there is never a bad time to visit the beaches.
However, the best time to visit Morocco for this 10-day itinerary is during the spring, which spans from mid-March to May, or autumn, which runs from September to October.
You will find the best of all weather conditions during these shoulder seasons, so whether you're in the dry arid desert or high up in the mountains, the weather will be moderate. The summer season can get very hot in Morocco, and the rainy season runs from November to March.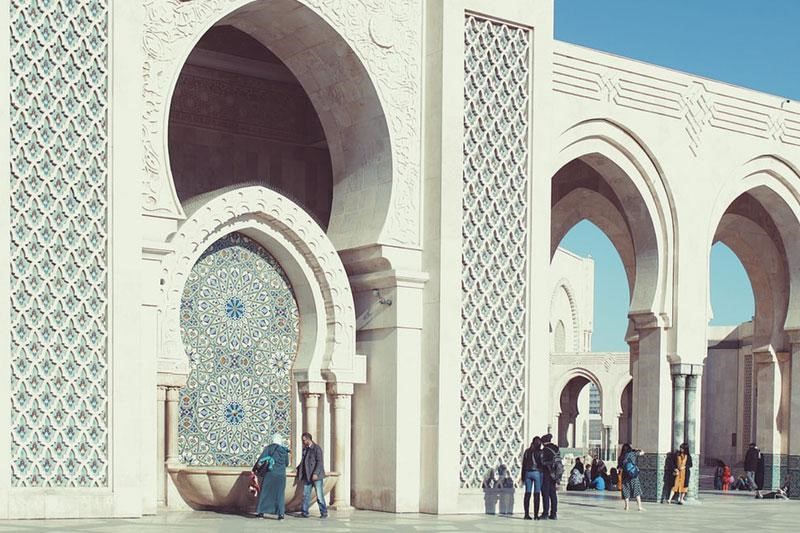 How to Get Around in Morocco
Most international visitors come into Casablanca, so it's a good idea to plan your tour to start/end there. Marrakech is also a popular destination and you can end your tour there or in Casablanca for your flight out.
It's sometimes just as easy to book multi-destination flights as it is to book round trip, so be sure to check. Once you're in Morocco, getting around is easy enough with buses and trains, however you may need to plan for long bus journeys if you're hoping around between destinations.
The train has a very limited network. For this reason, it is sometimes easier to rent a car to get around to the more remote locations. Train travel doesn't require ticketing in advance. If you're traveling during the day, you can just show up and purchase tickets. Just be sure to get advanced tickets for sleeper trains.
If you don't want to take the bus or train, you can also use a shared taxi. They are faster and more direct than the bus and you only have to wait for the car to fill up before you can travel.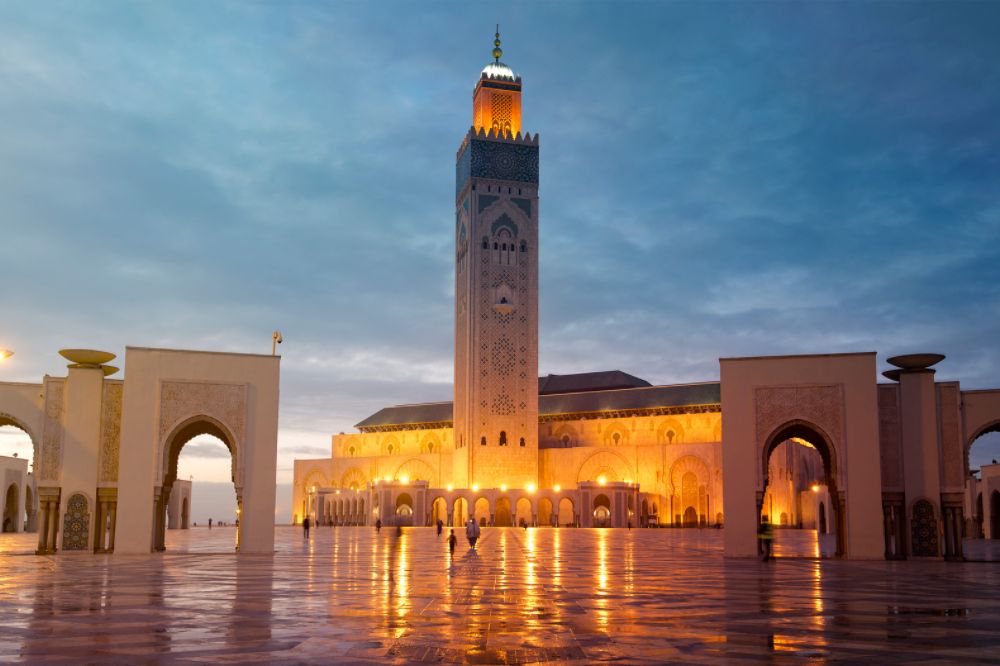 Should You Go on a Self-Guided or Planned Tour?
This is the first question you'll have to answer before you start planning. I usually prefer to do my own self-guided itinerary and do all the planning myself. However, for this itinerary I actually recommend going with a tour guide, because planning it on your own can be quite difficult.
With a tour guide, you won't have to do any of the planning yourself, which means you also won't have to do any of the driving and navigating yourself either, which is a huge relief when visiting Morocco. It's all planned out, all you have to do is go and enjoy.
Which Tour to Book?
We have partnered with Desert Discovery Tours to offers private tours in Morocco. These tours can be from 2 to 10 days with an itinerary that has been planned out for you and a fantastic discount just for our readers. If you use our code [SAVORED10] to book this tour with them, you will receive 5% off the cost of the tour, just for being our loyal readers.
Booking a tour with Desert Discovery Tours means you won't have the stress of communicating, finding things, or knowing the best places to go. They do the planning and driving. You can start the tour from whatever location suits you.
Here is the sample itinerary, which can be adjusted to suit your needs and interests. If you don't have 10 days to spend, they also offer anything from 2 days to 14 days.
Day 1: Casablanca – Rabat where you will visit all the attractions mentioned below
Day 2: Rabat – Chefchaouen
Day 3: Free day in Chefchaouen
Day 4: Chefchaouen – Volubilis – Meknes -Fes
Day 5: A day to visit Fes with a local guide
Day 6: Fes – Ifrane – Azrou – Ziz Valley – Merzouga desert – Camel trek & glamping in desert camp
Day 7: Merzouga desert – Rissani – Todra Gorges – Dades Valley
Day 8: Dades Valley – Roses Valley & Skoura oasis – Ouarzazate – Ait Ben haddou – Teluat – Marrakech
Day 9: A day to visit Marrakech with a local guide
Day 10: Transfer to the airport for your flight
Read testimonials from previous guests and see their reviews on Trip Advisor.
Don't forget to tell them we sent you and quote the code SAVORED5 to receive your 5% discount!
Do a Self-Guided Tour of Morocco: 10-Day Itinerary
If you'd rather plan your own tour, you will likely want to rent a car, so you can easily get from place to place. Alternatively, you can hire a driver for the day to take you from place to place. Obviously, that will cost more than driving yourself.
The routes are pretty straightforward and driving in Morocco is safe. If you're not comfortable driving in a different environment (and with different driver behavior), best to get a driver.
The beauty of Morocco is that each destination has something special and unique to offer. So, lace up your favorite pair of travel shoes and prepare to create unforgettable memories in Morocco.
Day 1: Casablanca
Casablanca, made famous in the western world by the iconic 1940s film of the same name, is the commercial center of Morocco. It is home to the world's second-largest mosque and is a starting point for many travelers visiting Morocco.
Hassan II Mosque – the famous mosque in Casablanca faces the Atlantic Ocean and shines as a stunning piece of architecture, as well as an active place of worship.
Jewish Museum – Casablanca has a surprisingly rich Jewish history. The city is home to the only Jewish Museum in the Arab world and showcases exhibitions that highlight how the two cultures intertwine.
La Corniche Promenade – the beachfront district is a breath of fresh air in the stifling heat of Morocco. The strip is flanked with establishments to enjoy a refreshing drink and tasty meal.
Day 2-3: Rabat
Rabat is one of the most cosmopolitan cities in Morocco and boasts numerous attractions. Mention must be made of the efforts to preserve these attractions, making a visit to the city particularly authentic. Here's what you can expect from one of Morocco's four imperial cities.
King's Palace – the palace in Rabat is the official residence of King Hassan II that has been built-up from ruins in the 18th century.
Andalusian Gardens – first put in place by the French during the colonial rule, this scenic space is beautiful and relaxing.
Local Moroccan cuisine – Rabat is a popular city to indulge in the country's local cuisine. Choose to eat at the popular Le Dhow, or book a cooking class in a family home for a more intimate experience.
Day 4: Chefchaouen
Loved across the world as the Blue City of Morocco, Chefchaouen is nestled in the Rif mountains. The quirky town is not only beautiful but also rich in history. Some of the best moments in the small city are created by meandering through the streets.
Shop at the souks – Moroccan souks, also known as bazaars or markets, offer a great way to rub shoulders with the locals while discovering unique aspects of the Moroccan culture.
Kasbah Museum – the ethnographic museum provides travelers with insight into the history and customs of the region.
Spanish Mosque – this spot is a short 45-minute walk from the center and offers one of the most memorable views over Chefchaouen.
Day 5-6: Fes (Imperial City and Medina)
The ancient city of Fes is often viewed as the epitome of Moroccan culture. It's steeped in history and serves as the foundation of a bustling city full of narrow alleyways, vibrant markets, and busy tanneries. As another one of Morocco's imperial cities, there's a long list of activities to enjoy.
Medina – the central hub of the city, the Medina is home to many historical attractions such as Dar Batha.
Chouara Tannery – this spot is an iconic one in Fes. Renowned as the oldest tannery in the world, we'd suggest you pack a scarf to cover your nose before visiting.
Merenid Tombs – this experience is two-fold. The skeletal remains of the building contain fascinating engravings, while the view from the tombs is unparalleled as it sweeps over the Medina.
Day 7-8: Merzouga (Sahara desert)
Spending a night in the Merzouga Desert is the ultimate Moroccan adventure and makes for stellar Morocco pictures. Riding a camel through eternal orange dunes, eating a traditional meal under the starry skies and falling asleep in a Berber tent are all part of the experience.
Quad biking – speed through the dunes on a quad bike and feel the wind through your hair as you zoom from one peak to the next.
Sunset camel ride – the iconic activity of riding a camel into the sunset is not just for the movies. It's a very real experience and one that will stay in your memory forever.
Sandboarding – the Erg Chebbi dunes are one of the most popular spots to sandboard and promise a thrilling time.
Day 9: Ait Ben Haddou and the Atlas Mountains
The epic landscapes through the Atlas Mountains on the way to Ait Ben Haddou are nothing short of surreal. The Atlas Mountains are a mountain range notorious for their narrow, winding roads and breathtaking views. Once at Ait Ben Haddou, travelers are met with the ancient, mud-brick city which has been named a UNESCO World Heritage site.
Old kasbah – the most important site in Ait Ben Haddou and an essential stop for the best Morocco itinerary.
Local crafts – the pace in Ait Ben Haddou is very relaxed, and so it's a great time to admire the local crafts, observe the ancient architecture and marvel at the amazing views.
Day 10: Marrakech
Finally, you'll arrive in Marrakech to finish off your Morocco itinerary. 10 days of whirlwind adventure is almost complete, and Marrakech is the best way to say farewell to this striking country.
Old meets new in another one of Morocco's imperial cities and is home to breathtaking mosques, ancient palaces, gardens, and the bustling Jemaa el-Fnaa square.
Hammam – Marrakech is full of the traditional relaxation spas, giving you the chance to decompress Morocco-style after a jam-packed itinerary.
Jemaa el-Fnaa – the famed square in the center of the old city is a constant buzz of activity with food stalls, performers, and local crafts.
Souks and markets – the maze-like streets surrounding the medina are full of textiles, leatherwork and local crafts to browse, buy, and enjoy.
Final Thoughts On Spending 10 Days In Morocco
Morocco is a fascinating place to visit. If we can guarantee anything, it's that your time in this country will stay with you forever. If you have at least 10-days in Morocco, you can experience so much and see the major sights that the country is best known for.
All that's left to do is pack your luggage, book your flight and reserve your tour tickets. Get ready to indulge in the diverse flavors, sights, and experiences that the vibrant country has to offer.
Like this post? Why not save it to Pinterest?
FOLLOW US on Pinterest, Instagram, Facebook for more great travel inspiration and tips.
Like this post? Save it for later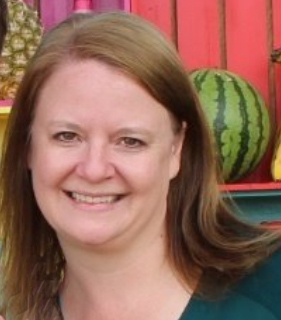 Laura Lynch, creator and writer of Savored Journeys, is an avid world traveler, certified wine expert, and international food specialist. She has written about travel and food for over 20 years and has visited over 75 countries. Her work has been published in numerous guidebooks, websites, and magazines.