On a cold and windy day in Bath, England – which occurs more often than anyone wants to admit – the best place to be is inside the Thermae Bath Spa, soaking up the warm waters the way people have been doing in Bath for centuries.
You'll need to arrive early to grab a slot to spend some quality time in the thermal pools at Thermae Bath Spa, but even if you're only visiting Bath for one day, this will be the most indulgent two hours of soaking and steaming you've ever had.
The Thermae Bath Spa is located right in the center of town, within sight of The Roman Baths and Bath Abbey. You can see the steam rising from the pool that sits atop the building. Trust me, you'll want to go in once you see it, especially if it's cold outside.
What is Thermae Bath Spa?
Thermae Bath Spa uses the very same spring water that supplies The Roman Baths. There are three springs from which the water rises from deep within the earth, full of minerals and naturally heated. In all four baths inside, the water is kept at a very agreeable 92° F.
It's not too hot to enjoy for longer periods of time. We wanted to spend most of our time in the pools, so we were glad it was cooler than a typical hot tub, or we wouldn't have been able to spend so much time there.
The Minerva Bath
The first pool we tried was the Minerva Bath. It is the largest of the thermal baths and is located on the lower floor. There's a massage jet that pours down onto your shoulders, a lazy river whirlpool that you can float around and a lot of open space to just hang out and enjoy the relaxation.
The Steam Room
In the aroma steam rooms, each room is infused with an essential oil like lemongrass or sandalwood. In the center of the room is a large waterfall shower you can stand in to rinse off, and you'll need it after spending even one minute in the steam rooms.
We tried all of them, to see what the different scents are like. You definitely have to find the one you like most. Some of them were too overpowering for me. I liked the lemongrass the best. It was fun to sit in there and sweat for about 5 minutes, but any longer than that would have been too much for me.
Rooftop Pool
Up on the rooftop, the thermal pool felt a little like soaking in a huge hot tub on a blistery day. It was just what we needed to warm up.
The naturally warm, mineral-rich waters are enhanced by air seats and bubbling jets. The steam rises off the pool and floats around you in a mystical sort of way. It's really enchanting.
The pool fills the entire upper deck and has one of the most incredible views of the city. You'd definitely want to go up there at night if you have the chance. You can book a Twilight experience to see it at night.
The Cross Bath
There is one other pool that we weren't able to get in. It's called The Cross Bath. It's an 18th-century open-air bathing pool that is open to small groups, who can reserve the space with a per-person fee.
It looked like a fantastic place to have a birthday or bachelorette party. It's located in a stand-alone building outside the Thermae Bath Spa and is fed by its own spring.
Spa Treatments
In addition to bathing, which is all we did with our time, you can sign up for spa treatments and packages. They have Watsu, a Vichy shower, body wraps, massages, hot stone therapy, facials and other body treatments.
If you participate in one of the spa treatments, the time is tacked on to your normal spa session, so you still have plenty of time for soaking.
Important Information
When your two hours are up, you can make your way back to the changing rooms, unlocked your stuff from the electronic locker and get showered and dressed.
I was very happy to see that they provide hair dryers for you, so you don't have to walk around with wet hair the rest of the day. They also have a swimming suit wringer to dry your suit. And the time it takes you to get dressed doesn't take away from your 2-hour session.
Due to the mineral content of the thermal water, we advise that items of jewellery are kept in a locker whilst bathing
The temperature of the water in all the baths is approximately 33.5 degrees centigrade and all the baths are 1.35 metres deep
How to Make an Appointment
The main attraction at the Thermae Bath Spa is the thermal pools and Minerva Bath and Rooftop Pool. All of these are included in the Thermae Welcome package, which includes a 2-hour spa session and use of towel, robe & flip-flops.
The welcome package includes access to the open-air rooftop pool, the aroma steam rooms, the minerva bath and the cafe. You'll also get 15 minutes at the end of your session to get showered and changed.
You can't book this package in advance, so the key is to arrive early and be flexible. You'll get a timed entry and you'll need to return at that time to have your 2-hour session.
If you want to book a spa treatment, which include things like a Reviver Back Massage, a Facial or a Head & Foot massage, or a twilight package, you can do that in advance on their website.
If you'd like to go to Thermae Bath Spa, you can check out their hours and learn more about it on their website.
A big thank you to VisitBritain for hosting our visit to Thermae Bath Spa. See all the coverage of our trip to the south west of England.(As always, all thoughts and opinions expressed in this post are my own honest reflection on our travel experiences).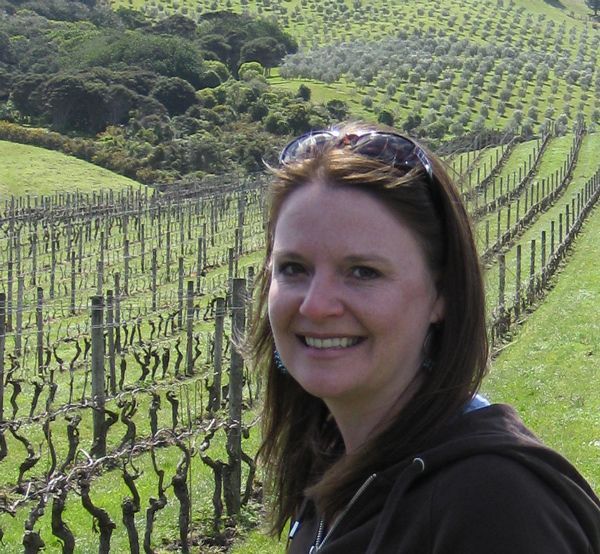 Laura Lynch, creator and writer of Savored Journeys, is an avid world traveler, certified wine expert, and international food specialist. She has written about travel and food for over 20 years and has visited over 75 countries.