Colombia is a destination that has had to overcome its interesting past, but for intrepid travelers, like us and hopefully you, it's a place that you'll definitely want to explore and discover. Though we know why it got its previous reputation, we were happy to allow it to surprise us, and it definitely did.
If you're considering a trip to Medellin or if you're already in the middle of your planning for a trip, you will find that there are so many incredible parts of this city, great activities, and lots of things to see and do.
In this post, we'll share our knowledge of this city and how to make sure you have a fantastic time, doing all of the top things, while discovering the new Medellin and all its charms.
Don't write this city off. Give it a chance and I'm sure you'll be surprised by its resilience, it's incredible people, delicious food, and beautiful landscape.
Are you planning your trip to Medellin?
We want to make this quick and painless for you. Below you'll find all of our top recommendations for where to stay and what to do in Medellin.
Where to Stay in Medellin:
InterContinental Medellin (4-star family-friendly hotel located in El Poblado)
Hotel Du Parc (4.5-star luxury hotel located in El Poblado)
Best Tours and Experiences in Medellin:
Coffee Tour in Medellin (we loved this tour, if you love coffee, you have to do this one)
Pablo and Comuna 13 with Cable Car (the Comuna 13 is really fascinating)
Is Medellin a Good Travel Destination?
Just a few years ago, Medellin, Colombia, was associated with one of the most notorious criminal figures in history. Pablo Escobar was widely regarded as a "King of Cocaine" and, along with the infamous Medellin drug trade, threatened to taint the name of Medellin forever.
A few years on, Medellin has gone a long way to turning around its reputation. Thanks to the city's authorities and people's efforts, it has become a significant tourist-friendly destination in Colombia.
Today it is affectionately known as the City of Eternal Spring, offering cultural and modern lifestyle attractions. While Medellin's people acknowledge it's history and its most infamous resident, it also goes to great pains to highlight other, more revered figures. Among them is sculptor Fernando Botero, whose art adds a certain charm to parts of the city.
Medellin is much more than that, though. It's art, nightlife, amazing Colombian food, and coffee! Enjoy the authentic food of Medellin with this food tour. So, looking at modern and historical attractions that are both social and educational, here are ten things to do in Medellin, Colombia.
1. Look Around the Casa de la Memoria
The name of this museum translates to the "House of Memories." It is a commemoration of the city's dark history and is the one place where you can still experience the legacy of Pablo Escobar, told in detail. The violent gang-related past of the city is shown through multimedia exhibits and covers about 30 years of the drug trade's reign of terror.
There is a focus on storytelling here, especially from the perspective of innocent citizens and victims of violence. In many cases, the legacy of that violence resonated long after Escobar's death. Acknowledging this, sections detailing the influence of other paramilitary organizations like the FARC and UAC organizations are included.
Take an afternoon to explore the library, listen to the songs, and read the testimonies of the people of Medellin and their experiences. At the very least, it's a stark reminder that no matter how dark history is, a people can endeavor to rise and endure beyond.
2. Take the Communa 13 Elevator
If a specific section of the city represents the Medellin drug cartel's stronghold, it is Communa 13. But far from being a depressing reminder of the past, the transformation of the Communa 13 neighborhood is astounding.
A series of community projects have transformed the once violent and impoverished neighborhood into a tourist jewel known for its innovative design elements. The overhaul of the neighborhood took several years and involved military operations, armed conflicts, hundreds of arrests, and worse.
Over time, investment in proper housing and community development transformed the 100,000-resident neighborhood. Among the most notable additions was an escalator system that helps tourists and residents traverse the steeply sloping hill upon which the area is built.
A boardwalk at the very top of the hill offers views of the surrounding city. While most agree that the neighborhood is still far from perfect (it remains poor), it has a significant tourism element that continues the transformation of what was once "the most dangerous neighborhood in the world."
Of special note is the incredible graffiti that now adorns the walls of the neighborhood. It's highly recommended you seek a reputable guided tour like this one to take you here in order to make the most of your day. As Medellin attractions go, this is certainly one of the most interesting.
3. Taste the El Poblado Nightlife
If you now need to find a contrasting experience, the El Poblado neighborhood is one of the city's most affluent. Not surprisingly, it is hugely popular with tourists, in part because of its ultra-modern attractions and infrastructure.
El Poblado is considered safe due to its significant police presence. It is also an entertainment-focused business center with shops, restaurants, and nightclubs. Many of the high-rise buildings here seem to be transplanted from a major city anywhere in the world.
You'll find the Santa Fe Mall a must-visit, as it happens to be one of the largest in the country.
Parque Lleras and Nightlife
The area is also well-known for its green parks. One of the most famous of these is Parque Lleras, which seems to always be abuzz with crowds. People occupy the surrounding shops and bars, and the nightlife here is hard to beat in Colombia.
The green park offers benches and grass for those simply looking to relax. There are lots of street entertainers as well, offering music, dance, and even the odd street theater. Local vendors dot the park with wares, food, and souvenirs to browse.
More formal art exhibitions and performances spaces can also be found in the museums and galleries, and spaces around the park. Finally, there are some fine dining options available at the top-end restaurants here, too.
4. Day Trip to Guatape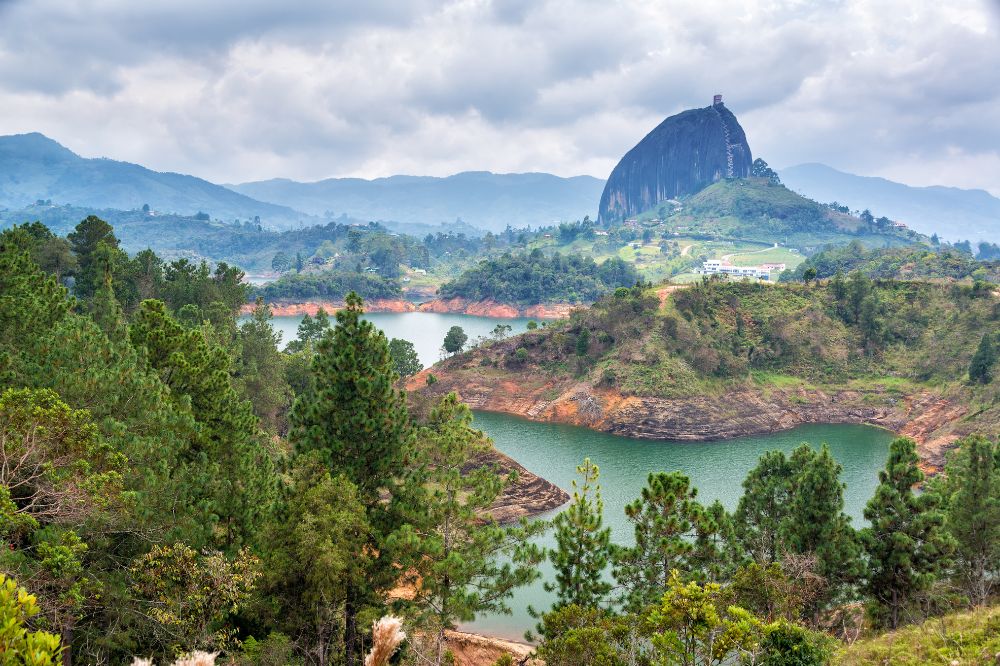 Though not technically in Medellin, a Gautape day trip from Medellin is a superb way to spend a day. It will provide you with a more sedate day out, offering views of the surrounding mountains, as well as a visit to a uniquely colorful town.
The main attraction in Guatape is the El Peñol, a huge rock that is iconic to the town and to the local people. The 650-foot-high structure is popular with visitors, who love to climb to the top for the views. It takes 740 steps to get there, so be warned: it may not be for everyone.
The town itself offers some wonderful distractions. Many of the buildings are decorated in colors and murals. Walk around the town and simply take photos.
You can venture into local museums or cool off in the town's local watering holes. Watersports are popular here, and you can rent a boat or kayak, head out into the water to swim, and even fish. This Guatape and El Penol tour includes a boat ride. In many ways, this is the perfect day trip from Medellin.
5. Go Horseback Riding in the Hills
When considering what to do in Medellin, there are few better ways to experience the surrounding countryside than to go horseback riding. Several options within this activity make it a must-try and one of the best things to do in Medellin.
Enjoy a guided ride through nature, visiting some of the breathtaking natural wonders surrounding Medellin. Some tours also include a visit to the foothills of the Andes with mountain trails. There are also nearby forest trails to explore.
One of the most popular Medellin sightseeing tours on horseback is around coffee plantations. Colombia and Medellin are world-famous for coffee, and several of the coffee plantations offer visitors horseback tours of the grounds.
As a bonus, the coffee farms are usually in the mountains, so you get a two-for-one deal as a bonus. Coffee farm horse tours usually include a short education on the coffee-making process, tastings, and purchase options. Try your hand at picking coffee beans with this half day coffee plantation tour.
Horse tours around Medellin cater to all skill levels and are one of the best things to do in Medellin. The horses are well-versed in the routes and are very used to all ages and ranges of riders. Guides will also offer much more info about the landscape and other interesting nature facts on the ride.
6. Relax in the Parque Arvi
One of Medellin's largest green areas is the Parque Avi in nearby Santa Elena. Interestingly, you can get to the park by cable car, which will no doubt be a huge part of the thrill. The park offers hiking, bird-watching, and even overnight camping if you're seeking a little outdoor adventure.
There's a lot to see for nature lovers, with the birdlife mentioned above and animal and plant diversity to explore. The park is a reserve, with some small communities living inside it.
Make a point of visiting the Mercado Arví and the organic market supplied by local farmers. The Ignacio Vélez Escobar Cultural center hosts events and shows on some days, which are always fun to attend.
In terms of other fun things to do, social company Comfama hosts fun activities in Medellin, like zip lining, archery, a cinema, and more. You won't be bored here.
7. Explore the Jardín Botánico
Medellin's premiere botanical garden covers around 35 acres and hosts literally thousands of visitors. The most notable draw to the park is its extensive collection of flowers and plants, with several rare and exotic species included.
You should try to visit all the sections if possible. There is a rainforest, an orchid garden, a cactus garden, and even a butterfly garden. One of the most popular attractions is the huge climate-controlled greenhouse, known for its varieties of foreign (or non-native) species.
Fish occupy the small lake within the botanical garden, which in turn attracts nearly 100 species of birds. You can opt for a workshop or guided tour, which is highly educational, and one of the most fun Medellin activities on this list.
Hours of operation: Tuesday – Sunday 9 am to 4 pm.
8. See the Beautiful Medellin Historic Center
The equivalent of the Old Town in Medellin is called the Candelaria neighborhood. The oldest buildings and iconic streets in Medellin are located in this district, which makes for a somewhat special experience even within the city itself.
This old section of the town was once its commercial center. Due to its age and more modern developments elsewhere, it fell into disuse and disrepair. Thankfully, efforts have been made to revitalize the area, which seems to be taking shape. The district has seen a resurgence in activity and trade in recent years, and today it's one of the key attractions for tourists.
Key sights include the Palace of Culture, which hosts shows, concerts, and exhibitions, as the name suggests. Another is the Metropolitan Cathedral, which also happens to be one of the largest churches on the continent of South America.
Most visitors are just happy to walk the streets and visit the numerous shops that line them, picking up souvenirs or stopping for a snack. Experience the center and culture of Medellin with this walking tour.
9. Walk Through History at Museo de Antioquia
If art is your thing, this museum is a must-see. It features impressive collections of both modern and traditional art. Of particular interest are the collections of art belonging to the indigenous peoples of Colombia, including works from pre-Columbian times.
The space also houses artwork from Medellin's most famous artist Fernando Botero. In fact, this is the largest collection of Botero's work collected in one place, featuring some of his most famous works.
As a general collection, the art contained here offers a fascinating look into the region's artwork from before the Spanish conquest to today. Get your skip the line admission ticket here.
10. Take a Pic at the Plaza Botero
Adjacent to the Museo de Antioquia is a plaza that contains more of Botero's work. The Plaza is 75,000 square feet and contains 23 bronze sculptures by Botero, all in his trademark style. Many visitors love to pose with the sculptures for pictures. So it's no wonder some of these have been all over the world, housed in museum collections.
There is a cultural center attached, promoting arts and education. It also contains a gallery and library. The plaza precinct also has numerous restaurants and shops you'll enjoy visiting. All in all, it's a vibrant public space in the middle of the city that offers a taste of fine art and photo ops for everyone.
This city tour will help you see more of Medellin while you are there.
11. Pueblito Paisa
Pueblito Paisa is a small village-like square located in the center of Medellin. It was created as a replica of a traditional Antioquian village, and it represents the typical architecture, crafts, and lifestyle of the region.
The site features a small chapel, a town hall, and various shops and restaurants offering local food, such as arepas, empanadas, and tamales.
You can admire the panoramic view of the city from the hilltop where Pueblito Paisa stands, and learn about the history and culture of the Antioquia region through exhibits and museums located in the square, and stroll through the village and admire the traditional architecture, including the colorful balconies and clay tile roofs.
Final Thoughts on Things to do in Medellin, Colombia
Medellin has come a long way from its 90s reputation as a violent, lawless city. It is certainly a favorite destination for many travelers to Colombia now, with new projects sitting alongside historic attractions adding to its appeal.
Many modern accounts state that locals often prefer not to be reminded of that violent past, instead looking forward to an ever-brighter future driven by its social vibrance and sunny disposition.
Outside the city, the Andes tours on horseback and coffee farm tourism are going strong. Consider a visit to Medellin, and experience this shining light of reconstruction in the heart of Colombia.
Looking for more info on what to do in Medellin, Colombia and beyond? Here's a handy Colombia travel guide to peruse.
Like this post? Why not save it to Pinterest?
FOLLOW US on Pinterest, Instagram, Facebook for more great travel inspiration and tips.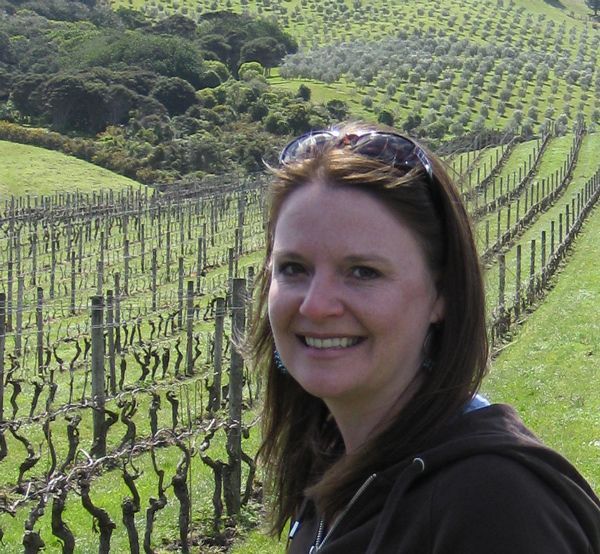 Laura Lynch, creator and writer of Savored Journeys, is an avid world traveler, certified wine expert, and international food specialist. She has written about travel and food for over 20 years and has visited over 75 countries.