While tourists typically flock to major cities like Barcelona, Madrid, and Seville as well as the Costa del Sol for Spanish vacations, we recommend prioritizing San Sebastian in the northeast of Spain in Basque Country.
Not only is it one of the world's most beautiful cities, thanks to the architecture and fantastic Old Town, it's also a food mecca that is unmatched anywhere else.
Whenever anyone asks us what our favorite place is to visit, San Sebastian is the first that comes to mind. We've visited this city many times and have had some of our favorite experiences there. There are so many thing to do in San Sebastian.
San Sebastian offers an almost overwhelming range of things to see and do, from dining at Michelin star restaurants (there are more per square meter in San Sebastian than any other city) to idyllic beaches, incredible pintxos crawl, and historical monuments.
Want more info to plan your Spain trip? Check out our Spain travel guide and these informative posts:
What to Do in San Sebastian
#1 Parte Vieja
Parte Vieja is San Sebastian's Old Town. This is the first place we recommend seeing when you arrive in San Sebastian, because it's so picturesque and lovely.
Both local residents and tourists head to Parte Vieja to enjoy the pintxos bars that line both sides of the many narrow streets.
The Old Town is known for its beautiful historical architecture, including Iglesia de San Vicente, which is one of the oldest churches in Spain and one of the most stunning works of Gothic architecture in the country. In the center of Old Town is the Plaza de la Constitución, a former bullring, that now houses outdoor cafes and eateries.
You can spend hours exploring Parte Vieja and eating at the many pintxos restaurants. It's impossible to ignore their beckoning, with pintxos lining the bars and happy people standing around outside, eating and drinking.
» Try this San Sebastian Walking Tour with Pintxo and a Drink
#2 Pintxos Crawl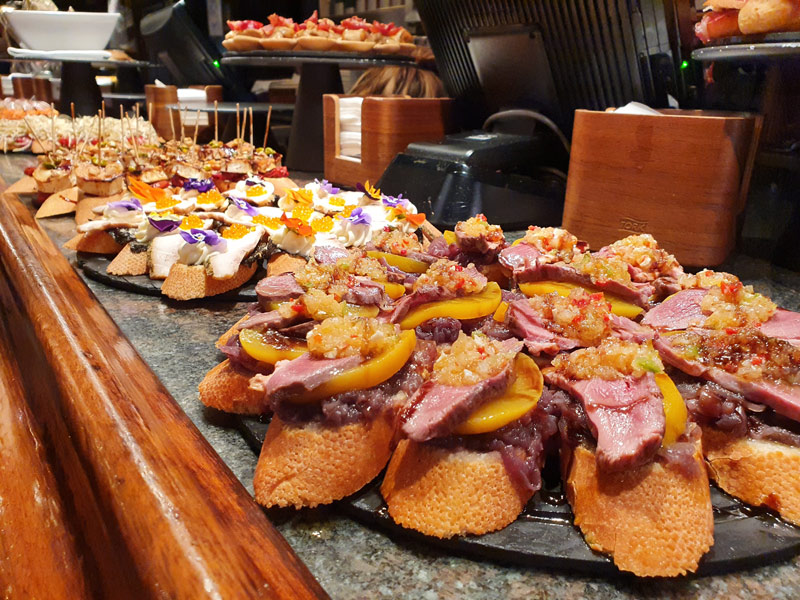 To me, the best thing to do in San Sebastian is a pintxos crawl. If you're not familiar with pintxos, it's a term used to describe finger-food style snacks that are traditionally served in northern Spain, particularly in the Basque country.
The great part is that they're little bites, so you can go from bar to bar trying each of the specialties. We do this crawl 2-3 times whenever we're in San Sebastian. Check out all of our favorites. Plan to do the crawl starting at about 1pm for lunch and 7pm for dinner.
If you want a local to show you around, you could go on a Pintxos Food Tour with Devour San Sebastian. We've been on their tours throughout Spain and always love them.
» One more tour to enjoy: Ultimate San Sebastian Pintxos & Wine Tour (Evening)
#3 Playa de La Concha
San Sebastian is the perfect place to unwind on the beach, especially the beautiful La Concha beach that forms a crescent along the seaboard. This beach is really the highlight of the city. It's incredibly picturesque.
In the late spring to early fall, you'll find the locals walking up and down the beach in their beachwear, meeting up with friends and chatting along the way. It's a local tradition that I love to watch and be a part of.
The calm waves provide perfect swimming conditions and there's plenty of sand to lay out your beach blanket for a picnic or an afternoon nap.
#4 Museo De San Telmo
One of the best places to go if you want to learn about San Sebastian's history is the Museo San Telmo.
This museum centers around Basque country's cultural heritage, and the history lesson starts before you see any of the exhibits since the museum itself is inside 16th-century Renaissance buildings.
Inside the museum, you can visit various departments, including the Fine Arts department, the Ethnography department, and the Archaeology department.
All of these departments provide a different perspective on Basque country history and culture, which is so important to develop a full understanding of the subject.
#5 Monte Igueldo
Monte Igueldo is a mountain rising 184 meters above sea level, and it's a popular tourist attraction in San Sebastian both due to the gorgeous views and the range of activities it offers.
The best way to get to the top is to catch a funicular ride. You'll ride to the top in a historic wooden carriage. It costs about $4 for adults and is open every day, starting at 10am.
Once you're up there, you can take in the view, get some incredible photos, and walk around a bit. It's only really busy in the peak season.
There's an amusement park at the top, but it's a bit cheesy and weird. Check it out if you want: Parque de Atracciones de Monte Igueldo. You can also go down the stairs from the upper terrace to get closer views and avoid all the people at the top.
Also at the top is the Mercure San Sebastian Monte Igueldo, a hotel with a great restaurant for an incredible fine dining experience with an unbeatable view.
#6 Mount Urgull
Another mount or hill you should climb is Mount Urgull. At the summit is the Castillo de la Mota fortress that was built in the 12th century and played a big role in defending the city at that time. Also at the top is a 40-foot sculpture of Jesus Christ that was constructed in 1950.
To get to the top, you take a path behind the aquarium and follow the signs for the Castillo. The hike will take you about 30-45 minutes with steep spots and switchbacks. It's a very scenic hike and definitely worth it for the gorgeous views you will get at the top.
#7 Take a Cooking Class
Basque cooking is unique in the ingredients and preparation methods, so it can be fun to take a cooking class to learn some of the nuances and be able to make some of the dishes you love at home.
This company, Mimo, has several cooking class options, including this 4-hour Spanish cooking class where you'll make iconic Spanish dishes such as paella and Spanish omelette, as well as lesser-known dishes like Galician octopus, gazpacho, and spicy stew. Check out their other offerings too.
#8 Basilica De Santa Maria Del Coro
For anyone interested in Spanish history, the Basilica de Santa Maria del Coro is a must-see while in San Sebastian.
This is a baroque Roman Catholic church located in the Old Town, dating back to the 18th century. It was actually constructed in the same place as a temple from the ancient Roman era.
Part of the appeal of the Basilica de Santa Maria del Coro is its stunning architecture, including the Churrigueresco facade and neo-Gothic vaults.
You can get a guided tour of the church or even attend an Organ concert if you visit at the right time.
#9 Visit a Sagardotegias (Cider House)
After the pintxos crawl, this is my next favorite foodie thing to do in San Sebastian. The cider houses are located primarily in the countryside surrounding the city. In the spring they make their new cider in massive barrels and it's a tradition for the locals to gather to try the new release while having a traditional Basque meal.
One of the cider houses that I recommend is Petritegi, though there are many others. I've been to Petritegi many times and always love it. It's about a 15 minute drive from the city. You'll be seated somewhere in the vast restaurant and given a glass. In the cellar you'll find someone opening the barrels so you can place your cup under the stream.
Meanwhile, you're eating the best chorizo, salt cod, cod omelet, Txuleta steak, and manchego cheese of your life. If you do it right, you've tried all the possible ciders and eaten yourself into a stupor.
#10 Parque De Aiete
Parque de Aiete is one of the most beautiful public parks in San Sebastian. It is located in the grounds of Palacio de Aiete, where England's Queen Victoria once stayed.
The palace grounds are the perfect place for a walk, particularly if you plan your trip to San Sebastian during the warmer months because this is when the flowers look their best.
In addition to the flowers, visitors can admire the impressive features created by Pierre Ducasse, a famous landscape architect.
#11 Dine at a Michelin Star Restaurant
There are 19 Michelin star restaurants in San Sebastian, more per square meter than any other city. And of the 11 3-star restaurants in Spain, three of them are in San Sebastian. That alone is reason to visit one of them while you're in town.
Even if you're not a foodie, the experience of eating at one of these restaurants is a once in a lifetime experience. The top ones that I like are Arzak, Akelarre, and Mugaritz, but there are many others.
#12 Isla De Santa Clara
Isla de Santa Clara might not technically be in San Sebastian, but it's only a short ferry ride away, and since the island is a Historical National Interest Site, it makes sense to go for a day trip at some point while you're in the city.
This island only measures 30 meters in diameter, but it's the ideal place for a picnic, and there are a few restaurants and cafes, too.
You can swim in the natural swimming pools off the coast, visit the lighthouse, or simply observe the natural scenery.
#13 Palacio De Miramar
Palacio de Miramar is another site of historical significance in San Sebastian. It has hosted several Queens of Spain, although the palace itself is designed according to the English Tudor style.
You can explore the three floors of the palace itself as well as the grounds, which have a spectacular view of the ocean.
We suggest visiting Palacio de Miramar on the same day as La Concha Bay due to their proximity. If you're walking down the beach, it's at the far west side of La Concha.
Occasionally, events are held at the palace and the doors close to the public, but visits are usually free of charge and available every day of the week.
#14 Hondarribia
Like Isla de Santa Clara, the fishing village of Hondarribia isn't actually in San Sebastian, but since it's only 23 kilometers away, you can easily drive there for a day, and we highly recommend it.
You will start your Hondarribia experience in Puerta de Santa Maria, which is Hondarribia's Old Town and dates back to the 15th century.
From there, you can go and visit the Iglesia de Nuestra Señora de la Asunción, one of Spain's most significant Gothic churches due to its connection to the Infanta Maria Teresa and Louis XIV.
There's also the Palacio del Rey Carlos V, the Plaza de Armas, and a Michelin-starred restaurant called The Alameda.
#15 Playa De Zurriola
Playa de La Concha might be the go-to beach for relaxation in San Sebastian, but if you like to surf, you should head to Playa de Zurriola.
In addition to providing the perfect surfing conditions, Playa de Zurriola is the ideal spot for playing football and beach volleyball.
Since this beach is in the commercial district of San Sebastian, you can also do some shopping and check out the local art galleries in the surrounding area. There is also a second section of pintxos bars in Gros, the neighborhood surrounding Zurriola.
#16 The International Jazz Festival
Going to the International Jazz Festival in San Sebastian isn't something you can do year-round. The festival only takes place during the month of July, so if you're a fan of Jazz and Blues, we recommend timing your trip so that you can experience some of the incredible concerts.
Some events, such as those at Playa de la Zurriola, are free to attend, whereas you'll need to buy tickets for others, so do your research and book your tickets in advance if necessary.
Final Thoughts
Whether you're a fan of beach sports, Jazz music, global cuisine or history and architecture, San Sebastian has all the attractions you need for an incredible vacation.
Which of these recommendations will you add to your itinerary?
Like this post? Why not save it to Pinterest?
FOLLOW US on Pinterest, Instagram, Facebook for more great travel inspiration and tips.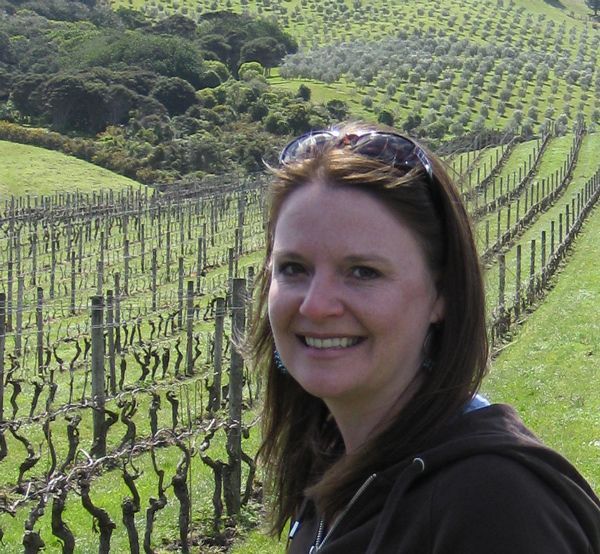 Laura Lynch, creator and writer of Savored Journeys, is an avid world traveler, certified wine expert, and international food specialist. She has written about travel and food for over 20 years and has visited 70+ countries.