We've all seen the beautiful photos of Santorini, Greece, and know that it's an incredible destination that will make for an unforgettable vacation.
Santorini is not only a stunningly beautiful place, it also has many fun things to do that don't go beyond those eye-candy sunsets and mesmerizing blue sea. In this post, we will share with you all the fun things to do in Santorini, Greece, that will elevate your already magical vacation to new heights.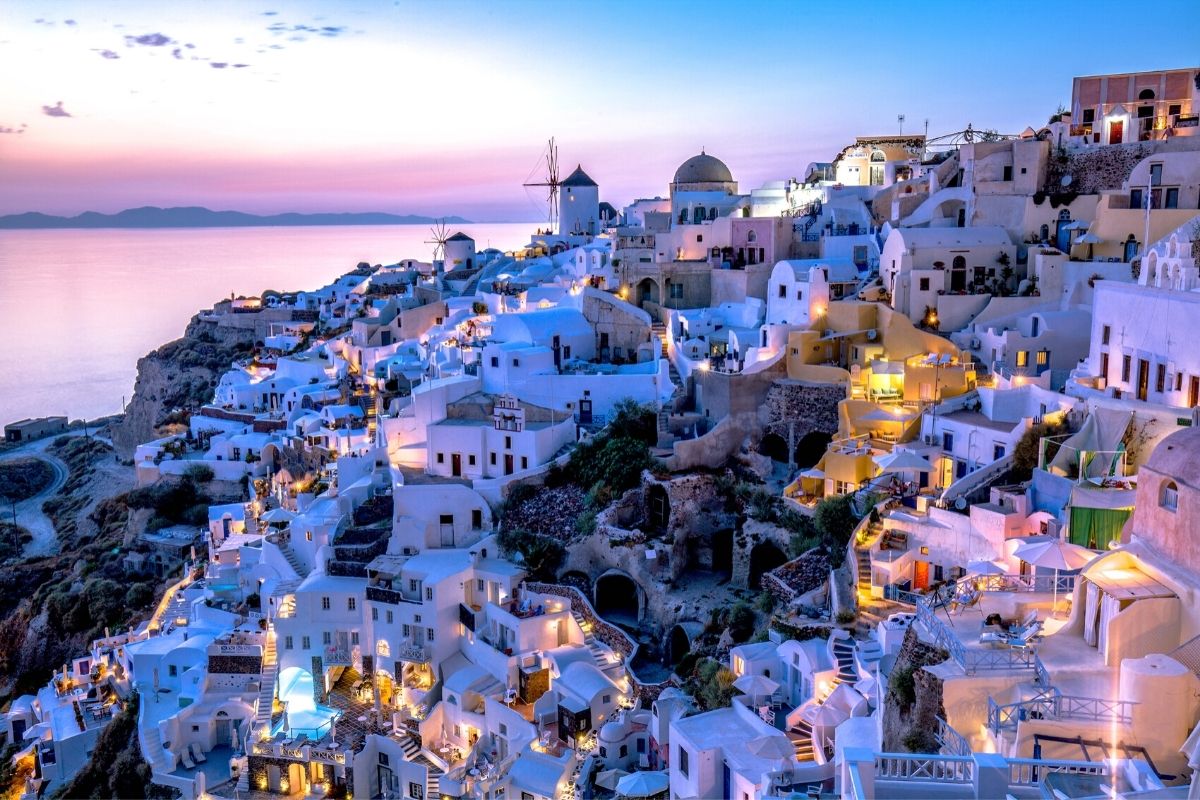 Today's Santorini was shaped from a volcanic eruption that took place in the 16th century BC. It is one of the Cyclades islands in the Aegean Sea, and a place that thoroughly captures the minds of visitors and even those who have only seen it in pictures.
While it is one of the most picturesque places in the world, there is a lot more to it than just the view. Below are our favorite things to do on a Santorini vacation.
» See our Athens essential travel guide, and read about the foods you must try when you're there. Check out this guide for Mykonos. Check out these other stunning places to visit in Greece.
What to Do in Santorini
1. Hike Along the Caldera
One of the best ways to enjoy the view around the island is to hike the path between Fira and Oia. It's about 6 miles one way, but you won't even feel the miles because you'll be too immersed in the incredible beauty of the island to notice.
There are numerous places that you can hike around Santorini, but one of the most well-trodden paths is the one between Fira and Oia. If you'd like to try out a different hiking trail, see this guide for the best hiking trails on Santorini.
2. Go Wine Tasting
We never pass up a chance to go wine tasting, and Santorini is the perfect place for it. The island has a very long history of vineyards and winemaking. The volcanic activity even impresses itself upon the flavor of the grapes to make a very unique wine. We were also very fascinated by the way the grape vines are grown in Santorini.
On a Santorini wine tour, you'll learn about the unique wine-growing technique they use on the island, called koulara, where the grapes are grown in a low-to-the-ground basket style that protects the grapes from strong winds and allows it to soak up what little water is available from the porous volcanic soil.
There are dozens of wineries to visit around the island, like Santo Wines, Domaine Sigalas, and Venetsantos Winery. You can make your own tour, if you have a car, or join a group tour that provides transportation.
Tours you might enjoy:
3. Explore Ancient Ruins
The archaeological site of Ancient Thera, which was once home to the Greek empire, built by Alexander the Great, sits atop Mesa Vouna. The remains of the city tell of a life lived in ancient Roman times, and it's interesting to walk around. If you have a car, you can drive up there, otherwise you can take a bus. Cost of admission is around 4€. You may also want to visit the Museum of Prehistoric Thera, while you're in the area. It's small, but good.
Another fascinating archaeological site is Ancient Akortiri, which dates back to pre-17th century BC. It is considered one of the most important prehistoric settlements of the Aegean Sea, but it was destroyed by a volcanic eruption. About a third of the site has been excavated and is open to visitors. Admission to the site is around 12€, though you may want to also pay for a guide to show you around, which takes the cost up to 28€.
Tours you might enjoy:
4. Dine With a View
My favorite place in Santorini to have dinner with a view is at the far west side of Oia, near the Oia Castle. There are many restaurants where you can sit and dine with a fantastic view (plus one of those dramatic Greek sunsets). Try Ambrosia for a lovely view and an equally lovely dinner.
I prefer this way of watching the sunset to gathering with dozens of other people at the castle to catch an obstructed glimpse of the sunset around the multitude of selfie sticks.
5. Go to Kamari Beach
One of the nicest beaches in Santorini is Kamari Beach. Its black sand and dramatic views of Mesa Vouna are the perfect spot to sit back and relax. The beach is located next to the town of Kamari Beach, which is also a tourist resort area, where you may choose to base yourself during your stay in Santorini.
The beach has loungers and umbrellas that you can rent during the day. Another popular beach to visit is the Red Sand Beach, located close to the Akortiri site. Yes, it has red sand, but it is a bit harder to get to, so be prepared.
6. Go Cliff Diving in Amoudi Bay
If you're staying in Oia, you're just steps away from Amoudi Bay, but might not even know it. That's because you have to descend all the way down to the water to get there. Don't worry, there are steps to get down – but a word of warning – there are A LOT of them.
If you do, though, you'll be rewarded with a fantastic view of the caldera from a different angle. It's also a great place to try out cliff diving. Even if you're not daring enough to jump off a cliff, you can still enjoy the many tavernas and the gorgeous red cliffs that surround the port town.
7. Eat all the Greek Food
There are a good many Greek specialties that you should spend some time searching around for, like Fava me Koukia, Tomato Gefthedes, and Saganaki and Greek lamb pitas (pictured above). You don't want to leave Santorini without trying as much of the delicious greek food as possible.
We just caution you to avoid the main touristy restaurants in each of the towns. You'll know them instantly, because there are pictures with the very large menus that are placed right on the main strip. Even if you think you'll find a good view there, skip it.
You will find the best Greek food in the smaller, more low key and off the main path places. Ask around and get recommendations from locals. Avoid the touristy spots.
Click here for a list of some foods you should try while you're in Santorini, or anywhere in Greece.
8. Try the Local Beer
If you're a beer drinker, you'll be happy to see that there's a craft brewery – the Santorini Brewing Company. You can visit their facility (it's free!) and see their production facility, taste the beer and grab a t-shirt at their gift shop. You'll need a car or a taxi to get there, and make sure to arrange an appointment in advance at info@donkeybeer.gr.
They make the popular Donkey beer that you'll find at many local restaurants. The styles vary from Yellow Donkey pale ale, to Red Donkey red ale, and the Crazy Donkey IPA (the first IPA produced in Greece).
9. Go Sailing / Catamaran Cruise
It's easy to get stuck up on the hillside while you're in Santorini and forget to enjoy the water, but it's all around you and there's no better way to see the island than from a sailboat. You can also use this as your opportunity to see the most incredible sunset possible.
Experience the coastline of Santorini from the water during this 5-hour catamaran cruise. Choose between daytime and sunset bookings, both allow you to travel with an intimate group of 20 or fewer fellow passengers. Snorkel equipment is available for stops along the route, and you'll dine on snacks and drinks.
5-hour catamaran cruise from Santorini
Choose from daytime or sunset tour
Food and drinks included
See Santorini's sights from the water
Hotel pickup and drop-off included
10. Watch the Sunset in Oia
This is one of the top activities in Oia. For some reason, the sunset – although it is dramatic and beautiful – is just captivating for visitors to the island. I do think you should plan to catch the sunset a few times while you're there, but I don't recommend following the crowds to the castle in Oia. There are many less crowded places to see the sunset.
If you're lucky enough to have a view from your hotel in Oia, this is the best place to watch the sunset each evening, because it's quiet and private – the best way to ensure a romantic sunset.
You can also walk to the north west end of the village, above the steps leading down to Amoudi, near the Byzantine Castle, which is a great spot to view from.
Need help planning your trip to Santorini?
Check out the following resources. Some of these links are affiliate links to products and services that we use and recommend. We do receive a small commission when you use these links, at no charge to you.
How to Get to Santorini
By flights:
Many direct flights from abroad arrive in Athens. From there you can get a direct flight to Santorini. When you arrive at the airport, you'll need to get a taxi or a private transfer to your hotel. We like to pre-book our transfers so we know someone will be waiting for us and we can go directly to our hotel.
Welcome Pickups is a great service that costs the same as grabbing a taxi outside the airport, but you can pre-pay and someone will be there to help you and our bags out to the car. Book a transfer here.
By ferry:
If you want to do the whole experience when in Greece, you must travel with ferries as this is the most popular way of transport between the Greek islands. An easy way to book your ferry tickets is through Ferriesingreece to book your ferry tickets.
After booking your tickets, you can ask to receive them by mail or just get them printed from the kiosks at the port prior to your departure. You will also have the possibility to book multiple routes if you decide to do some island hopping. Last but not least, in case of cancellations or delays the customer support always informs you in advance and helps you reschedule if necessary.
Where to Stay in Santorni
The best place to stay in Santorini is really dependent on what you want to do while you're there and how close you wish to be to the goings on around the area.
The best views and most romantic areas in Santorini are Oia and Imerovigli. Oia is the typical picturesque place you see in all the mesmerizing photos on the Internet. You can find incredible places to stay in Oia that hang right over the cliff with vast views of the caldera. If you're going to spend your honeymoon in Santorini, I highly encourage you to choose Oia (it's the most well-connected and exciting, but still exceptionally romantic) or Imerovigli (which is much quieter and further way from the center of the action).
There are really great views from Fira and Firostefani too, and wonderful places to stay. Fira also has the best shopping opportunities on the island.
OUR TOP RECOMMENDATIONS
In Oia
We stayed in Oia at the beautiful White Pearl Villas, which gets a nearly perfect rating on Trip Advisor. I highly recommend this place. It's in the affordable luxury range for Oia, with beautiful accommodations, a great location, and hot tubs with insane views with some of the rooms.
In Imerovigli
We recommend the Astra Suites if you can afford it. It's a luxury hotel that needs to be booked far in advance, but it's absolutely the perfect honeymoon spot. We also like San Antonio Luxury Hotel for affordable luxury, but it's a bit outside of the town, in a very quiet area.
In Fira
The affordable luxury Anteliz Suites is our top pick in Fira. It's walking distance to great shopping and restaurants, and it's a smaller hotel that offers great service. You really can't beat the views.
CONCLUSION
As you can see, there are many fun things to do in Santorini to fill your time. While it's not necessary to drive in Santorini, you will be able to get around and see a lot more if you do. We found it very easy to rent a car in Oia on the main street just for the day.
Like this post? Why not share it on your Pinterest board?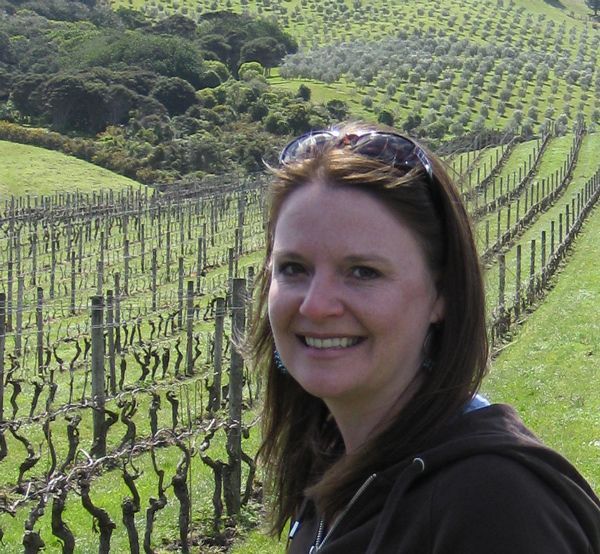 Laura Lynch, creator and writer of Savored Journeys, is an avid world traveler, certified wine expert, and international food specialist. She has written about travel and food for over 20 years and has visited over 75 countries.