Recently made famous by the TV show White Lotus, Taormina is an enchanting hilltop town in Sicily with medieval cobblestone streets that lead to charming spots where you can take in sweeping seascapes and peer out over calm azure waters, all with the dramatic outline of Mount Etna in the background.
If you're visiting Taormina for the first time, we'd like to share with you the best things to do in Taormina to make your holiday there as fun and exciting as possible.
Visiting soon? Check out our expertly curated Sicily itinerary to help you plan the perfect trip, from where to visit, the airports that are closest to the places on our list, plus our guide to wine tasting in Sicily, the food you should eat, and the best beach hotels on the island.
It's without a doubt a prime location for sightseeing and unforgettable scenery. While you're likely to make it part of a larger Sicily itinerary, you can easily spend a few days exploring and eating well in this town.
We spent a few days exploring the wineries on Mt. Etna, then relaxed for a few day in Taormina before moving on to other parts of the island. For me, 2-3 days in Taormina was just the right amount.
Tip: It's easy to add Taormina to your Italy Itinerary. Flights on Ryanair to Catania are quite cheap and a rental car is easy to grab from the airport. It's just a 2-hour drive to Taormina.
Planning your trip to Taormina?
Where to Stay in Taormina:
Best Tours and Experiences in Taormina:
Where is Taormina?
Taormina is a municipality in the metropolitan city of Messina, on the east coast of the island of Sicily, Italy. To make it easy to visualize, it's right about where the tip of the boot meets the ball. Located in the shadow of Mt. Etna, it offers stunning views of both the Ionian Sea and surrounding mountains.
You do have to take a very windy road up and up and up to get there, but once you're at the top, you can see why it's such a hidden gem. You cannot beat the views.
Okay, so it's not so much of a "hidden gem". In fact, Taormina is often characterized as overly touristy and during the peak season, it can get very crowded, especially when the cruise ships are in port. But if you plan your trip right, you can avoid those crowds and fall in love with this place.
How to Get to Taormina
There are two main airports in Sicily that you can fly into from many European cities with a direct flight, and to most cities in Italy. You can also get here by train or by ferry from the mainland.
The Catania airport is 69 kilometers away, which is about an hour drive, depending on traffic. This is definitely the closest and easiest airport to use to get to Taormina. The Palermo airport is 3 hours 30 minutes drive away. You can easily rent a car at the airport to drive to Taormina.
Be aware that the roads can become congested and cause backups and delays. When you approach Taormina, you'll start to wind up the hillside. It's fairly narrow and lots of switchbacks. Once we were up there, we didn't really want to drive down too many time, so you might plan to do most of your activities outside of Taormina together in one day, if possible.
Where to Stay in Taormina
When it comes to accommodation, you'll find plenty of options in the city. If you want to be right in the heart of Taormina, there are several hotels and bed & breakfasts located near Piazza IX Aprile or Corso Umberto I.
We stayed at Hotel Villa Schuler. It's a boutique hotel in operation since 1905, the oldest owner-run hotel in Sicily. It is surrounded by its own extensive subtropical gardens with full views of Mount Etna and Naxos Bay. Most rooms offer a furnished balcony or a terrace. We loved it. Perfect location for both views and access to Corso Umberto and restaurants.
Another hotel that I really liked and wish we'd stayed at was Hotel Villa Belvedere. It's a beautiful 4-star hotel very similar to Villa Schuler with terraces and amazing views, but it's a bit more updated and has a pool.
11 Things to Do in Taormina, Sicily
1. Ancient Theatre of Taormina
If the question "what to do in Taormina" overwhelms you, then the Ancient Greek Theatre is the obvious answer. As one of the top attractions in Taormina that sees visitors flock to it from all over the globe, it's a no-brainer.
The theatre was built in the third century BC to host dramas and musicals. Today it offers a glimpse back to foregone times and theatrics. Here you'll see the fascinating ruins of the three areas: the cavea, the orchestra, and the stage.
Some of the columns erected after 1860 are still preserved on the stage, and you can still see the steps of the cavea where spectators used to sit.
You can see all that and more by joining this fantastic full-day tour from Catania, which boasts unmissable views over Mount Etna and the Ionian Sea.
Note: This tour does not cover the admission fee for the Ancient Theatre.
2. Mount Etna
For an adventure-filled Taormina activity, look no further than Mount Etna. If hiking up Europe's most active volcano and a UNESCO World Heritage site piques your interest, you cannot skip this activity.
Mt Etna is a 18.6 miles site from Taormina, meaning you'll have to do some driving to get there. Once you arrive, though, you may never want to leave as you come face-to-face with this mesmerizing and lively giant. Test your fitness and stamina with a solo hike up to 9514 ft for at least two and a half hours, starting at Rifugio Sapienza.
If you think you're better off with a guide, you can join a hiking tour up the mountain.
3. Etna Food and Wine Tour
If you're a wine lover, you have to take a tour to the wineries on Mount Etna. There are quite a few wineries that you can visit and there's no need to coordinate doing it yourself, making all those appointments, and driving yourself because there are some great tours.
We took this 6-hour private tour visits 3 different Sicilian wineries as you sample tasty regional reds, whites, and rosés. Driving in an air-conditioned car, cruise past picturesque villages, fruit orchards, and lava-made churches as you explore the fascinating region of Etna, known for its volcanic terroirs. Sip samples of the volcano-infused drink in family-run wineries, munching on local gastronomic delicacies, from cheeses to salami.
4. Corso Umberto
The Corso Umberto is Taormina's main street, offering bustling restaurants, shops, and boutiques for visitors to indulge in. Shop till you drop at this pedestrian-friendly thoroughfare to collect memorable souvenirs to take home.
The street is lined with Medieval buildings with Renaissance-style architecture. Along the way, you'll spot the 13th-century palace, Palazzo Duca di Santo Stefano, that once belonged to a Spanish noble family. Among the centuries-old structures are captivating cathedrals and hotels to take in as well.
5. Piazza IX Aprile
While you're in Corso Umberto, you can pop in at Piazza IX Aprile, a picturesque square worthy of a spot in your camera's gallery. It's gorgeous to look at, and the atmosphere is even more enticing in the evenings when it comes to life.
It's the type of place where you can grab a cozy seat at one of the cafes and people-watch for hours. Filled with charming cathedrals and luscious trees, there's no escaping this artist's dream once you're there.
6. Taormina Food and Wine Walking Tour
You cannot leave Taormina without indulging in local Sicilian cuisine. And here, you'll find some of the most delicious food and Italian staples, such as tomato sauce, fresh vegetables, and pasta.
Some local specialties you must try include tuna, sardines, swordfish, red chilies, pine nuts, olives, and capers. The best way to taste Taormina is through a food and wine walking tour.
The walking tour takes under three hours, allowing you to sample sweet Sicilian cakes, fresh fish, bruschetta, and more regional specialties. And to wash it all down, you'll be treated to a glass of Prosecco, Italian liquor, and wines.
Related Read: Try these famous foods in Italy while you're touring Taormina.
7. St Nicolas Cathedral of Taormina
On the ruins of a church dedicated to St. Nicolas of Bari is a 13th-century cathedral that stands in the grandeur of its architectural beauty. A sight to behold, this historic Catholic church is one of the top Taormina attractions.
Once inside, you'll be in awe at the grand arched interior and elaborate statuary. This gothic church is also located along Corso Umberto, meaning you'll have access to great sightseeing opportunities when visiting the square.
PS: There are more famous landmarks to see in Italy which you can take on after all the sightseeing in Taormina.
8. Isola Bella Island
Suppose you are in Taormina during warm Mediterranean weather (which is almost always). You can head to Isola Bella to work on your tan and enjoy some water activities. This tiny island is known as the Pearl of the Ionian Sea, so you absolutely shouldn't skip a chance to visit.
Isola Bella is a rocky island rich in natural beauty and teeming with marine life. It features beautiful pebbled beaches and coves for visitors to delight in. And while you're on your small island escape, you can take on activities such as snorkeling, swimming, and kayaking.
9. Day Trip to Castelmola
If you can, waste no time with an exciting day trip to the picturesque Castelmola. Castelmola is one of Sicily's most stunning villages, and it would be a pity if you couldn't see it for yourself. And the best part is that it's only 0.6 miles from Taormina.
Castelmona was initially designed to protect Taormina from attackers but has become widely known for its captivating panoramic views and historic buildings. There's even a castle to admire, delicious food, and interesting shops with ceramic displays, among other quirks.
10. Bam Bar
If there's one thing Taormina is famous for, it's not a building nor a sight but a Sicilian specialty — the traditional granita. This delicious treat is a unique twist on sorbet, originating from Sicily. It's a semi-frozen dessert made from sugar, various flavorings, and water that has a smooth crystalline texture.
So, if you're looking to recover from the heat, this sweet treat will cool you down in no time. All you have to do is head to the Bam Bar, which specializes in this dessert featuring an artsy atmosphere and outdoor tables to unwind.
11. Grotta Azzurra
Visit Taormina's Blue Grotto by boat, a sea cave located at the beach of Mazzaro on Isola Bella. There are many boat tours to see this geological wonder close-up.
To give you some idea, the cave has a blue reflection on the water in the grotto that illuminates the cave entirely. While this sounds surreal, there are few things as magical as seeing the blue glow inside the cave and scuba diving while you're there.
Best Time to Visit Taormina
The best months for sightseeing and activities in Taormina are most of the year, from March through November, due to the stunning Mediterranean conditions. Taormina experiences hot, dry summers and mild winters.
If clear sunny days and water activities are what you're after, then visit between June and September. On average, July and August are the warmest months, and August is hands down the best month for swimming.
In conclusion, it's best to experience this charming town during summer when it reaches highs of 89,6°F and lows of 75,2°F in temperature.
Conclusion
Within Sicily, you'll find gorgeous Italian cities, and Taormina allows you to experience the region's culture and surroundings. From lazing on the sandy beaches to indulging in the fine cuisine complemented by opulent wines and dreamy views. Is there a better way to unwind and have fun while in Italy?
That's up to you to decide. Now that you know what to see in Taormina, the only thing left to ponder is which one of these sites or activities you will take on first.
Next Read: See more breathtaking coastal towns in Italy.
Like this post? Why not save it to Pinterest?
FOLLOW US on Pinterest, Instagram, Facebook for more great travel inspiration and tips.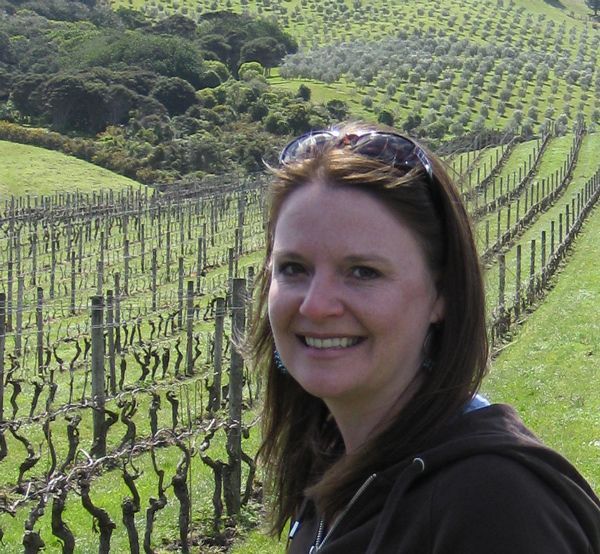 Laura Lynch, creator and writer of Savored Journeys, is an avid world traveler, certified wine expert, and international food specialist. She has written about travel and food for over 20 years and has visited over 75 countries.