Las Vegas is one of the most stimulating cities in the world and there is something to do at all hours of the day, whether you're into gambling, food, or sightseeing. You can do it all on a grand scale in Vegas.
Just before touching down, you'll be able to catch your first glimpse of the famous Las Vegas strip. On the far end of the strip is the tallest freestanding observation tower in the U.S. – the Stratosphere – and at the other end is an impressive 43-story gold tower – the luxurious Mandalay Bay Resort and Casino.
You won't believe your eyes when you arrive for the first time. Packed into such a small area is a scaled-down version of the New York City skyline (complete with Statue of Liberty and Brooklyn Bridge), a castle complete with moat and drawbridge, an Eiffel Tower, and a mini Egyptian pyramid.
Las Vegas is a wonderful place for those who enjoy gambling. You will finds thousands of ways to gamble and lots of different games. In Las Vegas you will be able to find somewhere to gamble 24 hours a day. The casinos are exciting and fun and there is never a dull gambling moment.
If gambling is not your idea of fun, don't worry! There are so many other things to do in Las Vegas besides gambling. You could actually spend days wandering through all the hotels and casinos. There are all kinds of things to see, activities to participate in, and you can even take a ride on a gondola or a roller coaster.
Where to Stay in Vegas
Probably not surprisingly, all of those buildings I mentioned above are themed hotels where you can stay the strip. The question is which theme fits you best? Of course, there are also varying prices to fit your budget, too.
What to Do in Las Vegas (Other Than Gambling)
Las Vegas is known as the "Entertainment Capitol of the World," and though it was originally created as a gambling town, there is a lot more to Vegas than the slots.
If gambling isn't your forte, there's an abundance of other activities that can fill your time.
With so many sights and attactions in the city, one of the best ways to see it all for less is with the Go Las Vegas Explorer Pass. There are over 45 attractions & tours included in the pass, which is very convenient, and a huge money saver.
Attractions & Tours on the Strip
In my opinion, one of the first things new visitors to Las Vegas should do is go on a tour of the city and the strip. This will give you the best overall perspective of the area and help you establish your bearings and decide what you want to do.
Being Vegas, there are numerous ways you can embark on a tour. There are limo tours, open top buses, and hop on hop off tours. See the three below that we recommend.
Once you've done a city tour, you can set off on foot to see everything up close. There are two ways you should experience the Strip while walking. Indoors and outdoors.
The activity on the street is captivating. Seeing the buildings, fountains, canals, and gardens from the outside is amazing. You'll likely stumble through a few areas that are a bit disturbing, but you'll be in awe the entire time.
Bellagio's dancing fountains go off every half an hour during the day and every 15 minutes in the evening.
The Stratosphere Tower has an indoor and outdoor observation deck and the Sky Jump ride.
You can also wander forever from one hotel to another, walking almost entirely indoors through the maze of awesome shops and designed corridors. I recommend popping into all the big hotels. There are tons of things to see inside each.
Caesar's Palace offers a world-class mall featuring a painted blue sky with clouds adorning the ceiling. The Forum Shops is a mall with more than one hundred boutiques with restaurants and cafes.
The Venetian also has first class shopping with many designer brands You can also take a gondola ride through the indoor and outdoor canals, just like in Venice.
At the Paris Hotel is a half-size replica of the Eiffel Tower, with a viewing deck (get your entrance ticket here).
Mandalay Bay Hotel and Casino's Shark Reef Aquarium.
Mirage Hotel and Casino by a massive volcano in front of it which erupts at regular intervals blasting fireballs to music.
At New York, New York, you can walk through a replica of the New York City streets, complete with New York City pizza, and then ride the Big Apple Roller Coaster.
The LINQ Hotel is home to the High Roller Ferris, the worlds tallest observation wheel at 550 feet high. It takes thirty minutes to make one full rotation.
Entertainment on the Strip
Vegas entertainment has always been a huge draw. Magicians, such as Penn and Teller and David Copperfield, entertain crowds with their amazing optical illusions. Comedians like Danny Gans and Carrot Top perform often in Las Vegas and are quite popular with their use of extravagant props.
Veteran Vegas entertainers like Celine Dion still command packed houses night after night with their well-loved repertoire of musical favorites.
Other entertainers like the Blue Man Group, Criss Angel, and the Jabbawockeez perform regularly on the strip, along with permanent shows like Cirque du Soleil
What to Do Off the Strip
When you're done seeing the strip, there are a million more things to do outside the city. Las Vegas is blessed with beautiful natural surroundings. Hoover Dam, Lake Mead, Red Rock Canyon, the Grand Canyon and Death Valley aren't very far away. Many of these attractions can be visited in one day.
If you prefer not to drive to these destinations, you can choose from a variety of guided tours that are available. Many of the tour companies will even pick you up from your hotel.
Here are a few tours we highly recommend:
Red Rock Canyon National Conservation Area has tons of trails, access to horseback riding, bouldering, and camping.
Lake Las Vegas is 40 minutes southeast of the Strip and offers the chance at kayaking and paddle boarding, along with stellar views.
If you can't make it to the Grand Canyon, visit the closer Valley of Fire State Park with its ochre-red Aztec sandstone outcroppings, just an hour from the city.
Where to Eat in Las Vegas
There are over 50 buffets to dig into. Often, the buffets have a theme, and they are all-you-can-eat. Some are extreme and extremely expensive, some are more laid back.
The most impressive buffets can be found at:
If you want to treat yourself to a gourmet meal, there are many upscale restaurants by well-knows chefs such as Emeril Laggesse, Wolfgang Puck and Bobby Flay.
Our top picks:
Nightlife in Las Vegas
Don't forget that Las Vegas is also known as a city that never sleeps and has an extraordinary night life. You can visit one of the over 40 night clubs in town and be treated as a VIP as soon as you walk through the doors. You can dance the night away at Studio 54 in the MGM Grande or stop by the popular VooDoo Lounge at the Rio. The night life in Vegas is non-stop.
10 Things to Do for Free in Las Vegas
Bellagio Fountains
The Bellagio Fountains on the Strip put on a show that anyone can watch for free. Music plays and the jets of water dance to the tune. The shows last two to three minutes, depending on the music. It's even better at night when the fountains are lit with beautiful lights, adding to the magic of the fountains.
Showtimes: Monday-Friday 3pm-8pm every half hour, 8pm-12am every 15 minutes. Saturday-Sunday: 12pm-8pm every half hour, 8pm-12am every 15 minutes.
Bellagio Conservatory and Botanical Gardens
You'll find the Botanical Gardens past the Bellagio's lobby. Enjoy strolling among the wonderful seasonal display of plants and flowers. You can even take photos there.
MGM Grand Lion Habitat
Inside the casino you can view lions daily from 11am-10pm. It's a wonderful experience and there are plenty of Lion Habitat souvenirs you can buy at the gift shop.
White Tigers at the Mirage
View Siegfried & Roy's white tigers in their specially designed habitat at the Mirage. The public are able to see these majestic creatures throughout the day and evening.
Volcano at the Mirage
On the hour from 7pm-12am daily, you can watch the volcano erupt. It's located at the front of the Mirage and looks really impressive against the darkness of the night sky.
Aquarium at the Mirage
Located behind the front desk and a must see for aquarium lovers is a 53 foot long aquarium which boasts over 1,000 creatures from all over the world including Australia, Fiji and the Caribbean.
M&M's World
M&M's World is next door to MGM Grand. You can watch a free 3D movie and have lots of fun exploring the four floors that make up M&M's World.
Circus Acts at Circus Circus
Every half hour from 11am-12am daily you can see exciting live circus acts at the carnival midway.
CONCLUSION
There are so many things to do and see in Las Vegas, beyond gambling, that it's impossible to experience it all in one, two or even three trips. Because Las Vegas is continuously growing and changing its landscape, there's always something new and exciting happening.
Remember that Las Vegas is ever changing so it might be a good idea to check that these attractions are still available when you plan your trip to Las Vegas.
Don't forget! Save it on Pinterest.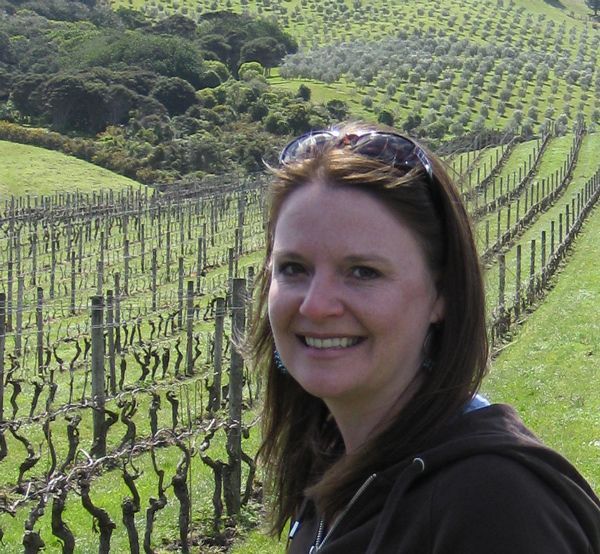 Laura Lynch, creator and writer of Savored Journeys, is an avid world traveler, certified wine expert, and international food specialist. She has written about travel and food for over 20 years and has visited 70+ countries.