With so many beautiful and dramatic pictures of the Iceland countryside, the waterfalls, the mountains, the natural hot springs, it's impossible not to dream of a spectacular vacation around Iceland. With so many options of things to do and see in Iceland, it's a dream trip that everyone should take at least once.
One of the best ways to fully experience Iceland is to take a couple weeks and do a road trip around the perimeter of the island. Along the way, you'll tag nearly all of the 12 incredible things to do in Iceland that are on this list.
» For more information see this Perfect 7-Day Iceland Itinerary.
Of course, Reykjavik should also be part of your plan for Iceland, as it's full of great things to do and eat. You can spend a few days in the city before renting a car and going for a drive.
There are a lot of great road trip routes in Iceland. If you don't have time to drive it all, choose the one that fits the length of time you have and hits up the sights you want to see the most.
Top Things to Do in Iceland
1. The Blue Lagoon
The iconic Blue Lagoon tops most people's must-do list in Iceland, and for good reason. Even though the Blue Lagoon is actually a man-made thermal spa, it still has great appeal for tourists.
The water is strikingly blue and the steam coming off is dramatic against the moon-like landscape surrounding. You can spend an entire day at the Blue Lagoon, between bathing, spa activities, and dining.
They have three restaurants: Lava for gourmet Icelandic dishes, Moss for fine dining in the evening, and Spa Restaurant for gourmet dishes in the Spa Retreat. There's also a cafe where you can pick up quick bites. If you want to make this a full experience, you can stay at the Silica Hotel or Retreat Hotel, located right on the property.
Combine your stay with dining or spa treatments for the ultimate relaxing vacation. See more information about visiting the Blue Lagoon.
⇒ Get tickets for the Blue Lagoon with roundtrip transportation included or combine your visit with a tour of the Golden Circle and Kerid Crater from Reykjavik (entrance fees excluded).
2. Hot Springs
Hveravellir Nature Reserve and Hot Springs
There are lots of other actual hot springs throughout the country to explore and enjoy, including one of the most beautiful geothermal areas in the world, Hveravellir.
Located in the center of the island, between the two glaciers Langjökull and Hofsjökull, Hveravellir Nature Reserve is a stunning wilderness with natural thermal pools, lava fields and hiking trails. Hveravellir is about a 3 hour and 45-minute drive from Reykjavik.
You need a 4×4 vehicle to reach it, as there is rough terrain on the way in. There are many thermal pool in the area. The temperatures vary between 18 and 39 degrees C. There is a service fee of 500 KR for any guests parking or using the showers and toilets.
Gamla Laugin (Secret Lagoon)
The beautiful Secret Lagoon natural hot spring is located near the Golden Circle, so it's a destination that most visitors will be in striking distance of. It's about 30 minutes south of Gullfoss Waterfall.
This is the oldest natural swimming pool in Iceland. Of course, these days it's not so "secret" anymore and can even get pretty overrun with tourists in the high season. Here are 2 other hot springs to see in Iceland:
Landbrotalaug hot springs
Reykjadalur hot springs (and hike)
Check out even more natural wonders in Iceland.
3. Northern Lights
Iceland is one of the best places to see the Northern Lights, or Aurora Borealis, especially from outside of town where the pitch darkness allows for the best viewing of the vibrant green waves of light.
The best time to see the lights is from October to March. It's fairly cold in Iceland during this time, so be prepared for spending long hours outside trying to capture this amazing scene.
There are plenty of companies in Reykjavik who run guided Northern Lights tours that take you out into the countryside to hunt for the elusive lights. Staying in the city, you won't be able to see them because of light pollution.
⇒ Book a Northern Lights tour from Reykjavik.
Perhaps the best way to ensure you'll see them is to stay in a country inn that will call you during the night when the lights have been spotted. That way you don't have to stand outside hoping and waiting. Three such places are:
Hotel Husafell, an 1:45 minute drive north east of Reykjavik, is one of the best places in Iceland to see the Northern Lights. It's located at the heart of Iceland's Aurora Zone and they boast at least 3 sightings a week in winter. They offer guest wake up calls when the lights are spotted.
At Hotel ION, in the south west, you can watch for the lights from the hotel's Northern Lights Bar, with panoramic views over Lake Thingvallavatn, or from a thermal hot springs.
Hotel Ranga, in southern Iceland, offers hot-tubs filled with mineral-rich volcanic water from which to view the aurora.
3. Whale Watching
One of the top activities for tourists in Iceland is whale watching. You can take a boat tour to see the whales. But it's not even necessary to go on a tour to spot whales breaching along the coastline, if you keep your eyes out for them.
There's a chance to see many marine animals and whales in the area, from harbor porpoise and white-beaked dolphin to orcas, minke whales and giants like sperm, fin, humpback and blue whale. You might see a humpback whale breach or watch pods of orcas swim by.
The best time to see whales in Iceland is between June and August, when at least 11 different species of whales enter Faxaflói Bay to feed. However, the season extends from April to October, so you can still catch a sighting on the shoulder months.
Between January and March whale watching in Iceland focuses on the Snaefellsnes Peninsula, where orcas come to feed. Year round tours leave from Reykjavik harbor.
⇒ Book a whale watching cruise from Reykjavik.
4. Tour the Golden Circle
One of the most popular tours from Reykjavik for tourists is the Golden Circle tour. This is an easy day trip that will get you outside Reykjavik to see some of the countryside without having to rent a car and drive yourself. The tour includes these highlights:
Tectonic rift at Thingvellir National Park
Geysir and Strokkur hot springs – a waterspout that shoots to around 98 feet in the air
The double-tiered and impressive falls of the Gulfoss waterfall
The tour is by comfortable motor coach or bus, with anywhere from 5-30 participants. You'll spend about an hour in each place, with stops for a break and lunch. Altogether the tour is 7 hours, door-to-door.
⇒ Book a small group classic Golden Circle day trip from Reykjavik or this Golden Circle Tour with Secret Lagoon. If you don't want to go with a group, here's a great private tour that doesn't cost that much more than a group trip.
5. Icelandic Food & Drink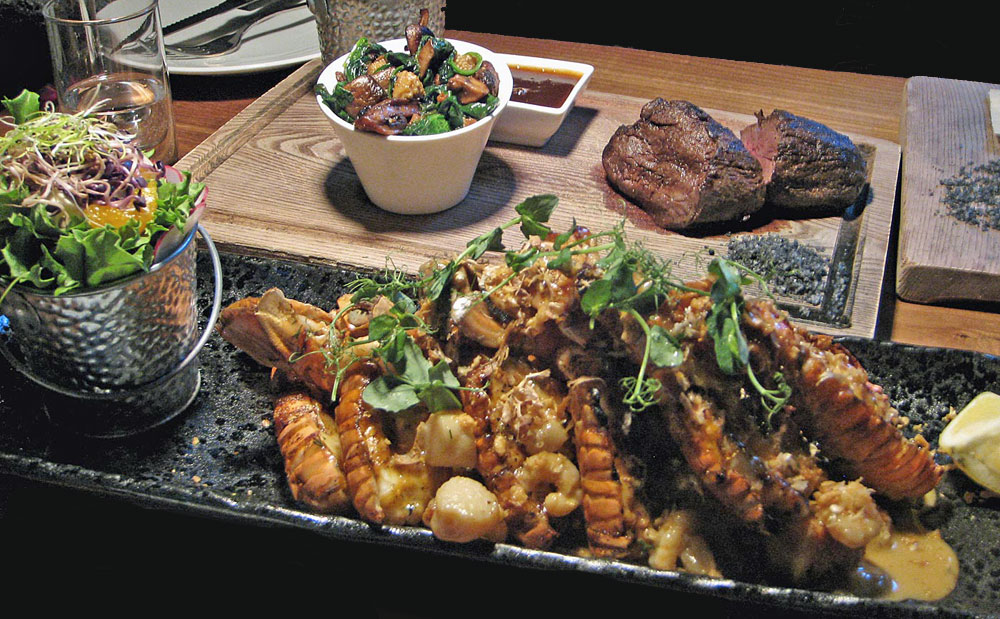 The food in Iceland holds many surprises and adventures for the typical traveler who has never tried such exotic foods. In Iceland, you'll readily find things like minke whale, puffin, reindeer or langoustine on the menu. Lamb is also a popular meat in Iceland.
Reykjavik is the capital of food in Iceland and there are many incredible eating options in a small radius. Most of the top restaurants offer a chef's tasting menu with wine or beer pairings so you can enjoy the best of what they have to offer, without having to choose the dishes yourself.
Some of our favorite places to eat in Reykjavik are:
Read more about the foods you should try in Reykjavik and where to eat them. One of the best ways to try a bunch of things in just a few hours and have a fun time doing it is to book a food tour in Reykjavik.
Craft Beer in Iceland
Aside from the great food, Iceland is also home to some really great craft beer. First thing you need to know is the word for beer in Icelandic is "Bjor", and the word for cheers is "Skál".
One of the major breweries in Iceland is called Borg Brugghus. They make a lot of great beer like Ufrun (session IPA), Solveig (hoppy Weizen), Ulfur (triple IPA), and some seasonal favorites. Brothers Brewery is a craft beer brewery that is a must-stop in the remote Westman Islands. Most of their beers are named after colorful characters, and local legends.
Kaldi Brewery was the first micro brewery to open in Iceland and you can find their beer in bars in Reykjavik (only in the bottle), and in their small hometown of Árskógssandur, which is 25 minutes from Akureyri in the north, where they also run brewery tours.
⇒ Check out all the awesome food and drinks Reykjavik has to offer on a Beer & Food Tour.
6. Horseback Riding
Even if you've never seen one in person, it's likely that you've seen many pictures of the beautiful Icelandic horses. These horses are a pure breed of the horses that were brought to the island by the Vikings 1,000 years ago. No other horses are allowed on the island, to keep the breed pure.
Riding on a Viking horse is a great way to experience the lush valleys and steep mountain terrain of Iceland in whole new way. While these horses are small in stature, they're strong and powerful. And it's a unique riding experience, whether you're experienced or not.
Tours are available to suit any level of rider, from an hour-long stroll to a multi-day trip that includes camping in the wilderness and riding alongside a herd of loose horses, following ancient routes into remote areas. Choose your own adventure!
Here are a few good horseback riding adventures to try:
7. Hiking
You can explore Iceland on foot through hundreds of hiking trails around the country. Although you will need a car to get there, once you've arrived at a national park you can leave the car behind and go exploring on foot.
The hiking trails in Iceland often lead behind incredible waterfalls or straight up a glacier. It's not just your typical mountain trail. For this reason, you need to be sure of your experience and fitness level before embarking on a trail.
Landmannalaugar is one of Iceland's best hiking destination. The geothermal activity there means there are rivers and streams that are warm and great for a dip after a day of trekking. There are three major hikes at Landmannalaugar.
In Þingvellir National Park you can hike through the Almannagjá gorge. At the top is a view of Iceland's largest lake, Þingvallavatn, and at the bottom you'll see Öxarárfoss waterfall. This hike is easy and accessible for everyone.
In Snæfellsjökull National Park, there's an easy and popular 30-minute hike between Arnarstapi and Hellnar on the Snæfellsnes peninsula. The hike has no major elevation changes and takes 1-hour there and back.
8. Caving
It usually takes a bit of hiking to get to the caves in Iceland. Due to extensive volcanic activity on the island, there is vast amounts of terrain underground in the lava caves to explore.
Leidarendi is a lava tube close to Bláfjöll in the Blue Mountains in southwest Iceland. It's less than 30 minutes from Reykjavík, making it a popular spot for tourists to explore. These caves are colorful and exciting, with polished cave walls, stalagmites, stalactites and other fascinating formations.
The Skaftafell ice cave near Hofn is also popular with tourists for its natural landmarks, blue walls and ice formations. You can explore it and the nearby glacier on this tour from Hofn.
The Vatnshellir ice tube is one of the most easily accessible caves in Iceland, located on the Snæfellsnes peninsula. It's an 8,000 year old lava tube reaches over 200 meters and goes 35 meters below the surface. You can take a 45-minute tour of the cave.
9. Explore Thorsmork
Thorsmork, also written as Þórsmörk, is a mountain range in the south of Iceland, named after the Norse god of thunder, Thor. Thorsmork valley is surrounded by glaciers on three sides, mountains and glacial rivers, and is a true outdoor playground for visitors who enjoy adventure.
It's one of the most popular hiking areas in Iceland, with endless trails of various lengths stretching all around the valley. You can also go on nature walks, jeep tours, and volcano viewing. There are campgrounds and other accommodations available.
» See more of the best glaciers in Iceland.
10. Visit Snæfellsnes
Lush valleys, soaring mountains, lava fields and craters are part of what makes this peninsula on the west part of the island so fascinating. Aside from exploring the diverse landscape, check out the famous Snæfellsjökull glacier, go bird watching and take a walk along the white and black sand beaches. Since this area is so packed full of things to do, travelers often choose to take a longer road trip to the peninsula to experience it all over 4 to 5 days.
⇒ Discover these wonders on a Snaefellsnes Peninsula Day Trip from Reykjavik with Kirkjufell Mountain and Djúpalónssandur Beach included.
11. Landmannalaugar & Saga Valley
In summer, Landmannalaugar and the Saga Valley are alive with vibrant colors, lush vegetation, and even wild horses. It's tucked away in the highlands in Fjallabak Nature Reserve, where hiking and trekking abound, and where you'll be treated to amazing vista views of surrounding mountains and volcanoes.
The Hjálparfoss Waterfall is one of the top sights. The terrain is almost otherworldly in this part of the country, due to the extensive lava flows, and may leave you feeling like you've stepped into another universe. You can visit this area by car, or on a group tour leaving from Reykjavik.
The trip takes about 3 hours each way, so many travelers plan to spend at least one night there in order to see and do more.
12. Puffins
These adorable Altantic puffins are reason alone to go to Iceland, which is home to one of the largest colonies of puffins in the world. They aren't terribly elusive either. You can find them in a number of places in Iceland. One of the 3 largest bird cliffs in Iceland is Látrabjarg Cliffs in the Westfjords – the westernmost point in Europe.
Two other prominent bird cliffs where you can see puffins are Hornbjarg and the Hornstrandir Nature Reserve Park, both in the north west of Iceland. You can combine other activities with birding to fill out your itinerary, like hiking, especially in the Hornstrandir NRP.
Other puffin areas are the Westman Islands, Breidafjord and Lundey – which is called Puffin Island. It's just just a quick boat ride from Reykjavik and has a puffin colony of over 20,000 birds.
Driving in Iceland
Iceland is a small island, but it's still rather large from a touristic standpoint. You'll need a car to get around to all the places you'll want to see on an Iceland itinerary. The only time I don't recommend renting a car is when your trip is in the winter and the road conditions don't allow for it.
Check out the car rental options from Northbound.is. They have just about any car you might be looking for, from something small, to 4x4s to camper vans and the prices are reasonable.
Keep in mind that the weather during the time of year you choose to go will play a big role in what you're able to do and see. If it's winter when you visit Iceland, you probably won't be able to make it too far outside of Reykjavik, in which case we suggest our 4-day Reykjavik itinerary.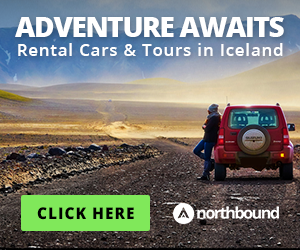 Iceland Tours
Traveling in Iceland is very easy to do on your own, but if you don't want to drive or figure out the itinerary on your own, a great way to see more of the country with less hassle is by going on a group tour.
Northbound is a great place to start looking for tours that excite you. Use the search engine below to find fun tours. We've also included links to tours for the 12 activities listed below.
CONCLUSION
These are really just scratching the surface of things to do in Iceland. You could easily embark on a multi-week trip around the island and still not see everything. Prepare yourself for a high-adventure trip! Have you already been to Iceland? What are your favorite things to do in Iceland?
Where to Stay in Reykjavik Iceland
Many visitors to Iceland start their trip in Reykjavik, which we highly recommend. It's a fun city, with plenty of things to do, and nice places to stay. Here are our favorite places to stay in Reykjavik.
Hotels:
For more choices, check out these Hotels in Reykjavik, Iceland
Quick. Check these necessities off your prep list!
Like this post? Why not save it to Pinterest?
FOLLOW US on Pinterest, Instagram, Facebook for more great travel inspiration and tips.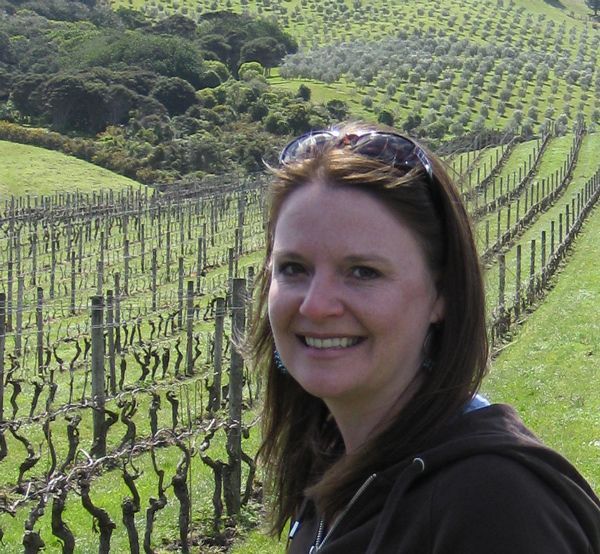 Laura Lynch, creator and writer of Savored Journeys, is an avid world traveler, certified wine expert, and international food specialist. She has written about travel and food for over 20 years and has visited 70+ countries.