Italy has abundant romantic, natural and historical allure that makes it a prime travel destination. The cuisine, the dramatic coastline, the beautiful landscapes, the elaborate Roman ruins…
There are so many distinct and wonderful places to visit in Italy that it would take months or at least multiple Italy vacations to visit all of the top attractions.
» Be sure to try these Famous Foods in Italy.
Whether you visit one or visit them all, you'll be glad you did. I've spent many vacations in Italy. I never seem to get over its charm. There are the Roman ruins to see in Rome, the Parmigiano-Reggiano to taste in Bologna, the gondola rides to take in Venice, coastal towns, and wine to sip in Tuscany.
I won't stop visiting Italy until I've seen it all. We've put together a list of the best cities in Italy, along with their most popular attractions, to help you form a plan for your Italy vacation.
Here's more to help you plan
Getting Around in Italy
The best way to get around to all or even a few of these places in Italy is to rent a car and drive. I always book through DiscoverCars.com for the best deals. It's not too difficult driving around in Italy, but you should be prepared for a few things:
You need an International Driver's License, which is just a translation of your U.S. or other country license. You can get this at the AAA office, or online.
Most cars in Italy are manual (stick-shift). You can rent automatics, but there aren't a lot of them so you have to book in advance.
The roads are sometimes very narrow and not paved. It's best to rent a very small car that can easily manuever the roads and parking spots.
When is the Best Time to Visit Italy?
The most popular time to visit Italy is during the summer months (July to August), but it can get downright steamy during the summer, from both the heat and the throngs of people.
We personally don't recommend traveling in Italy during this high season. The best time to visit is the spring or fall, when crowds are lighter and you don't need to drink your weight in water just to stay hydrated.
Spring can also be one of the best times to find deals to Italy. Aim for March, April, September or October. Most parts of Italy stay open year round for tourists, but in the wine regions the wineries and restaurants do shut down for the most part during the winter months.
It's wise to check on what will be open in Siena and surrounding towns during the winter months (from November through early March). You'll surely find a few of the larger places to be open, but must of the appeal of Tuscany is the small family-owned places, and they tend to close down.
Planning for an Italy wine trip? Here's more
Best Cities in Italy to Visit
Rome
Visiting Rome is like stepping back in time. The cobblestone streets, the crumbling Roman ruins, the Colosseum's looming presence, the ornate architecture of St. Peter's Basilica — so many amazing attractions to see throughout the city, and it's easy to see everything without much fuss.
With a good map and a little energy, you can easily walk the entire old town center of Rome and see all of these iconic landmarks. Here's our 3-day Rome itinerary to give you a good start.
One thing you definitely don't want to miss is a food tour. We took a fantastically tasty food tour with Eating Europe that we definitely recommend. We tried so many great foods in one of Rome's coolest neighborhoods.
Florence
Florence is a beautiful city full of museums and some of the best art in the world. If you majored in art history in college, you've likely already been to Florence for a visit. It's also a great jumping off point to Tuscany and the many incredible wineries that fill the land south of Florence.
While you're in Florence, be sure to check out these main sights.
Find and book Florence tours and activities on Viator.com. Book ahead to save time and money!
Venice
I often think Venice is single-handedly responsible for Italy's romantic allure, with its winding waterways and canals, arched bridges and amazing architecture.
Since no cars are allowed in the city, it's an escape from the normal hustle and bustle of blaring horns and angry traffic snarls. Instead, you wander through the narrow cobblestone streets on foot or glide around the city on a gondola.
» Read our Shortcut Guide to Venice [with infographic and video]. Venice is another city where we recommend taking a food tour, so you can quickly become ingrained in the cicchetti tradition.
Bologna
Bologna is one of my favorite places in Italy because of the incredibly food and foodie experiences that are available there. This city is truly the epicenter of food.
It's surrounded by the cities of Parma and Modena, which are home to DOP products like Parmigiano Reggiano, Parma ham and Balsamic Vinegar Of Modena. We went on the most fantastic food tour of these regions with Italian Days. Very much recommend that tour.
Bologna is a great midway point to base yourself for the many great day trips from Bologna that you can take to Verona, Milan, and more.
Modena
The historic city of Modena is one of our top fine dining experiences you should travel for. It's known for its DOP balsamic vinegar and opera heritage, plus Ferrari and Lamborghini sports cars. The Enzo Ferrari Museum has exhibits on the life and work of the car designer, plus iconic models.
The city is also a great place to go for architecture, as it has many UNESCO World Heritages Sites (see below for details).
Milan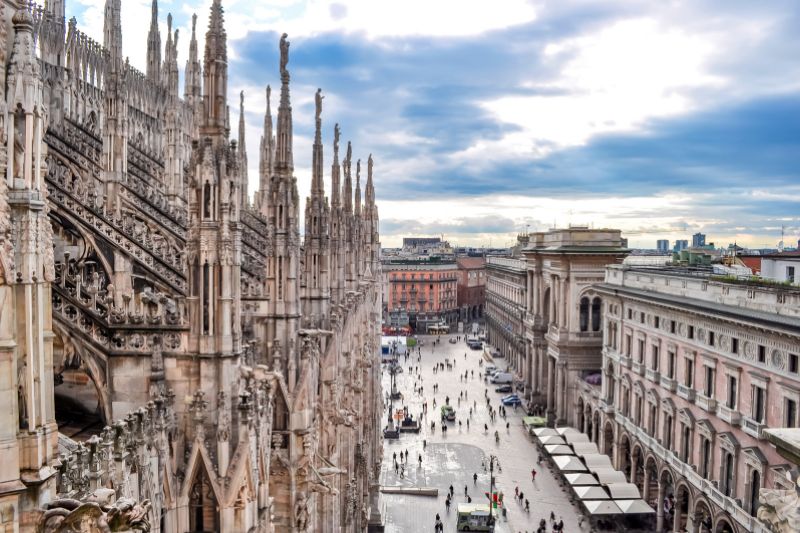 Milan, Italy, is known as the fashion and design capital of Italy and even if you're not a shopper, you'll be blown away by the designer shopping options. But what to do in Milan doesn't end there.
It also has a lot of historic and cultural activities to discover. It's a great city for a long weekend getaway.
Siena
Located right in the center of Tuscany, Siena is a great city for wine lovers and those looking to experience the medieval hilltop towns of Italy. This is the perfect home base from which to embark on a self-guided Chianti tour or to explore the surrounding Tuscan countryside.
Here are our favorite places to stay in Tuscany, along with some of the best wineries you can visit within close proximity.
Verona
Romeo and Juliet fans will definitely want to take a day trip to Verona. It's a lively city with beautiful architecture and a few key sights to see.
Visitors enjoy it because it's a quieter, less touristy Italian town that has all the history, architecture and charm of a larger city.
Ravenna
The city of Ravenna, in the Emilia-Romagna region of Italy, has a lot to offer in terms of history and architecture. The city is flowing with UNESCO World Heritage Sites that you must see, particularly its mosaics. Book a tour.
Cinque Terre
Though not a single city, the Cinque Terre region is one of the most popular tourist destinations in all of Italy, due mostly to the beautiful and dramatic scenery.
With the colorful houses built on the rugged cliffside, it's hard not to be enamored by the view. Book a tour.
Naples
Naples, being in the south, is more rough around the edges than some of the northern touristy cities of Italy, but what it lacks in grace, it makes up for in old-world charm. Walking the streets of Naples is like stepping into another world – one a bit stuck in the past, but owning it.
The best way to experience Naples is just to explore it. The action is on the street, not in museums. If you're hankering for picture opportunities, the glass dome over the Galleria Umberto I is a good spot. You can also climb above the city to take scenic pictures of the coast and madness of Naples. Check out this list of the top things to do in Naples while you are there.
We also suggest going on a pizza crawl to discover some of the best Napolitan pizza. There are a lot, but we've put together a guide to help you find the best ones.
If you are really pining for a tourist fix, Pompeii and the looming Mount Vesuvius are close by. Pompeii, of course, was buried in a Mount Vesuvius explosion, literally freezing everything in place. Ah, you already know the story.
Sorrento
If Naples overwhelms you, head around the bay to Sorrento. Sorrento has that southern Italy charm, tons of lemons and lemon souvenirs to take home, adorable shopping lanes, and views that stretch on forever.
In Sorrento, you can stay at ancient resorts made modern, where service is the name of the game. The beaches aren't so hot, but they do have a very cute waterfront beach club where you can lay out in the sun and swim. You can also take boat rides to nearby Capri and other parts of the Amalfi Coast.
The Amalfi Coast is situated in the southern side of the Sorrentine Peninsula of Italy. The best way to visit the coast is to fly to Naples, rent a car and drive there, or take the ferry. If you make Sorrento your base camp, you can spend several days visiting the jewel towns of the Amalfi Coast at your leisure.
CONCLUSION
After you've discovered all there is to do in these major Italian cities, you'll be ready to move on to the rest of the country, to discover even more amazing food, to drink some more incredible wine and to explore more ancient cities steeped in history and culture.
We've found it impossible to see and do everything you'll want to do in a short Italy vacation, but it just encourages us to return and explore some more. Check out our 10-day Italy itinerary for inspiration.
Even two weeks won't allow time to see everything you want in Italy, so it's wise to split up your visit into manageable pieces.
Choose the areas you want to see the most and visit those first, leaving the others for return trips. You'll quickly find that Italy should have a permanent spot on your bucket list.
Planning for Europe? Here's more…
Like this post? Why not save it to Pinterest?
FOLLOW US on Pinterest, Instagram, Facebook for more great travel inspiration and tips.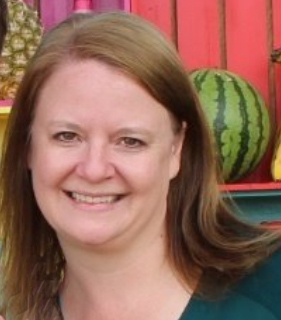 Laura Lynch, creator and writer of Savored Journeys, is an avid world traveler, certified wine expert, and international food specialist. She has written about travel and food for over 20 years and has visited over 75 countries. Her work has been published in numerous guidebooks, websites, and magazines.