Food is always a centric part of the trips we take. It expands our connection with the culture and gives us a true sense of a place, more so than any other activity, in my opinion. Colombia has an incredibly rich food culture, so the first thing you should do is book a food tour, so you can experience as much traditional Colombian food as possible.
Colombia is a great place to travel to as a foodie, because you'll find new and exciting foods to try everywhere you turn. Before your trip, take a few moments to familiarize yourself with the Colombian foods you should try while you're visiting, so you know what to look for.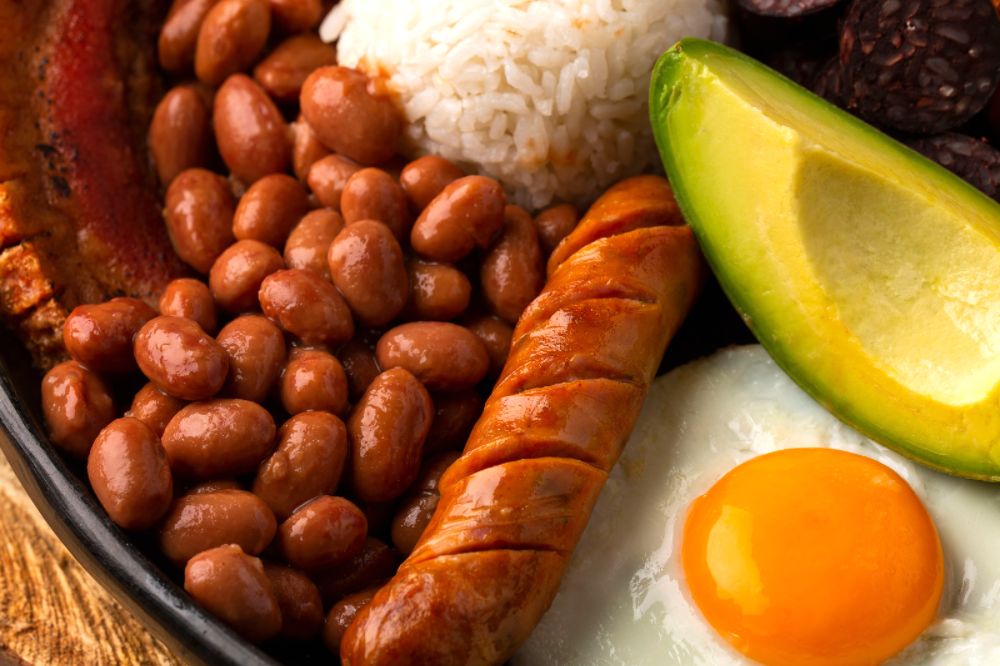 If you have time, we suggest booking a food tour in Colombia. It's a fun way to spend a few hours, and a really great way to be sure you try a lot of these foods. Here are a few recommendations for food tours we've tried and enjoyed:
Most of these foods can be found in any city in Colombia. Although some of them are specific to one region, they have become popular throughout the country and can be found everywhere.
Foods You Must Eat in Colombia
Bandeja Paisa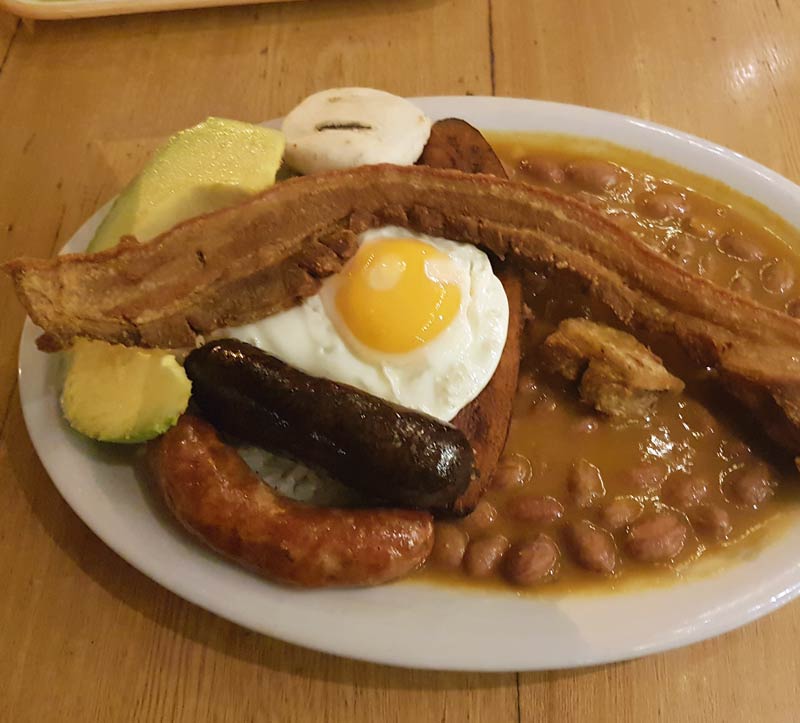 One of the most popular Colombian dishes you'll come across in traditional restaurants is the bandeja paisa. It's one complete dish, but made up of many separate foods, much like a full English breakfast.
The bandeja paisa is served on a platter and contains beans, rice, chicharron, chorizo, carne molida (ground beef), a fried egg, a ripe plantain, avocado and an arepa. Yes, all of that! It's huge, so don't order it unless you're really hungry, or sharing it with someone else.
Paisa is the word for a person from the Paisa region of Colombia. Bandeja means platter. This dish came about from a confluence of the cultures that have influenced the cuisine of Colombia over the years.
Ajiaco Soup
A very popular soup you can find in Colombia is the Ajiaco soup. It's made with chicken, three kinds of potatoes, corn and an herb called guascas. The potatoes mix together with the broth to make a hearty, thick soup base to which the chicken, avocado and corn are added.
The soup is then typically topped with crema and capers. There are many restaurants in Bogota and Medellin where you can try ajiaco soup. We had this beautiful bowl of deliciousness at La Puerta de la Catedral in the main section of Bogota, which I would highly recommend.
There's also a restaurant that's actually called "El mejor ajiaco del mundo (the best ajiaco in the world)" located in La Candalaria. Both of these restaurants also have a great bandeja paisa, as well. In Medellin, you can find some great ajiaco soup at Ajiacos y Mondongos or Mondongos.
Sopa de Mondongo
Another popular soup you must try in Colombia is sopa de mondongo. This soup is typical in other former Spanish colonies in Latin America, so you may have tried it elsewhere.
It's made with diced tripe that has been slow-cooked with a variety of vegetables, like bell peppers, onions, carrots, cabbage, celery, tomatoes, cilantro, garlic or root vegetables. All of these flavor meld together into one very flavorful soup. If you don't like tripe (or don't want to even try it), you won't like this soup. Order the ajiaco instead.
Empanadas Colombianas
You've probably had empanadas before, seeing as they are a main stay in many different cuisines. However, the empanadas in Colombia differ slightly from other versions. They are made with a corn wrapper and they are deep fried. For comparison, Argentinean empanadas use a flour wrapper and are baked.
You want to try a Colombian empanada when they are just fresh out of the fryer. When they are crispy and hot, they are heavenly. When you purchase empanadas at a shop that's dedicated to only empanadas, you're in for a treat. Typically they are served with a lime and some sauce.
But when you get them at a shop, you can stand around the counter and try all of the different sauces they have. Usually, you'll find 3-10 different sauces. You have to take tiny bites (because the empanadas are very small), but each bite you can add a different sauce to.
Arepas
Arepas are quite possible the most popular food in Colombia. They are made and served in almost every restaurant, as well as at home. It's made with corn maize, flattened into a disc shape and grilled until it's cooked through and a bit crispy on the outside.
There are many different versions of arepas you can find. There are large ones, small ones, fat ones, skinny ones, stuffed with cheese and other toppings, used as a sort of flatbread with all kinds of toppings, or cut in half and used as sandwich bread. It's important to eat arepas when they are just made and still warm.
They're still okay when they're cold, but not nearly as good as freshly made. If you find an arepa stand where there are a lot of people hovering around, you know you've found a good one! In Medellin, you'll find a whole menu full of arepa topping choices at the restaurant chain J&C Delicias.
Patacones de Colombia (Fried Plantains)
I'll admit that I don't love plantains. They're a little starchy for me. But when you turn a plantain into a patacone, I do love them. You do this by smashing the plantain into a flat pancake and double frying it.
The result is crispy, but chewy, warm and slightly savory fried goodness. Patacones make a good appetizer or snack at a bar. They often come with a couple of sauces that you can slather on top.
Buñuelo (Colombian Cheese bread)
These little bread balls are a hit on the street. When you find a bakery that's selling them, you'll see that they almost can't keep up with the demand. They're basically little balls of dough made from corn flour, cassava starch, cheese and eggs.
They are then deep fried and served pipping hot. You can also find them stuffed with various jams, of which guava jam is the most popular. Buñuelos are often eaten as a quick breakfast or an afternoon snack.
Pandebono is similar but baked in the oven, rather than fried.
Popular Colombian Desserts
Oblea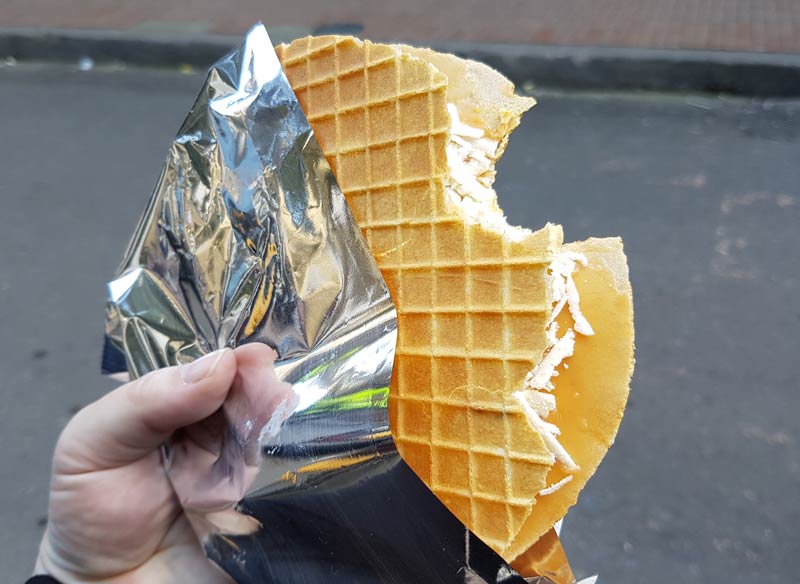 You're going to see these everywhere in Colombia's big cities. There are oblea carts practically everywhere. At first, I had no idea what it was they were making with all those toppings, but then I tried one and it became clear why there are so many of them.
According to the Beyond Colombia free food tour guide, these crispy wafer snacks were a major hit with the kids after church let out on Sundays. You can choose which toppings you want on your oblea from the many choices on the cart.
There's dolce de leche, crema, shredded cheese, a few different jams, nuts, sprinkles, chocolate chips, etc. I asked the guide which was the most popular and he said the dolce de leche and shredded cheese was a popular combination among Colombians, so I tried that one. It was pretty tasty.
Hot Chocolate & Cheese
I know this one sounds strange, but it's actually pretty good. This drink – slash – dessert is how Colombians drink their hot chocolate – and why not! The cheese that's used is easy melting and low saltiness, so it doesn't overwhelm or even really change the sweetness of the chocolate.
The only difference is that you plop a couple of big chunks of cheese into the bottom of the mug while it's still hot and a few minutes later you fish out the now melted cheese and eat it while you're sipping the chocolate.
I admit, I was skeptical, but it's actually really good. If you were trying it at home, you'd want to use a mild, melty cheese like queso blanco, hamoulli or mozzarella.
Mazamorra Colombiana
I'm not really sure how to classify this one, so I'm going to call it a dessert. They typically call it a sobremesa (after dinner) drink. But don't let that fool you, because it's not what most of the world refers to as an after-dinner drink, or digestivo.
It's basically a bowl of really soft, long cooked corn and milk, or claro, which is the cooking liquid from the corn. It's served cold in a large mug and you're supposed to eat the corn then drink the milk. I might also add that it's served with a packet of sugar so you can make it as sweet as you like. And often on the side is served a small square of guava paste.
Guava Paste (Bocadillo)
After a meal, you may be given a little square of bocadilla. It's 100% guava pulp mixed with sugar and boiled down to a thick paste that can form a solid block. It is pretty sweet, but it's also got intense guava flavor, and it's really tasty.
Popular Colombian Drinks
Colombian Coffee
Everyone knows that Colombia has some of the best coffee in the world. They are the 3rd largest producer of coffee in the world, behind only Brazil and Vietnam. When you're in Colombia, you really should spend a bit of time getting familiar with the different coffee regions and finding your favorite coffee brand.
Many cafes and coffee shops have tons of choices, and some even have classes and coffee-tasting experiences you can take. In Bogota, make a stop at Arte y Pasion Cafe to try their coffee experiences. In Medellin you can take a 2-hour coffee-tasting class at Toucan Cafe. Want to plan in advance? Book this specialty coffee workshop in Bogota.
Aguardiente
Aguardiente is the national liquor of Colombia. You can actually find different variations of aguardiente in many different countries, but it's particularly popular in Colombia. The word means fiery (ardiente) water (aqua) or what we refer to as firewater in the U.S..
It has a strong anise flavor and is made from sugar cane. Depending on the method of production, the Colombia version of aguardiente can range from around 24-29% alcohol. You can find aguardiente mixed in cocktails or with sugar cane water, but it's typical just drank neat, as a shot.
Craft Beer
Colombia has a growing number of high-quality craft beer producers these days, so if you're a beer fan, you'll want to seek out some of the top brands to give them a try. We enjoyed the microbrews and the atmosphere at Bogota Beer Company (which has branches around Bogota and Medellin).
They were the first to launch the craft beer scene in Bogota more than a decade ago. They have a large number of beers on tap to try, from Pale Ales to Stouts. They also have a taster tray of seven beers so you can try as many as you like. Also try Tap House and El Mono Bandido.
CONCLUSION
If you are able to find and try each of these items while in Colombia, you'll have a great grasp on the cuisine and the main staples of traditional Colombian cuisine. Of course, there are hundreds of other things that will tempt you, as well. We could only scratch the surface in this post.
If I missed your favorite Colombian food, let me know in the comments and I'll add it on! Like this post? We'd love it if you would share it on your Pinterest board with the image on the left.
Like this post? Why not save it to Pinterest?
FOLLOW US on Pinterest, Instagram, Facebook for more great travel inspiration and tips.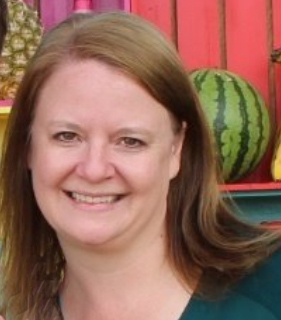 Laura Lynch, creator and writer of Savored Journeys, is an avid world traveler, certified wine expert, and international food specialist. She has written about travel and food for over 20 years and has visited over 75 countries. Her work has been published in numerous guidebooks, websites, and magazines.