Egypt is known for its amazing features and world wonders, like the Great Pyramids, the Sphinx, and the Nile, but what travelers don't often expect is the plethora or delicious traditional food dishes that are served up alongside those attractions.
When visiting Egypt, prepare your stomach for a feast of flavors and textures, many of which you've probably never tasted before. We couldn't stop eating the aromatic stews, succulent shawarma, and hot from the stone oven breads that were plentiful throughout the country. Reason enough to start planning a trip to Egypt.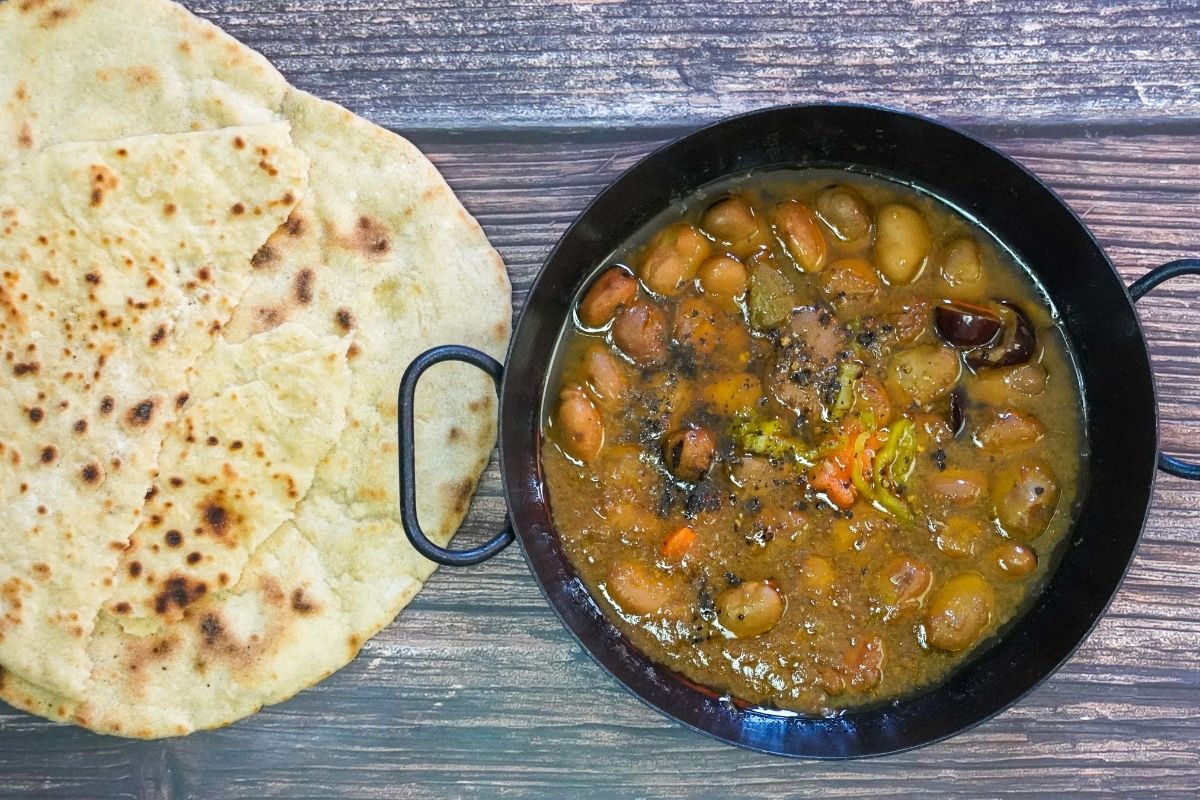 You can find a variety of foods in Egypt, but not all of them can be found in one place, other than in Cairo, where you can usually find most of the country's authentic, traditional foods.
In this article, we will be introducing you to 25 traditional Egyptian food dishes. Look out for these dishes on menus when you're in the country to get a taste of the authentic flavors, spices, and techniques used in Egyptian cooking.
» Even if you've never traveled there yourself you can make delicious international meals at home with very little effort. Try one of these great recipes.
Italian Gnocchi | Argentinian Empanadas | French Tartiflette | Vietnamese Pho
Traditional Egyptian Food Dishes: What Is It?
Before we delve into the various dishes, let's put some context to Egyptian cuisine, which features local fruits, vegetables, and a lot of legumes grown in the Nile Valley as well as the Delta.
There is a lot of vegetarian dishes in Egypt, like rice-stuffed vegetables and grape leaves, hummus, falafel, lentils and fava beans, but you will find meat dishes as well, like shawarma, kebab, and kofta. Fish and seafood are common in the coastal regions.
Tea is the national drink of Egypt and beer is the most popular alcoholic beverage.
Bearing all of this in mind, let's take a look at the top 25 traditional Egyptian dishes you should look for in Cairo!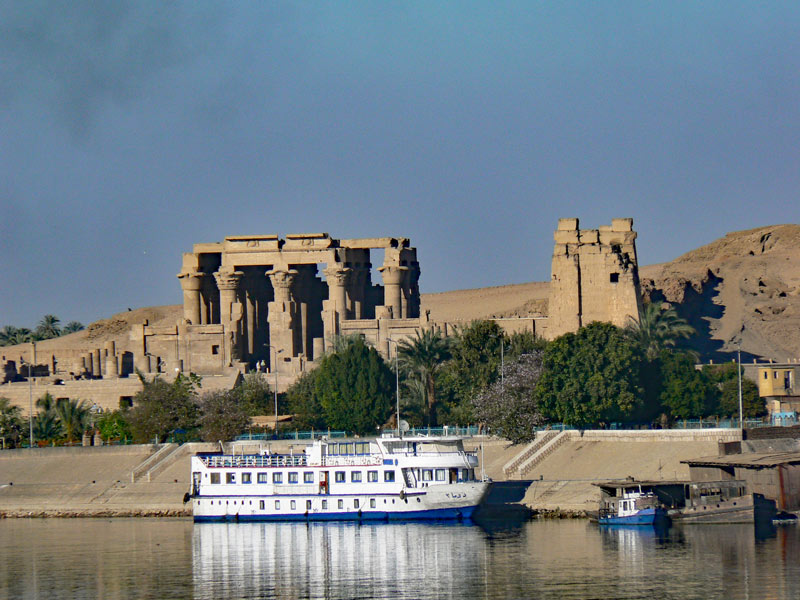 Best Way to Try Authentic Dishes
The best way to try many of these authentic dishes while you're in Cairo is to go on a food tour. As you might imagine, if you're staying at a resort or going on a Nile cruise, you might get something a little altered for Americans. It's unlikely you'll get served many unique traditional foods.
Book this tour through Viator:
Food Tour in Local Cairo Life with Egyptian tea
So many visitors to Cairo experience nothing more of Egyptian food than tedious mixed grills and heavy international buffets. Discover the real Egypt with a local foodie guide on a private food tour of Cairo. Over a series of tastings at authentic Egyptian eateries, try three or four different dishes then enjoy some Egyptian tea. If you like, follow with the classic hookah water pipe.
Taste three or four different Egyptian dishes as you explore Cairo
Learn the influences that shaped Egyptian cuisine from your private guide
Sample classic Egyptian tea, followed by a hookah pipe (if you wish)
Take it easy with door-to-door round-trip private transfers
Top 25 Traditional Egyptian Dishes
We have split these 25 traditional Egyptian dishes into categories to make it easier for our readers to find the dishes that might interest them.
We'll start with meat-based dishes before moving onto the many vegetarian dishes you can try in Cairo.
Then we're going to talk about the most popular traditional side dishes and desserts served in Egypt.
Meat-Based Dishes
1. Shawarma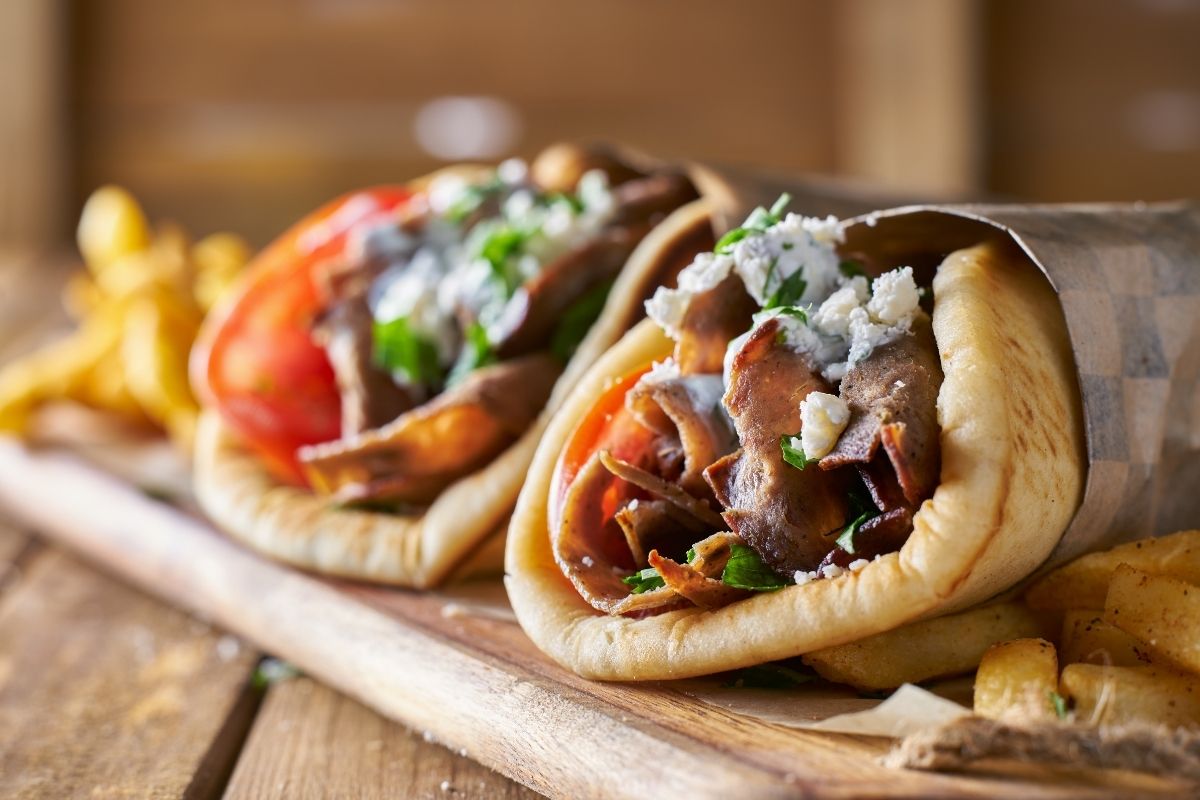 Shawarma is a popular Egyptian street food that can be found both in the capital city of Cairo and all throughout the country.
The dish originated in the Middle East and consists of grilled meat (typically lamb, mutton, chicken, or beef) that is sliced straight from a rotisserie.
The sliced meat is then served inside a pita bread and topped with tahini, vegetables and fries. Sometimes, hot sauce is also added.
2. Bamya
'Bamya' is the Arabic word for okra. This dish is a stew that features lamb and okra (hence the name).
Preparing this dish involves allowing it to simmer in a pan with tomato sauce, peppers, garlic, onion, cilantro, and a variety of spices.
Bamya can be made vegetarian by using vegetables, although it is most commonly made with meat, and it is traditionally served with pita bread or rice.
3. Mombar
If you visit Cairo, you might also hear the traditional dish, Mombar, referred to as fawaregh. Mombar is a sausage made out of the intestines of sheep.
While this might not sound very appetizing, it's a very popular dish in the Middle East and North Africa as well as in Egypt.
Inside the sheep's intestine, there is usually a mixture of spiced beef, tomato paste, onion, garlic, and rice.
4. Kebda Eskandarani
In Alexandria, fried beef liver seasoned with spices such as cardamom, cumin, chili peppers, and garlic is a popular form of street food.
Kebda Eskandarini, as it is called, is a staple of traditional Egyptian cuisine.
Most people like to enjoy the fried liver in bread as a sandwich, but you could also serve it with rice or a side of pita bread.
5. Makarōna Beshamel
You may be familiar with bechamel sauce in the context of French or Italian cuisine, but did you know that it's also a main ingredient in one of Egypt's most popular traditional foods?
Makarōna Beshamel is a dish of either macaroni or penne pasta baked with minced beef, bechamel sauce, tomato sauce, onions, and spices.
It only became popular in Egypt during the 19th century, but now, it's one of the country's most beloved dishes.
6. Kofta Kebab
You should definitely try a kofta kebab if you're visiting Cairo. Kofta is the word for a type of meatloaf or meatball, which can be made from various ground meats.
In a kofta kebab, the kofta is placed on a skewer and grilled along with garlic, onion, and a whole host of other spices and herbs for flavor.
7. Hamam Mahshi
In Egypt, pigeon meat is considered a delicacy, which is why it features in one of the country's traditional staple dishes: Hamam Mahshi.
Young pigeons are selected for the fattiness of their meat at 6 weeks old and stuffed with cracked wheat, rice, giblets, onions, spices, and nuts.
Then, the stuffed pigeon is spit-roasted and served on more cracked wheat.
Vegetarian Dishes
8. Falafel
We're betting you've heard of falafel before and probably even tried some.
However, the traditional Egyptian version of falafel is different from the chickpea-based Middle Eastern version you may be familiar with.
In Egypt, these ground fava bean balls are typically served as street food and are considered a breakfast dish.
It is thought that falafel was originally invented as a meat substitute by the Coptic Christians, who would consume the dish during Lent.
9. Koshari
Koshari is an Egyptian pasta dish made from chickpeas, lentils, rice, and macaroni, onions, and tomato sauce.
This dish can be traced back to the 19th century, when it emerged as a convenient way to use up common ingredients in the pantry.
It was initially sold as street food, but you can now find it in many Egyptian restaurants, particularly in Cairo.
10. Shakshuka
Shakshuka is a staple North African food that has become popular in Egypt over the centuries.
It consists of poached eggs, which are cooked in tomato sauce rather than water, along with vegetables such as tomatoes, peppers, onions, and garlic.
These ingredients are mixed up in a skillet with herbs and spices, which is where the dish gets the name 'Shakshuka', meaning 'shaken' in Arabic.
11. Ful Medames
Ful Medames is one of Egypt's national dishes and it's one of the most popular options for vegetarians in the country.
This dish is a type of creamy stew made from fava beans, lemon juice, garlic, olive oil, and other seasonings. It can be eaten by itself as a stew or, alternatively, served with pita bread and used as a dip.
12. Eggah
Eggah is a kind of omelet that can be enhanced with a variety of vegetables. Typically, it contains eggplant, spinach, tomatoes, leeks, and peppers.
Sometimes, meat can be incorporated into Eggah, but it is traditionally a vegetarian dish.
The omelet is cooked in the oven and seasoned with herbs, cumin, nutmeg, turmeric, and cinnamon.
13. Molokhia
Molokhia is the name of a vegetable but also the name of a dish based around this vegetable, which is very popular in Egypt. In fact, some people consider it to be a national dish of the country.
Molokhia is a soup made from jute leaves and it is normally served with flatbread or rice. Whilst this is a vegetarian dish, it is often served alongside meat dishes.
Desserts
14. Baklava
Baklava is a pastry dish that is one of Egypt's most popular traditional desserts. It is a Mediterranean dish that is also popular in North Africa and Asia.
This dessert consists of layered phyllo pastry filled with butter, nuts, and spices. Usually, it is topped with honey and rosewater.
15. Om Ali
Om Ali is basically the Egyptian version of bread pudding. It is made from puff pastry, milk, and sugar, and once it has been baked, it is adorned with raisins, nuts, cinnamon, and coconut.
This dessert is named after the wife of a 13th-century Egyptian sultan.
16. Basbousa
Basbousa is a cake that has become such a huge part of Egyptian culture that people often use it as an endearing term meaning 'sweet' to refer to loved ones.
The cake is made from semolina, yogurt, and coconut. To add extra sweetness, it is usually topped with syrup or rose water before adding nuts.
17. Ghorayeba
Ghorayeba is an Egyptian cookie that is similar to shortbread except that it uses Ghee instead of butter, which gives it its flavor. This cookie is for special occasions such as Eid, Christmas, and Easter.
The cookie is often topped with a single nut (usually cashew, almond, or pistachio) before baking and it has a melt-in-the-mouth consistency that you won't forget!
18. Sahlab
Technically, Sahlab is a drink, but because it's so deliciously sweet, it is often served as a dessert course in Egypt.
Sahlab gets its name from the special type of flour used to thicken the drink. It is most notable for its fragrance, which comes from Orchis mascula (orchid) tubers.
All of the ingredients, including vanilla, sugar, and shredded coconut, are mixed into boiling milk. Then, the drink is topped with nuts, raisins, and cinnamon.
19. Kunafa
Kunafa is a Middle Easten dessert that has established itself as one of the most sought-after traditional foods in Cairo.
It's basically a combination of phyllo pastry, sweetened cheese, and rose-water-infused syrup.
Kunafa is especially delicious when it's topped with pistachio nuts and clotted cream.
Also, it's best served straight out of the oven so that you can enjoy the full effect of the melted cheese.
20. Ka'ak al-Eid
These powder-dusted cookies are adorable bite-sized desserts, the origins of which can be traced all the way back to Ancient Egypt, although they have special significance throughout the Middle East as they are eaten in celebration of Eid-al-Fitr.
You will often see Ka'al al-Eid cookies decorated with special prints or designs depending on the occasion.
21. Qatayef
Qatayef is an Arabic dessert recipe that is traditionally associated with Ramadan. Essentially, they are pancakes that are cooked only on one side and have been filled with nuts and sweet cheese before being folded over.
These pancakes are a common form of street food in Egypt, especially during Ramadan. They can also easily be made at home.
22. Roz Bel Laban
Roz Bel Laban is the Egyptian version of rice pudding, flavored with cinnamon, sugar, vanilla, and nutmeg.
Traditionally, this rice pudding dish is served with a cup of mint tea, which really enhances the flavor. It's primarily a breakfast dish.
Sides
23. Hummus
Hummus might be one of the most popular chip dips in the Western world, but it's actually a traditional Egyptian and Middle Eastern dish.
Chickpeas are mashed and blended with lemon juice, cumin, tahini, and garlic to create a creamy, flavorsome dip that goes well with pita bread and falafel.
24. Aish Baladi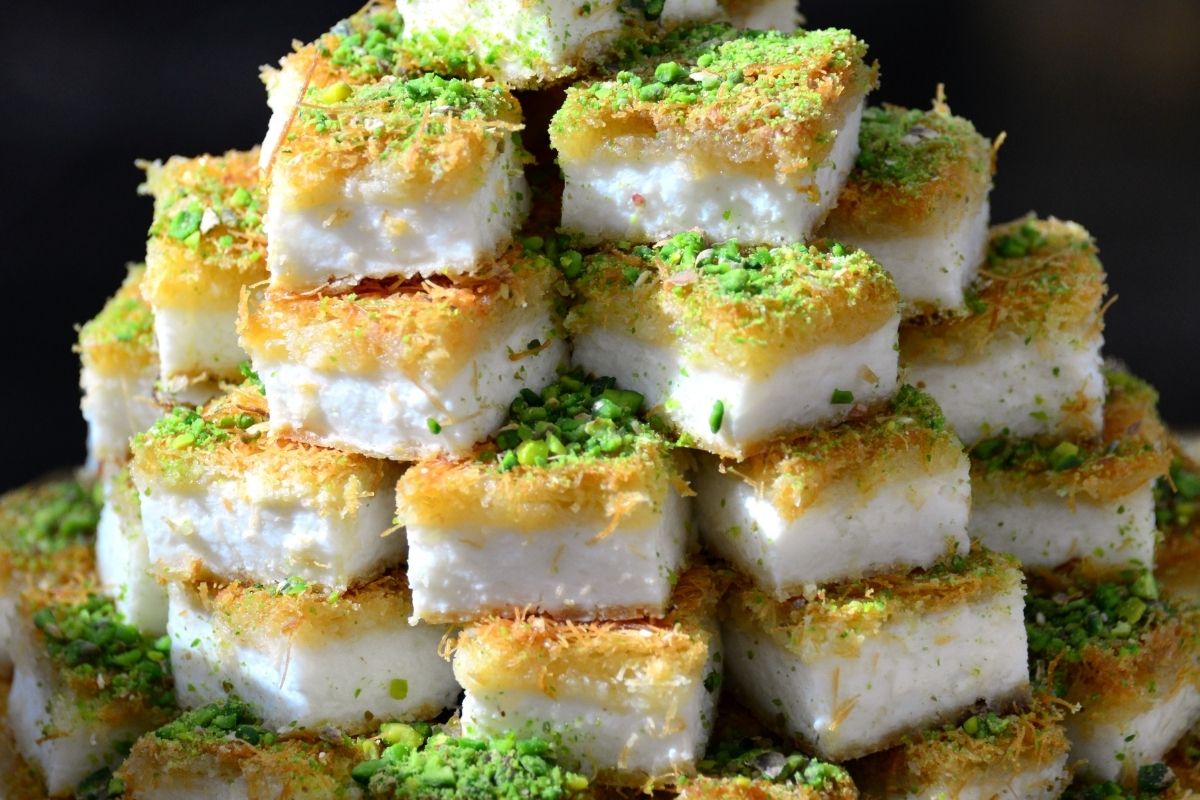 Aish Baladi is Egyptian pita bread. It is made from whole wheat flour and baked at scorching temperatures.
'Baladi' literally translates to 'traditional', so it's clear that this bread is an extremely important part of Egyptian cuisine. You can find it in every restaurant in Cairo, so be sure to try it out!
25. Baba Ghanoush
The recipe for the traditional Egyptian dip, Baba Ghanoush, is similar to hummus, except that instead of chickpeas, it uses a mash made from pre-cooked eggplant.
Lemon juice, olive oil, garlic, tahini, and other spices and herbs are then added.
Because the eggplant is cooked by roasting directly over a fire, it has a wonderful smokey flavor that adds to almost any meal.
Final Thoughts
Egypt has a wide range of delicious, traditional dishes to suit all dietary needs, from hearty meat kebabs to stews and soups made from fresh vegetables.
All of Egypt's traditional food is well-flavored with a variety of herbs and spices, so every mouthful is a delicacy. Which of these dishes will you try?
Like this post? Why not save it to Pinterest?
FOLLOW US on Pinterest, Instagram, Facebook for more great travel inspiration and tips.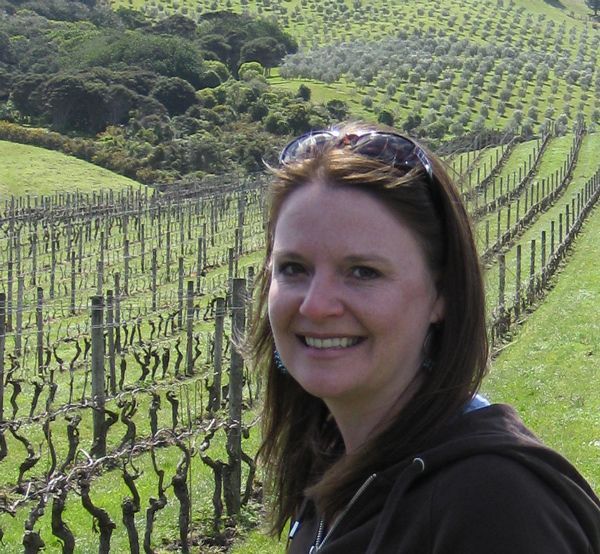 Laura Lynch, creator and writer of Savored Journeys, is an avid world traveler, certified wine expert, and international food specialist. She has written about travel and food for over 20 years and has visited 70+ countries.