Prague is one of those cities that everyone wants to travel to in their lifetime. Whether it's for its medieval architecture, its Bohemian culture, or because it's the beer-drinking capital of the world, there's something for every kind of traveler in Prague.
You may not immediately think of Prague as a foodie city, but it is in its own way. There are many foods you must try while in the Czech Republic, and plenty of really fantastic restaurants to try in Prague. Don't forget the beer!
Here is your one-stop, shortcut travel guide to Prague — all the best hotels, neighborhoods, things to do, and places to eat and drink in the Czech capital.
⇒ PRO TIP: Get ticket in advance to the hottest activities in Prague, so you don't have to wait in long lines. You can book popular tickets here.
Quick. Check these necessities off your prep list!
What to Do in Prague
There's a good reason everyone loves this city. The Old Town is beautiful, with so many places to walk and admire. The castle towers over everything across the bridge, and the Vltava River flows through it all.
Start exploring in the Old Town Square, where you'll be welcomed by the medieval Astronomical Clock that will have everyone staring up on the hour, Gothic churches, bell towers, and colorful building facades. Maybe take a walking tour, which is really the best way to get acquainted with the city.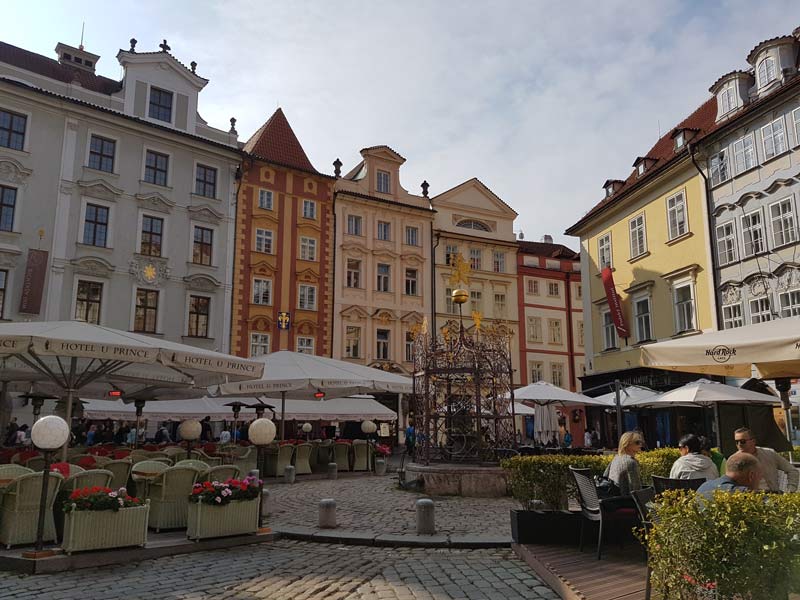 If you're a museum lover, there are many that you'll want to stop in at, like the Franz Kafka museum and the National Museum. Walk across the Charles Bridge, which is an activity of its own, believe me.
On the other side of the river, be sure to visit Prague Castle and the amazing St Vitus Cathedral at its core. Our favorite sights are the Romanesque facade of St George's Basilica, the South Gardens, and the houses of Golden Lane.
Where to Eat & Drink
You might not know that Prague is such a foodie city until you arrive, but be prepared for some serious food overload. I always suggest going on a food tour first thing and there's a really good one here, by Eating Europe. Get on that tour and you're golden! You'll eat tons of traditional Czech food and drink some great beer.
If you're a beer fan, I'd also suggest going on Eating Europe's Beer Tour. There are great breweries all over the city to visit, and you can do that on your own or have a local expert lead you to the great ones.
You're going to want to try a Pork Knuckle, which you can find in many of the traditional restaurants and I definitely recommend getting a reservation at Restaurant Zvonice in the clock tower. It's incredible inside and the food is great, particularly the sauerkraut soup.
Book Some Tours
Want to plan ahead and book a few of the things we've mentioned to do below? It's always a good idea to pre-book for popular tours. They sell out fast. You can book some of the activities we've listed in our guide (below) using these Viator links. We've been on these tours and highly recommend them.
Where to Stay in Prague
There are many choices for where to stay while you're in Prague. A lot of people choose to be right in the center of the action in Old Town. If that's you, just keep in mind that it's very busy there, and can also be very noisy, depending on where you're staying. But it's also the easiest to get everywhere from there.
Our top recommendation for where to stay:
* Intercontinental Prague
Read Reviews | Click to book your stay
You really can't go wrong with the Intercontinental Prague. It's located right in the Old Town, within easy walking distance of all the top sights, and there's even a rooftop restaurant with stunning views.
Hotel Kings Court Prague
Read Reviews | Click to book your stay
Hotel Kings Court is located right on the edge of Republic Square, and they even have a fantastic terrace where you can grab an incredible view of the square. It's a 5-star, luxury hotel in an historical, neo-Renaissance-style building that has been very tastefully redecorated.
Hotel Golden Crown
Read Reviews | Click to book your stay
If you want somewhere quieter and a little outside the action, we found a great little hotel in the square with the Franz Kafka rotating head. It's still really convenient for getting around. The rooms are nice and comfortable and breakfast is included.
How to Get to Prague
International flights come into Vaclac Havel Airport (PRG). From the airport to the city, it's a 25-minute taxi ride or 45-minute bus ride to the city center, depending on where you're going.
The Airport Express bus is a more economical way to get to the city center. You'll find the bus stop in the parking lot in front of Terminal 1. Tickets are 60 CZK. You can buy tickets in the terminal or from the bus driver.
The express bus will take you to Praha Hlavni Nadrazi (Prague's main bus station). From there, you can catch other modes of transport to get to your hotel. Many are within walking distance.
Essential Travel Guide to Prague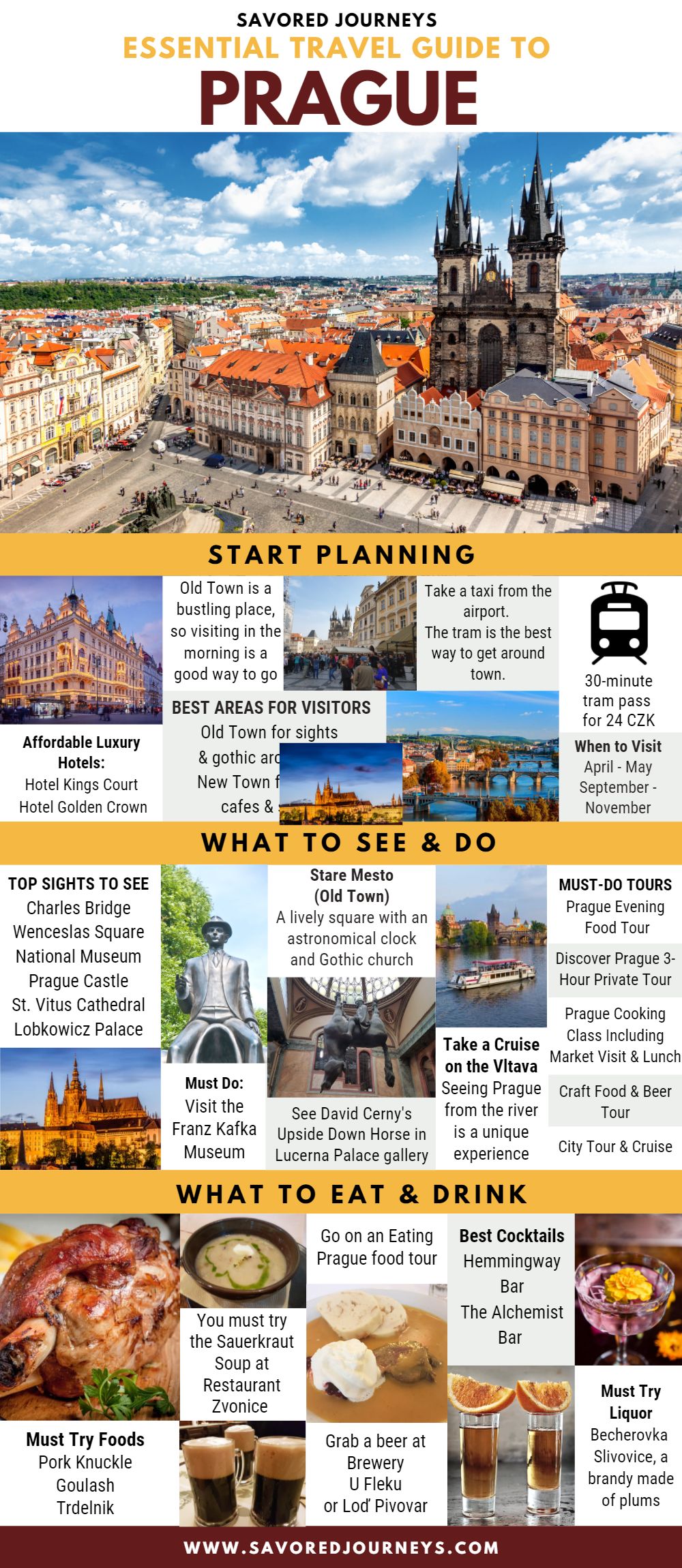 Read more about Prague
Like this post? Why not save it to Pinterest?
FOLLOW US on Pinterest, Instagram, Facebook for more great travel inspiration and tips.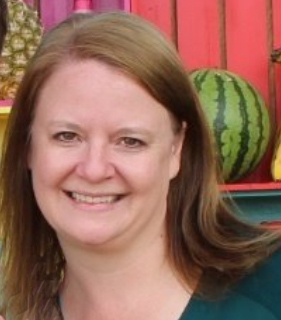 Laura Lynch, creator and writer of Savored Journeys, is an avid world traveler, certified wine expert, and international food specialist. She has written about travel and food for over 20 years and has visited over 75 countries. Her work has been published in numerous guidebooks, websites, and magazines.