If you're looking for an amazing travel destination that's a little off the beaten path, Bhutan is the perfect place. This small, landlocked country in Asia is full of natural beauty, friendly people, and fascinating culture. There are many reasons to add Bhutan to your travel list – from its unique culture and traditions to its stunning scenery.
Perhaps you've heard of Bhutan from friends who have visited, seen amazing photos of its monasteries, or caught glimpses of it on a National Geographic documentary, like I did. If you're curious about visiting there, but don't really know how to go about doing so, this guide will help you take the steps to plan your trip.
I've wanted to travel to Bhutan for a long time and finally was able to do so in 2022. The whole thing was really breathtaking, and I'm eager to share my experience with you in this guide. I'll show you some of the best places to visit in Bhutan and give you all the insider tips you need to plan an unforgettable trip.
There are a few things you should know before you get planning, so you can make an informed decision. You also need to go with a licensed tour guide, because that's the only way you can go there. I've done all that research for you and will share it here.
Overview
The Bhutan government charges a $200/day visa fee for tourists.
The best way to get there is by flying into Paro International Airport, the only airport in Bhutan.
There are accommodation options for all budgets – from luxury hotels to budget-friendly options.
Visitors can explore temples and monasteries or trek through forests and mountains.
The local cuisine is fantastic – be sure to try momos, ema datshi, and phaksha paa.
Learn about the visa process, what currency to use, and how to dress respectfully before you go.
Bhutan Travel Fees
The most important bit of information you need to know is that the Bhutan government charges a $200/day visa fee for tourists. While they have always charged a fee to get in, the amount was increased in September 2022, and a few rules were changed.
The Government of Bhutan has a "high value, low impact" tourism policy that limits the number of visitors so they can keep their country pristine and limit the environmental impact.
In the past, the fee covered things like tour guides, meals, and accommodations. However, now the $200/day goes entirely to sustainable development and does not cover any of your costs in the country.
So you'll need to pay that fee, plus all of your other travel expenses. That makes a trip to Bhutan an expensive endeavor, yes, but it also has its advantages. If you've ever been on crowded streets in a dirty city wishing tourism wasn't so rampant, you will gleefully pay the fee for the type of tourism experience Bhutan offers.
Our Recommended Tour Company
To travel in Bhutan, you must have a tour guide. While in the past the visa fee paid for a tour guide, it no longer does, so you'll need to find the right guide for you and your budget.
I worked with a company called MyBhutan to plan my trip. They are very well connected and organized within Bhutan, so I felt they could provide the best experience overall. Full disclosure, they subsidized part of my trip in exchange for this review, but all of my opinions expressed here are my own.
I was in touch with MyBhutan numerous times throughout the planning process. My travel companion and I were able to choose what type of activities we wanted to do, level of accommodations we wanted, food preferences, and the level of physical activity we preferred. They thoroughly explained all of the activities they had planned for us.
Bhutan has something for everyone. Whether you're an adventure seeker looking to explore the country's stunning forests and mountains, or a cultural enthusiast keen on experiencing traditional Bhutanese culture. Typically, tourists choose between a trekking or cultural itinerary when spending a week, or combine the two when staying longer.
With MyBhutan as your tour company, you are in control of your trip as much as you want to be. If you want to leave it up to them, that's possible too.
When you book a trip with MyBhutan using coupon code SAVORED, you'll receive a free traditional hot stone bath with your booking!
Why Visit Bhutan?
If you could imagine the ideal vacation, it might include tradition, culture, food, and stunning scenery. Bhutan is the place to go for all of that…and more.
The Bhutanese are known for their hospitality, so you will receive a warm welcome wherever you go. The government is committed to its citizen's "Gross National Happiness" (more on that later), and it's very apparent in the way you are greeted as a tourist. They are genuinely happy to have you there.
Whether it's peeking into ancient Buddhist temples, exploring its pristine trekking routes, or attending colorful local festivals, you can witness traditional Bhutanese culture everywhere. Plus, Bhutan is not overcrowded with tourists yet.
About Gross National Happiness
The Gross National Happiness concept was first introduced in 1972 by His Majesty Jigme Singye Wangchuck, the 4th king of Bhutan.
This belief system measures the nation's collective well-being and prosperity, which is based on four pillars: good governance, sustainable socio-economic development, preservation of culture, and environmental conservation.
To ensure its citizens' overall happiness and well-being, the government of Bhutan has implemented various initiatives like free healthcare and education for all, along with social programs such as unemployment benefits and pension schemes.
It has also dedicated large portions of its budget towards preserving its unique culture by protecting heritage sites and supporting national festivals like Tshechu.
In addition to these initiatives, Bhutan places an emphasis on sustainability by promoting organic farming techniques and protecting 70% of its land areas through conservation efforts in order to preserve its unique ecosystem.
The country also uses renewable energy sources to power most of its households – from hydroelectricity to solar energy – as part of its commitment to being carbon neutral by 2020.
The concept of Gross National Happiness has become an integral part of Bhutanese life over the years, allowing the people here to lead more meaningful lives with a greater appreciation for nature and traditional values – something that really sets this small kingdom apart from many others around the world today.
How to Get There
There's only one airport in Bhutan, the Paro International Airport. This airport has frequent flights from major cities such as Bangkok, Doha, Kuala Lumpur, Delhi, and Kolkata.
The airport is located in Paro, in a deep valley on the bank of the river Paro Chhu. The surrounding peaks are as high as 18,000 feet and because of this it is considered one of the world's most challenging airports to fly into. There are only eight pilots certified to land there.
The good part is that as soon as you land, you can get right to sightseeing, because it's a very easy airport to get in and out of, and it's right in the middle of Paro.
Where to Stay
From lavish 5-star hotels boasting incredible views of the Himalayas to boutique hotels nestled away in secret mountain villages, there is something to suit every traveler's aesthetic and budget here.
Since Bhutan had a lot more tourist before the pandemic, many new hotels have recently been built, mainly in the 3-star category, but there are plenty of higher end hotels, as well.
I like to stay in affordable luxury hotels, while my travel companion prefers boutique hotels. We were able to find a perfect blend of the two. I'll go into more detail about these below.
What to Do & See in Bhutan
You probably already have an idea of what you might be able to see and do while you're in Bhutan, even if you don't know the specifics. There are a lot of cultural sights, monasteries, temples, and outdoor activities. Check out this list of the top 21 things to do.
Below are the top things you can expect to see while in Bhutan. Under that, you'll find a breakdown of the top sights in each town that I visited. You can get a little further afield if you want to, but these are the typical places you can visit in 7 days in Bhutan.
Tiger's Nest Monastery – Not to be missed while in Paro is the Tiger's Nest monastery, known locally as Paro Taktsang, is one of the most iconic and beautiful Buddhist monasteries in the world. Located high up on a cliff face 3120 meters (10,240 feet) above sea level, it is considered by locals to be one of the most sacred sites in the country.
National Parks & Trekking – For nature lovers, Bhutan is a paradise. You can hike through forests and enjoy stunning views of snow-capped mountains from dizzying heights in the country's national parks. There are also some popular treks you might want to tackle, like the 27-day Snowman Trek (crazy if you ask me), the Laya Gasa and Dagala Thousand Lakes treks, and the Jumolhari, Druk Path, and Owl Treks.
Temples & Monasteries – You can visit some of the many Buddhist temples and monasteries throughout Bhutan. Get lost in the myriad of prayer flags and shrines. Take time to meditate with monks or take part in traditional ceremonies – whatever your preference.
Paro
Paro is a beautiful city located in the western part of Bhutan, nestled in the Paro Valley and surrounded by stunning mountains. This is where you will fly into, so it's also likely your first day of sightseeing.
This city has some of the most sought after sites for travelers to Bhutan, like the Tiger's Nest monastery, the Rinpung Dzong, and the National Museum of Bhutan so it's a great start to your travel in Bhutan.
Where We Stayed
In Paro, we stayed at the gorgeous Bhutan Spirit Sanctuary which is absolutely breathtaking. It's located up on the hillside about 20 minutes south of the airport. This hotel is the only 5-star traditional spa-inclusive resort in Bhutan and it was built to draw you into the experience of Bhutan, not just as a tourist, and to connect with your own well-being and spirit.
The rooms are absolutely gorgeous, with a lot of space to relax. My room had a wonderful patio with a stunning view of the valley below. I watched the sunrise one morning there with a cup of the loose-leaf tea in the room.
If you've wanted to do a hot stone bath while in Bhutan, this is definitely the place to do it, along with massages, meditation, and a wellness check.
Rinpung Dzong
The Rinpung Dzong in Paro is an awe-inspiring sight. This grand fortress and Buddhist monastery is located on a hilltop overlooking the city, providing stunning views of the valley. Built in 1646, the dzong has played an important role in Bhutan's history and still serves as the administrative center for Paro district.
Inside, visitors can admire its exquisite architecture, with many intricate murals and paintings, and take in the calming atmosphere of this sacred site. Every year, thousands come to Rinpung Dzong to celebrate the annual tsechu festival in the second month of the traditional Bhutanese lunar calendar, which is usually March or April.
National Museum of Bhutan
The National Museum of Bhutan in Paro is an incredible place to explore the culture and history of this unique country. Located in a former watchtower, the museum features a wealth of exhibits detailing Bhutan's history, from ancient artifacts to modern items. There are displays highlighting the traditional handicrafts and textiles, Bhutan's unique religious beliefs, and cultural masks used for festivals.
Kyichu Lhakhang
The Kyichu Lhakhang is an ancient Buddhist temple located in Paro. Founded in 659, it is one of the oldest and most sacred temples in the country and has been a prominent pilgrimage site for centuries. Considered to be Bhutan's most important temples, it was built by the Tibetan king, Songtsen Gampo and was added onto by a number of Buddhist saints and gurus until it became the spectacular temple it is today.
Taktsang Monastery (Tiger's Nest)
The Taktsang Monastery, aka Tiger's Nest, is a legendary mountain monastery perched on the edge of a cliff in the Paro Valley. It's one of the country's most iconic sites. The hike to this majestic building is an amazing experience in itself and offers stunning views of the valley below. It's not for the faint at heart though, as it's a fairly grueling 3-5 hour hike to the top, depending on your stamina.
Here's a photo of it from down below, which was as far as I went because I have lung issues that prevented me from doing the climb. My travel partner, Amanda from The Boutique Adventurer, made the climb.
The monastery tragically burned down on April 19, 1998, and was laboriously rebuilt with the help of many Bhutanese residents who came from all around to help. You can imagine how difficult it was to take the supplies needed to rebuild up to that remote location.
Thimphu
The capital of Bhutan, Thimphu, is an ideal location for experiencing traditional Bhutanese culture. Take a stroll through the bustling streets – where the main intersection is managed by a human traffic conductor – and browse through the local markets, where you can find colorful fabrics, handmade crafts, spices and more.
Where We Stayed
In Thimphu, we had the pleasure of staying at the Zhiwaling Ascent, also located up in the hillside. They also have the gorgeous Zhiwaling Heritage hotel in Paro. While the one in Paro is more traditional with the expected Bhutanese architectural style, this hotel is a more modern concept that doesn't adhere to the standard style.
It's a very nice hotel. I very much enjoyed the comfortable, large room and the outdoor space that surrounds the hotel, making it feel like you're in a nature park. I had my breakfast outside on the lawn. The dinners here were wonderful as well. They're also a multi-course menu with a few choices. Everything was very tasty.
Buddha Dordenma
One of the most beautiful and iconic sites in Thimphu is the Buddha Dordenma, which was built in 2015 for the 60th anniversary of the 4th king, Jigme Singye Wangchuck. Located on the hillside in Kuensel Phodrang Nature Park, this monumental 169-foot tall solid bronze statue of Shakyamuni Buddha radiates peace and tranquility. It's the largest sitting statue of the Buddha. Inside the Buddha are 125,000 smaller Buddha statues, 25,000 12-inch statues, and 100,000 8-inch statues.
Tashichho Dzong
Tashichho Dzong, also known as the "Fortress of the Glorious Religion", is located in Thimphu, Bhutan. This gorgeous Buddhist monastery and fortress is the largest in Bhutan, and serves as an administrative center for the country and the summer residence of the king.
The Tashichho Dzong has been home to the Bhutanese government since the 17th century and is one of the most important sites in the country. Inside its courtyard are two large statues of Guru Rinpoche and a majestic white stupa known as Kuen Karpo.
Royal Textile Museum
The Bhutan Royal Textile Museum is a must-visit to learn more about the country's cultural history, particularly the textile arts. Located in Thimphu, it is the only museum of its kind in the world, dedicated solely to showcasing and preserving Bhutan's traditional textile art.
Visitors can learn about the various processes involved in the production of Bhutan's intricately-woven fabrics, explore the museum's collection of rare and antique textiles, and admire the stunning works created by local artisans.
National Memorial Chorten
The National Memorial Chorten, also known as the Thimphu Chorten, is a stunningly beautiful Buddhist stupa and temple located in Thimphu.
Built in 1974 in honor of King Jigme Dorji Wangchuck, it stands as a monument to world peace and serves as an important spiritual center for the country. The four story structure has intricate mandalas and prayer wheels that visitors can spin to bring good luck. Inside are three chapels dedicated to the past, present and future Buddhas as well as paintings of important figures in Bhutanese history.
The Memorial Chorten also serves a practical purpose for locals, who come to the temple to make offerings and pay their respects. Every day, you can witness locals circumambulating the chorten as part of their daily rituals.
Jigme Dorji National Park
The Jigme Dorji National Park is another popular attraction for nature-lovers, offering spectacular vistas of the Himalayas and an abundance of flora and fauna to explore. It is the second-largest national park and was established in 1974. My favorite fact about this park is that it is the only park in Bhutan where the national animal (takin), flower (blue poppy), bird (raven) and tree (cypress) exist together.
Folk Heritable Museum and Restaurant
The Folk Heritage Museum in Thimphu, Bhutan offers an incredible look into the traditional culture and lifestyle of the people of this Himalayan kingdom. Founded in 2001, this award-winning museum takes visitors back in time to experience Bhutan's rich cultural heritage and traditions. Boasting a collection of over 3,000 artifacts, the museum also offers traditional Bhutanese dance performances and educational programs.
Punakha
If you crave some outdoor adventure, take a road trip out to the rural district of Punakha, where you can explore the lush forests and rivers by foot or bike. Whatever activity you choose, you're sure to have an unforgettable experience in Bhutan!
Where We Stayed in Punakha
The hotel we chose in Punakha was the Dhumra Farm Resort. It's an exclusive high-end farm resort run by three Bhutanese locals. It's an incredibly peaceful retreat away from the city, as you'll discover on the drive up there. This perch at the top of the hill gives the most dramatically beautiful view of Punakha and the Punakha Dzong. We had our breakfast there overlooking the city.
I would definitely ask to stay there, if possible. The dinner is a multi-course, well-prepared meal. The rooms are very comfortable and large, the service was very, very good, and there's even a firepit you can sit around in the evening. I though it was fantastic.
Dochula Pass
Dochula Pass, located in Bhutan, is a stunning site of natural beauty and cultural significance. The pass is situated at an altitude of 10,000 feet, offering breathtaking views of the Himalayan mountains and the sprawling valley below.
It's also known as Druk Wangyal Chortens because of the 108 stupas that line the pass, which were built in memory of Bhutan's soldiers who fought in the 2003 India-Bhutan war. The Druk Wangyal Chortens are a popular tourist attraction and an important symbol of Bhutanese pride and culture.
Punakha Dzong
Punakha Dzong is one of the most iconic landmarks in Bhutan. Built in 1637, it has become an important symbol for the nation and is one of Bhutan's most sacred sites. The dzong stands on the confluence of two rivers – Mo Chhu and Pho Chhu (where we went rafting later in the day. A 17th century covered wooden cantilever bridge leads over to the dzong.
This Dzong is the second-oldest and second-largest in Bhutan and it's considered the most majestic as well. It's gorgeous inside and out.
Khamsum Yuelley Monastery
Khamsum Yuelley Monastery is an awe-inspiring structure nestled on a hilltop overlooking the Mo Chu River. Built by Queen Mother Ashi Dorji Wangmo Wangchuck in 2004, the monastery was constructed with a unique blend of traditional Bhutanese and Tibetan architecture.
The monastery is home to many religious artifacts, ancient manuscripts and murals depicting the life of Buddha and it is meant to drive away evil spirits and bring peace and harmony. It takes about a one-hour hike to get to the monastery. At the top of the monastery is a rooftop with a spectacular view of the valley and the river.
Chimi Lhakhang
Chimi Lhakhang is a unique fertility temple located in the Punakha valley of Bhutan. The temple is a popular pilgrimage site for people who are seeking divine intervention to have children.
Legend has it that in the 15th century, Bhutanese saint Drukpa Kuenley (also known as 'Divine Madman') subdued a demon using his 'magic thunderbolt of wisdom'. The temple is adorned with colorful prayer flags, and visitors can also enjoy some wonderful views of the Punakha valley while they are there.
Activities
Cooking class with Kesang Choeden
At the Folk Heritage Museum there is a traditional restaurant helmed by chef Kesang Choeden. We received a very informative cooking demonstration by her and her staff, introducing us to many of the traditional dishes of Bhutan, as well as ingredients that are part of the cultural heritage of the country. Choeden was a great ambassador of food culture for Bhutan, having received many recipes from her grandmother.
Comfort Camping
If you want to experience the mountain setting, MyBhutan has a Comfort Camp that they set up for their visitors, where you can camp in the wilderness in relative comfort. The tents are set up with nice amenities. They arranged for an archery lesson, a whiskey tasting, and a performance of the festival dances. All a very unique and incredible experience for us.
River Rafting
River rafting in Punakha is an adventure that no traveler should miss! This valley in the Himalayan kingdom of Bhutan offers some of the world's best white water rafting experiences. Rafters can enjoy exhilarating rapids, spectacular views of snow capped mountains, and explore hidden corners of this majestic region.
Archery
Since the 7th century, archery has been a traditional sport in Bhutan and is deeply embedded within Bhutanese culture. The game of archery is played by two teams of twelve players, each team shooting from either end of a field that is roughly 140-150 meters long.
Each player has three arrows, and the goal is to hit the target, which is a round wooden board with a diameter of about 1 foot. It's a great place to watch an age-old tradition in action and take part in some friendly competition with locals!
Shopping
If you like to bring back something from your trip or buy souvenirs for your family, there will be plenty of options for places to do that. My favorite store was at a traditional textile factory. You can see the workers making the textiles downstairs, and purchase their wares upstairs. So much time and skills goes into making everything from clothing to bags and tapestries.
What to Eat
One of my favorite parts of any trip is getting to try the cuisine. I was particularly surprised by the dishes in Bhutan. There are lots of delicious recipes that you won't find elsewhere.
Ema datshi, which I am told is much loved by everyone. It's made with chili peppers and cheese. Very hot!
Kewa datshi – Sliced potatoes simmered with cheese and butter.
Momos (dumplings), which can be served both fried or steamed.
Phaksha paa (pork stew) is a flavor-packed traditional stew with hot chilis, dried pork, spinach, radish, and bok choy.
Sikam paa – dried pork belly fried up with dried chilies.
Lom – fried turnip leaves, sometimes served with dried pork
Tips for Traveling in Bhutan
Traveling to Bhutan can be both exciting and overwhelming. It's a completely different culture than you're used to, different foods, different customs, different challenges. It's a good idea to be aware of these things and take the proper precautions.
Visa Process
To make sure you have a successful trip abroad, understanding the visa process of each country you travel through is essential; this way, you can avoid any headaches down the line.
Obtaining a visa for Bhutan is simple because your tour guide will take care of it for you. If you work with MyBhutan, they will collect your visa fee and secure your visa. They will send it to you via email so you can print it and be ready to present it at the airport before you enter the country.
Other visas you might need are for the other countries you will be traveling through to get to Bhutan. In particular – India. If you plan to fly through Delhi to get to Bhutan, beware! Even if you are only transiting for a few hours through the Delhi airport, you are required to have a visa. Sounds weird, but trust me – you do not want to ignore this.
You need a visa that is valid for the entire time you will be in Bhutan, because it must still be valid when you leave to go back into Delhi. That also means you need a dual entry visa – once when you arrive in Delhi and once when you arrive back again from Bhutan.
Double check that you have these two things. Print out the visa and carry it with you. If you want to avoid this situation, fly through somewhere else that doesn't require a visa for transit, like Bangkok. I wish I had heeded that advice.
Currency
Another important factor is understanding what type of currency you will need. It's always helpful to do your due diligence ahead of time. In Bhutan, you can use Bhutanese Ngultrum (BTN). Currently $1USD is equal to 82 BTN. I like to consider it a 1:10, so 100 BTN is like $10 (~$12). That makes it easy to remember how much you're spending.
You can either get BTN before you leave the US, or take money out of an ATM in Bhutan, or exchange USD to BTN at a shop in Bhutan. I prefer the ATM, but that means you won't have any cash until you find an ATM. Make sure you take out small amounts from an ATM, like under $100. Many of the ATMs have small limits.
You can also use USD in Bhutan. You will need small bills to pay tips and there isn't a way to get change back from large bills, so just take a bunch of $1s, $5s, and $10s for tipping.
Tipping
Tipping is expected in Bhutan. Tourism is one of the main industries there, so they rely on tips. For this reason, you should have small bills of BTN or USD to leave tips. Here is what I recommend:
Hotels = $1000 BTN (per 1- to 4-day stay) – the hotel will divide this among its staff
Guides = $1000 BTN per day/per person
Drivers = $500 BTN per day/per person
Tips at temples/monasteries/museums = $100-200 BTN
Driving & Car Sickness
I would highly advise that you take motion sickness pills with you to Bhutan. Many of the roads are windy and mountainous, with switchbacks like you've never seen before. I only usually get mildly car sick and usually only if I'm in the back seat and reading, but I was sick every time we got in the car in Bhutan.
It's nothing to laugh at. If you have pills with you, you can avoid the sickness. Take them 30 minutes before you go on longer car rides between regions.
What to Wear
You will notice first thing that many people in Bhutan are wearing similar clothing. There is a national dress in Bhutan. It's called the gho for men and kira for women. Your guide will be wearing the gho at all times, as will many other citizens. Of course you aren't required to wear it.
When traveling to religious sites, it's important to dress respectfully. Plan to wear long pants or skirts/dresses that cover your knees, and shirts that cover your shoulders. You don't need to cover your head. This can help avoid any awkwardness in certain situations.
It's okay to wear shorts and sandals during the warmer months, but be prepare to change or just always wear pants and sleeves when you plan to visit religious locations.
You will also need to remove your shoes at religious sites. It will be easiest if you wear a pair that can be easily slipped on and off so you don't have to take a lot of time to tie/buckle your shoes over and over.
If hiking is on your agenda, be sure to wear appropriate shoes, pack a hat, sunscreen, sunglasses, and a water bottle.
More Reading
Also check out these guides from my friend and travel partner, Amanda, from The Boutique Adventurer:
Like this post? Why not save it to Pinterest?
FOLLOW US on Pinterest, Instagram, Facebook for more great travel inspiration and tips.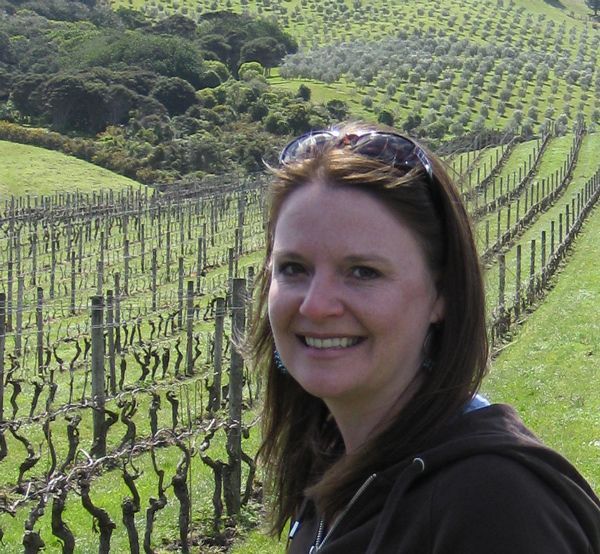 Laura Lynch, creator and writer of Savored Journeys, is an avid world traveler, certified wine expert, and international food specialist. She has written about travel and food for over 20 years and has visited over 75 countries.