When you take a trip to the nation's capital, Washington DC, you know you're in for a lot of history, government buildings and museums. You'll obviously spend some time on the National Mall seeing the monuments, walking through the awesome free Smithsonian museums, maybe even go on a scheduled tour of the U.S. Capitol Building.
But what about the non-touristy, unconventional things to do in Washington DC — the things that might not make the list of top things to do lists (check out our 50 Things to Do in Washington DC list), but will definitely add local flavor and a unique flare to your trip?
» You might be interested in Where to See Cherry Blossoms in DC.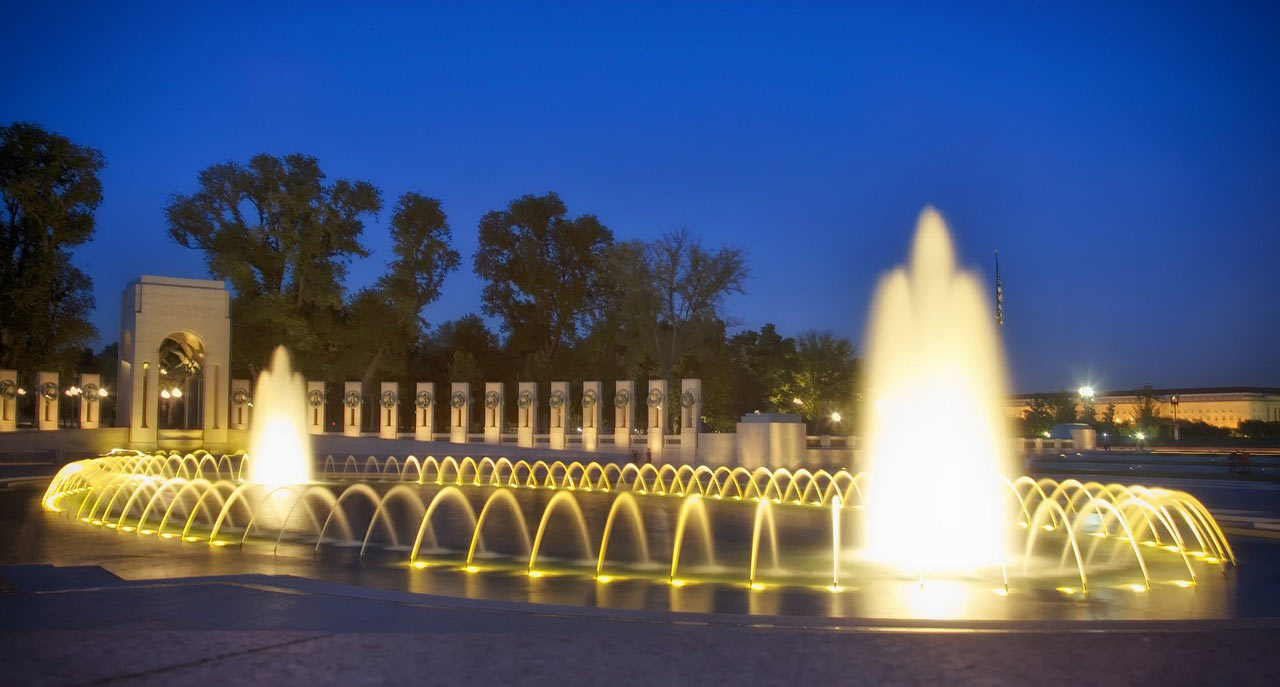 Below you'll find the best non-touristy things to do in Washington DC – things that locals do – that will get you off the National Mall and into the real side of DC. For more information on things to see and do in the city, check out our Essential Travel Guide to Washington DC.
» You might like these 15 Weekend Road Trips from Washington, D.C.
Non-Touristy Things to Do in Washington DC.
1. Sample the Local Beer / Wine / Liquor
When you've had your fill of monuments and history, take a break from the norm and go a brewery tour of some of the city's best breweries.
DC has built up a strong beer scene over the last dozen years and you can now find plenty of great breweries in the city, including the first brewery to brew and distribute here, DC Brau, along with Right Proper Brewing Company, Atlas Brew Works, and Bluejacket Brewery.
If you have time, head out to Port City Brewery or Aslin in Alexandria, VA – both are super popular with the locals. Port City has great beers to sample in their tasting room every day, and a brewery tour, available on Thursday-Sunday – $12 with 6 tasters of beer. To get there by public transportation, take the metro to King Street and catch an Uber or walk.
Another new arrival is Aslin Beer Company in Alexandria. It's a huge space with edgy artwork and up to 24 taps pouring at a time! There's an urban winery in DC you can visit, called District Winery. It's located at 385 Water St SE and it's home to not only a winery, but a restaurant and bar, too (brunch, anyone?).
Go on a City Brew Tour
City Brew Tours is a company that offers private and public tours of the breweries in and around Washington DC. Take an all-inclusive tour where you'll explore the beer of our nation's capital as you learn about beer history and the brewing process. Sample up to 16 beer styles across 4 stops, along with a beer-paired meal,
Comfortable round-trip transportation
Exclusive access to DC's best breweries
2. Explore the Local (and Ethnic) Food Scene
Washington, D.C. truly stands out as a remarkable culinary destination with a constant influx of exciting new restaurants waiting to be discovered. Among the city's diverse dining options, Ethiopian cuisine holds a special place, and the Adams Morgan neighborhood is a hub for exceptional Ethiopian restaurants. One must-visit spot is Das Ethiopian, known for its delectable dishes and the rare opportunity to enjoy outside dining. Additionally, Ethiopic, the pioneering Ethiopian restaurant on the H Street Corridor, promises to tantalize your taste buds with its flavorful offerings.
In Washington, D.C.'s Chinatown, food enthusiasts can indulge in an array of authentic Chinese delicacies that will surely satisfy their cravings. From delectable dim sum to mouthwatering Peking duck and flavorful Szechuan dishes, the culinary offerings are abundant. For a memorable dining experience, make sure to visit Lao Sze Chuan and savor their exquisite lamb chops and succulent Peking duck.
For a taste of Latin American flavors, head to the lively neighborhoods of Columbia Heights and Mount Pleasant. Mi Cuba Cafe transports visitors to the vibrant streets of Havana with its authentic Cuban cuisine. Located in the heart of the city, this lively restaurant serves up mouthwatering classics like ropa vieja, picadillo, and deliciously crisp empanadas, all accompanied by refreshing mojitos and live salsa music. Benito's Place, on the other hand, offers a taste of El Salvador with its cozy and welcoming atmosphere. Known for their pupusas, a traditional Salvadoran dish, Benito's Place creates these savory delights with a variety of fillings, such as cheese, beans, and savory meats, satisfying every palate. Lastly, Pisco y Nazca celebrates the flavors of Peru with a modern twist. This stylish and upscale restaurant boasts a diverse menu featuring ceviche, anticuchos, and lomo saltado, showcasing the rich culinary heritage of Peru. Guests can also enjoy a wide selection of pisco-based cocktails, adding a unique touch to the dining experience.
You can easily eat around the world without ever leaving the city. To decide where to go, see this list by Maria Abroad for the best ethnic restaurants in Washington DC.
I'm also a huge fan of city food tours. It's a great way to get to know the city, its culture and its restaurants, and can also provide you with a road map for eating during the rest of your vacation. Check out this food tour in the U Street neighborhood, which blends history and food in one of the coolest areas of town.
More food tours in DC:
3. National Monuments at Night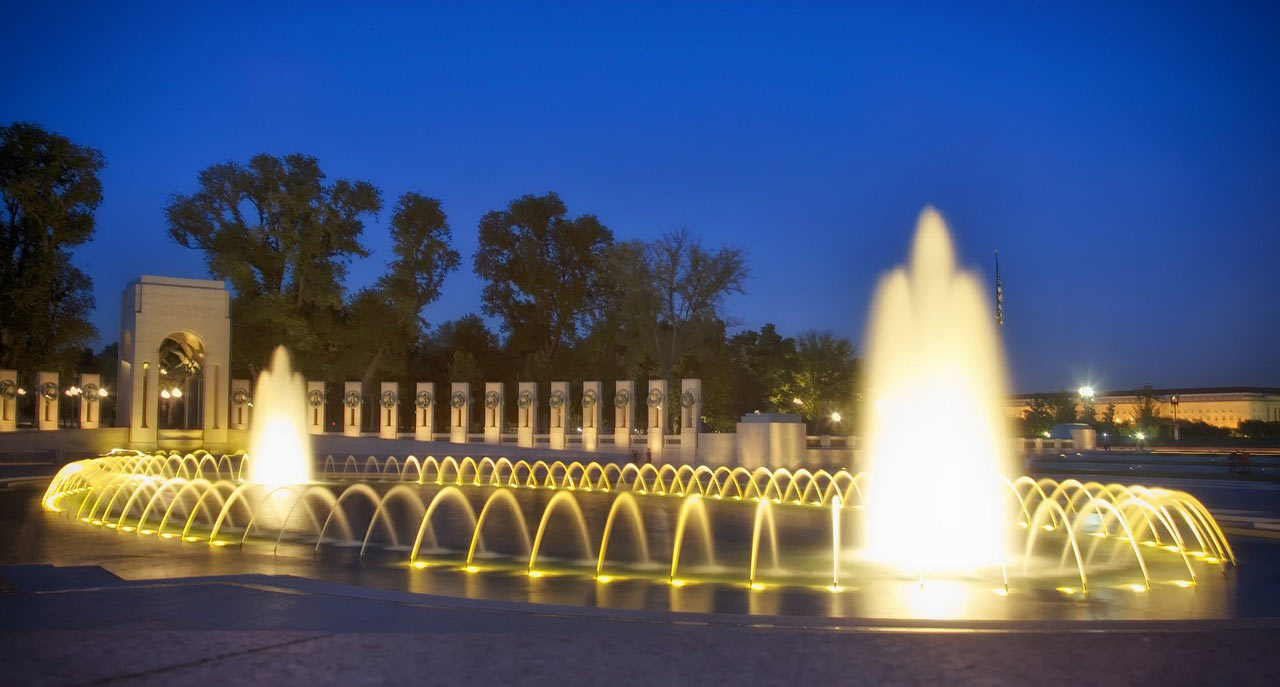 Okay, so this is a typical tourist activity, but it's really fun and is a unique experience that you'll remember and cherish a lot more than the usual way of doing it. Most tourists visit the monuments during the day, when there are huge crowds, daytime heat and very little ambiance.
If you wait until night to tour the monuments, you'll find way less people, a nice cool breeze (unless it's winter, of course) and the monuments are all lit up at night, which makes the experience so much more amazing.
One of the things I love to do is take a blanket to the Jefferson Memorial and have a picnic or just hang out on one of the pillars at the corners of the stairs.
You can stare out at the gorgeous night lights across the Potomac with the towering, illuminated presence of Jefferson at your side.
⇒ Why not plan ahead? Book your Washington DC evening twilight tour here.
4. The Escape Game in Georgetown
Georgetown may be famous for its university, shopping, and cupcakes, but if you want to do something adventurous, check out The Escape Game.
This is the premier escape room in DC and with six games to choose from, you really spend a whole day there if you want. Their 60 minute adventures include A Pirate's Adventure, The Curse of the Mummy, The Depths, Titanic, and Dr. Whack's Elixir of Life. If you don't have that much time, they have one 45 minute adventure called The Cabin.
Whether you're the teenager in the family or the grandma, The Escape Game is something that the whole family is going to have a blast doing. Its immersive environments are so impressive, it feels like you're in a movie while playing the games.
Spots can book up during peak hours so make sure you make a reservation online or by calling.
Location: 3345 M St NW
Hours: Open 7 days a week (except Thanksgiving and Christmas) 8 am to – 12 pm (midnight)
5. Shaw & Logan Circle Neighborhoods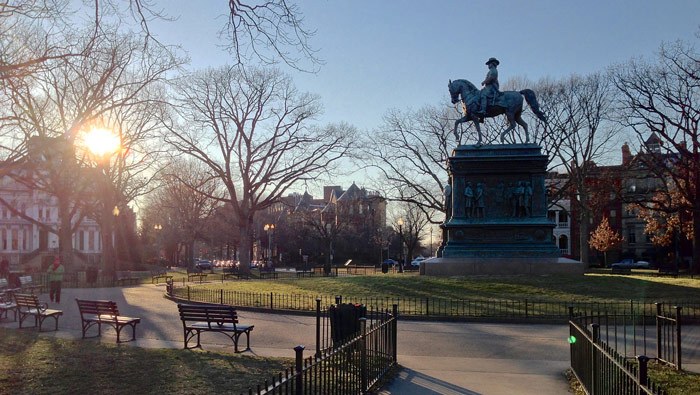 Shaw
There is so much to do in Shaw that you could probably spend a whole weekend just discovering this one neighborhood. It is now home to dozens of trendy spots – restaurants, cocktail bars, beer gardens, and boutique shopping galore and known for its colorful murals and street art. Take a stroll around the area and see what you can discover. This historic neighborhood is now home to dozens of trendy spots – restaurants, cocktail bars, beer gardens, and boutique shopping galore.
We suggest going to Shaw in the early afternoon for cocktails and staying for dinner and after-dinner drinks – well, you want to try it all, don't you!? Here are a few of our favorites: All Purpose Pizzeria, Tiger Fork Chinese Bistro, the Dabney, Kinship, Convivial, and Seven Reasons.
Note: Shaw is where you'll find the aforementioned Right Proper Brewing Company. To get there you can take the metro to the Mt Vernon/7th St Convention Center stop. Shaw is about a minute walk from there.
Visit the African American Civil War Memorial and Museum. This museum tells the story of the 209,000 African American soldiers and sailors who fought in the Civil War. It also features a sculpture of the "Spirit of Freedom" and a Wall of Honor with the names of those who served.
Explore the historic Howard Theatre. This theater opened in 1910 and has hosted many legendary performers, including Duke Ellington, Ella Fitzgerald, and Marvin Gaye. Today, it continues to host concerts and events.
Logan Circle
If there is one neighborhood that has re-gentrified itself beyond recognition in a very short time, it's Logan Circle. A new high-end restaurant, cafe or trendy specialty shop opens there seemingly every week.
Speaking of restaurants, this is where you want to make all of your dinner reservations, at top spots like Birch & Barley, Commissary, Churchkey and Le Diplomate (don't miss weekend brunch here!).
It's a busy area with beautiful old townhouses to gawk at, a lovely park and fountain in the center of the circle and lots of bar and restaurant hopping to do. You'll almost feel like a local here.
The Studio Theatre hosts a variety of performances, including plays, musicals, and comedy shows. It's a great place to catch a show and support local artists.
Visit the Logan Circle Park. This beautiful park is the centerpiece of the neighborhood and features a fountain, walking paths, and plenty of green space to relax and enjoy the outdoors.
Just try to act like one and you'll fit right in. There are metro stations nearby, but it'll require a short walk, as Logan Circle doesn't have its own metro stop. If you'd like to stay nearby, we recommend The Westin City Center and Washington Plaza Hotel.
⇒ Why not plan ahead? Book a U Street and Shaw Neighborhood Food tour here.
6. Check out the Museum Cafeterias
I know this sounds strange, but some of the museums in DC have amazing cafeteria food, and they are definitely worth checking out. You might find yourself wanting to visit one of these museums, and you can tack on a lunch in the cafeteria while you're at it.
National Museum of African American History
The Sweet Home Café is a cafeteria you do not want to miss. Celebrity chef Carla Hall is the culinary ambassador at Sweet Home Café, so you know there's something special going on there!
The Cafe aims to showcase the culture and history of the African American people through food traditions – both old and new. Inside the massive food court, you'll find four different culinary areas:
The agricultural south with Buttermilk Fried Chicken, the Creole Coast with a Pan-fried Louisiana Catfish Po'boy, the North States with a "Smoking Hot" Pepper Pot, and the Western Range with a BBQ Beef Brisket Sandwich. These are just the tip of the Iceberg of things you can eat at this museum cafe.
Location: 1400 Constitution Avenue NW
Hours: Open 7 days a week (except Christmas); 10:00 a.m. – 5:30 p.m
Mitsitam Cafe at Museum of the American Indian
When you're walking around the Smithsonian museums and hiking what seems like miles to get from one side of the National Mall to the other, you'll work up a crazy appetite and then not find any restaurants in the vicinity for lunch.
Don't eat at a boring museum café, head over to the Museum of the American Indian (on the Capitol Building side of the mall). The museum itself is worth a visit if you have the time, but it's the Mitsitam Café here that will amaze you.
Mitsitam features indigenous food from around the Western Hemisphere, divided into different regions. Each menu item reflects the food and cooking techniques from the region featured.
You can eat entirely from one region or mix and match, plus they have a chef's tasting experience.
Location: Fourth Street & Independence Ave., S.W
Hours: Open 7 days a week (except Christmas); 10:00 a.m. – 5:30 p.m
7. Explore the Many Food Markets
Union Market
Located on 5th St NE in a busy warehouse area off New York Avenue, Union Market is a year-round local market featuring artisan products, food purveyors, and food options from established and pop-up restaurants, including fresh shucked oysters from Rappahannack Oyster Bar, creative sodas like the grapefruit rosemary or lemon lavender at Buffalo & Bergen, Korean kimchi tacos at TaKorean and coffee at Blue Bottle Coffee.
Just make sure you go there hungry or you'll regret it. The market is open Mondays – Wednesday and Sunday from 8am to 8pm, and the rest of the week it's open until 9pm. The closest metro stop is NoMa Gallaudet University, which is about an 11 minute walk to the market.
Eastern Market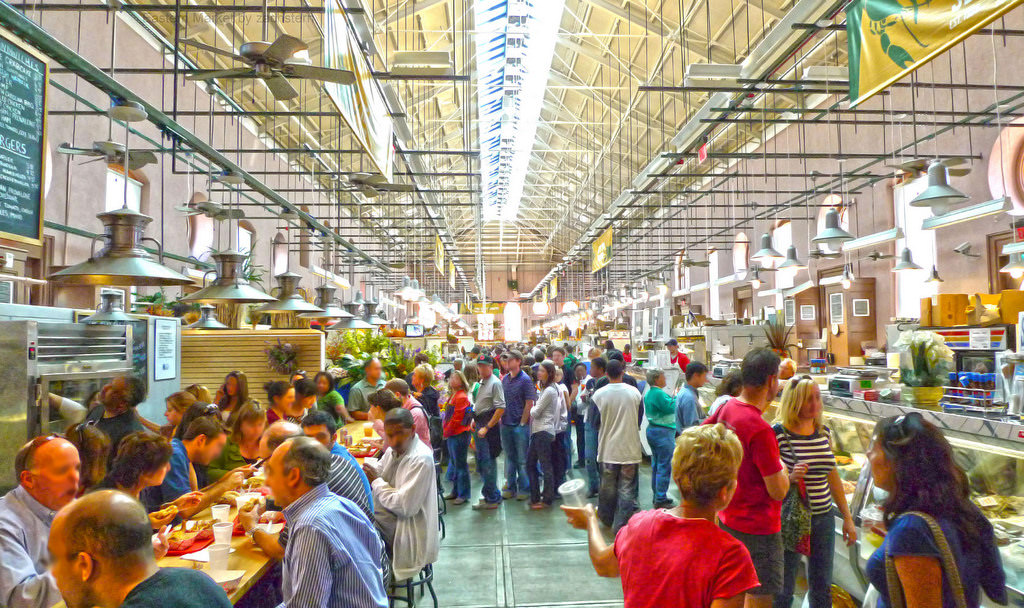 DC's original food and art market, Eastern Market has been open continuously since 1873 and still going strong.
Located in the middle of the Capitol Hill neighborhood, the market features fresh food, community events, and on weekends, local farm-fresh produce and handmade arts and crafts that stretch into outdoor stalls and fills the neighborhood with activity.
Like Union Market, it's just a fun place to walk around and enjoy the local products and mingling with the locals.
Location: 225 Seventh Street, SE Washington
Hours: Tuesday to Friday- 7am -7pm; Saturday – 7am – 6pm; Sunday – 9am – 5pm; Monday – CLOSED
Ballston Quarter
Setting up shop in the old Ballston Mall is a town square of sorts, with 23 food counters like Turu's for pizza, Hot Lola's, and Ice Cream Jubilee. The thing is, this isn't just a food market.
There are lots of loungey areas to hang out and get comfortable. It's also an entertainment venue where events will take place, and there are some shopping stalls too.
Location: 4238 Wilson Blvd., Arlington
Hours:
8. H Street Corridor
I love the way the H Street Corridor has completely changed over the last decade. It underwent a major regentrification that turned it into a really fun place to hang out in the city.
Today it's home to some of the best places to check out new art, with the growing number of art offerings, like City Gallery and Studio H Gallery. The neighborhood is also adorned with colorful street art and murals that showcase the creativity and talent of local artists.
If you're not into art, don't worry, there's lot of other things to do. The area has also become a hotspot for cafes and trendy restaurants, top music venues, and a rowdy nightlife.
We recommend eating at DC Harvest and there's even a 3rd location of the iconic Ben's Chili Bowl on H Street now. You can get there by way of the NoMa and Union Station Metro stops or by taking the DC Streetcar.
9. The Torpedo Factory Art Center
If you're in to art – especially by local artists – you must make the journey to Old Town Alexandria for a look around the Torpedo Factory.
The Torpedo Factory is three floors packed with over 80 local artists' studios, many of whom will be hard at work on their latest creation while you're visiting. It's a rare opportunity to see the work in progress, talk to the artists themselves and peruse the art they have on display and for sale.
They are open to the public most days from 10am-6pm. The Torpedy Factory is located on the banks of the Potomac River in Old Town Alexandria (105 N Union St, Alexandria, VA).
While you're there, make sure you wander around Old Town Alexandria for a while (see below). There are tons of cool things to do there.
10. Old Town Alexandria
There is so much to see and do in Old Town Alexandria. While a bit removed from the downtown core, it's definitely worth the trip.
You can get to the beginning to the Old Town area by taking the metro to King Street (don't expect to find parking) and beginning your walk south from there, or take the free trolley if you'd rather not walk.
You'll find dozens of shops to browse albeit expensive ones, plenty of sidewalk cafes and some great restaurants. I love Sonoma Cellar, especially for Taco Tuesday and Wine Down Wednesday.
At the end of the street is the Potomac River Harbor that's packed full of boats and has amazing views and even a few restaurants where you can dine and enjoy the sunset. Chart House is an absolutely must!
11. Gravelly Point Park
There is a small grassy park less than half a mile from Reagan National Airport, along the George Washington Memorial Parkway, where you can hang out and watch the planes take off and land.
It's actually one of the best parks I've been to for this type of activity because it's a nice park where you can spread out a blanket, have a picnic, hang out with friends, etc. It can get super noisy when the planes are overhead, and the ground shakes a little, but it's definitely a one-of-a-kind experience worth having.
To get to Gravelly Point Park, you really have to have a car or take a taxi. You can walk from the airport, if you're just getting in. There is a small parking lot available.
12. Kayaking on the Potomac River
If you're hanging out in Georgetown, you may catch a glimpse of people kayaking on the Potomac River.
You can rent a kayak from the Key Bridge Boathouse and take it along the waterway to get a unique glimpse at the Georgetown waterfront, Roosevelt Island (where many locals have never even been), and the underbelly of the Key Bridge itself.
13. Theodore Roosevelt Island
If you do go kayaking on the Potomac, you have to check out Theodore Roosevelt Island, an 88-acre park right in the middle of the Potomac. No cars are allowed on the island, so you can only get there by crossing the foot bridge from Arlington, or by boat.
The island has walking trails and a boardwalk that leads to the main memorial plaza where a statue of Theodore Roosevelt was erected to honor the 26th president.
As long as we're talking about the Roosevelt's, I highly recommend a visit to the slightly lesser-known National Mall memorial dedicated to Franklin Delano Roosevelt (who was Theodore Roosevelt's 5th cousin). The FDR monument is a walk through the life and times of the 32nd president with some lovely waterfalls, quotes and statues of FDR along the way.
This monument is located half way between the Lincoln Memorial and the Thomas Jefferson Memorial and can be access from West Potomac Park.
14. Watch A Sporting Event
If you are a sports fan then this one is for you. Watching a professional sports team while visiting Washington, D.C. is an exhilarating experience that immerses you in the city's vibrant sports culture.
Whether it's cheering on the Washington Commanders Football Team at FedExField, witnessing the Washington Nationals' home run at Nationals Park, or joining the roaring crowd at the Capital One Arena for a Washington Wizards or Washington Capitals game, the energy and excitement are palpable. The atmosphere is electric as fans come together to support their beloved teams, creating lasting memories and a sense of camaraderie.
15. Visit the Mansion on O Street
For those intrigued by the allure of secret passages, hidden doors, and mysterious rooms, an unforgettable night awaits at the captivating Mansion on O Street. Originally built as a grand residence, this extraordinary hotel now boasts 100 rooms available for guests. Each room is adorned with a delightful assortment of temporary items that are also up for sale, guaranteeing a one-of-a-kind stay.
Prepare to be enthralled by the mansion's eccentric interior design, as it weaves together a tapestry of history and creativity. With a prestigious clientele that includes former presidents and the esteemed Mrs. Rosa Parks herself, this unique museum-turned-hotel is an absolute must-visit for those seeking a truly remarkable experience.
Need More Ideas?
Take a look at these activities that you can book in advance to fill your itinerary with unique things to do in Washington, DC.
5 Touristy Things To Do In Washington DC
1. Take a tour of the United States Capitol Building
Tours of the U.S. Capitol are free, but tour passes are required. To visit areas of the Capitol beyond the Capitol Visitor Center, you need to make a reservation by contacting your State Representative or Senator, or by using the online reservation system.
Tour schedules fill up fast, so be sure to book your Capitol Building tour well in advance of your visit. A great way to see all of the Capitol Building and Capitol Hill is by booking a tour.
2. Spend a Day at the Smithsonian Museums
I've already mentioned a number of the Smithsonian Museums in this list, but there are a bunch more and they are all free to visit. Check out the website and decide which ones you want to see, then spend the day museum hopping.
There's no where else that you'll find so many amazing free museums at your disposal.
3. Pretend to be a spy at the International Spy Museum
The International Spy Museum is the only one of its kind in the United States, dedicated entirely to the profession of international espionage. It features the largest collection of spy-related artifacts that have ever been on display for the public.
During a visit, you can assume the identify of a spy and learn about their impact on the history of our nation. Get your International Spy Museum tickets here.
4. See the Declaration of Independence, U.S. Constitution and Bill of Rights at the National Archives
If you've ever wanted to see the historical documents that officially formed the United States, you have to make a visit to the National Archives, where the U.S. Constitution and Bill of Rights are kept, along with hundreds of other historical documents photos and records.
You can also research your ancestry, look up military records and access microfilm. Book a tour in advance.
5. See the Lincoln Memorial
The Lincoln Memorial is an American national monument built to honor the 16th President of the United States, Abraham Lincoln. It is located on the western end of the National Mall in Washington, D.C., across from the Washington Monument.
We think the best time to see the monuments is at night when there are less people about and the monuments are all lit up. Be sure to book a night tour in advance.
Where to Stay in Washington DC
There are a lot of great neighborhoods in Washington where you can stay as a tourist and fully enjoy yourself. Where you stay depends a lot on what you want to do and your budget. For budget travelers, it may be more economical to stay outside the city in Arlington or Alexandria and take the Metro in.
As you can see, there are many things to do that are not the typical touristy activities in the city. These are just a few ideas for unconventional things to do in Washington dc. Check here for even more outside the box Washington DC recommendations.
Frequently Asked Questions
What are some must-see attractions in Washington DC?
Washington DC is home to many iconic attractions, including the National Mall, the Lincoln Memorial, the Washington Monument, the Smithsonian Museums, the White House, and the United States Capitol. Visitors can also explore historic neighborhoods like Georgetown and Dupont Circle in the city, or take a stroll along the Potomac River.
How can I get around Washington DC?
Washington DC has an extensive public transportation system, including the Metro subway and bus system, which is a convenient and affordable way to get around the city. Visitors can also use ride-sharing services like Uber and Lyft, or rent a bike or scooter to explore the city on their own.
When is the best time to visit Washington DC?
The best time to visit Washington DC depends on your preferences. Spring (March-May) and fall (September-November) are popular times to visit, as the weather is mild and there are many outdoor events and festivals. Summer (June-August) can be hot and humid, but it is also peak tourist season, with many attractions and museums offering extended hours. Winter (December-February) is typically the least crowded time to visit the city, but it can be cold and snowy.
How can I visit the White House or the United States Capitol?
Visitors can tour the White House and the United States Capitol by booking a tour in advance through their Member of Congress. These tours are free, but they do require advance planning and security screening. Visitors can also view the White House from outside the gates on Pennsylvania Avenue, or take a guided tour of the Capitol Visitor Center.
Like this post? Why not save it to Pinterest?
FOLLOW US on Pinterest, Instagram, Facebook for more great travel inspiration and tips.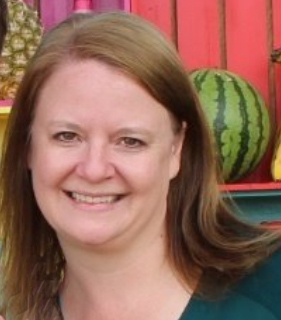 Laura Lynch, creator and writer of Savored Journeys, is an avid world traveler, certified wine expert, and international food specialist. She has written about travel and food for over 20 years and has visited over 75 countries. Her work has been published in numerous guidebooks, websites, and magazines.